How to Archive Emails in Gmail by Date?
It is reasonable to say that a tidy mailbox creates a positive atmosphere for the rest of the day. The upkeep of it, however, is a completely different story because every email must be prioritized. However, if your inbox begins to exhaust, it may be challenging to locate crucial messages when you need them. An Email arranged by date will be easy for you to access whenever you need to search for specific emails. Otherwise, storage full of your inbox quota can cause you to miss a crucial timeline, which can cause confusion and loss. To learn more, how to archive emails in Gmail by Date. Continue Reading this blog till the end to find the solution you have been looking for.
Pro Tip: Try the Advik Gmail Backup Tool program to easily download emails from Gmail in just 3 simple steps. All you need to do is to enter your login credentials and the rest of the steps will be done by the software itself. Also, with this self-intuitive program, you can archive emails in Gmail in 30+ different file formats such as PST, EML, PDF, MSG, HTML, MBOX, CSV, DOC, and many more.
User Query;
How do I archive emails by date range?
How do I mass archive emails in Gmail by date?
Is there a way to archive old emails in Gmail?
How do I archive 1000 emails in Gmail?
How do I archive emails by date range?
Can I group emails by date?
So, Archiving all of the emails in Gmail by date is an effective way to clear up your inbox. Email that has been archived is moved to this folder. To be safe, you still have access to every message, and their storage allowance is unaffected.
Methods to Archive Emails in Gmail by Date Range
Archiving emails in Gmail depends on various factors and most queries that were asked on popular forums like Quora and Microsoft are based on Gmail storage issues, Gmail emails requirement on the basis of date range, etc.
So, here we will discuss the methods to archive emails in Gmail to Save Space.
Method 1. Save Emails from Gmail Account using the "Archive" Feature
In this method, you need to update the settings in your Gmail Account. This archive feature allows you to transfer the chosen emails to another folder based on a date range. But, it doesn't mean that those emails are permanently deleted from your Gmail Account. It will be located in your Gmail Account but doesn't appear in your mailbox.
So, to know how to do it; Just go through the steps described below;
Step 1. Login to your Gmail Account with your credentials from your default browser.
Step 2. Thereafter, enter the command in Gmail mailbox search bar; in: inbox before:2017/08/15 and hit the "Enter" key.

Step 3. After that, you can see the results appear before you based on your search command.

Step 4. Now, choose all the checkboxes and select the "Archive" option.

Step 5. Finally, you can see that all of your selected emails have been successfully archived.

The manual process is completed now but this free solution isn't free from the drawbacks associated with it.
Limitations of Manual Method
You can only archive emails in Gmail by date range using the methods mentioned above. The emails are not, however, saved or archived on the PC or local storage.
The emails in the Inbox will be hidden
It requires extensive knowledge of Gmail's settings.
That's why it is suggested that you should choose an automated solution to avoid various uncertainties in the future. We provide a different way to safely preserve emails in Gmail accounts.
Method 2. How to Auto Archive Emails in Gmail to Hard Drive?
If you need a direct and more convenient solution to archive emails in Gmail, then you should go with Advik Gmail Backup Tool as we have explained earlier. It is a smartly designed tool that supports archiving Gmail emails to secure file formats. Such as that you can export Gmail to PST, EML, PDF, DOC, DOCX, HTML, MSG, MBOX, MHT, etc.
The best part of this tool is that you can save Gmail emails to a flash drive without any issues. As we have seen in the manual solution, Gmail doesn't allow you to save archive emails directly to your local system. But, with this approach, you can do so. It is well capable of archiving data from Gmail mailboxes such as inbox, drafts, spam, sent, archive mailboxes, etc.
Working Procedure to Save Gmail Email Emails Locally
To understand the actual working process of this tool, users need to follow the below step-by-step guide.
To archive Gmail emails, follow the steps below;
Step 1. Run Advik Gmail Backup Software on your Windows Machine.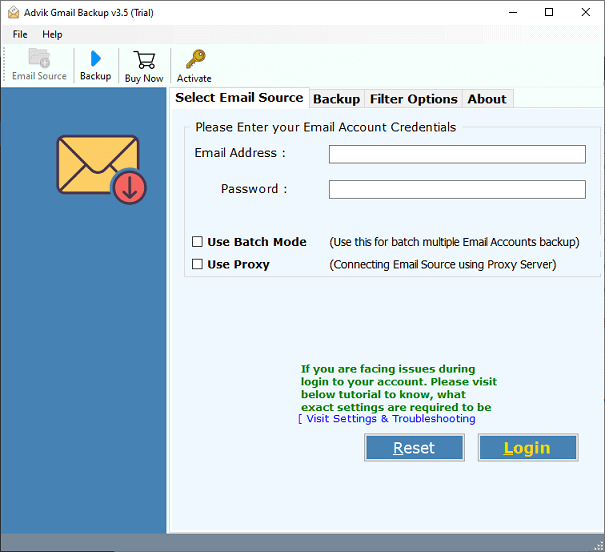 Step 2. Enter your Gmail Account credentials and press the "Login" tab.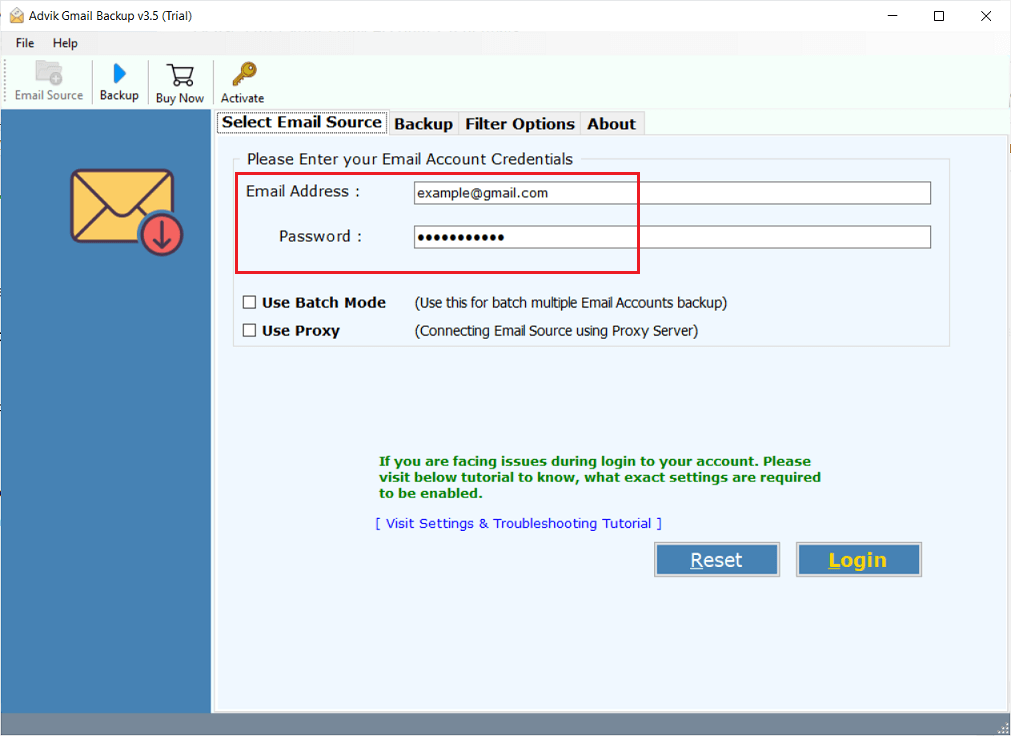 Step 3. After that, select mailbox folders from the left side of the software panel.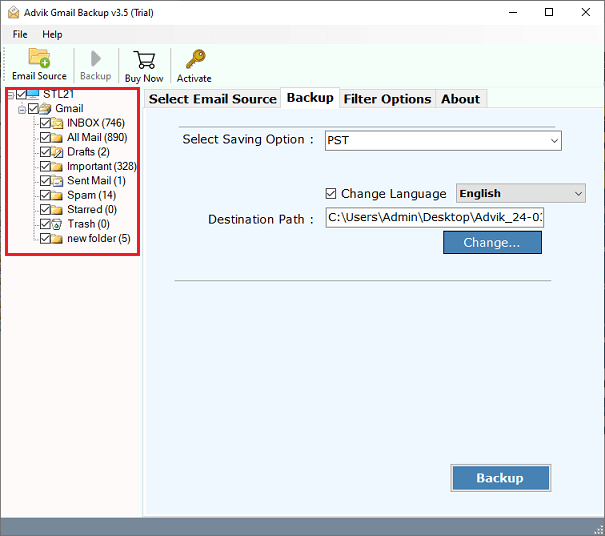 Step 4. Thereafter, pick a saving option from 30+ different file formats.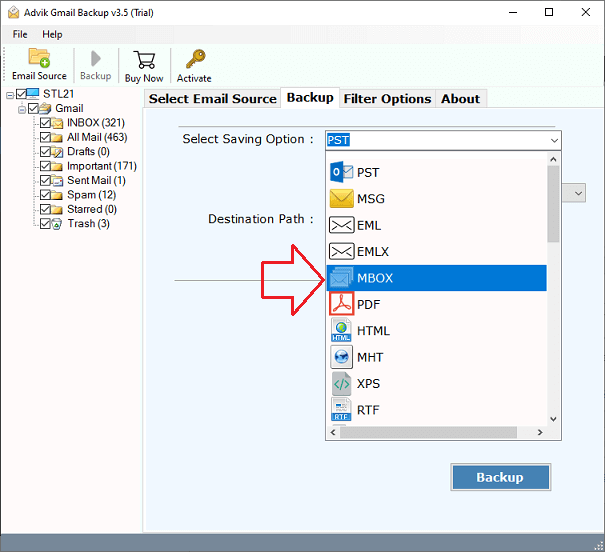 Step 5. Now, browse a destination path to save the resultant data file. To do so, tap on the "Change" button.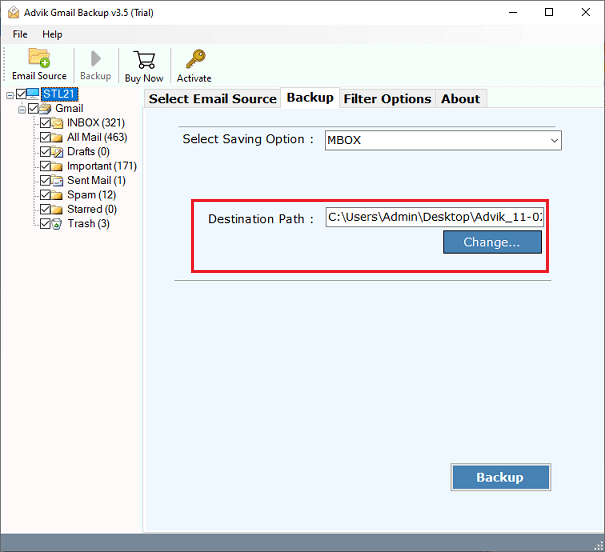 Step 6. After that, click on the "Backup" button to start the Gmail email archiving process.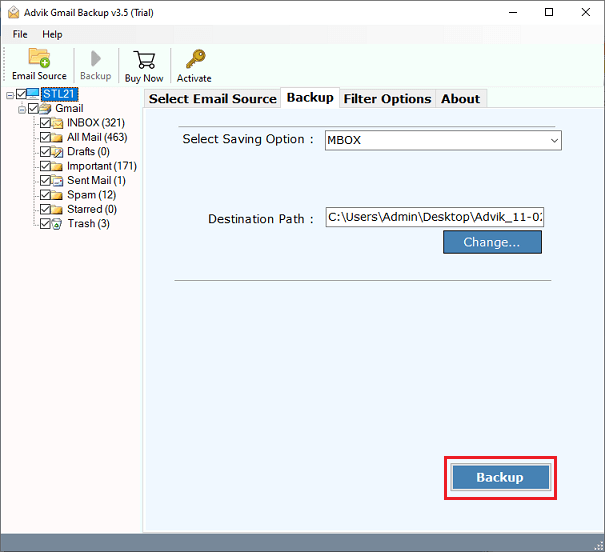 Done!! Your query has been solved now; the process of archiving Gmail emails is completed.
Final Thoughts
Just follow the above two easy and simple methods to archive emails in Gmail. If you want to manually backup Gmail emails then it will take a lot of time and also doesn't guarantee you 100% results. But to achieve safe and secure results, Just go through with an automated solution to download Gmail emails locally.