How to Download All Attachments From Office 365? – Updated 2023
Searching solution for how to extract attachments from Office 365? Read this article for complete guidance and effective and efficient solutions. Here we have mentioned the best approach for our users to solve their query related to "How to download all attachments from Office 365?". So, let's get started without any further ado.
As we all know that in the present technological era, emails play a crucial role in our day-to-day professional and personal work. And, Office 365 has emerged as a leading platform for communicating through emails. As it is a Microsoft product, many people easily trust its services and products. Office 365's leading popularity has attracted and has added it's on the list of most cloud-powered productivity platforms.
So, don't worry. Here we will explain to you the method of extracting emails from Office 365 with an accurate hierarchy. Before starting the process, we will see the user's query about the situation.
"Hello, I am using Office 365 email services for 5 years and I have collected a lot of emails in it. recently, I have received 100 emails that consist of attachments. So, I need a perfect solution to export all attachments from Office 365 at once. As I don't have much time, so please suggest to me a possible way to download attachments from Office 365 in one go."
"Hey, I am an HR in an IT Company, and I have to deal with a large number of emails on daily basis. I need to export all email addresses, contacts, and email data in a single file. Can I do so without any trouble in a single attempt? I have tried a lot to find an effective solution but I am unable to find the method to do it. I am looking for a solution that can export a number of email addresses from Office 365 Webmail. Suggestions would be highly appreciated."
So, now you may understand the need of the users to download all attachments from Webmail.
Now, we will have a look at how we can accomplish this procedure in the best possible way.
Method 1. How to Extract Attachments From Office 365 Manually
In this section, we explain the two different approaches to export all attachments from Office 365. You can choose any of the below methods you can to extract several attachments from Office 365 easily.
Undoubtedly, there are many manual solutions to save Office 365 email attachments but then Office 365 account size issues come. So it's suggested to read the drawbacks of the manual solution before applying it.
Follow the steps which are mentioned below to Download attachments from Office 365 manually
1. Login to your Office 365 Account and open your Office 365 mailbox on the left side.
2. Now, you will see a "download all" option near the attachments icon.
3. Click on that, after clicking on it, a zip file will be downloaded to your system.
4. After that, open the file and view your downloaded attachments.
This step was for the one email, follow the same steps as mentioned above for the rest of the emails.
Drawbacks of the Manual Solution
If there are bulk emails containing multiple attachments then you can't use this solution.
Time-taking and lengthy procedure.
You have to follow the same step again and again for multiple email attachments.
Method 2. How to Download Attachments from Multiple Emails in Office 365?
To avoid manual solution limitations, we suggest using Advik Office 365 Backup Tool. It is an expert-recommended solution that enables users to download multiple attachments from Office 365. This software is designed with advanced algorithms that fulfill the user's needs such as various email filters, bulk email attachment extraction, selective emails, desired destination, etc. This tool completes the whole process in just 4 simple steps.
Additionally, you can also move emails from One Account to Another in Office 365 with this tool.
It is a highly professional tool that can be used by both technical and non-technical users without facing any difficulties. This application provides a simple and well-interactive interface for an easy and effortless email attachment extraction process.
Now, let's have a look at its working procedure to save all attachments from Office 365.
Steps to Download All Attachments from Office 365 Account;
Step 1. First of all, you need to install and run Advik Office 365 Backup Tool on your system.
Step 2. After that, enter Office 365 login credentials into the software panel and press the "login" button.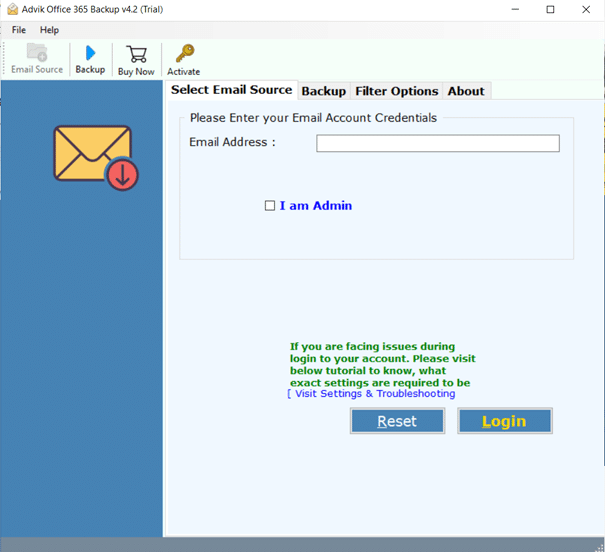 Step 3. Now, choose the mailbox folders from the left side that you want to extract from your system.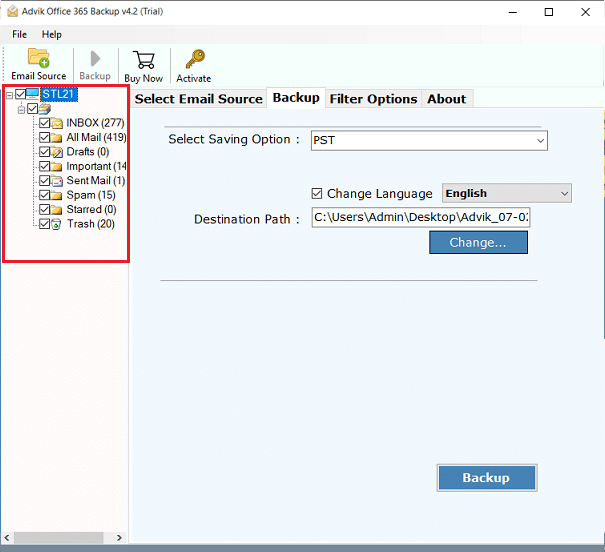 Step 4. Thereafter, select "extract email attachments" from the list of various saving options.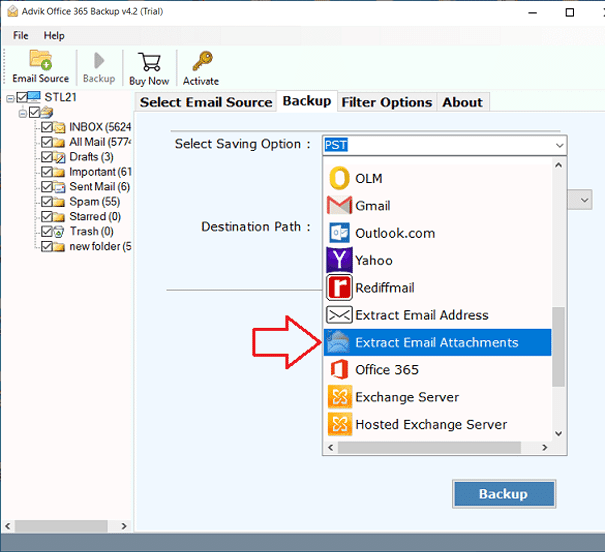 Step 5. Here, you need to choose the destination path to save the resultant final output.
Step 6. Finally, press on the "Backup" tab to begin the email attachment extraction process.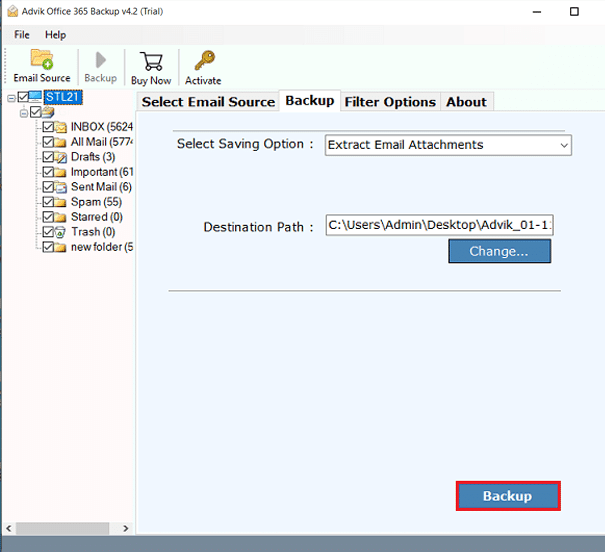 After completion of the task, user can see their extracted attachments easily.
Final Words
The above-mentioned post describes two efficient and effective solutions to download all attachments from Office 365 easily. As saving emails from Office 365 is a difficult task to do using a manual solution. To overcome that issues, you can choose the expert-recommended solution to save all email attachments from Office 365 webmail. The tool is a complete package of Office 365 email backup solutions. Both manual and professional solution is explained in this blog. Users can use it as per your needs and requirements.