How to Extract Contacts from PST to CSV Without Outlook?
Are you searching for a perfect solution to migrate Outlook Contacts into CSV format? If yes then you landed on a right page. This blog will guide you on how to extract contacts from PST to CSV file with and without outlook installation.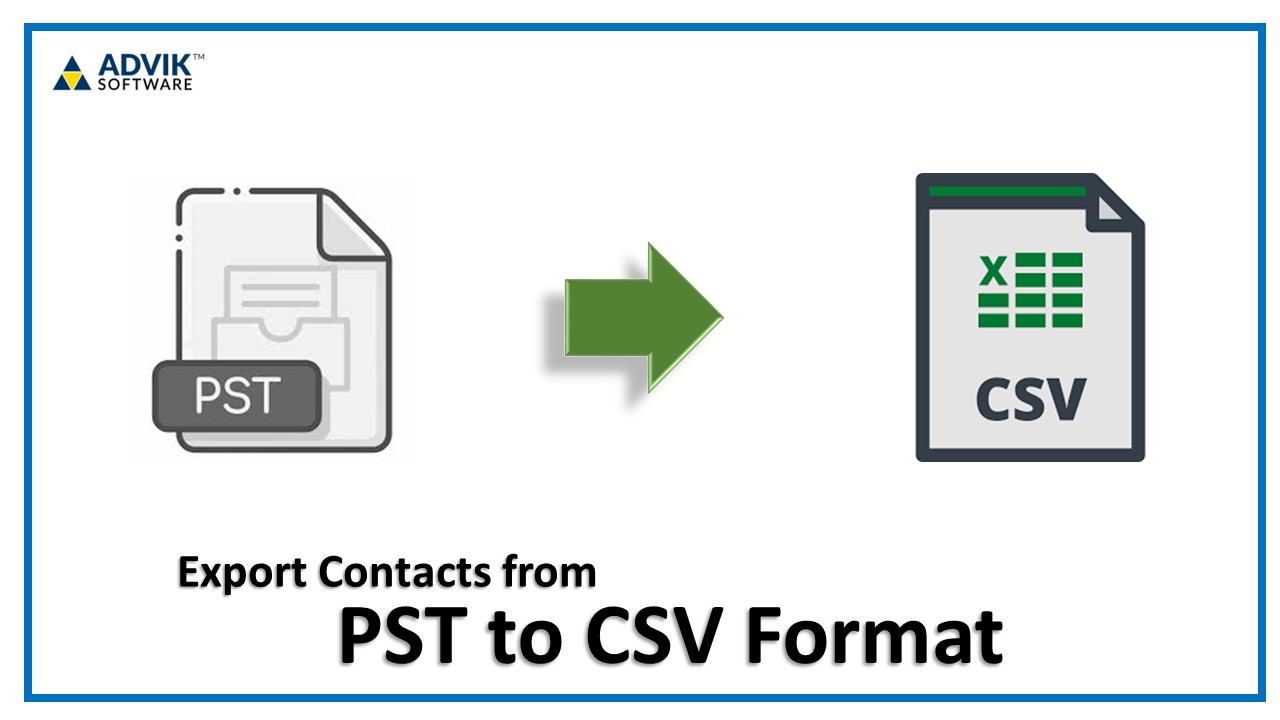 This article is also suitable for newbies, as it does not require any special technical knowledge. Anyone with a basic knowledge of computer can easily extract contacts from Outlook PST to CSV format.
Before starting this discussion let's take a quick look at PST and CSV…
Read Also: How to Extract All Attachments from PST file?
PST stands for Personal Storage Table. This file format is used to store emails, contacts, calendar, tasks, events, and all other personal information used by Outlook Application.
CSV stands Comma Separated Value. A CSV file stores data in a tabular form. There are many services that supports CSV file such as Google contacts, Outlook Application. You can also view CSV file in Excel, Google sheet, etc.
"Can I export contacts from PST to CSV directly?"
"How to convert PST Contacts to CSV Format?"
"Suggest me the easiest way to export contacts from PST to CSV format"
"Where can I get the best PST to CSV Converter Tool?"
The above queries had been taken down from various forum sites. In this blog post, we will share two different solutions to export PST Contacts to CSV. According to your need you can choose the right method that will suit you. The best strategy would be if you have Microsoft Outlook installed in your system then you can go with the first solution. If you want to extract contacts from PST into CSV without using Outlook Application then you can go with the second solution.
---
Method 1. How to

Export PST Contacts to CSV File (Outlook Required)
Step 1. Launch Outlook Application on your system.
Step 2. Import PST file into your Outlook Application.
Step 3. After Completion of import process. Click on File menu.
Step 4. Click on Open and export then select Import/Export.
Step 5. Select Export to file and then hit Next button.
Step 6. Make sure Comma Separated Value is selected then click on Next button.
Step 7. Select contacts folder from imported PST account and again hit the Next button.
Step 8.  Click on browse and then select saving path along with file name.
Step 9. Hit the Next button and then Click on Finish.
Done, this is how you can export PST Contacts to CSV format using Outlook Application.
---
Method 2. How to Extract Contacts from PST to CSV Without Outlook
In order to extract PST Contacts to CSV format without Outlook installation, you need to use third-party application. For this task, I would like to suggest you to download and install Advik PST Converter Toolkit.
This advanced utility has the simplest User interface, which makes it easy to use for all kinds of users. You can convert PST to CSV and export outlook contacts securely. Hit the button below to download this software for free
Steps to Retrieve or Export Contacts from PST Without Outlook are;
Step 1. Launch Advik PST Converter toolkit.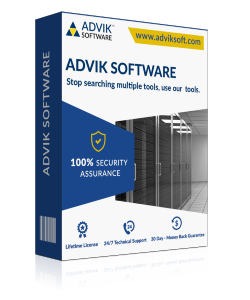 Step 2. Add PST file in a tool.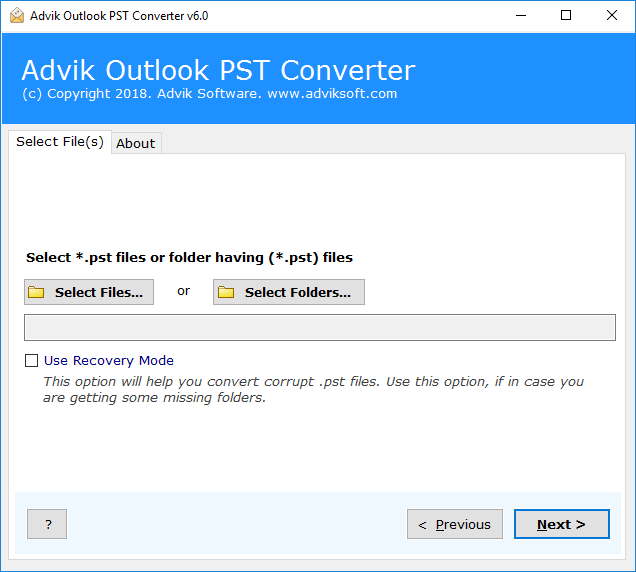 Step 3. Select folder having Contacts.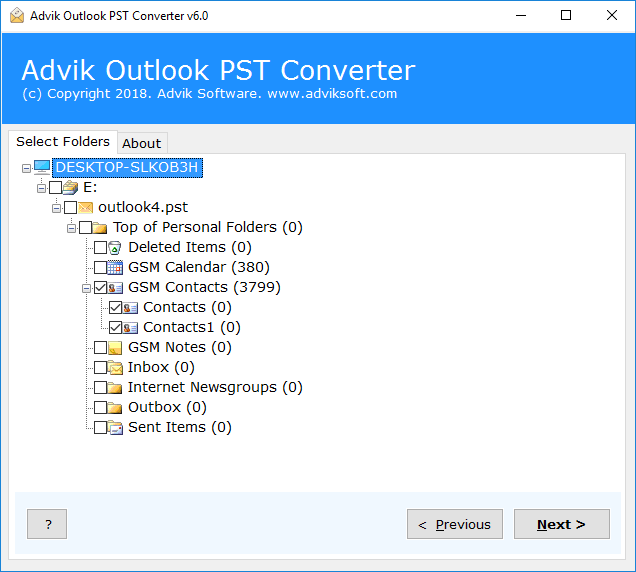 Step 4. From multiple saving options select CSV.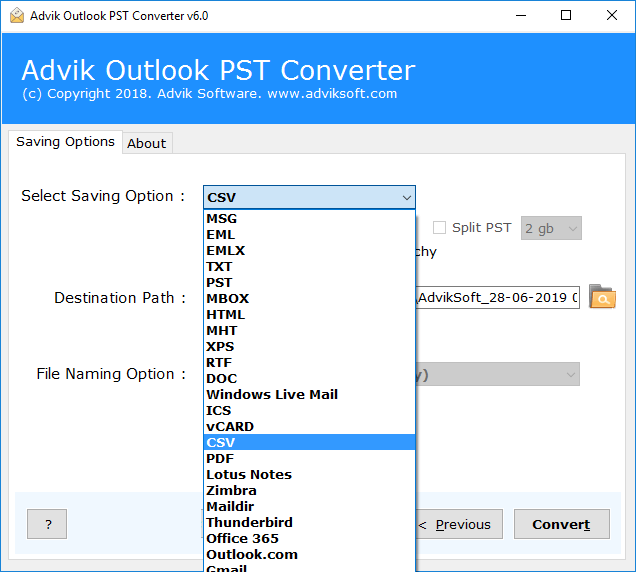 Step 5. Hit the Convert button and analyze the process of conversion.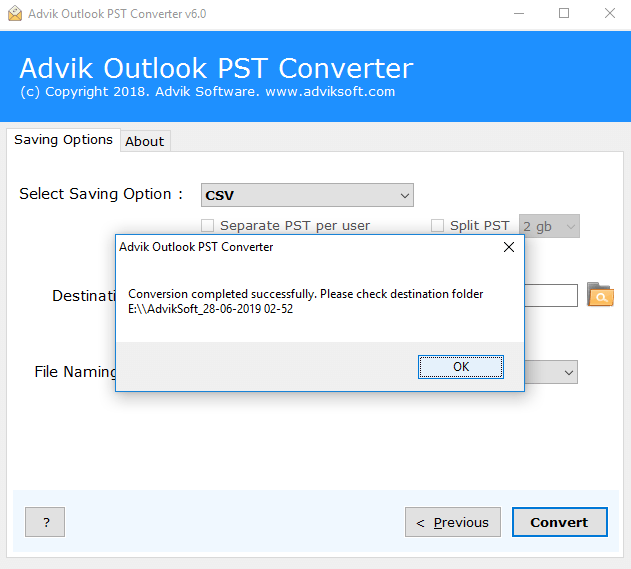 Done, this is how you can easily convert PST Contacts to CSV format.
Watch Video Tutorial – How to Extract Contacts from PST File?
Reasons to choose Advik PST Contacts Exporter
There are many reasons to choose Advik PST to CSV converter tool. Some of them are as follows;
Most Accurate Conversion; This software provides most accurate and quick conversion of Outlook PST Contacts into CSV format.
Complete Data Conversion; Not only PST Contacts to CSV, this tool also allows users to convert emails from PST to Excel file format in an easy manner.
Multiple Output formats; Apart from PST to CSV conversion, you can use this tool to export emails from PST to MBOX, EML, MSG, PDF, XPS, etc.
Cloud Migration; This software also helps users to migrate emails from PST file to cloud based email services such as Gmail, Yahoo Mail, Office 365, G Suite, Outlook.com, etc.
Support Windows OS; This software can easily be installed on almost all versions of Windows OS such as Windows 10, Windows 8, Windows 7, Windows Vista and Windows XP.
Free Demo Download; You can download Advik PST to CSV Converter for free to check the performance and efficiency of the tool.

Dedicated Customer Support; In case you stuck somewhere while using PST to CSV Converter software, you can contact our customer support for further help.