Two Ways to Fix Outlook Error 0X800CCC0E in Windows 10
Microsoft Outlook error 0x800CCC0E usually appears when it is unable to communicate or connect with your mail server. Also, users encounter this issue when they receive or send emails from MS Outlook Express. It is also found that 0x800CCC0E Outlook error is caused by a conflict between SMTP Server while using this mail client.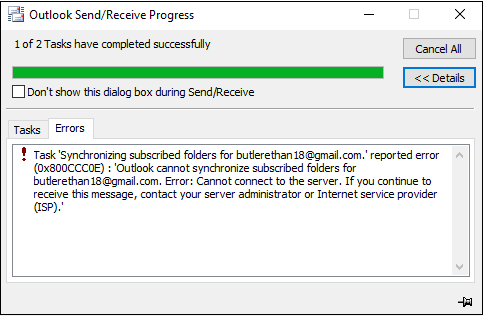 "The connection to the server has failed. Account: 'your account', Server: 'your_SMTP_server', Protocol: SMTP, Port: 45, Secure (SSL): NO. Socket error: 10901, Error Number: 0x800CCC0E"
"!Task 'Synchronizing subscribed folders for <email_id>.' reported error (0x800CCCOE): 'Outlook cannot synchronize subscribed folders for <email_id>. Error: Cannot connect to the server"
Reasons When 0x800ccc0e Outlook error Code Appears
There can be many reasons behind the 0X800CCC0E Outlook error. In this guide, we will discuss these causes and solutions to help you troubleshoot and resolve Outlook error 0x800ccc0e. Some of the common cause of Outlook error 0X800CCC0E in Windows 10 are as follows:
Inappropriate Internet Connection: To check if the connection is stable, look for any configuration and hardware changes that may be causing the loss in connectivity.
Inappropriate SMTP authentication: This problem can be resolved either by changing the outgoing server settings or by changing the server port number.
Windows firewall Blockage: The user should proceed with caution to avoid causing more problems as this method is associated with several security risks.
Inappropriate Port Numbers: Contact your Internet service provider for the correct port numbers required to access your mail account from a desktop-based mail client.
Encrypted PST File: If you suspect that PST data file has been messed up, run a sophisticated recovery application mentioned below to restore the contents of PST file.
These are some of the very common reasons behind the 0X800CCC0E Outlook error. They all come under manual troubleshooting and if you are facing difficulties in understanding these steps or unable to fix the error then the best option is to take some professional help.
How to fix Outlook error 0x800ccc0e on Windows 10
There are currently two ways to solve the 0x800ccc0e error code in Windows 10. You can solve the issue with Outlook configuration if in case it doesn't work then move to a further step i.e. reparing your Outlook Data file (.pst). So, I will suggest you to choose Method 1. first then move to Method 2. to fix this error code.
Method #1. Outlook Email Account Setting:
When you use Outlook, improper email account settings related to incoming, outgoing, username, and password can lead to this error. Follow the steps mentioned below to solve it:
Go to the File menu in Outlook.
Choose Account Settings and go to Server Settings.
After clicking on Server Settings, IMAP Account Settings will pop-up.
In incoming mail check the following options "Username, Password, Server, Port, Encryption, Secure Password Authentication".
Now, verify the outgoing mail settings "Server, Port, Encryption, Secure Password Authentication, Outgoing Server Authentication".
Click Next and check if the error is resolved.
Method #2. Repair Severe Corruption PST File
In any case, the above manual methods do not solve this problem, you can try this automated solution. If the manual method does not work then it means that the PST file is corrupt and highly professional software is needed to repair those files. Advik PST Repair Tool can be an efficient solution that repairs corrupted or damaged PST files. Using this wizard, 0X800CCC0E error in Outlook Cab can be resolved easily.

Wrapping Up
So far, we have discussed, common causes of 0X800CCC0E Outlook error. Furthermore, we have discussed two efficient mechanisms, one is manual and the other is an automatic method. In addition, the automated method is more efficient and has faster execution, wider functionality, error-free conversions, and a more intuitive overall experience.