How to Import Emails from Outlook to Thunderbird 91.0?
"How do I import Outlook to Thunderbird with emails and attachments? There are 3 customised lables that I want to migrate from Outlook into Thunderbird client. Which is the right way to do that?" – User from Microsoft Forum
"Hello there, I am finding a way to convert Outlook to Thunderbird. Yes, I want to move and export Outlook email folders to Mozilla Mail. Please suggest me any workable solution." – User from Mozilla Support forum
Do you want to import emails from Outlook to Thunderbird Application? If yes, then your search has now come to an end. At the end of this article you will be able to convert Outlook into Mozilla Thunderbird client without losing any information.
Why Convert Outlook into Thunderbird 91?
Thunderbird is an open source, comprehensive, secure email client developed by the Mozilla open source community. This is a powerful and simple application that is considered one of the best alternatives to Microsoft Outlook.
Thunderbird is a freeware application
User can open multiple tabs for navigation
Support multiple email clients having protocols such as IMAP, POP3, SMTP
You can use several extension with entended usabiliy
High-security protection even with Freeware license
Support huge number of plugins
Convinient Way to Migrate Outlook to Thunderbird 91.0
Download and Install Advik Outlook PST Converter in your Windows machine. This speciallised utility allows you to export Outlook folder to Thunderbird application directly from tool itself. No manual tricks or configuration is required. You can migrate unlimited emails and folders without facing any error.
Steps to Import Emails from Outlook to Thunderbird are;
Step 1. Launch Advik PST Converter in your PC. The software will automatically load your Outlook profile. Afterthat, click Next button.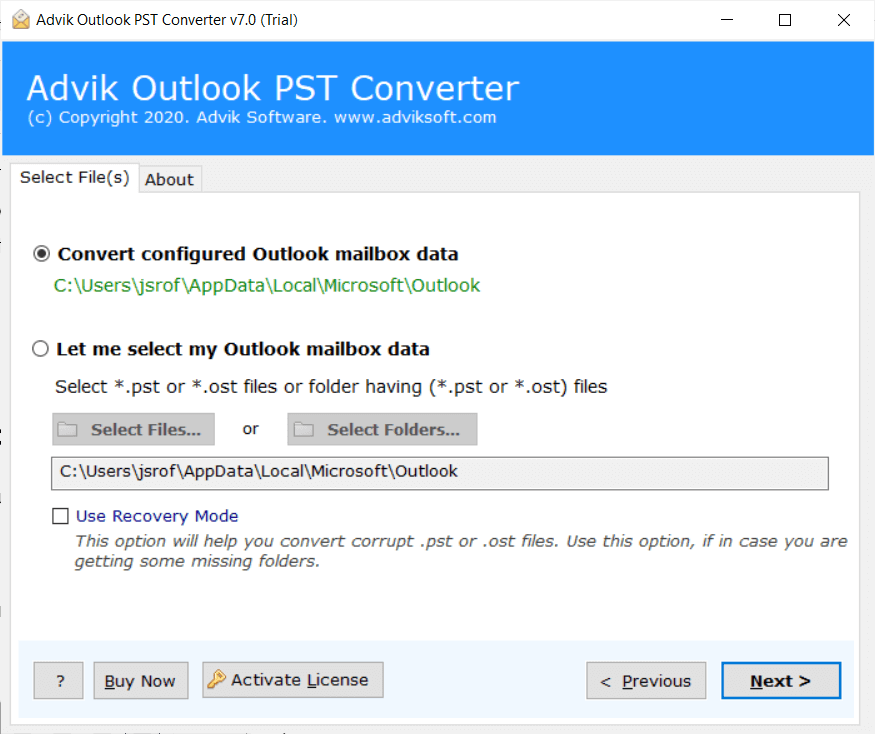 Step 2. Select desired mailbox folders that you want to export and hit the next button.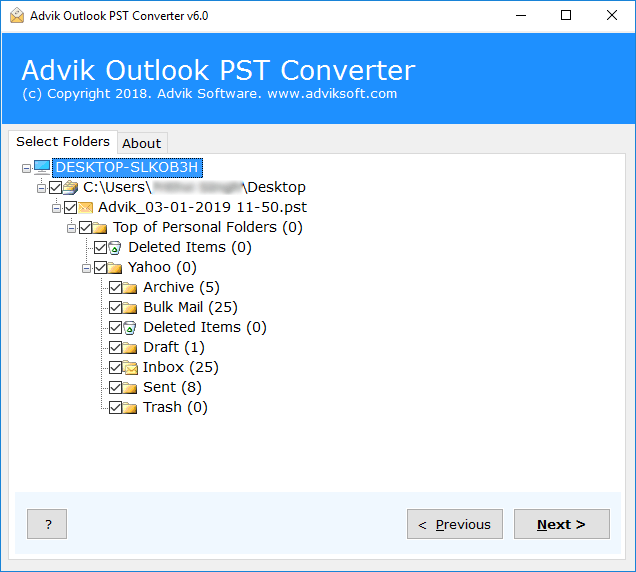 Step 3. From Multiple saving lists, select Thunderbird.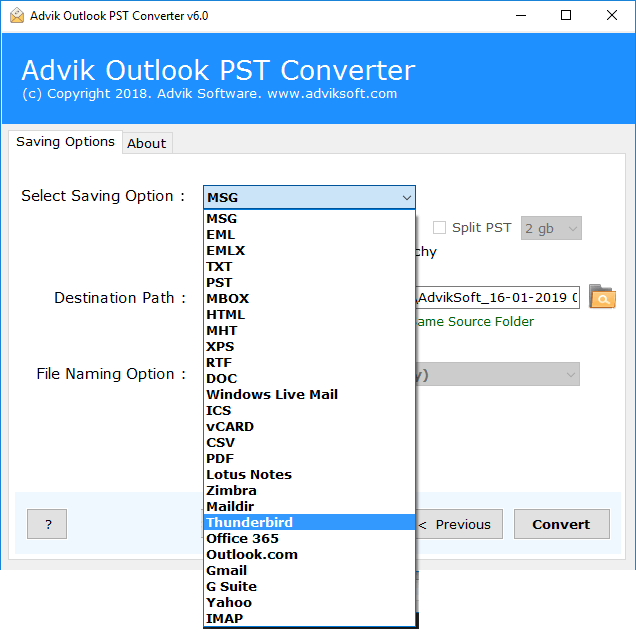 Step 4. ­Hit the Convert button and analyze the process.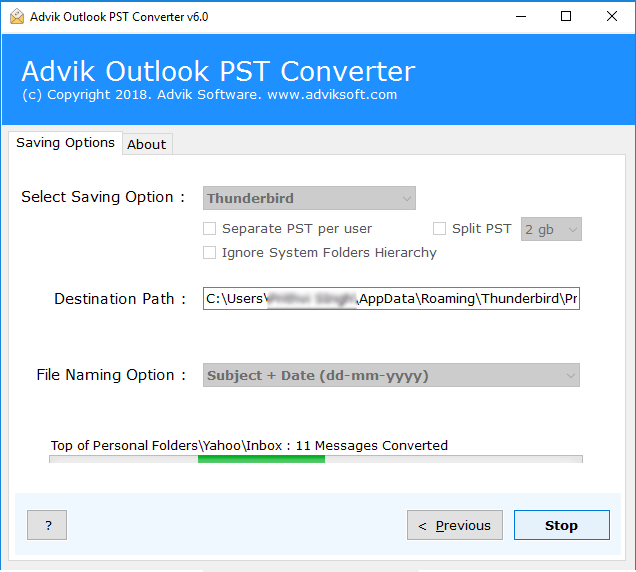 Done, now sit back and relaxed. The software will automatically start transferring Outlook emails into Mozilla Thunderbird.
This is how you can migrate Outlook to Thunderbird Client effortlessly.
Note: The tool will automatically detect default location of Thunderbird email profile. Thunderbird installation is required for this solution.
Why Choose Outlook to Thunderbird Converter?
There are many reasons to choose Advik PST Converter for this task. Some of them are as follows;
Direct Conversion; This tool allows you to directly import Outlook to Thunderbird. You don't need to install any third-party plugins or software in your Thunderbird account.
Most Accurate Conversion; This software provides the most accurate Outlook to Thunderbird conversion. The layout of the tool remains intact during the process of conversion.
Works Offline; In order to migrate emails from Outlook PST to Thunderbird account, you don't need any internet connection. The tool works very well without having an internet connection.
Maintain Folder Structure; The folder tree and sub folder tree of emails remain exactly as in Outlook Application during the process of Outlook to Thunderbird Migration.
Unlimited Conversion; The tool can be easily used for unlimited conversion for the unlimited number of times. There is no limit of conversion, as long as you purchased the licensed version of the tool.
Supports Multiple Formats; You can use this tool to convert Outlook PST file to MBOX, MSG, EML, EMLX, PDF, TXT, CSV etc. file format.
Includes Attachments; During your migration process tool keeps all your attachment files in their respective emails. You can also access your attachments after the completion of conversion.
Free Demo Download; You can download this tool for free to check its efficiency. To download PST Converter for free hit the download button below.

Final Words
Thanks to the advance algorithms of this software which help users to import emails from Outlook to Thunderbird Client. Still, if you have any queries relates to Outlook to Thunderbird Migration, you can contact our customer support for further assistance. Our dedicated support team feels happy to help you.
FAQs
How do i transfer emails from outlook to thunderbird 78.0?
Using above method you can export Outlook PST to Thunderbird 78.0 and older versions without any trouble.
Can I export only Label (customised folders)?
Yes, the software allows you to choose folder for migration.
Will it work in Windows 11?
Yes, Outlook to Thunderbird Conveter is workable in all Windows versions including 11.
Also Read: Can I Open PST file in Thunderbird – Instant Solution