How to Import OST to Outlook 2021? [Full Guide]
Overview: Since Microsoft releases a new Outlook version i.e. Outlook 2021, Outlook users may want to import OST to Outlook 2021. Undoubtedly, it is a wonderful feeling to have a new outlook. However, there are issues when importing OST into Outlook 2021. When users switch from Outlook 2019 to Outlook 2021, they need to transfer their old data (OST file) to Outlook 2021. To perform this function, OST needs to be converted to PST as only PST files can be imported into Outlook 2021.
Rapid Solution: If you are in a hurry and need instant results then, you should try Advik OST to PST Converter tool. As this process can only be done with an effective tool that is an all-in-one solution to perform this process.
Nobody likes to use older versions that keeps them away from new updated features that Outlook 2021 brings to its users. This article offers you one of the best way to effectively complete the OST to PST conversion process.
Overview: 
Microsoft Outlook is one of the most commonly used email clients. Since Outlook is popular among users, one should be familiar with Outlook supported file formats like OST and PST.
OST stands for Offline Storage Table which is automatically created by Outlook itself. With these files, users can easily work offline and automatically sync when connected to the internet. But to transfer data files from OST to Outlook 2021, one needs to convert OST to PST.
Reasons to Import OST to Outlook 2021 – Point you Should Know
Users may need to import an OST file into Outlook 2021. There are a variety of reasons for this. We've compiled a list of the most common reasons why users need to convert OST to PST manually. Take a look at the various reasons.
While OST files provide offline access to inbox contents, they cannot be modified. That's why, OST to PST conversion becomes necessary.
If users receive the warning "OST File Cannot Be Opened Error in Microsoft Outlook," they must import to Outlook.
When moving mailboxes from one location to another and then from one device to another, users must convert OST files. An OST file can be viewed on the system where it was created at any time.
The file would become inaccessible if the Exchange server crashed unexpectedly, and there would be a risk of severe data loss. To maintain access to the important database, an OST file must be imported into Outlook.
To avoid a data loss situation such as for backup purposes.
What's new in Outlook 2021 for Windows
In order to import OST to Outlook 2021, let's go through the new features in Microsoft Outlook 2021 and supported files extensions of Outlook 2021.
In Outlook 2021, user will experience the several new features of Outlook as well as get your old features too. One thing you should keep in your mind that there will be no loss to your data as well as your older features. even, you will get some amazing features that will enhance a way of using Outlook.
Apart from it, users will get the new features to manage the mailbox data of Outlook 2021. Lots of new features are added and some modified to give you an amazing experience. what will not changes is PST file of Outlook 2021. PST file will still similar as it was earlier. You will be able to import OST to Outlook 2021 by using the same Import/export feature os Outlook.
How to Open OST File in Outlook 2021? – Instant Solution
Whenever you need to read OST files in Outlook 2021, it is suggested to use a third-party tool such as  Advik OST Converter, an effortless solution to convert OST to PST format, which you can easily import to Outlook 2021. The software is designed with advanced algorithms to export OST to PST directly without any hassles. You can even use corrupted or damaged OST file to import to Outlook 2021. Also, there are no file size limitations, you can upload OST files of any size.
Step-by-Step Guide to Import OST Files to Outlook 2021 are as follows;
1. Install and run OST to PST Converter in your system.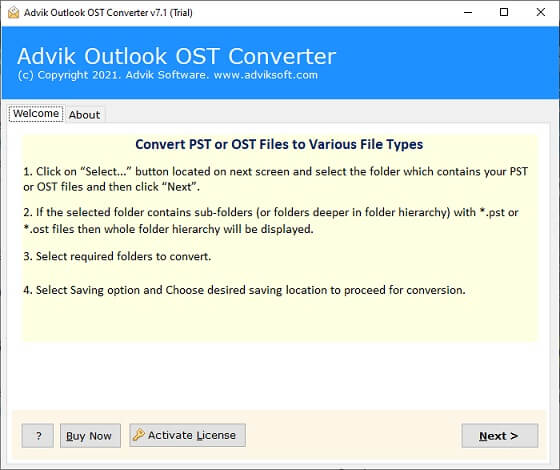 2. Click "Select Files or Select Folders having OST files" to upload OST files to the software interface.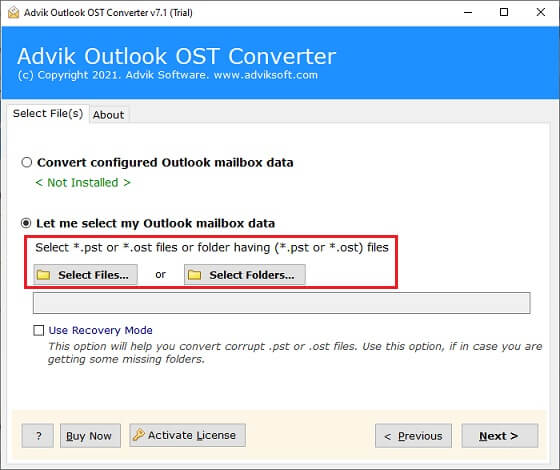 3. Now, this tool will automatically fetch all mailbox folders from OST File. Select those folders that you want to import into Outlook 2021.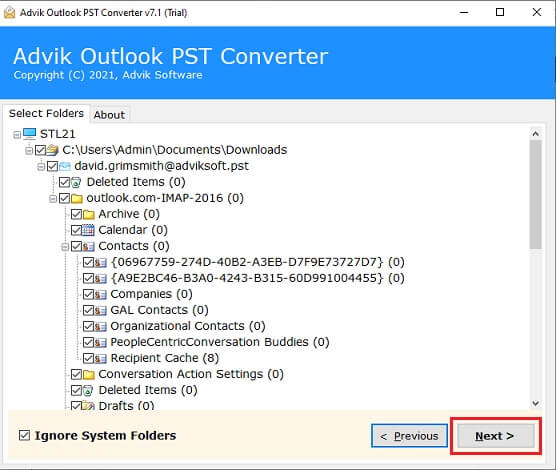 4. Select "PST" as saving Option from the list of multiple file formats.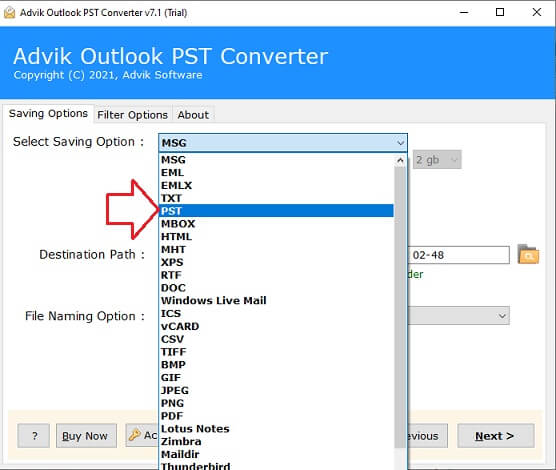 5. Choose desire destination path to save your resultant PST File.
6. Finally, click on the "Next" button to to start conversion process.
Now sit back and relax!! This tool will give you the desired results in a matter of seconds.
Steps to Import Converted PST File into Outlook 2021;
1. Open and run Microsoft Outlook on your PC.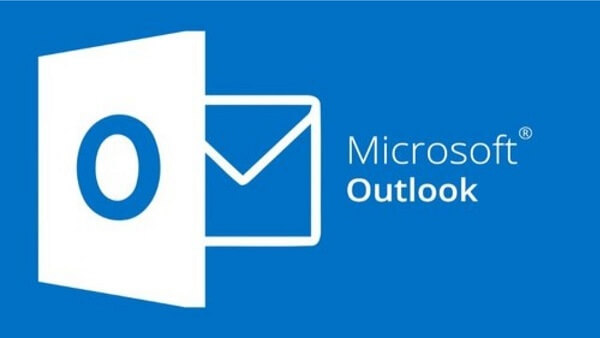 2. Go to the File menu and click on Open & Export and then on "Import/Export".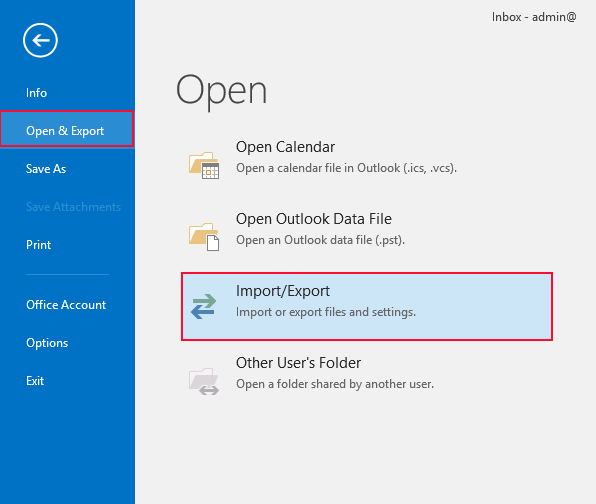 3. Select the "Import from another program or file" option from the drop-down list.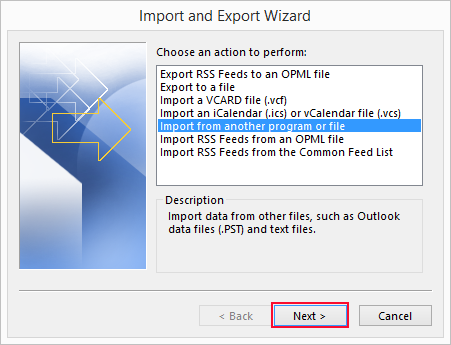 4. Now select "Outlook Data File(.pst)" and click "Next".
5. Now locate the PST file that you want to import and click "Next".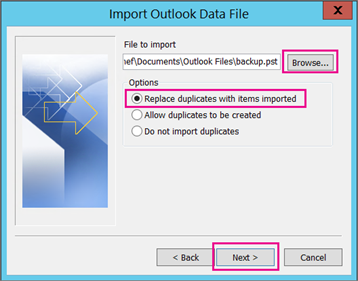 6. Select the mailbox folders you want to open in Outlook 2021 and click the "Finish" button.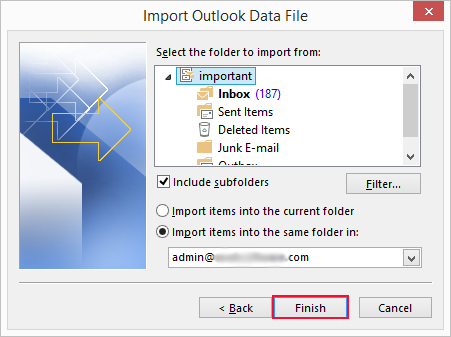 Why Should you Choose OST to PST Converter Software?
Batch OST to PST Conversion feature: It allows you to select multiple OST files at once and transfer your offline data to PST, Office 365, Live Exchange Server, MBOX, and EML formats in just a few clicks.
OST Files: Add, Search, and Scan: The application has a feature that allows it to search for and detect all OST files in any directory or drive. You can quickly scan all mail folders or subfolders by searching or manually browsing an OST file.
Convert OST to PST with Ease: OST to PST Converter makes converting OST to PST simple. All Outlook and Windows operating systems are supported by the software. The conversion is completed quickly and flawlessly. The software's graphical user interface (GUI) is very user-friendly, so it lends a hand to the user.
Maintains Integrity of Metadata: The Meta property is preserved to the greatest extent possible by the software. It expertly managed metadata properties such as Subject, To, CC, Notes, and so forth. Even after recovery, the data's originality and integrity are compromised.
Save OST Emails in a Variety of Formats: OST emails can be saved in a variety of formats, including PST, DBX, MSG, EML, TXT, RTF, HTML, HTML, and PDF.
Migration of Selected Emails: Using the Filter option, you can select the important emails and items from the OST file that you want to migrate. Filter your data by item type, date range, folder name, and other available filter fields.
Conclusion
This blog ends with a 100% safe solution to import OST to Outlook 2021 effortlessly. We have discussed an advanced solution to help you to open OST file in Outlook 2021 safely. We also gave a chance to try the efficiency and effectiveness of this software to export OST mailbox data to latest Outlook 2021 version without data loss.