How to Merge MBOX Files? – Step By Step Guide
If you have multiple MBOX files from different email clients, you can merge them to create a single MBOX file to reduce duplicacy of the data items. In this blog, you will learn the various methods to combine multiple MBOX files to manage your email data effectively and efficiently. You will also learn a about a MBOX merge tool that can merge MBOX files easily and quickly.
Email is an integral part of our daily routine, and it is not uncommon to have multiple email accounts. Sometimes, users need to combine or merge MBOX files to manage their email data effectively. MBOX file is a mailbox file format that stores email messages in a single file.
Quick Solution: Try Advik MBOX Converter Tool to merge MBOX files in just few simple steps. Compatible with almost every MBOX supported email client applications and offers multiple saving options such as PST, EML, PDF, DOC, MSG, HTML etc.
As long as the volume of the data stored in MBOX file didn't exceed a limit but their large size would start facing issues like corruption and ultimately it degraded performance. That's why it became important to merge those large files into one.
There are several ways to combine MBOX files, but the most straightforward method is using an automated tool.
Why Merge MBOX Files?
There are various reasons why users may want to merge multiple MBOX files into one file.
Some of these reasons are listed below:
To speed up the search processes when users need to search specific emails from multiple folders or email accounts. In such cases, merging two MBOX files can be helpful.
To use the merged and larger file in another email client application like MS Outlook.
Merging MBOX files would be beneficial when you are creating backups.
To eliminate duplicate emails/data and free up space on the drive by combining all emails into a single file.
To consolidate two MBOX files into a single file for better management.
Now, you may have understood why merging MBOX files are necessary in different situations. Sometimes, managing multiple MBOX files can be very difficult and a proper solution is needed.
But the question is, how would you merge all MBOX data files into a single MBOX file? There are chances that you may lose your MBOX data, if yoiu try manually. So, to merge MBOX files safely, you need an automated tool that will safely and securely combine MBOX files while maintaining data integrity.
Instantly Combine Multiple MBOX Files into One
Advik MBOX Converter Tool is a more convenient and simpler way to merge MBOX files. This program provides several key features, such as easy and rapid transfer of emails from MBOX files with a high success rate, and without the risk of data loss. This smart program merges MBOX mailboxes in just seconds without consuming much time. Additionally, users' intact MBOX file data integrity remains well retained even after joining MBOX files in batches.
Additionally, it also allows users to upload MBOX file to various email services such as that you can import MBOX to Gmail, Yahoo Mail, Outlook.com, Roundcube, Yandex Mail, Zoho Mail, Zimbra Webmail and many other IMAP based email services.
Also, the tool can preserve the metadata of MBOX files after combining MBOX files into a single one. Data formatting and folder hierarchy remain unchanged even after merging. Additionally, this software makes it easy to merge unlimited MBOX files without any size restrictions.
Procedure to Merge Multiple MBOX files with Reliable Program
Here are the steps to merge mbox files using Advik MBOX Converter Tool;
Step 1. Firstly, install and run this MBOX converter tool on your system.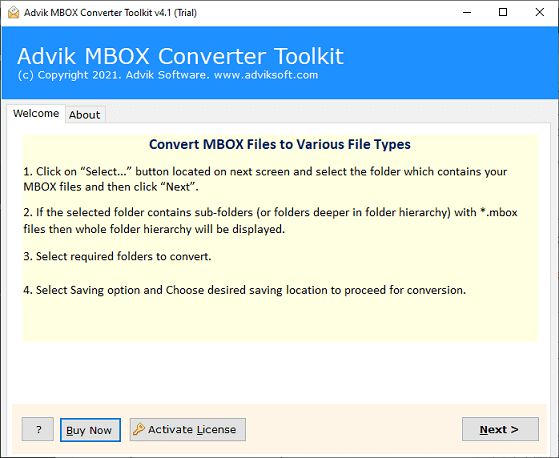 Step 2. After that, tap on the "Add File or Add Folders" option to upload your MBOX file into the software panel.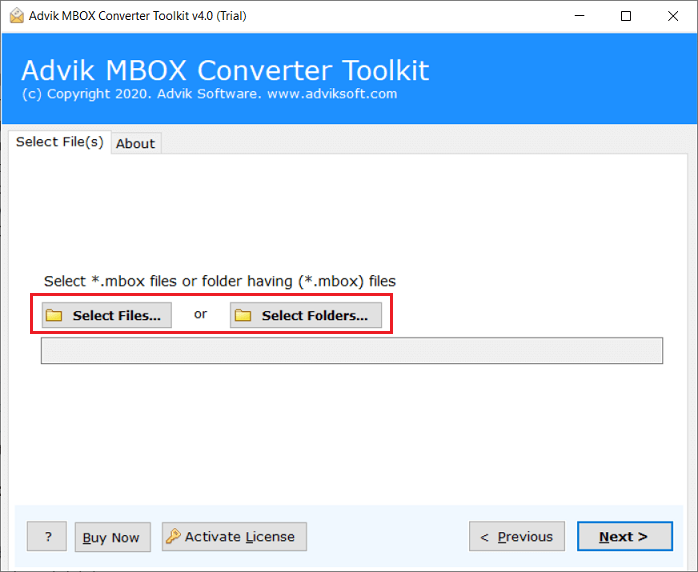 Step 3. Now, choose mailbox folders of your MBOX file that you may wish to merge into one file.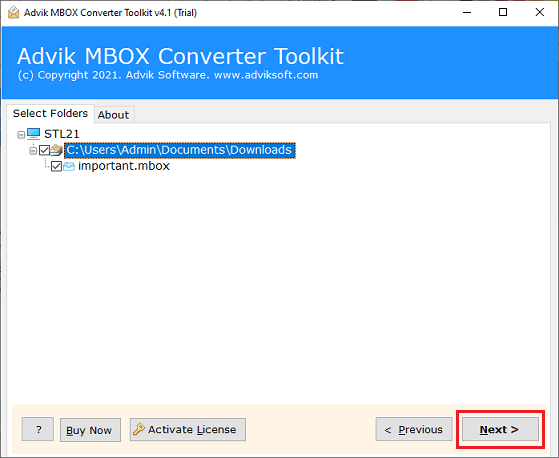 Step 4. Thereafter, select "MBOX" file as a saving option to combine multiple MBOX files into one MBOX file.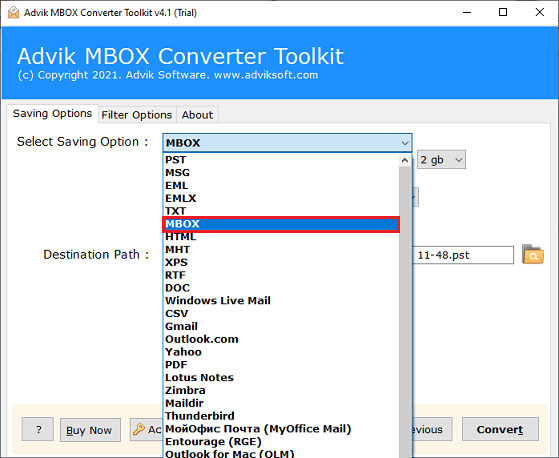 Step 5. Then, choose destination path to save the resultant data file at your chosen location.
Step 6. Finally, tap on the "Convert" button to start merging process.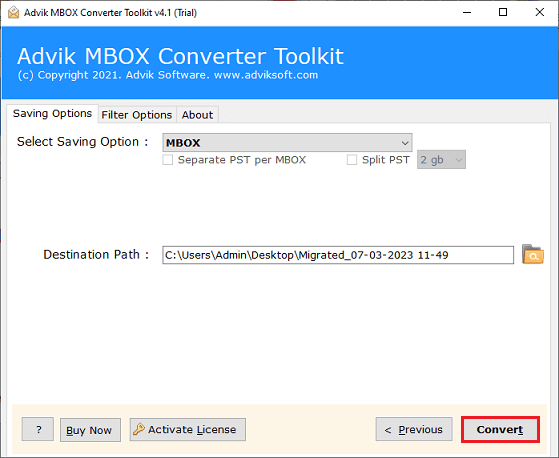 Done!! Now see live MBOX merging process on the screen. The software will automatically redirect you to the location where your merged MBOX files has been exported.
Advanced Features of Advik MBOX Converter Tool
Let's learn about the features and benefits that Advik MBOX Converter Tool offers to it's users;
The tool enables users to merge two MBOX files into one by creating a new folder. It features a user-friendly interface that allows even non-technical users to easily combine MBOX files.
Also, using this tool users can convert MBOX to PST, EML, PDF, MSG, DOC, HTML, MHT, XPS, RTF and many more other file itmes. As, this amazing wizard offers more than 30+ options to save MBOX files.
Users can combine MBOX files without duplicates or size restrictions, and they can merge only selected folders as needed. This option is useful for those who don't want to merge all unnecessary MBOX files and save time.
This tool permits users to merge MBOX files into a single one while also providing a smart feature to remove duplicate Outlook files and folders.
Users can combine two MBOX files or multiple MBOX files and save the resultant single merged MBOX at the chosen destination path. This software supports all email clients having MBOX files.
The Tool provides users with dual modes of MBOX file selection, i.e., they can either "Add Files" or "Add Folders," depending on the available numbers of MBOX files for performing the merge.
Using this reliable tool, users can merge multiple MBOX files in all versions of Windows Operating System, including Windows 10, 8, 7, XP, and other editions in both 32- and 64-bit versions.
The Verdict
Merging MBOX files is an essential task for users who want to manage their email data efficiently. There are several ways available and users can choose the one that suits their needs. The above steps will help users to combine MBOX  files quickly and easily. However, it is essential to choose a reliable and trustworthy tool to ensure that the data is not compromised.