How to Recover Tally Data from Formatted Hard Disk?
Overview: Are you trying to recover deleted tally data from formatted HDD? If yes, then you are at the right place. This is a type of situation that we all hope that never comes in our life. You might have worried to recover Tally data from formatted hard disk? Perhaps, the reason may could be that you have accidentally deleted or intentionally deleted. the main thing which important here is you have loosen you data from Tally and you want now to recover those data.
No matter, how you came to this situation, the fact is that how to recover tally data from formatted hard disk. Don't panic now!! this can be happen with anyone. Just focus on the best solutions that we have given in this article which are free of cost to use. Just go through each methods and recover your deleted data from tally.
Queries Found Related to Tally Data Recovery:

How to recover deleted tally data without backup?

How to recover replaced tally data?

Can I recover my tally data?

How to recover deleted tally data from pen drive?

How to recover tally data from formatted Hard Disk?
What happens when you format your Tally Data?
Let's take a look at what formatting your hard drive actually does to your tally data. The operating system loses its ability to relate data such as tally to a hard drive when it is formatted. There is still a chance to recover Tally data from formatted hard disk, until the drive sectors are overwritten.
The Tally files and data still exist, but your operating system cannot access them. Formatting only removes the pointers that tell your operating system where the files are physically located. If you can recover these pointers, you can access your data again.
Methods to Recover Tally Data from Formatted Hard Disk
If you formatted the tally data completely, there is no manual way to recover Tally data from formatted hard disk. As you can see, recovering deleted files is extremely difficult. This action would require the purchase of data recovery software. It doesn't work without this software. Formatting is irreversible as it essentially restores the drive's specifications to when you bought it brand new.
But, restoring deleted data of Tally can be possible with through ways. If you have backed up Tally previously then you can restore it from there. Otherwise, there is only single solution to use any Tally Data Recover Software.
Solution #1. Restore Tally Data from Hard Disk through "Windows Folders"
You can back up your data in folder format and restore it to Tally. ERP 9.
Step 1: Back up your data
1. Go to the location on your computer where company data is stored.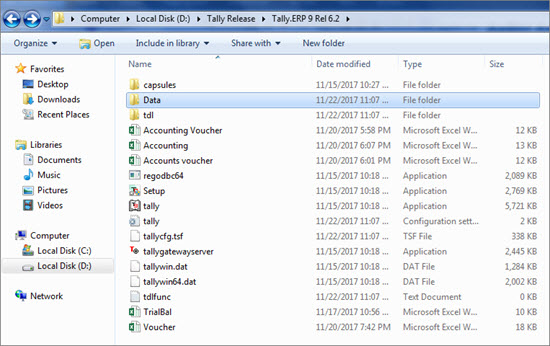 2. Copy and paste the whole data folder to another disk as below screenshot shown:

Step 2: Restore the Backup
1. Now restore the backup. Go to the location where you backed up your data.

2. Press Alt + D or tap on the address bar. The location address will be highlighted, copy this address and continue.

3. Open your tally. ERP 9 application and select the company name.

4. Now press Ctrl + Alt + V to paste the copied location address.
5. Now go to the "Gateway of Tally" and press the F12 key to go to the data configuration.
6. Now paste the copied data path in the place of the data files and press Ctrl + A to accept it.

This way you can backup and restore your data easily.
Solution #2. How to Recover Tally Data from Formatted Hard Disk without backup?
Backups are a reliable solution if you accidentally delete your data, but even good backups aren't always available. In these cases, the user may never back up their computer due to the huge amount of data stored in it. What can you do if you didn't back up and accidentally deleted your Tally data and now want to restore it? Are your files lost forever? No, that can be possible. There is a way to recover tally data from formatted hard disk without using backups.
You need to use a tool that can do this for you. If you choose the right software, there is a high chance that you will recover tally data from formatted hard disk. However, choosing a wrong tool will also cause you to lose your important data.
So there is a big problem in choosing the right tool. Don't worry, we have simplified this problem for you, we will introduce you such amazing data recovery software that will help you recover your data. Advik Data Recovery Wizard is an excellent option when you want to recover tally data from a formatted hard drive. It comes with a free download version so you can try this tool and see what it can do for you. Along with tally data, it is designed to recover data from formatted hard drive, pen drive and external hard drive.

The best thing about this tool that makes it different from others is that it previews your deleted files that have been deleted and gives you a satisfaction after seeing your deleted files. It help you in recovering your lost/deleted/damaged/ virus affected Tally data like balance sheets, vouchers, invoices, financial transaction records in an effective and efficient manner.
Final Words
Therefore, now you can understand that it is not easy to recover tally data from formatted hard disk until you need to use reliable software. Otherwise, you can never recover deleted tally data from formatted hard drive. But to avoid such situations, one must be careful while practicing Tally because it is your crucial data of your businesses and it can lead to huge data loss. Always ensure that you use an adequate backup power source while working with Tally.