How to Fix Import Export Option Greyed Out in Outlook Issue?
"How do I enable import/export in outlook 2016?" Are you also facing this type of issue? If yes, you are on the right place. Here, you will get the possible solutions for your query. In this article, we are going to solve all these types of issues "import export option greyed out outlook 2016" in an easy way.
Sometimes, users of Outlook face some issues with "Import/Export" feature which disrupts email communication. This issue is the most prominent one among all issues nowadays. We will have a complete discussion of this "Import Export Option Greyed Out in Outlook 2016" Issue.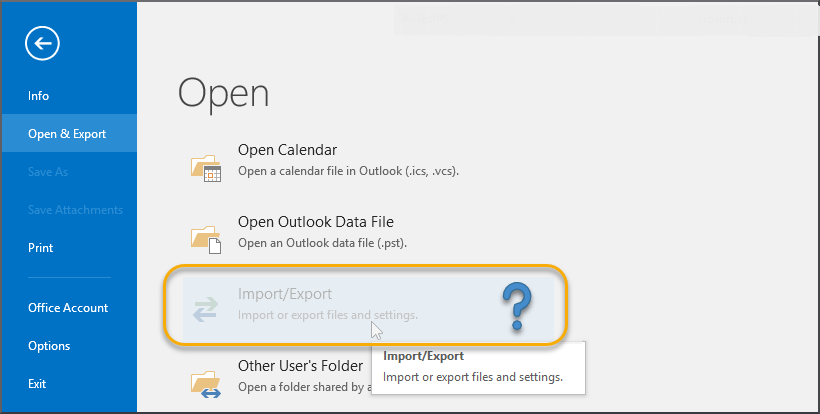 Microsoft Outlook is a broadly used email client application. A Huge number of users uses Outlook 365 to save their data into the PST file format easily access the file within the Outlook profile. It stores emails in OST and PST File Format.
Why is Outlook Import Export Greyed Out?
Generally, users are facing Outlook import export greyed out error because they might be using a trial version of Outlook. You have to buy a licensed version to overcome this issue. However, there are plenty of other situations when import and export option greyed out in Outlook. The same has been discussed and solved in upcoming sections.
Everybody is quite conscious of its functionality and is being used among multiple users in many organizations. Email communication allows users to send and receive documents, videos, images, and other media. However, users of Outlook, like users of other file formats, occasionally run into problems. The Import/Export greyed out issue is the most common of all the issues that arise. Because of this problem, importing and exporting Outlook Data file from Outlook becomes nearly impossible. It also makes it difficult to access emails.
We have taken the following user queries-
How to Solve "Import Export Option Greyed Out in Outlook 2016" Error?
Why is import export greyed out in Outlook 365?
Microsoft admin has deactivated the import/export feature configuration.
Why Outlook import export option not working in Windows 10?
How do I enable import/export in outlook 2016?
Whenever this issue arises, you will see the below type of image on your Windows screen:
How to Fix Import Export Option Greyed Out in Outlook?
Cause 1: Using Demo Version
Solution: If you are using the Demo version of the Outlook Application, then we suggest you Upgrade to Outlook Pro Version. It is only available through volume licensing and includes core applications plus Outlook, Publisher, Access, Excel, OneDrive, OneNote, Outlook, PowerPoint, and Skype for Business.
Cause 2: Corruption in the Outlook Data File
This is the most common occurrence issue with Outlook 365, but if you don't know how to remove corruption from Outlook Data File. Then, use Outlook's own inbox repair tool Scanpst.exe.
Cause 3: The setting is disabled by the Admin
It might be possible that, if you are working in a business environment and the admin has disabled the setting policy of your Outlook application. Then, the possible solution is that ask your Admin to resolve this issue.
Cause 4: Outlook isn't Updated
If you are using a lower or outdated version of Outlook, then this issue can occur frequently. To fix this error, we suggest you to update your Outlook 2013 application to the newer or latest version.
Cause 5: Incorrect Language Settings
One of the reasons for this could be due to the language settings. The language version of Windows does not correspond to the language version of Office.
To Fix this error – Change the language for a non-Unicode program in Control panel > Region > Administrative > Language for non-Unicode programs.
How to Export Outlook Data When Import Export Greyed Out?
If you are running out of time and don't have much time to perform these manual steps, you can try the professional way to deal with Import Export Option Greyed Out in Outlook 2016. Advik Outlook OST Converter is the best utility to deal with this issue. You can use this tool to export all of the Outlook data file to PST File Format and access your Data without any trouble.
Download and install it in your computer as an alternative of Outlook import export wizard.
If the above trick doesn't work for you, then you can also use this tool which enables import/export in Outlook 2016.
Whenever the error message "import/export option greyed out outlook 2016" occurs in front of users, then it is so much frustrating situation for users. It is a rare situation when you got this error message but sometimes you may be in trouble when you are using Outlook as your default email application. By using the above tricks, you are capable to resolve your issue. So that you can continue your important work on Outlook without losing any important data.
Follow the below steps to export all Outlook data when Import Export option is greyed out.
Install and Run Advik Outlook OST Converter on your PC.
Select Configured Outlook Account and click on Next button.
Now, Choose the mailbox folders that you wish to export.
Select "PST" as a saving option from the list.
Choose your desired destination path to save the resultant PST File.
Finally, tap the "Next" button to start the conversion process.
This is how you can export Outlook mailboxes and other data using this solution.
Video Tutorial to Fix Outlook Import Export Greyed Out Error
Final Words
Till now we had discussed the cases where you can fix Import Export Option greyed Out in Outlook 2016, 2013, 2019. If in case, Import Export not working in Outlook, you can opt the alternate approach. As shown above Advik Outlook OST Converter is the safest and more accurate way to export data from Microsoft Outlook. With the Advik OST Converter tool, you can export Outlook emails to MBOX, PDF, HTML, DOC, and 20+ file formats.