How to Backup SiteGround Emails to Computer?
Nowadays, cloud-based email service is one of the most popular mediums for communication. SiteGround is among the most well-known web hosting providers and offers fast and secure web hosting for websites of any kind. With every hosting plan, you will get free email accounts with your domain name. In this blog, we will learn the easiest ways to backup SiteGround emails to Computer/PC/Hard Drive.
However, backing up Siteground emails is a good idea because it offers an off-site location to access SiteGround emails. It will be also useful to protect your crucial data in the event of any mishappening. Thus, this article will show you how to backup SiteGround emails to Computer.
Reasons to Backup SiteGround Emails to Computer – Know Here
Everything needs to be backed up, including your emails. Backing up is important because it creates a mirror copy of your SiteGround emails or any other data that you can use to restore if something goes wrong such as accidental deletion, malware attacks, etc.
There are many things that can do harm to your emails stored on a cloud server, such as account hijacking, insufficient storage, power outage, Abuse of SiteGround services, or even a natural disaster.
When you backup SiteGround emails to PC/Computer/Hard Drive, you are creating a snapshot of your data that you can use to secure for a long time. So if you are switching to another hosting service, your time will be saved.
Backing up SiteGround emails to multiple locations is always a good idea to have a redundant backup if one location fails, such as using an external hard drive, a cloud-based service, USB flash drive, etc.
Method 1. Save SiteGround Emails to PC Manually
If you want to archive SiteGround emails, you can opt for a manual solution also. Follow the instructions and save SiteGround emails to the computer.
Step 1. Go to SiteGround > Email > Accounts and select the preferred email account, then click the kebab menu then click the "Log in to Webmail" button to access Webmail.
Step 2. Find the desired emails you wish to backup after logging into Webmail and left-click on them.
Step 3. Then click three dots of More and select Export. When you do this, your browser will ask you to download the message in.eml format.
Loopholes With Manual Approach
There are some limitations with this manual solution that make the SiteGround email backup process difficult.
Only one file format is available for saving SiteGround emails i.e. EML.
There are no email filter options for selective email backup.
There is no option to export the whole SiteGround mailbox data.
Considerable risk of data loss if you attempt to archive a lot of data.
You might choose a professional program that effectively backs up SiteGround emails to local computer to get over these restrictions.
Method 2. How to Download SiteGround Emails to Computer Automatically?
Interestingly, you can backup your most important SiteGround emails to computer. Using Advik Email Backup Wizard, which is specially designed to take SiteGround email backup to PC/Hard Drive/Computer. If you are looking to download SiteGround emails, then this one is the best solution. It has a simple and easy-to-use GUI that provides a direct option to download SiteGround emails without any extra effort. The tool has been beneficial for individuals as well as for business organizations.
Apart from it, the tool has several advanced features which make the SiteGround email backup process easier and more convenient for users. One can effortlessly save SiteGround emails to their desired location without losing any data.
You can download the FREE Trial edition of the Advik Email Backup Tool to check your work efficiency. In its trial mode, the tool will offer you to backup 25 emails of the SiteGround Mail account efficiently.

Procedure to Export SiteGround Emails to External Hard Drive
In order to backup SiteGround emails to different file formats, just follow the mentioned steps;
Step 1. First of all, install and run Advik Email Backup Tool on your computer.
Step 2. Now, go to "Email Source List" and choose the "SiteGround" option from the list.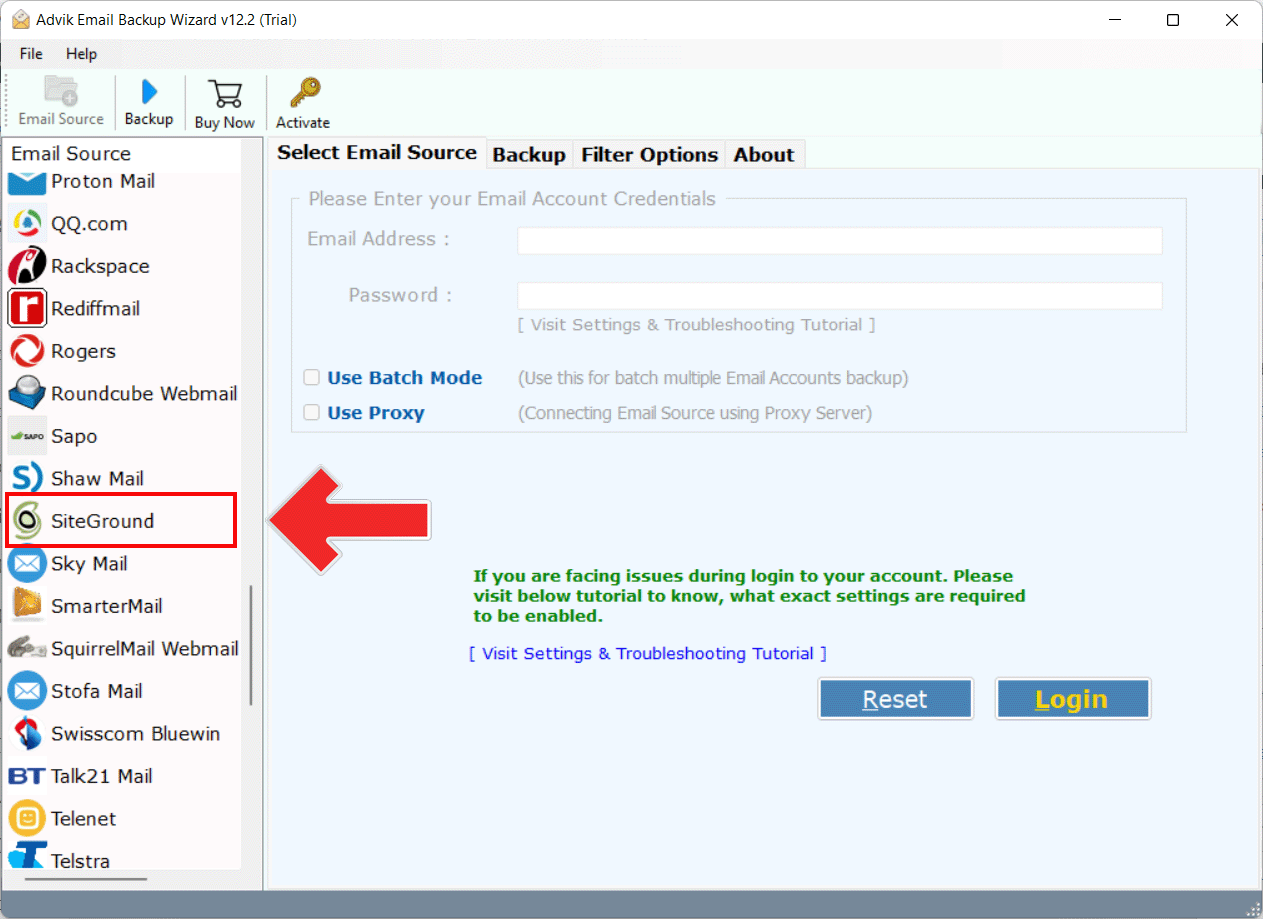 Step 3. Now, enter the login details of the SiteGround Account, and thereafter, press the "Login" button.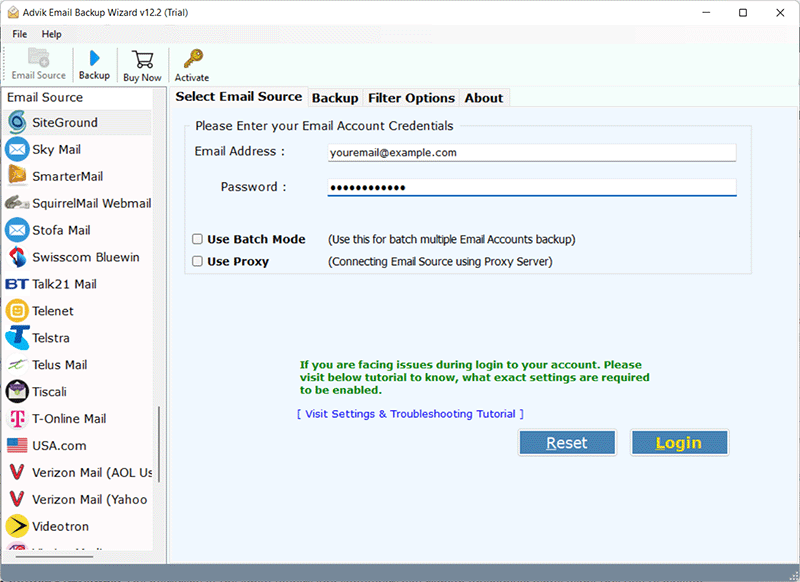 Step 4. Then, the tool will quickly start to analyze and load SiteGround mailbox folders in the software panel. Choose the required folders that you wish to backup to your system.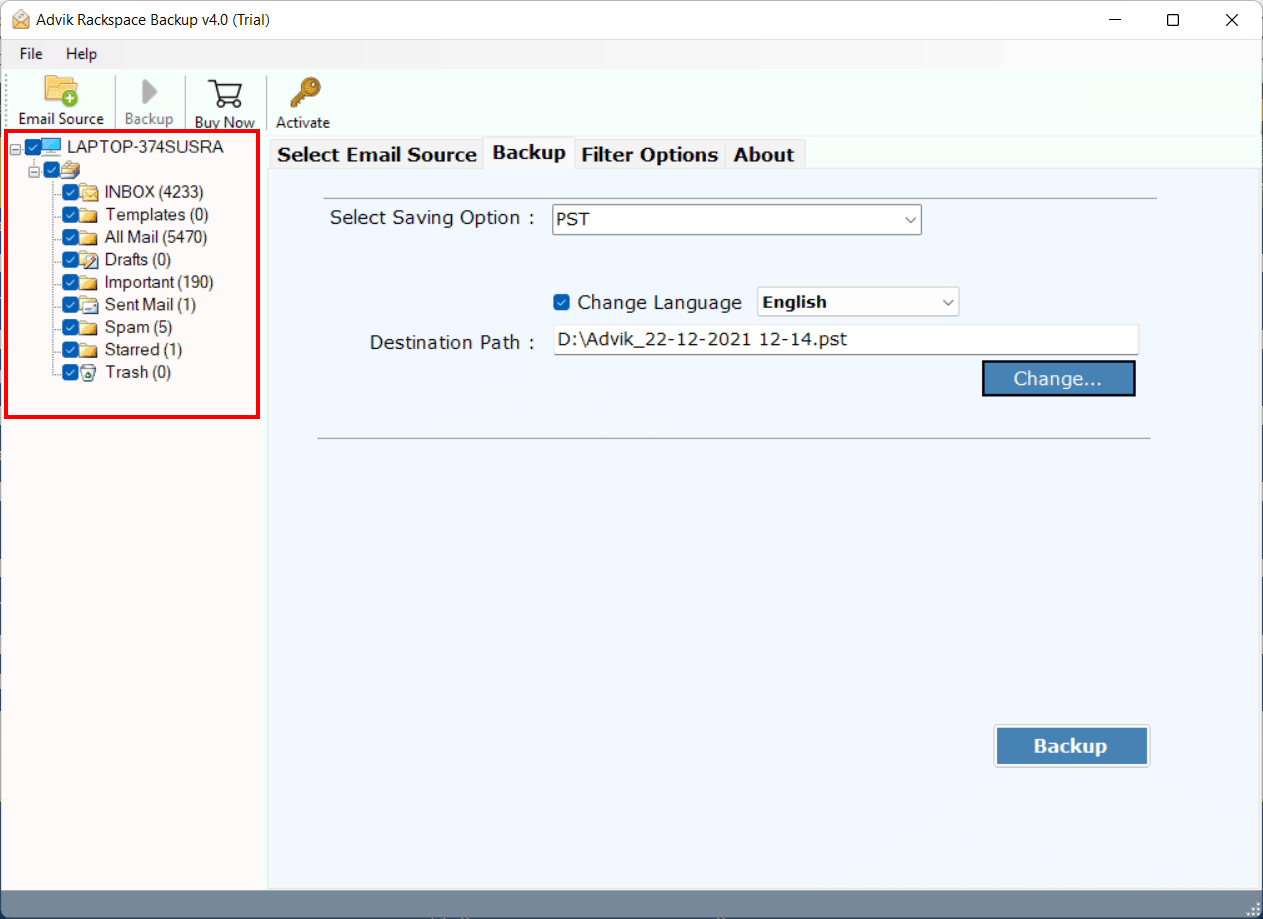 Step 5. This tool offers 30+ saving options from the list, choose the preferred file format.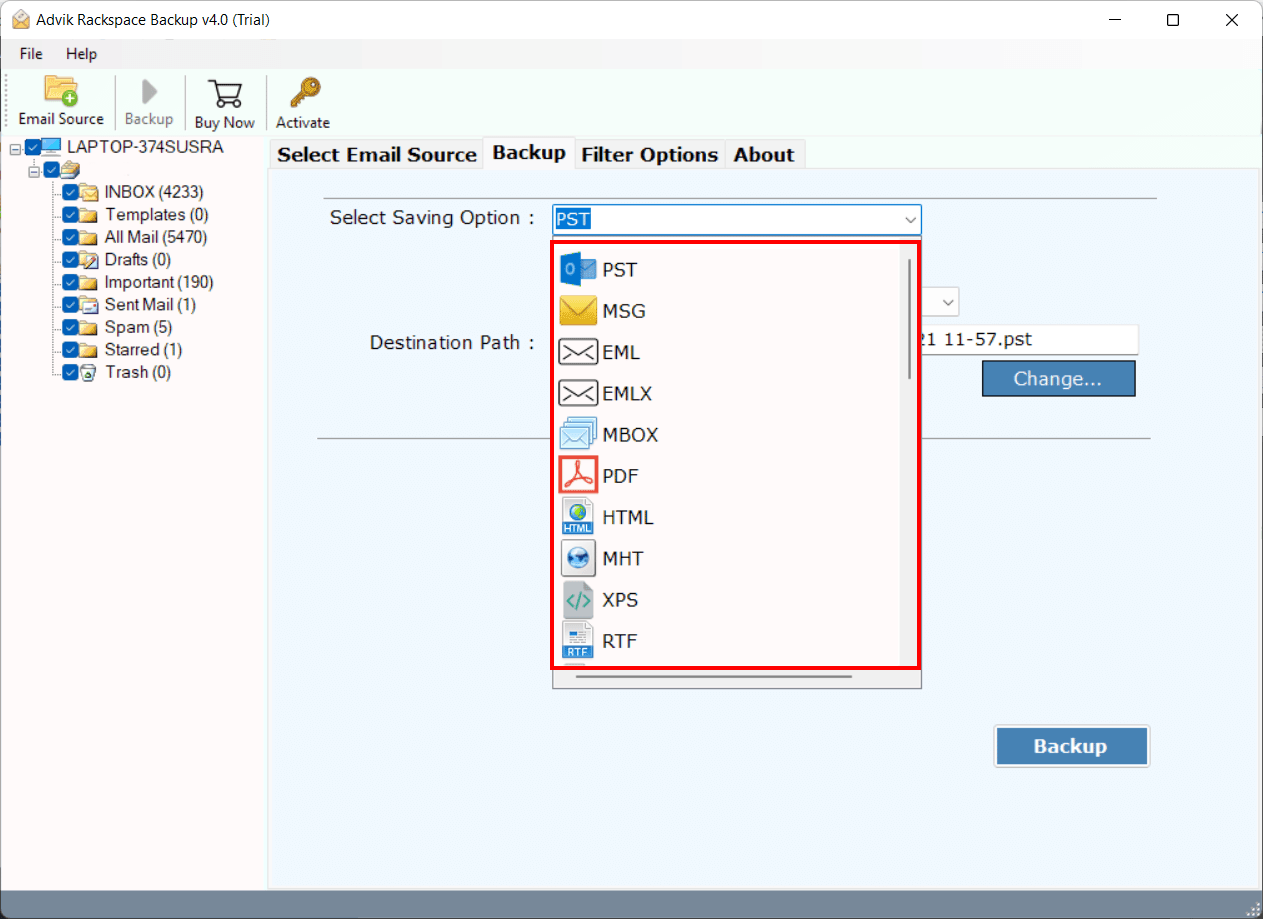 Step 6. After that, choose the desired destination path to save the resultant data file.
Step 7. The final step is to tap on the "Backup" button to start downloading SiteGround emails to the computer.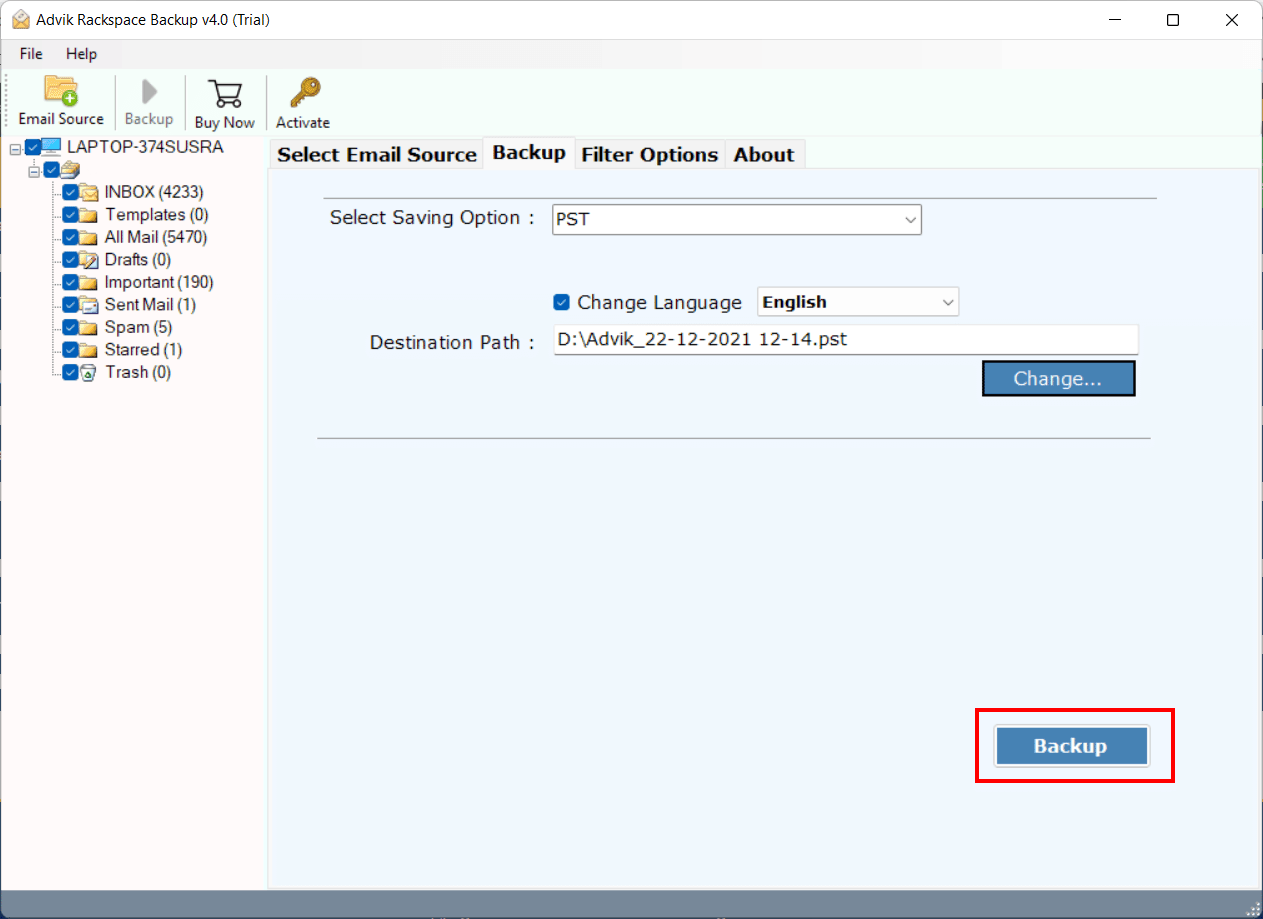 Why Choose the Advik Email Backup Tool?
This automated tool has a number of exceptional qualities, some of which are listed here:
Maintain Folder Structure: The hierarchy of the email folders and subfolders will remain unchanged while using this tool to backup emails from the SiteGround Mail account. Your emails will be in the same proper format as the original.
Backup SiteGround Emails in Batch: The software allows you to export multiple SiteGround email accounts in a single attempt. You don't need to take backup of multiple accounts every time, you just need to upload a CSV file containing the email addresses and passwords of the respective accounts.
Preserve Email Attributes: This utility will save its attributes together with SiteGround emails. Utilize this application to backup SiteGround emails, including all attachments, hyperlinks, inline graphics, and header information.
Email Filter Options: With this automatic tool, you can choose from a number of filter options to backup only specific emails. You can use filters like "to," "from," "cc," "bcc," "time," "date," "topic," "has attachments," etc.
Windows Compatibility: This utility runs well on every PC running Windows OS. This tool is compatible with Windows 11, 10, Vista, XP, and all earlier OS versions.
Conclusion
Having a backup of your crucial emails is always a safe and perfect idea. You never know when something wrong might happen to your emails. In this blog, we have given two easy ways to download SiteGround emails to computer. You can manually choose or use a third-party tool like Advik Email Backup Wizard. However, because of several limitations of the manual solutions, many users opted for an automated tool.