How to Convert PST to ICS (iCalendar)?
The article explores quick and efficient ways to export calendar from PST to ICS. If you are looking for a query similar to this: "How do I convert a PST calendar to ICS?" then this blog will be extremely useful for you to find the solutions you have been looking for. Go through this article to the end so you don't miss any of the important steps to convert PST to ICS.
Rapid Solution: If you need a quick way to export a calendar event from a PST file, you can use a free Advik PST to ICS converter tool to make your task even easier than ever. It is designed with advanced algorithms to successfully convert PST Calendar to ICS file format.
So you want to convert PST calendar to ICS? It won't take long at all. In fact, if you're using Outlook 2021, it's the easiest thing you've ever done.
Before proceeding with PST to ICS conversion. Let's understand ICS file format so that you don't face any difficulty in converting PST to ICS calendar.
What is an ICS File?
As technology becomes more advanced and modern, many users are switching from manual or paper calendars to online calendars. ICS calendar format is one of the most widely used to meet the purposes of calendar needs. They are simple text files that contain details about a calendar event.
ICS format is a universal calendar file format created and recognized by all major calendar apps including Microsoft Outlook, Apple Calendar, Google Calendar, and Mozilla Thunderbird. ICS files are the most common file type for sharing calendar information as they are supported and used by all major calendar applications to add event details to a calendar.
Ways to Convert PST to ICS – Top 2 Solutions
We are going to spare you from reading this whole post if you already know what outcome you are looking for.
Here is best two methods that will be extremely helpful for you to solve your query to convert PST calendar to ICS in an effective and efficient manner.
1. Manual Solution

2. Professional Solution
Method 1. How to Export PST to ICS File? – Manual Solution
Microsoft itself provides a feature that can be used to convert PST Calendar to ICS File. But, be aware it also comes with some unavoidable limitations that can cause several delays in your PST to ICS conversion process. But, if you are determined to use this manual solution along with it's limitations and then please follow the mentioned process step by step in order to get ICS calendar from PST file.
The whole process is divided into major steps that you need to follow rigorously:
Note: Must have installed MS Outlook email client application.
Step 1. Import PST File to Outlook
1. Navigate to menu bar and go to "File".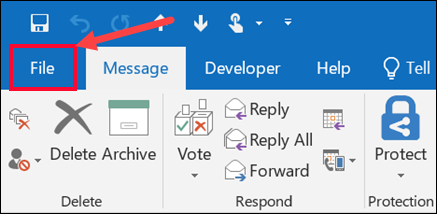 2. Now, Click "Import & Export" and choose "Import/Export" and proceed further.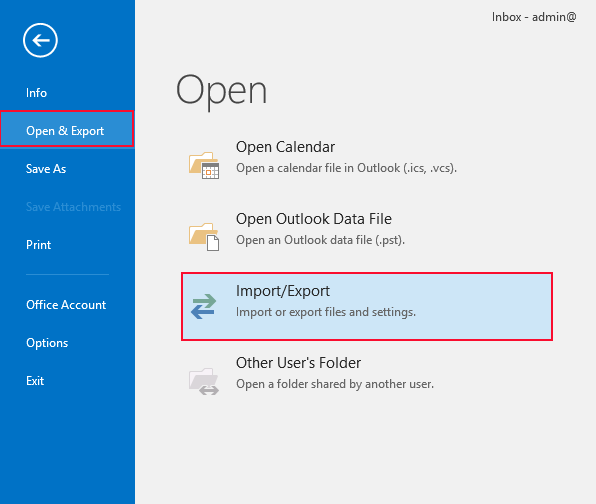 3. Select "Import from another program or a file" and click "Next".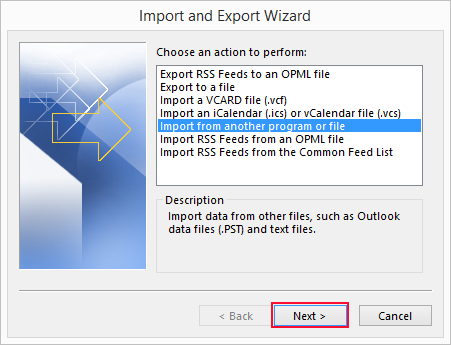 4. In this step, choose "Outlook data file(.pst)" and continue.
5. Browse and select PST file and click "Next".
6. Import the entire file and select the folders that you want to import. i.e. only your calendar folder or all of your mailbox folders.
7. Tap "Finish" to complete the import process.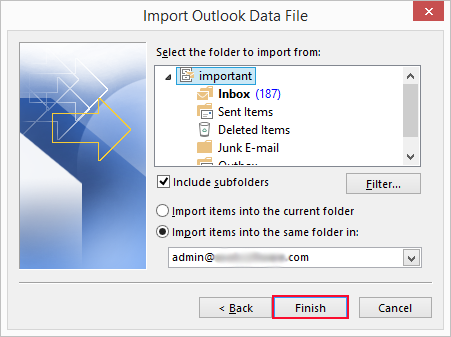 Now, you have a PST file in your Outlook application. Now, we will move to next steps where we will export Calendar folder from PST file to ICS file format.
Step 2. Export PST Calendar to ICS File Format
Steps to convert PST to ICS are as follows:
1. Restart Outlook application in your system.
2. Now, Go to the mailbox folder of import PST File and click "Calendar" and select it.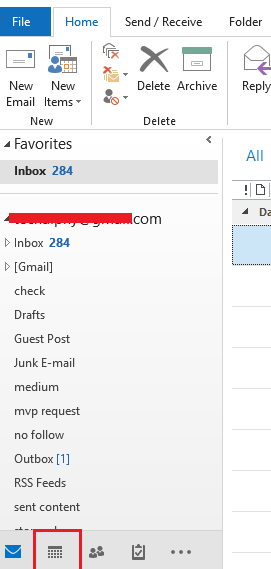 3. From the various options, choose the calendar that you would kike to convert to ICS format.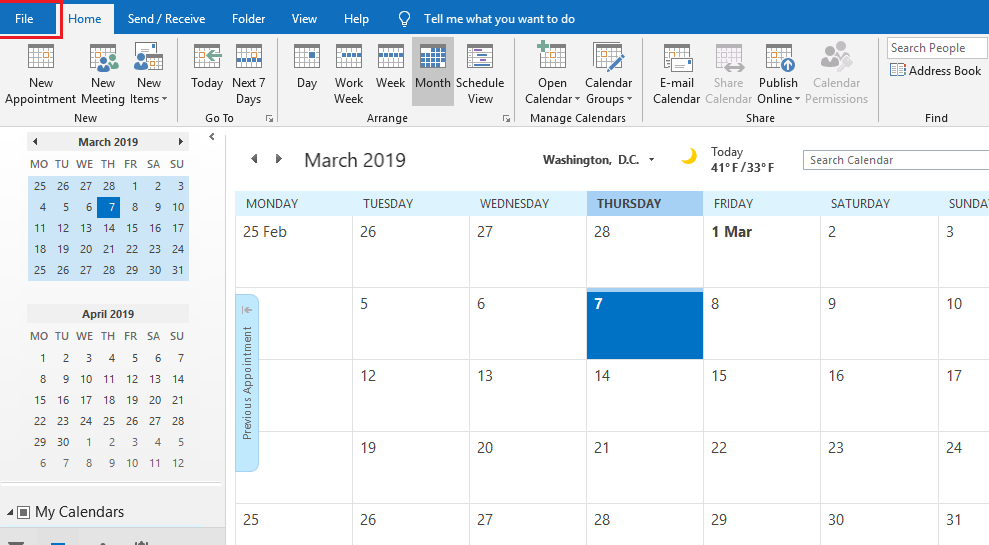 4. After that, click on "File" menu and select "Save Calendar" option from the drop-down menu.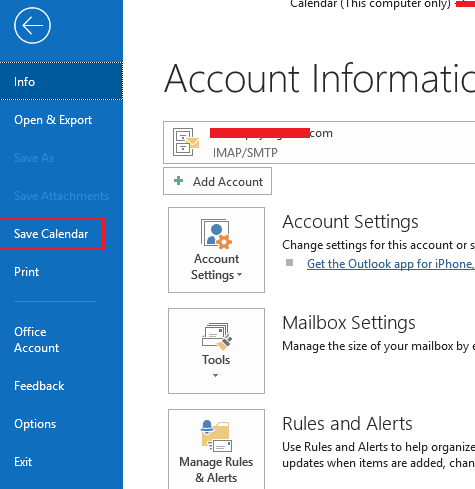 5. Thereafter, in new window, choose the destination where you wish to save ICS File.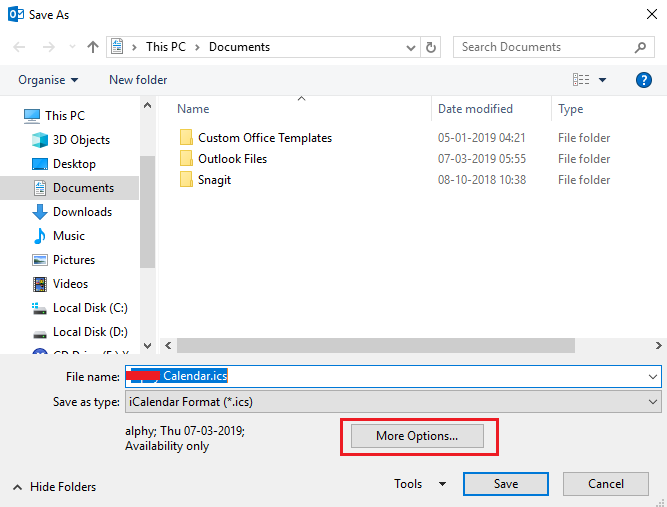 6. Click "Date Range" drop-down menu and choose the required data which includes Today, Tomorrow, Specify dates and whole calendar and other options and tap "OK".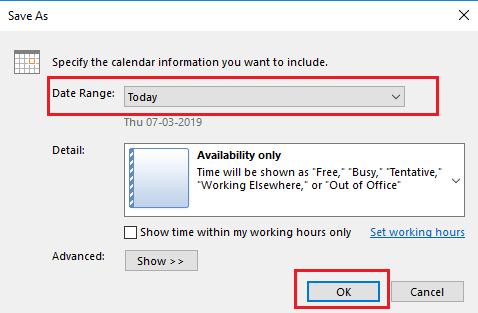 7. After choosing details, Click "Save" button to complete the process.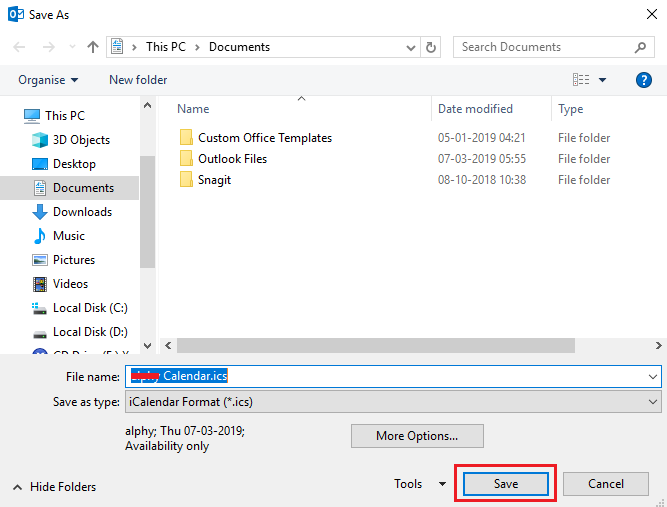 Hence, it was an easy and free method to convert PST calendar to ICS.
However, you must have an Outlook application installed on your system, which is not possible for everyone to do so.
The second major drawback is that it takes up a lot of your crucial time, which is not easy for professional users to invest.
Therefore, it is recommended to choose an alternative solution that is specially designed to reduce the time spent on manual solutions and provide users with satisfactory results in the shortest possible time.
Apart from that, it also provides four easy steps to complete the whole task of PST to ICS conversion process which cannot be given by manual solution.
Method 2. How to Convert PST calendar to ICS Effortlessly? – Instant Solution
If you are looking for a quick and easy solution, you can always use an automated solution. Advik PST Converter is a powerful tool to convert PST Calendar to ICS for free. As, it provides an instant solution to any of the issues related to PST to ICS Conversion process. It allows users to effectively convert PST Calendar to ICS File with complete information such as Meeting lists, Schedules, Reminder, task etc.
The best thing about this tool is that no other application installation is require to extract calendar from PST file. This tool absolutely amazing in terms of accessibility and conversion of files.
Apart from the above functions, this tool also export PST file to 30+ other file formats Such as  EML, MSG, MBOX, PDF, CSV, DOC, EMLX etc. Check out this tool now with given below link and export PST calendar to ICS online for free.
Step-by-Step Guide to Export PST to ICS File are as follows;
Follow the steps mentioned below to convert ICS Files:
1. Install and run PST to ICS Converter in your system.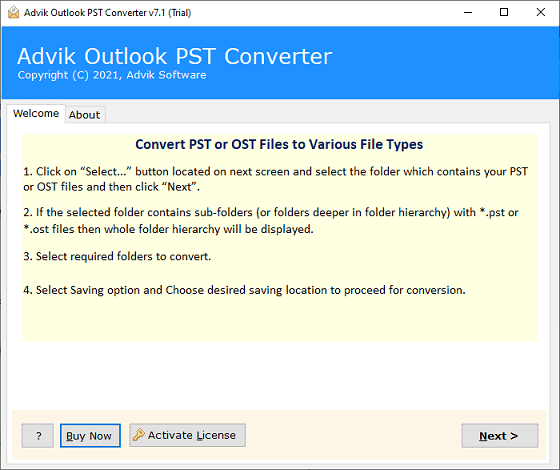 2. Click "Select File or select folder containing PST files" and upload them to the software window.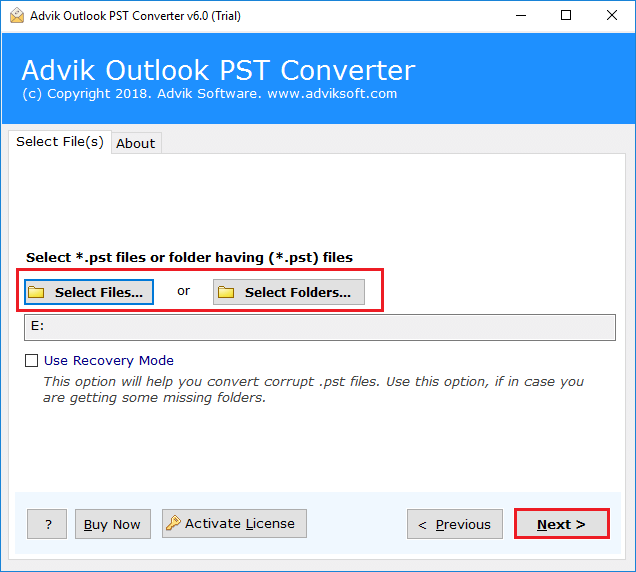 3. Now select the "Calendar" folder from the PST file mailbox folders as shown below.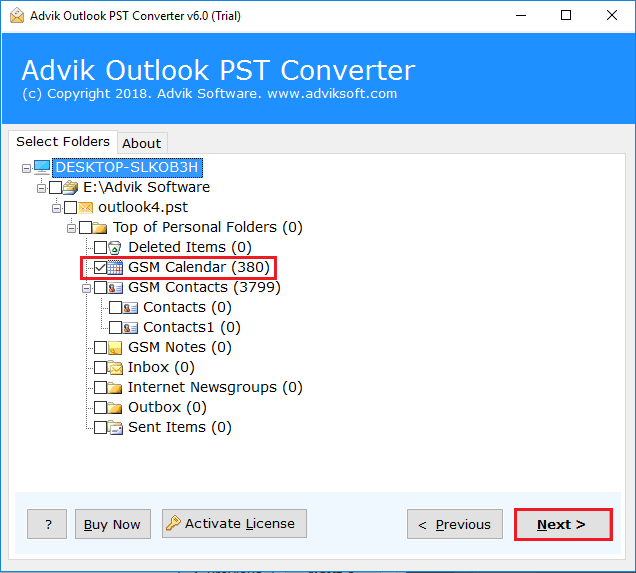 4. Select ICS as a saving format from the available options. This tool offers you multiple options to export PST calendars.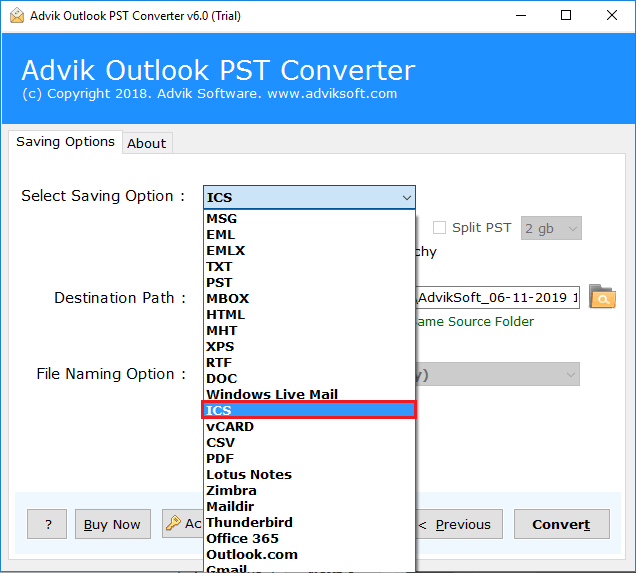 5. Now choose your preferred location to save your resulting ICS file on your PC.
6. Click on the "Convert" button to start the PST to ICS conversion process.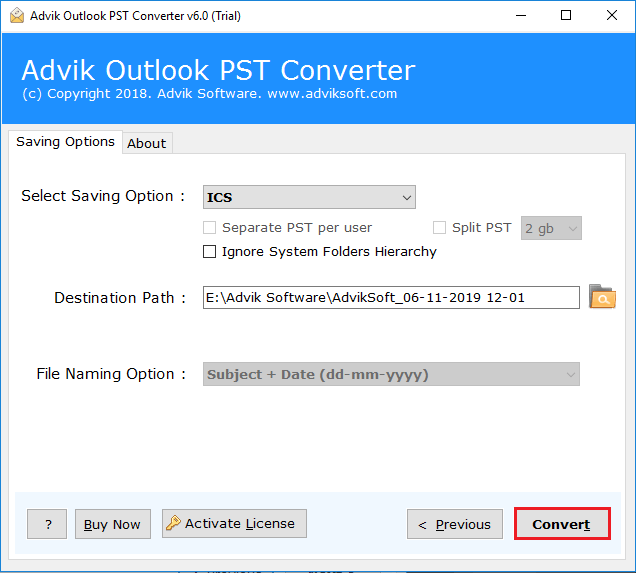 That's it!! Here's how you can convert PST files to ICS files in no time.
Watch Video Tutorial – How to Convert PST Calendar to ICS File?
Final Words
Therefore, we are done with two different techniques to convert PST to ICS. Both manual and professional solutions have been thoroughly explained in this article. you are free to choose any of those methods. But as we have seen that manual methods have some major limitations that can't be ignored or avoid if you have to safely and securely export PST to ICS. Additionally, an expert solution is also given to overcome these challenges i.e. PST to ICS converter tool. It also comes with free trial version to test it's efficiency and effectiveness of this tool.