How to Extract Calendar from PST file? – Solved
Want to extract calendar from PST file? If yes, then you are on the right page. There are plenty of Microsoft Outlook users who are looking for a reliable solution to export Calendar file (.ics) from PST. 

Before starting this discussion you need to take a quick look at PST and ICS formats…
PST stands for Personal Storage Table. This file format is used to store multiple emails, attachments, calendars, journals, and other personal information used by Microsoft Applications. You can export PST from Outlook Application using the Import/Export option in the "File" menu.
ICS stands for Internet Calendaring and Scheduling. ICS or iCalendar file format is used to store calendaring information such as tasks, events, holidays, birthdays, etc. Various applications support ICS format for storing Calendars and scheduling data. These include Apple Mail, Google Calendar, Android Devices, Microsoft Exchange, Microsoft Outlook, IOS devices, etc.
Method 1. How to Export PST Calendar to ICS File for Free
A PST file is a personal storage file used by Microsoft Outlook to store emails, contacts, calendars, and other data. To extract the calendar from a PST file, you can follow these steps:
Open Microsoft Outlook on your Windows computer.
Click on the "File" menu to showcase the Outlook menu.
Now Select "Open & Export" from the left-hand menu.
Choose "Import/Export" from the options.
In the Import and Export Wizard, select "Export to a file" and click "Next."
Select "Outlook Data File (.pst)" and click "Next."
Choose the calendar folder you want to extract from the PST file and make sure the "Include subfolders" checkbox is selected.
Choose a location to save the exported calendar file and give it a name.
Click "Finish" to start the export process.
Once the export is complete, you can open the exported calendar file in Outlook or other compatible applications to view your calendar events.
Method 2. How to Extract Calendar from PST File Without Outlook?
This solution is pretty useful when the Outlook Import Export option is Greayed Out. Also, when you don't have MS Outlook installed in your PC.
First of all download and install Advik Outlook PST Converter software. This tool is specially designed and developed for Outlook users. You can convert PST calendar to ICS file without losing any information. Despite having a self-explanatory user interface, the software is loaded with plenty of useful features.
You can extract attachments from PST file, and convert Outlook PST file into 20+ file formats. (Scroll down below to see more features)
Follow the below steps to Extract Calendar from PST are as follows;
Step 1. Run Advik PST Converter and click Select Files.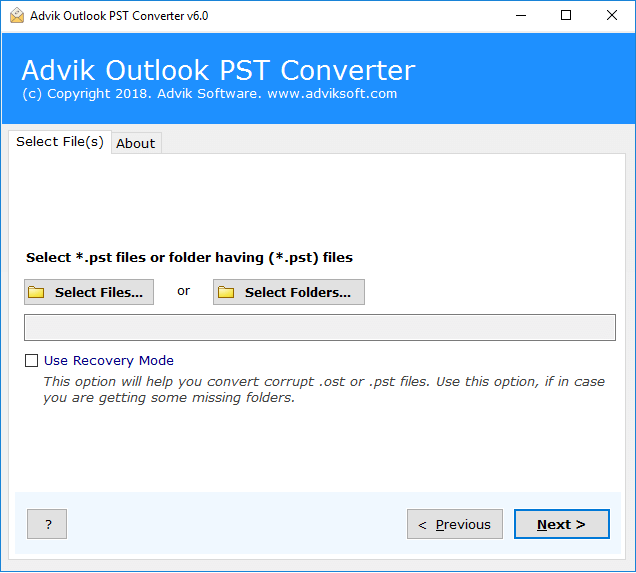 Step 2. Now, browse and locate the Outlook PST file.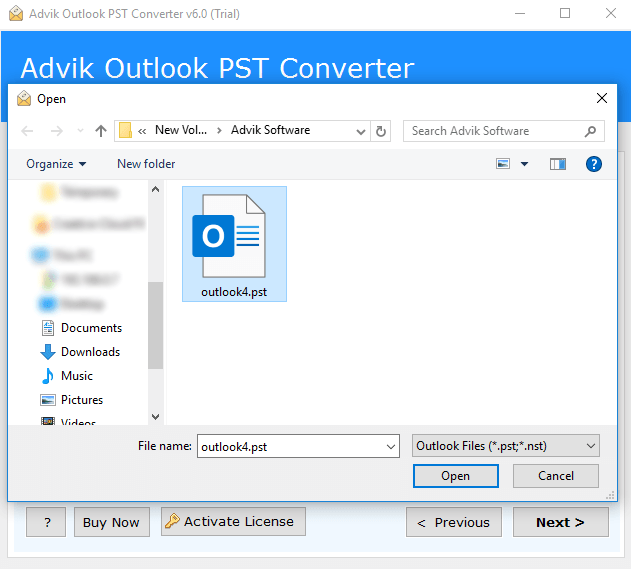 Step 3. Choose the Calendar folder from mailboxes.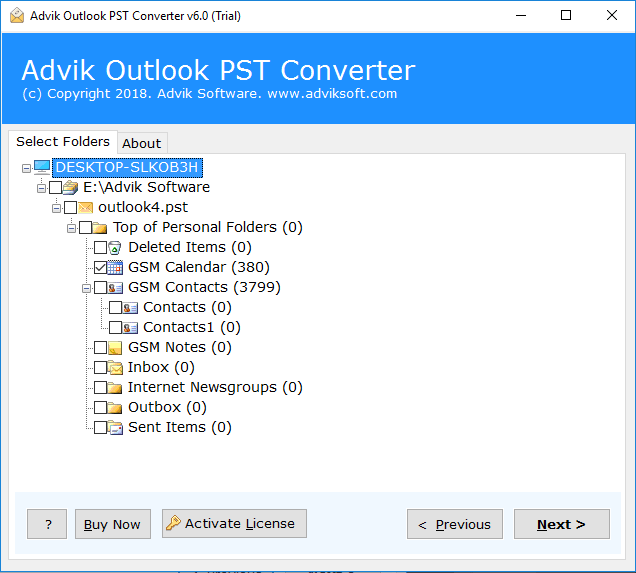 Step 4. Select ICS from the saving option list.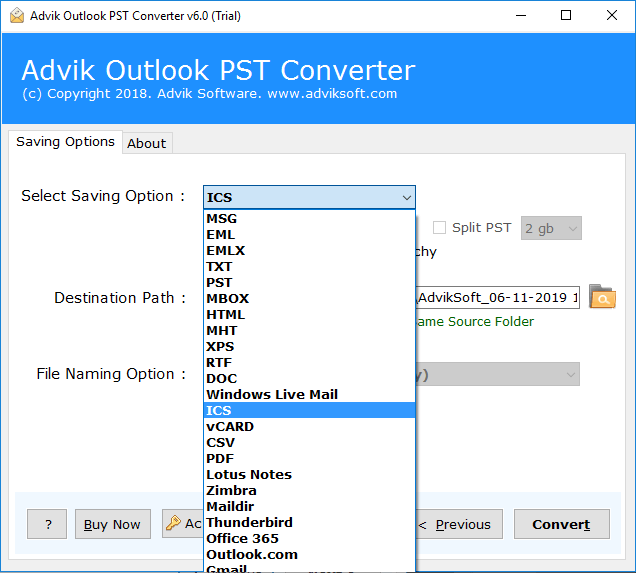 Step 5. Click the Convert button and analyze the process.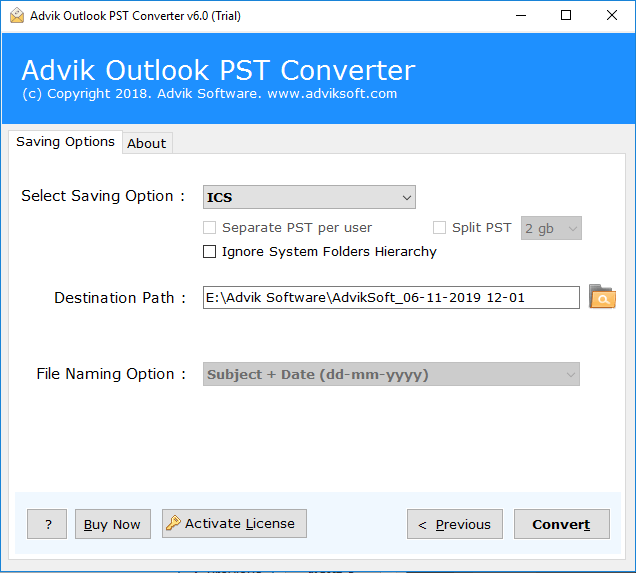 Now sit back and relaxed, the software will automatically extract calendar events from Outlook archive in no time. After the successful extraction of Calendar events from PST file, the software then automatically opens a folder containing your ICS File.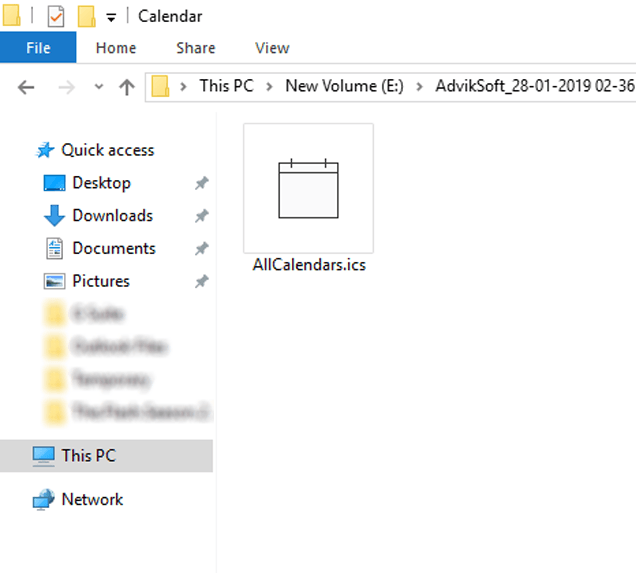 Finished! This is one of the widely used solution to export calendar from PST file. The best part of the above solution is that you don't need any technical knowledge or skills to operate it.
Why Choose Advik PST to ICS Converter?
There are various reasons to choose Advik Software to extract calendar data from PST file. Some of them are as follows;
Most Accurate and Powerful Conversion: Advik PST Calendar Extractor provides the most accurate conversion to its users. Its powerful conversion engine ensures that none of your data will omit or modifies during the process of extraction.
User-Friendly Interface: We created this software to ease the process of PST Conversion. That's why the interface of the tool is very simple. Anyone with a basic knowledge of computers can easily operate this software with ease.
Multiple Output Formats: Apart from Extracting calendar data from PST file, you can use this tool to convert PST to MBOX, PDF, EML, MSG, VCF, etc. Also, this tool is capable of uploading PSt file to Office 365, Yahoo Mail, Gmail, Yandex Mail, and any other cloud-based email services that use the IMAP protocol.
Supports All versions of Windows OS: You can easily use this software on almost all versions of Windows OS. Apart from this, the software is compatible with both 32-bits as well as 64 bits architecture of machines.
Dedicated Customer Support: In case you are stuck somewhere while exporting the calendar from PST file, you can contact our customer support for further help.
Free Demo Download: You can download the free version of this tool to check the working of the tool. We highly recommend you to try for free version before going for a licensed version of this tool. In the demo version, you can convert up to 25 items at once. For Licensed users, you can convert unlimited items an unlimited number of times.

Final Words
Till now, I had discussed one of the quickest ways to convert PST to ICS file. As we all know there is no manual solution is obtainable. Thus, I recommend choosing the above-suggested solution for the best results. Users want to export Outlook calendar to PDF can follow the above solution as well. You need to change the saving option to PDF and export.