Cox Mail Backup – Save Emails from Cox Mail to PC
Even if you don't plan on backing up or downloading your Cox Mail emails, it's still a good idea to back them up in case you need them later, or they were accidentally deleted, or whatever the reason. Thankfully, we've made this process extremely useful for you. We'll show you what you need to secure your Cox Mail email and access it anywhere, anytime. You are here which means you have searched for a way to save emails from Cox Mail to PC/Hard Drive/USB etc. With the Cox Mail Backup Tool, your task of backing up data will become easier and more convenient for you.
Instant Solution: If you don't want to waste your time & energy downloading Cox Mail email files one by one, you can try the professional Advik Email Backup Wizard to safely and conveniently backup Cox Mail.
Cox Communications which is a highly advanced telecom provider in the USA, facilitates high-speed free email service to its users. It also offers email backup solutions along with the Cox Mail. With the help of the Mail App, you may backup emails. Cox Communications' Mail offers both personal and commercial services.
If the user is unhappy with the service, they can pay a cancellation charge of 75% of the total cost. There are numerous varieties of Internet services. For email, every broadband provider in the USA makes use of a different server. That's why you should configure your devices so that you can access the Cox email.
Why do you need to back up Cox Mail to PC/USB/Hard Drive?
The reasons why you need to secure Cox Mail are explained below. Users are advised to read it before making any decision regarding the Cox Backup Tool.
When the Cox Mailbox is full and you cannot save and receive any more emails in it, it is imperative that you must backup Cox Mail to the external hard drive or computer. You can save Cox Mail emails as a file, so a backup would be a worthy solution for you.
Cox emails stored on a local drive allow you easy access to your Cox emails in a single folder at a time.
As a professional user, you can't waste your time downloading emails one by one. You must have an automated Cox Backup tool to manage your business email.
Since it is quite obvious that your mailbox receives lots of emails every day and you are always tired of deleting those emails regularly, in this case, you must choose a professional tool to save emails from Cox Mail on the same PC.
Advik Cox Backup Tool – Perfect & Reliable Solution to Download Cox emails to Computer
The best way to download emails from Cox Mail is by using Advik Email Backup Wizard. It is designed with some advanced algorithms to backup Cox Mail emails to 30+ file formats such as PST, MSG, EML, MBOX, PDF, CSV, DOC, etc. It is a full-featured Cox Mail Backup solution to download emails from Cox Mail to External Hard Drive. This tool offers various features to the users such as high availability on the Windows platform, advanced data protection, download unlimited emails, and many more.
It is also capable enough to export Cox emails to PST, EML, MSG, PDF, MBOX, etc. With this tool, users can assure backup of multiple Cox email accounts without any hassle. The Cox Mail Backup tool offers you to batch export Cox emails along with attachments to PC. Overall, it is an effortless solution for users to save emails from Cox Mail to Computer without losing any data.
Free download this Cox Mail Backup tool from the below button and check out its amazing features in just a single click.
Simple Steps to Download Emails from COX Mail to Computer are as follows;
In order to backup Cox Mail emails to the desired option, just follow the instructions below and start downloading emails from Cox Mail Backup;
Step 1. Install and Launch Cox Mail Backup Tool on your Windows Machine.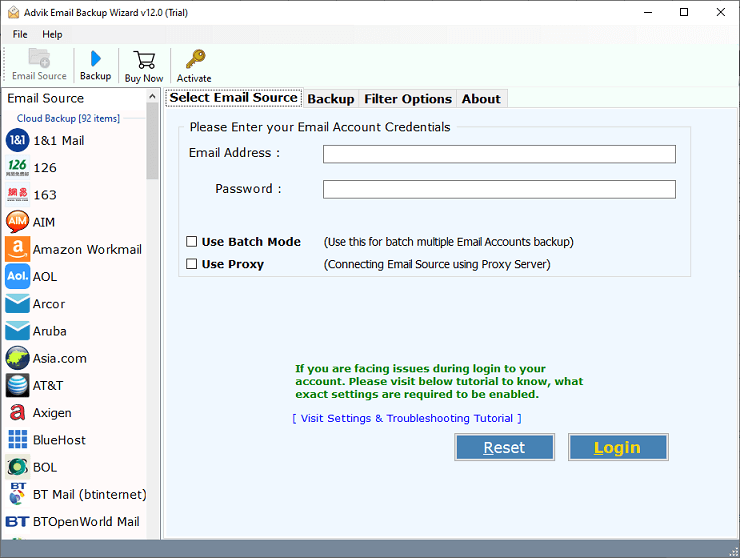 Step 2. After that, go to the email source list and choose "Cox Mail" from the below options.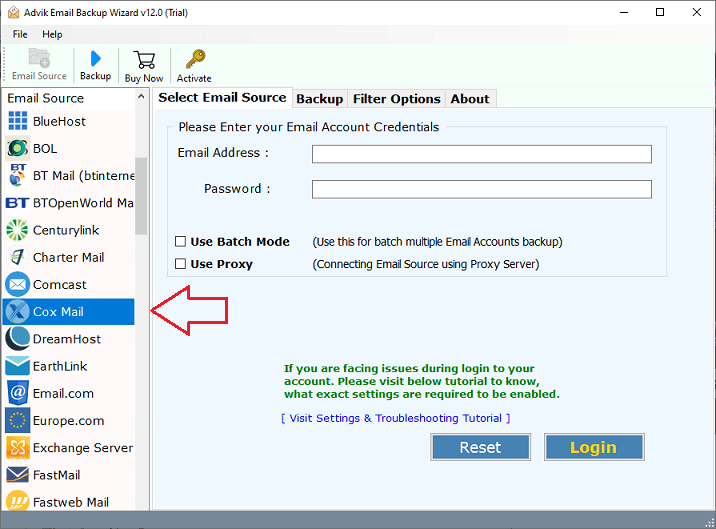 Step 3. Now, Enter your login details for Cox email account such as email address and password, and tap the login button.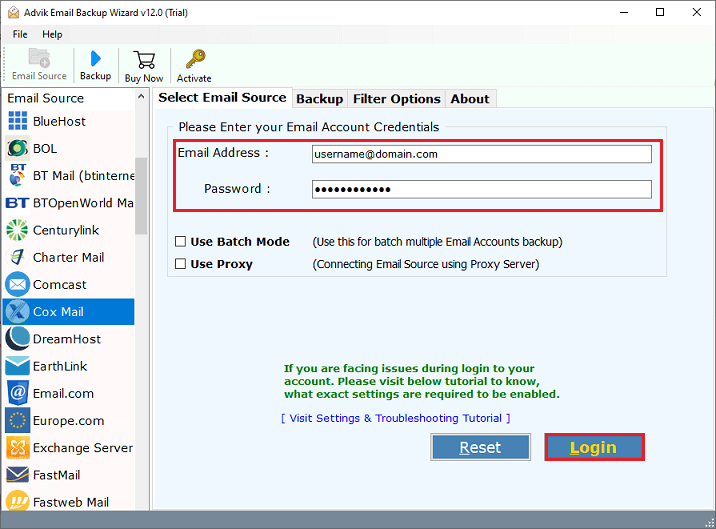 Step 4. This tool will now start analyzing Cox Mail mailboox folders and it will appear on the left side of the software panel, choose the required folders as per your needs.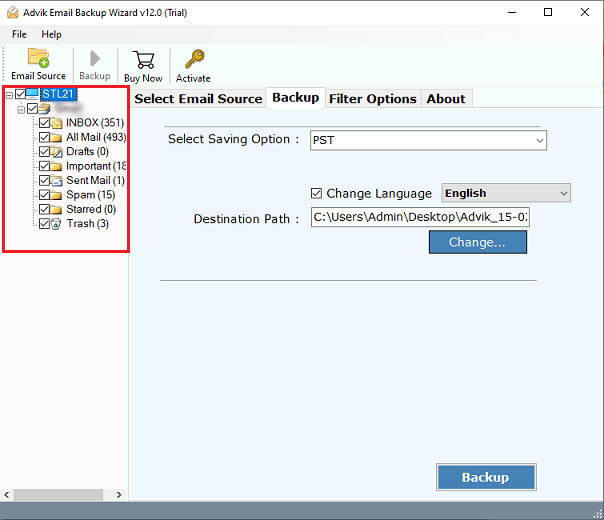 Step 5. After that, select your desired file format from eh 30+ saving options list. here we will choose, MBOX as a saving option, you are free to choose any of them as mentioned below.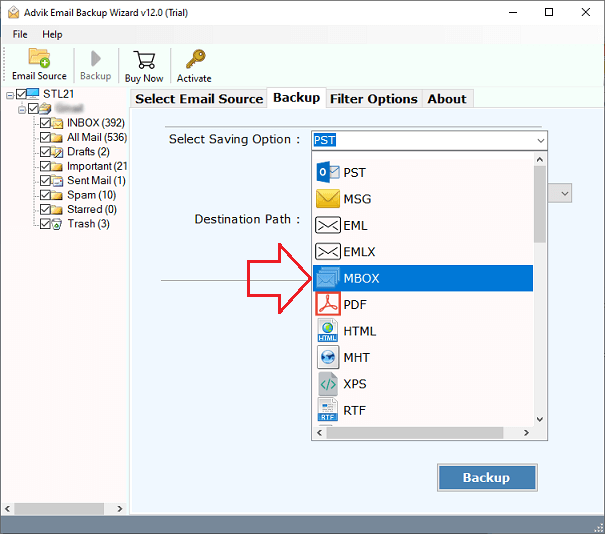 Step 6. Apart from it, you can also choose "Destination path" to save your resultant Cox Mail data file at your chosen location.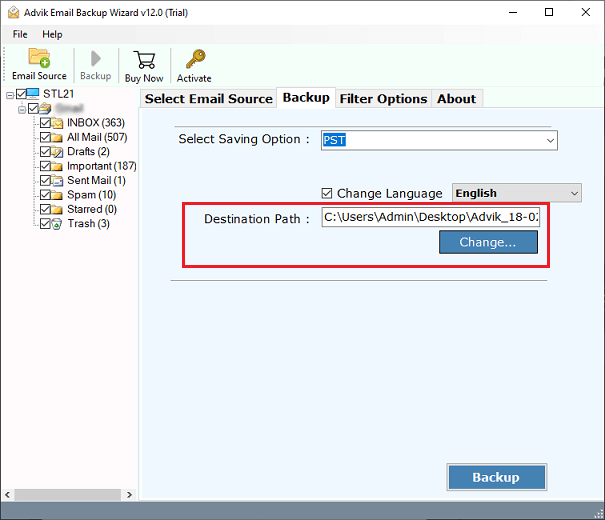 Step 7. When you are done with the above steps, You need to press the Backup button to complete the Cox Mail Backup process.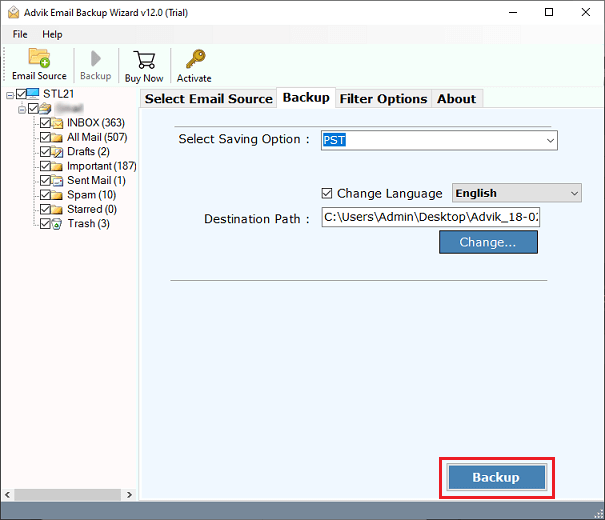 Best Features of Cox Mail Backup Tool
Easy to Download: It is a well-designed application with a dependable user interface. All types of users can use this program to download all emails from Cox with attachments.
An effective way to save Cox emails: The user can save Cox emails in a variety of file formats with this well-known tool. Such as PST, MSG, EML, EMLX, HTML, CSV, ZIP, MBOX, DOC, RTF, XML, MHT, and other formats.
Safe & Secure Way: The Cox Mail Backup Tool is a trustworthy application. It moves emails from Inbox, Sent, Draft, Spam, Trash, and other folders to numerous email formats without any loss. Additionally, the tool doesn't store any of your information in the database.
Simple to download Cox Mail Emails: The users have a variety of alternatives for backing up emails from Cox Mail. The tool is an intuitive platform that meets all of the needs of the users. Using the software, you can export bulk emails from Cox Mail.
One-Stop Cox Mail Export Solution: The tool enables users to move emails from Cox Mail to a variety of email applications. Users can export Cox emails to programs like Thunderbird, Zimbra, Outlook, Windows Live Mail, Lotus Notes, and more, for instance.
Easy-to-use Interface: Even those who are computer novices can use this software to download Cox Mail bulk emails. The application Email Download Manager is simple to use. Additionally, this utility works with all versions of Outlook, Exchange Server, and other programs.
The Verge
Hence, we are done with the best solution to backup Cox Mail emails using a reliable and effortless method. This solution will surely help you to download emails from Cox Mail into various saving formats. Cox Mail Backup tool allows users to easily download selective folders using advanced features so that they won't need to download unusual and extra folders data. We also offer you to try its FREE Trial Version to check its efficiency and effectiveness without investing much effort.