How to Take Email Backup From Office 365 Admin Portal?
With Office 365, one can access their emails anytime and anywhere. With cloud technology and advanced collaboration of useful applications, Office 365 is the top-most choice among professional users. But no matter how safe and secure you think, it is not the responsibility of your email server to backup or restores data in case of any data loss situations. Therefore, this article focuses on how to take email backup from Office 365 admin portal in a quick and secure way.
Expert Recommended Solution: Advik Office 365 Backup Tool is a feasible and most recommended solution to avoid any mishappening of data. It backs up multiple email accounts using the "I am Admin" feature. It export PST file from Office 365 Admin and also it safely downloads emails, contacts, calendars, and one drive files.
There will be some issues when users try to take email backup from O365 admin portal. To help you out we are going to provide two types of solutions through this useful guide. First, one is a manual way using "The Content Search eDiscovery". You can read this whole article and then choose which method you prefer to backup email from Office 365 admin portal.
But before that, we will focus on a few important points that users must know to backup email from Office 365 admin portal.
Why is it important to Backup Email from Office 365 Admin Portal?
See below to understand why backing up emails from Office 365 admin portal is important for us. Understanding the following points can help you in different scenarios;
In case of Office 365 service outage or shutdown.
If your company is going to merge or acquire another one, you may need to backup Office 365 emails and other data.
When you need Office 365 data for legal and audit purposes
If you require specific user data when an employee exits from the company or organizations.
What if your synced device gets stolen or damaged, so a backup will be beneficial for this type of circumstance.
If your data gets accidentally/unintentionally deleted.
Various ransomware and cyber attacks also threaten your Office 365 data.
So, you may understand now the importance of taking backup of Office 365 admin center. A particular user or admin can prevent huge data loss situations by solving the above queries.
2 Quick Ways to Take Email Backup from O365 Admin Portal Effortlessly
There are two proven and tested solutions to backup email from O365 admin portal. One is manual and another is an automated solution,
1. The Content Search eDiscovery method
2. Expert Suggested – Advik Office 365 Backup Tool
Method 1:- Backup Office 365 email using the "eDiscovery" Method

The Content Search eDiscovery method is an inbuilt tool for the admin accounts. This method is used to search and locate information from the mailboxes of Exchange Online. For later usage, you can export this data to PST files. You must sign in to your Office 365 account and navigate to the Exchange Admin Center in order to export Office 365 Mailbox to PST for free. But, before using this solution, you must go through the following points;
The backup will take a longer time depending on the data size
This process involves technical steps, so you must have knowledge of using an admin account otherwise you may lose all of your crucial information.
Step 1. First of all, make sure that you belong to the eDiscovery Manager role group. Add yourself if you aren't already.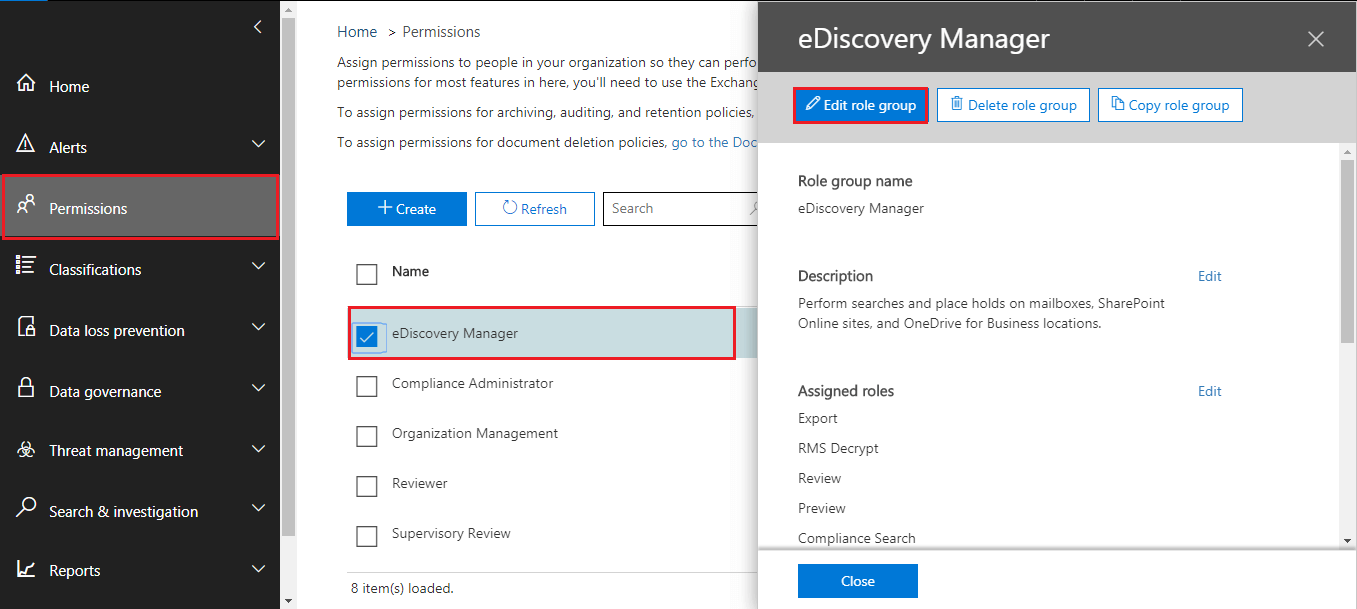 Step 2. You must now make a fresh Content search. You can choose the mailboxes you want to export in the Content search. Before exporting, you can filter your mailboxes, then you can finally export the mailboxes from this search results.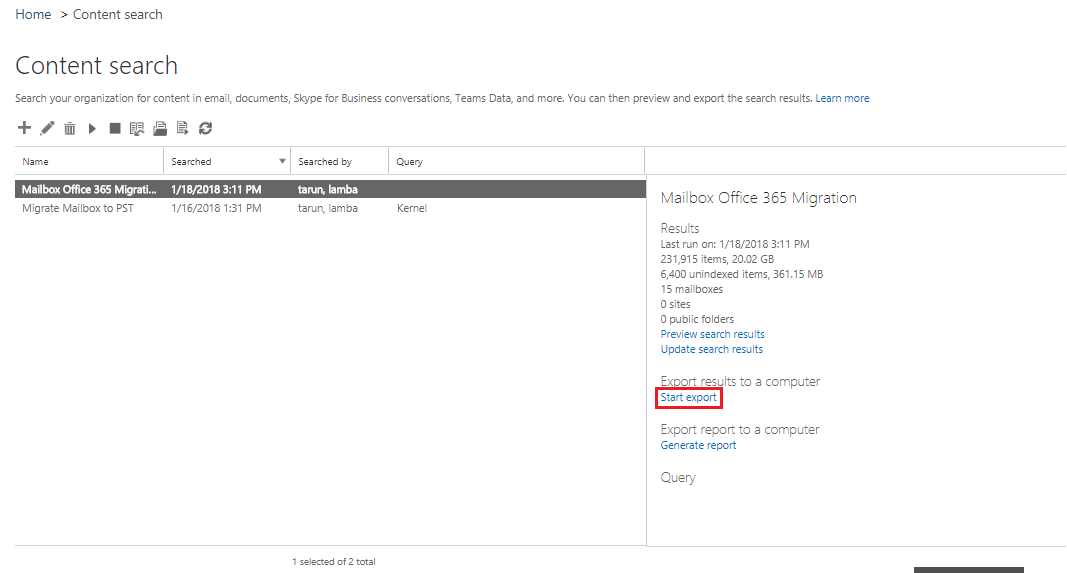 Step 3. You can save the search results to your computer after completing the Office 365 export mailbox to PST procedure.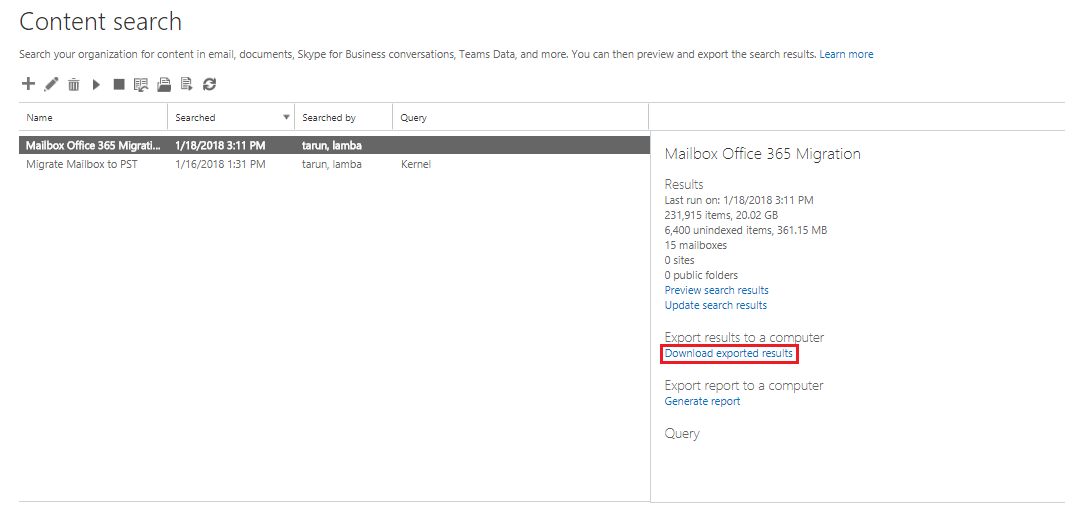 You can save your Office 365 mailboxes as PST files on your system by entering the export key you receive after downloading the search results. If you back up your Office 365 mailboxes as PST files, you can access those files to access your mailboxes once more in case
The downside of the Manual Solution
The above method seems simple but apart from this it also has some major drawbacks;
There is no option to control the export process
The lengthy procedure, as it takes a long time to download emails from Office 365.
No way for selective email backup of Office 365.
This tool doesn't allow you to take email backup from Office 365 admin portal in multiple file formats.
Method 2:- How to Backup Office 365 Emails from Admin Portal
If you are willing to save Office 365 data like email, contact, calendar, and drive on your local system, you must opt for Advik Office 365 Backup Tool. The software provides an option to export Office 365 to MBOX, EML, EMLX, MSG, PDF, DOC, PDF, CSV, etc. With this utility, one can also perform a selective Office 365 email backup process to remove duplicates or to choose some specific emails.
It can not only allow you to export emails from Office 365 admin portal but also you can migrate from Office 365 to G Suite, Yahoo Mail, Zoho Mail, Rackspace, Workmail, Exchange Online, Thunderbird, Yandex Mail, etc. This tool is well known for its efficient and effective email backup process. It holds and maintains mailbox folder hierarchy throughout the backup process without any data loss.
Procedure to Download Email from Office 365 Admin Portal
Step 1. Install and run this tool on your Windows Machine.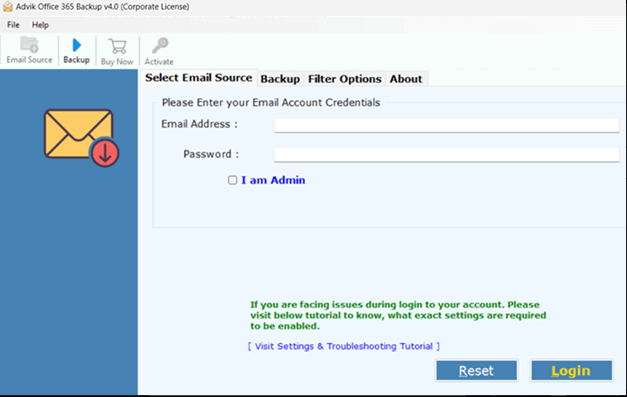 Step 2. Enter your Office 365 admin account email address and password and press the "Login" button. And, also check "I am Admin" to login as an administrator.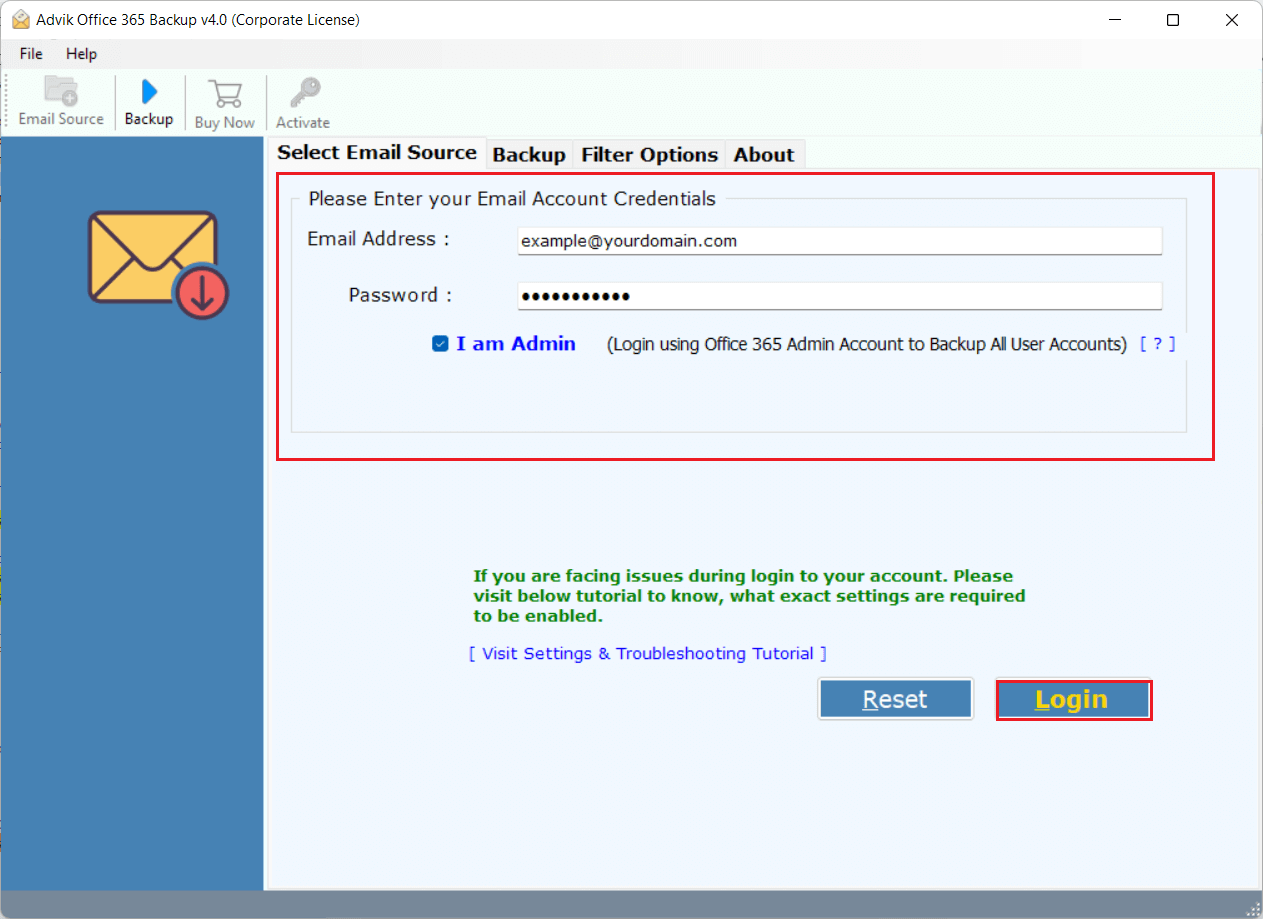 Step 3. Now, from the displayed mailboxes, choose the required mailbox folders that you need to backup. (Emails, Drive, Contact, Calendar)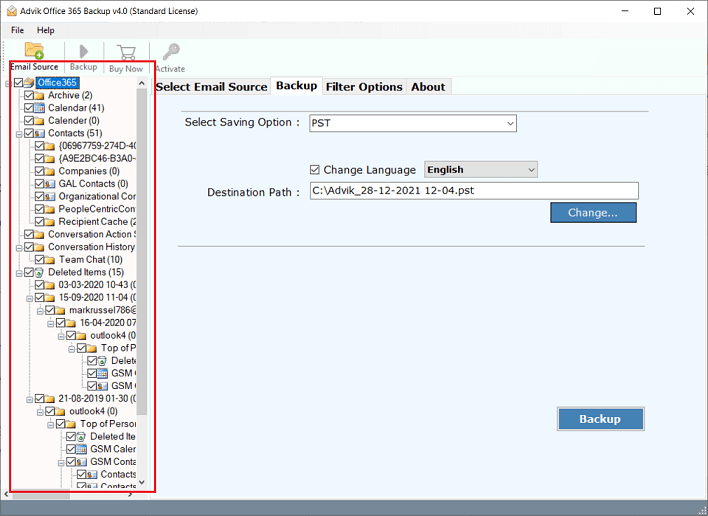 Step 4. Thereafter, Select PST from the 30+ different file formats.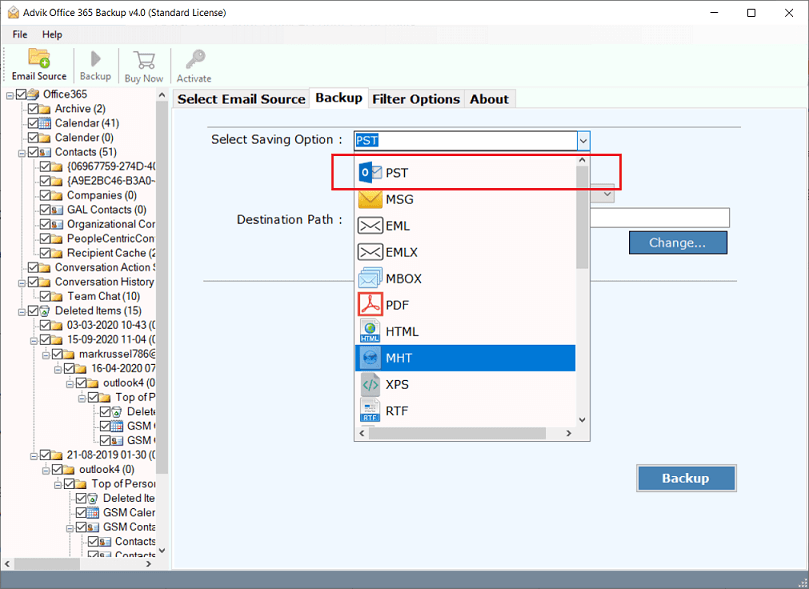 Step 5. After selecting a saving option, choose desired destination path of your choice to save the resultant data file at your chosen location.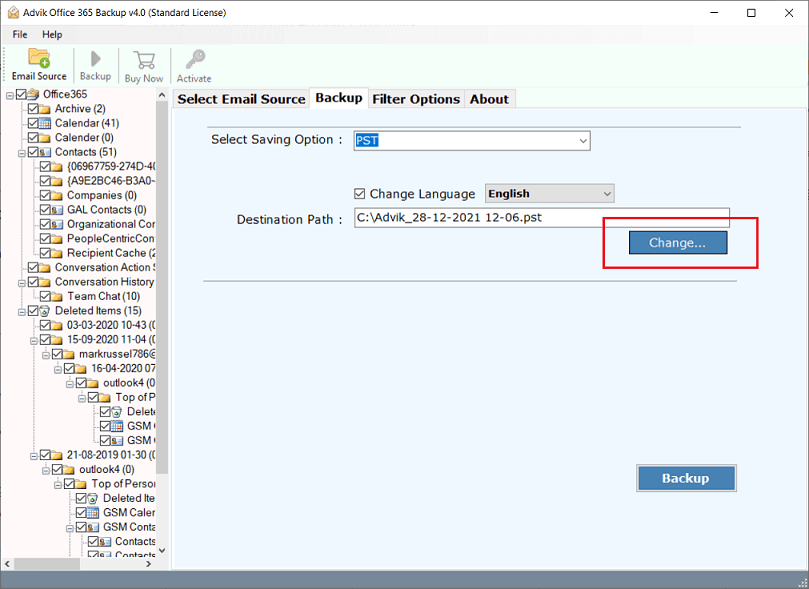 Step 6. Now, tap on the "Backup" button to proceed with the download process of Office 365 email backup.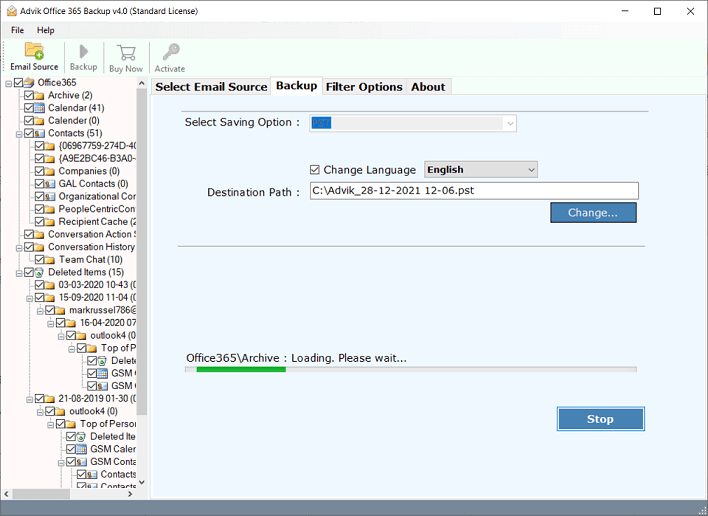 Using the above working process of Advik Office 365 backup tool, users can easily download email from Office 365 admin portal locally.
Wind Up:
In this write-up, you will get to know the reasons and the 2 easiest solutions to backup from Office 365 admin portal in the preferred location. The first and foremost solution is using the inbuilt content search eDiscovery method. But, the method also has some limitations while downloading email from Office 365 admin portal.
Making use of the above-listed two ways will help ensure the success of the backup from Office 365 admin portal. Users must note the difference between each method outlined in this blog and follow strictly to ensure the success of the process.