How to Export Emails from Office 365 to MBOX File?
Are you searching for an excellent way to export emails from Office 365 to MBOX format? If yes, then you landed on a right page. In this article you will learn to save complete mailbox from Office 365 into MBOX format.
This is one of the easiest and most accurate method to save office 365 emails to MBOX format. We have provided you exact steps to Convert Office 365 to MBOX format.
Before starting let's take a quick glance at Office 365 and MBOX file…
Office 365 is a subscription-based services offered by Microsoft. Office 365 contains various software such as Word, Excel, Power Point, Access, SharePoint, Outlook etc. All Software in Office 365 updated automatically during their period of subscription.
On the Other hand, MBOX is a file format used to store multiple emails along with attachment files. MBOX stands for mailbox. Many of the famous email services and email clients used MBOX as a standard for saving emails. These email clients include Apple Mail, Mozilla Thunderbird, Gmail, etc.
There is no official method provided by Microsoft to extract Office 365 emails to MBOX format. Alternatively, you can configure your Office 365 account in Mozilla Thunderbird email client. After configuration you can export inbox mailbox in MBOX format using IMPORT/EXPORT plugin in Thunderbird. This is a very time-consuming method and can export only Inbox Mailbox.
Read Also: Export MBOX From Outlook
In order to Export emails from Office 365 to MBOX format, I would like to suggest you to Download and Install Advik Office 365 Backup Tool. This software has the easiest interface, so that anyone with basic knowledge of computer can easily operate this tool. You can download this software for free to check its efficiency.
Steps to Export Emails from Office 365 to MBOX Format.
Step 1. Launch Advik Office 365 Backup Tool in your system.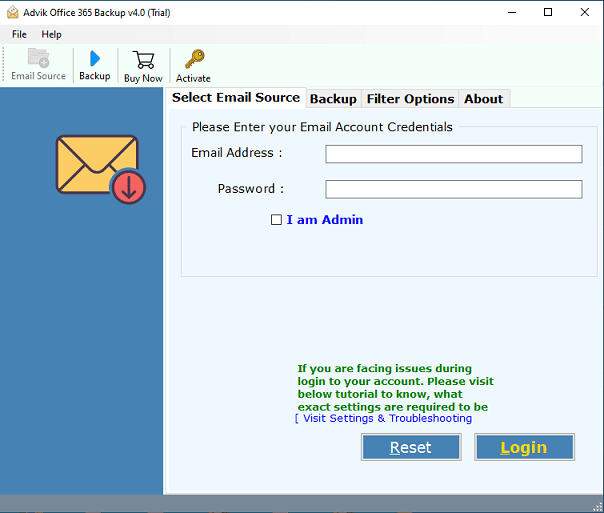 Step 2. Enter Office 365 login details and click on the "Login" button.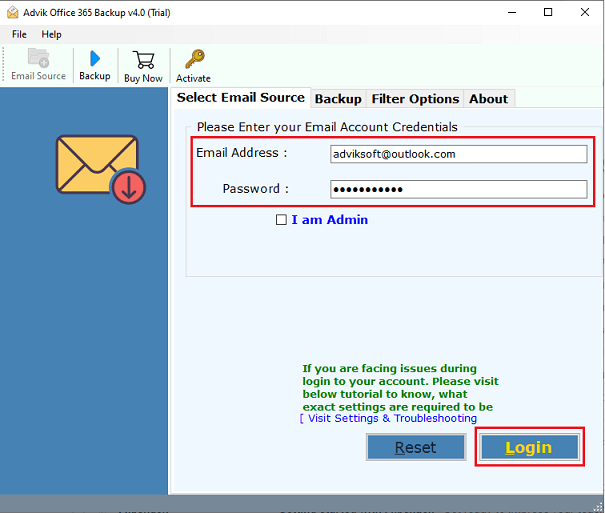 Step 3. Select desired mailbox folder that you want to download.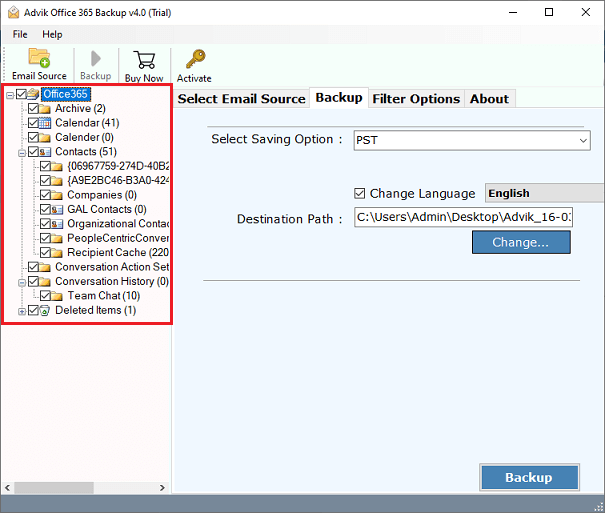 Step 4. Make Sure MBOX is selected from Multiple Saving options.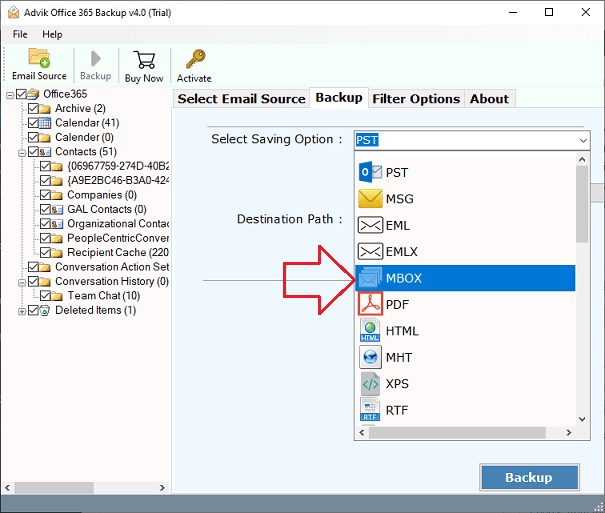 Step 5. You can choose your desired "Destination Path" to save your resultant data at your chosen location.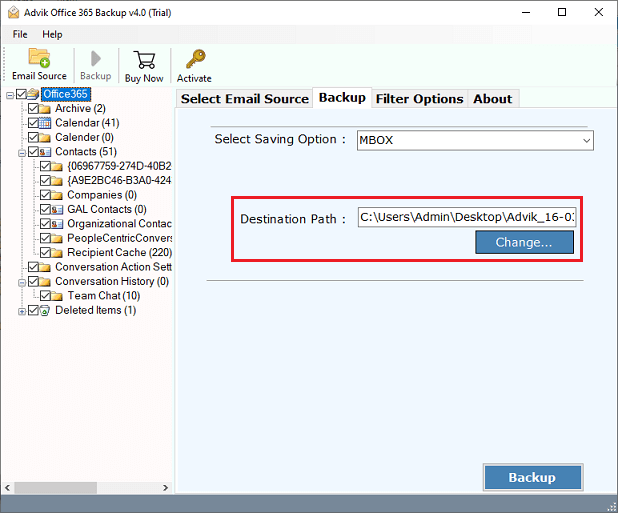 Step 6. Finally, press the "Backup" button and analyze the process of conversion.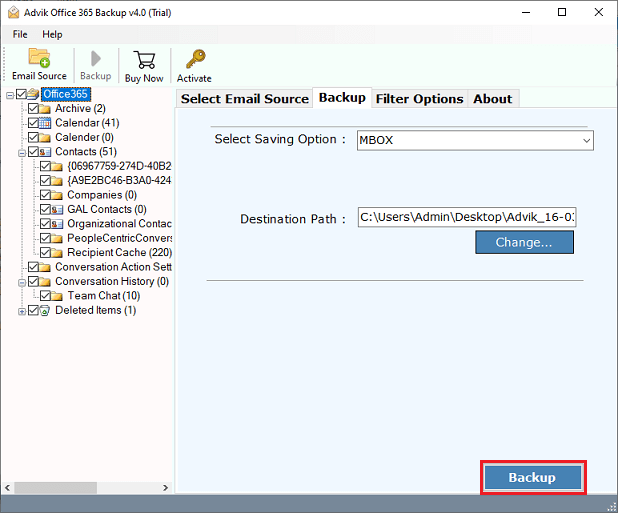 This is how you can save office 365 emails in MBOX format.
---
How to Convert Office 365 to MBOX File – Watch Tutorial
Reasons to Choose Advik Software
There are many reasons to choose Advik Office 365 to MBOX Converter. Some of them are as follows;
Complete data conversion: Advik Office 365 to MBOX Converter is capable to convert complete mailbox of Office 365 account including Sent Mail, Drafts, INBOX, Outbox, Important Mails, Spam, and any other folder created by user.
Maintain Folder Structure: The Folder and Sub-Folder Structure of emails remains same during the process of conversion. So that it become easy to navigate your emails after completion of the Conversion.
Include attachment files: Attachment plays very important role in email messages. Most of the confidential information is sent and received through Attachment files. That is why our tool is designed to include all attachment file in their respective email.
Preserve Key Elements: All the Key Elements of emails such as Cc, Bcc, To, from, Date and Time Stamp, Hyperlinks, Unicode Texts, etc. remains intact after the process of conversion. The layout of the email also remains same.
Multiple Output formats: Apart from Office 365 to MBOX Conversion, the tool allows users to save Office 365 emails to PST, MSG, EML, MBOX, PDF, TGZ, etc.
Cloud to Cloud Migration: You can also use this software to migrate emails from Office 365 to Gmail, G Suite, Thunderbird, Zimbra, Yahoo Mail, Outlook.com, etc.
Support All Windows OS: Advik Office 365 to MBOX Converter can easily run on all Windows Machine such as Windows 10, Windows 8, Windows 7, Windows Vista and Windows XP.
Free Demo Download: You can download free version of this software to check the efficiency of this software. Hit the button below to download Office 365 backup tool for free.

Dedicated Customer Support: In Case, you stuck somewhere while using this tool, you can contact our customer support for further help.

Below are some queries which can be solved using above solution;
"Can I export emails from Office 365 to MBOX Format in Bulk ?"
"How to convert Office 365 emails to MBOX?"
"Suggest me the easiest way to export Office 365 emails to MBOX?"
"Where can I get the best Office 365 to MBOX Converter?"