How to Export Emails from OST to Entourage Mail?
Are you looking for a reliable way to export OST to Entourage? Then, this blog is for you. In this article, we are going to discuss the best method to export OST emails to rge format. Many users are looking for an easy-to-understand solution to migrate from OST file to Entourage.
Before going further lets take a quick look at OST file and Entourage Mail…
OST is an email format that is supported by MS Outlook and stores all the emails, contacts, tasks, etc. offline.
Whereas, Entourage is an email client that is designed of Mac Operating System.
So, many users want to convert their OST files into RGE format. If you are also someone who is looking for the advanced technique to transfer emails, contacts, journals, tasks, etc. from OST to .rge then follow the blog till end. This article discusses some quick tips and tricks to export OST to Entourage using a professional toolkit named, Advik OST to Entourage Import Wizard.
Let's take a user query to understand the need of OST to Entourage migration.
Hello everyone. I am using MS Outlook as my primary email service. But I need an urgent solution to migrate OST files into Entourage with all attachments, as it is needed for my latest project. Also, I don't want to lose any single bit of data. I have searched a lot to solve the query but still, I don't know the best way to import OST to Entourage. Do you have any suggestions? It would be a great help. Thanks!
Best Approach to Export emails from OST to Entourage
Advik OST Converter is a highly recommended solution for exporting emails from OST format. This software will help you automatically locate and load OST files with all your properties to the panel. The tool also has a very simple and easy-to-use interface. The free trial version of OST to Entourage Converter allows users to convert the first 25 items from each folder. To convert an unlimited number of OST files to your Entourage profile, you need to purchase the license key of the tool. Download the free demo now.
Steps to Export OST to Entourage are as follows:
Step 1. Download and Run OST to Entourage Import Tool on your PC.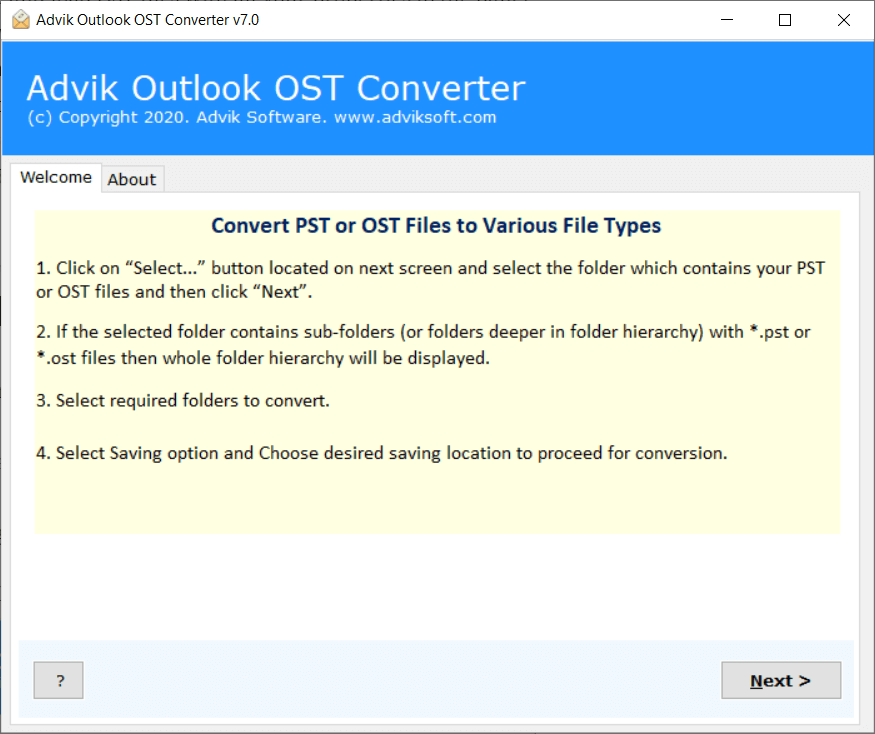 Step 2. Select Configured Outlook files or browse OST file.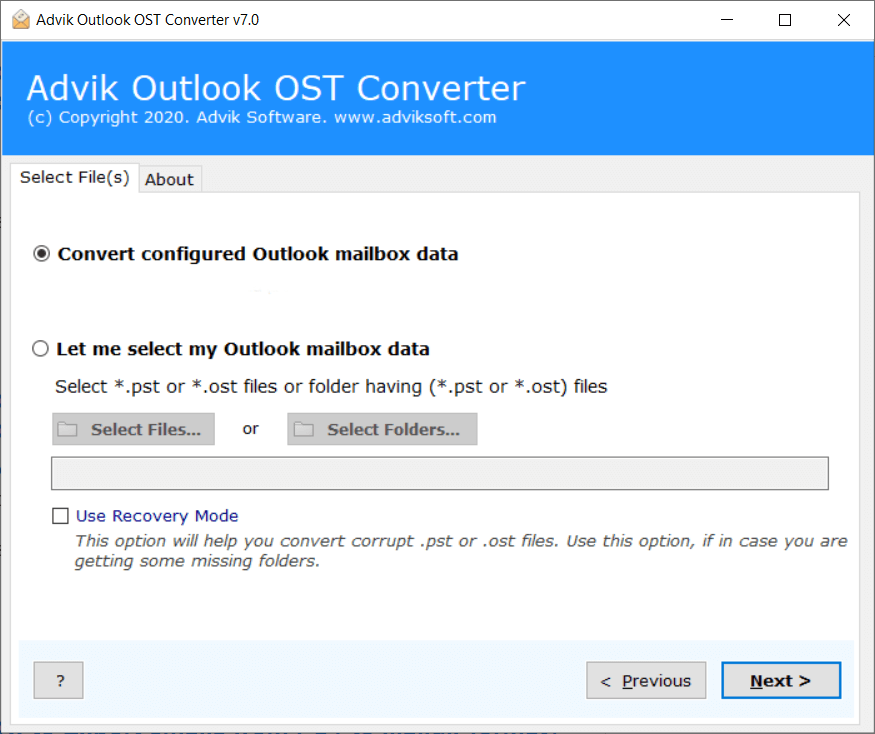 Step 3. Select folder to export them into .rge format.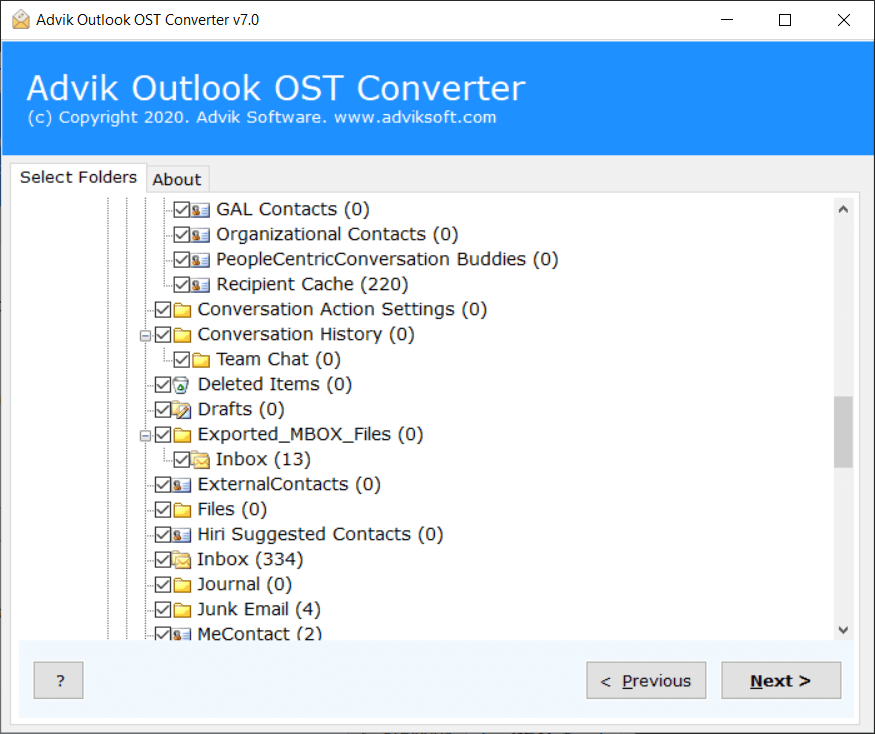 Step 4. From multiple Saving options select Entourage as a saving option.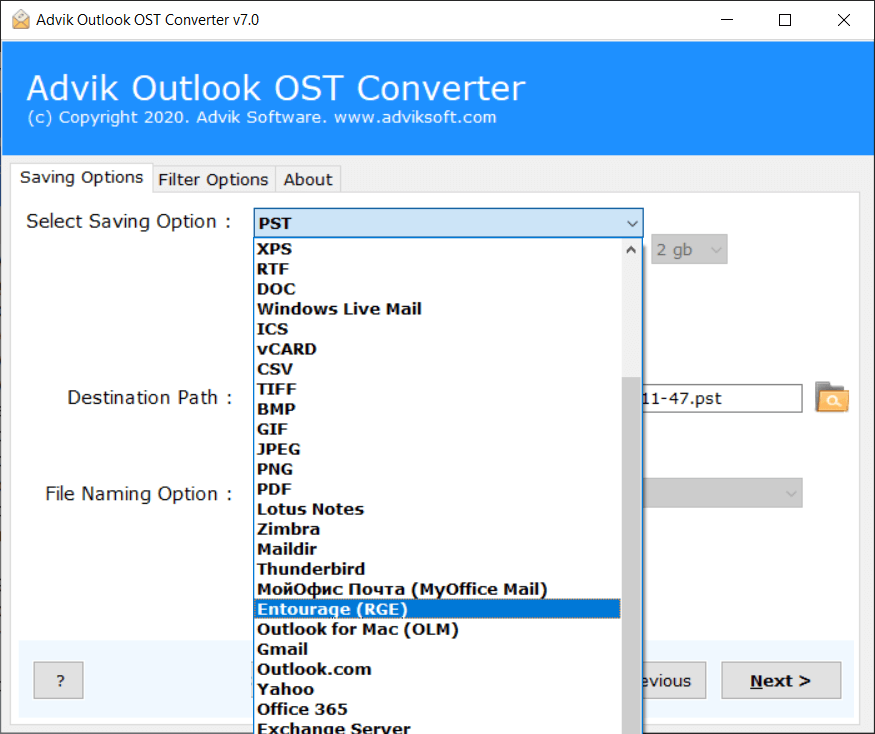 Step 5. Click on Next button to export emails in RGE format.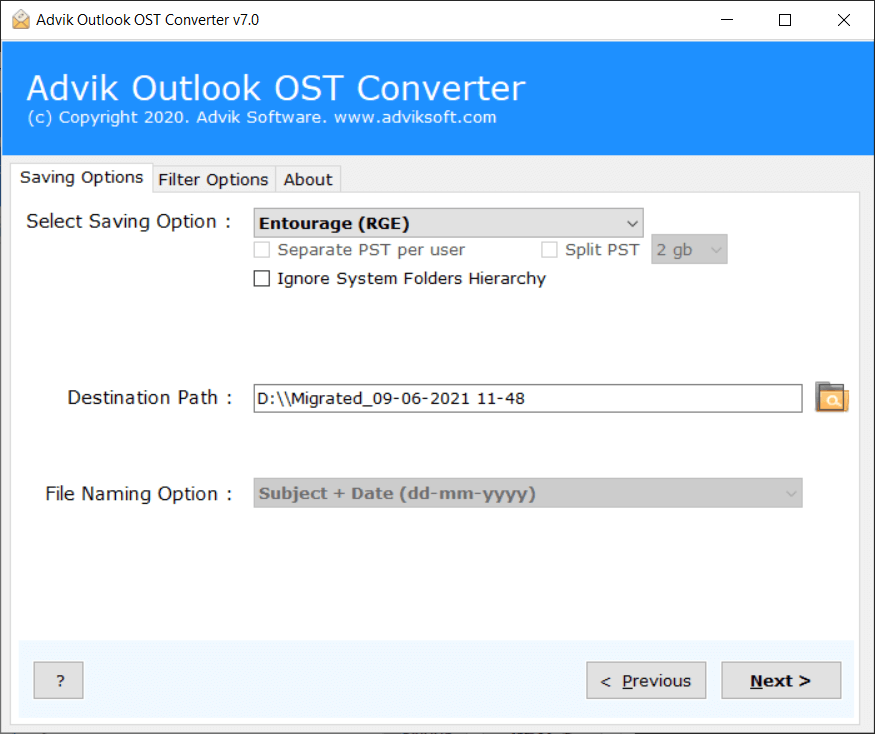 Step 6. Import RGE file into Entourage Mail.
Why Advik OST to RGE Converter Tool?
Import Single or Multiple Files: This is the best tool to convert OST to RGE as it allows to convert multiple emails from OST file. It provides dual way to load the files into the panel. Whether you want to convert single file or multiple files from different folders, this tool will not let you down. It is the most efficient product with all modern features in affordable price.
Automatic Detection: Now, this is an exclusive feature of this ultimate solution. The tool will automatically detect the files from your system even if you don't know the exact location. Apart from this, the tool also lets you preview the files along with all details so that you can be sure of the integrity of the data before executing OST to Entourage conversion process.
Maintains Folder Structure: If you are using this tool to export OST to Entourage, then no changes are made to the meta properties of the emails throughout the conversion process. The software can successfully maintain folders and subfolder hierarchies without altering the original details. Hence, the tool gives you 100% accurate results with intact data integrity.
Option for Selective Conversion: This powerful tool has smart filters that helps you in filtering out the emails on basis of different criteria. Like, you can use Date range filtering option that helps you to migrate the emails from two specific dates without putting much efforts.
No File Size Restriction: Advik OST to Entourage Exporter is very much capable to move all OST files and folders including sent items, drafts calendar, and address book without imposing any limitation on file size and number of files. This is completely a standalone utility without any platform dependency issue. It supports all latest and older versions of Entourage.
Simple to Use: This utility has been designed with advanced yet intuitive interface that enables all type of users to operate the tool. There is no requirement of any technical knowledge. Any use with some basic computer skills can do the migration with ease. Its self-navigational panel will take you through all the options available to tool to convert emails from OST to RGE.
Conclusion
This article shows you how you can export OST to Entourage with all attachments. Using Advik OST to Entourage Export tool, users can successfully migrate emails, attachments and other items to the desired location. We provide a free trial version of the software that can be used for evaluation purposes. You will get all the functions as in the Pro version of OST to Entourage Converter, but with some restrictions. You can only export the first 25 emails using free demo. And, if you want to enjoy the unlimited migration, you can purchase the license key of the tool anytime you want. So don't wait now. Download this tool to get all the benifits