How to Export GoDaddy Emails to PDF in Batch?
If you are one of those people who are looking for a solution to export GoDaddy emails to PDF files then read this article, here we explained: "How to Print GoDaddy Emails into PDF?". You will also be able to save GoDaddy emails to PDF with attachment files. Before starting let's take a quick look at GoDaddy and PDF file.
GoDaddy is a Web hosting provider, certificate authority and domain registrar. It is the largest ICANN-accredited registrar in the world. GoDaddy offers a huge variety of products for website authoring and maintenance, as well as application hosting. It also provides the most secure and reliable Email service.
PDF is a file format created by Adobe for the presentation of text and images. PDF was standardized as an open format, and no longer requires any royalties for the implementation. Today PDF files may contain rich media, video content, interactive elements, and various other data formats.
In this article, we list two methods to export GoDaddy emails to PDF format. The first method is a manual method that you can use when you want to save a few emails into PDF format. If you have large number of emails that you want to Save as PDF then you should go with the second one.
So, let's discuss the simplest methods to convert GoDaddy emails into PDF files.
---
Method 1.
Save GoDaddy Emails as PDF Manually
Step 1. Login in to your GoDaddy email account.
Step 2. Click the folder that contains the message that you want to print
Step 3. Open the desired email message
Step 4. Click Print
Step 5. On the print window, click print.
Step 6. Make sure "Save as PDF" is selected on the print menu.
Step 7. Select the desired location and then hit the save button.
Done! The message is saved on your desktop as a PDF file. You need to repeat this process to save another email message.
Limitations:
This method is suitable only if you have a limited number of emails.
You cannot save attachment files using this method.
This method is a very Time-Consuming method for batch export.
---
Method 2:
Easy Way to Convert GoDaddy Emails to PDF in Bulk
In order to perform the conversion quick and smoothly, we have designed the Advik GoDaddy Email Backup Software. This software is capable enough to perform a large number of conversions in a short span of time. To save time and efforts, the majority of users typically prefer to use GoDaddy Backup Tool. The best part of the software is that there is no size limitation to transfer GoDaddy Emails to PDF. This tool performs the conversion of Godaddy to PDF without any error.
Steps to Export GoDaddy emails to PDF file are as follows;
Step 1. Run the Advik GoDaddy Backup Tool in your system.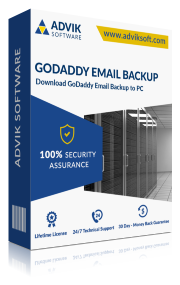 Step 2. Enter GoDaddy login credentials and click Next button.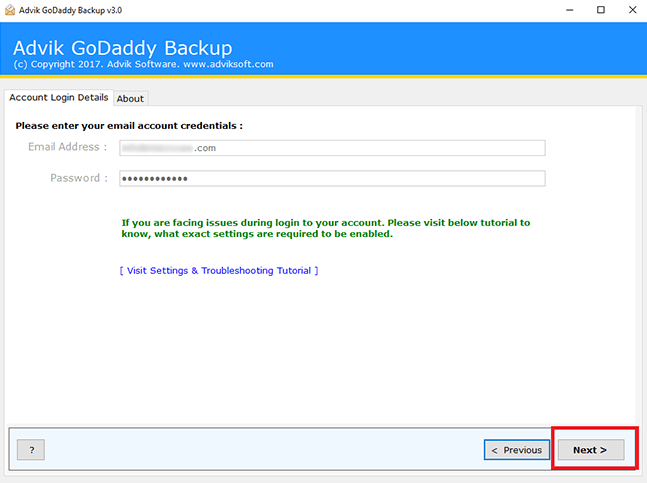 Step 3. Select your desired mailbox folder that you want to print as a PDF.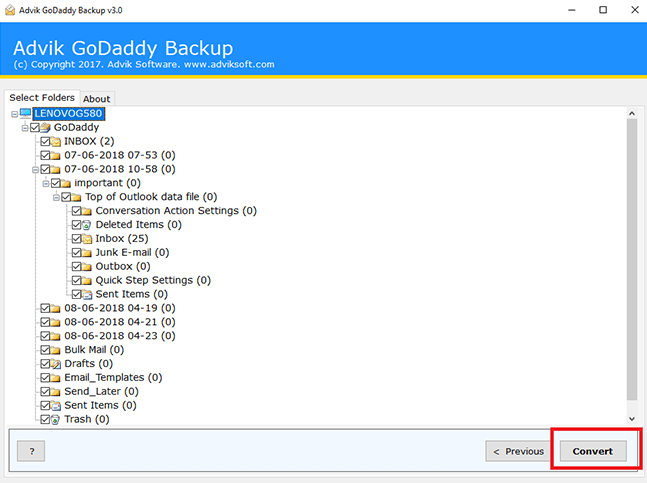 Step 4. Choose PDF from saving the Option list.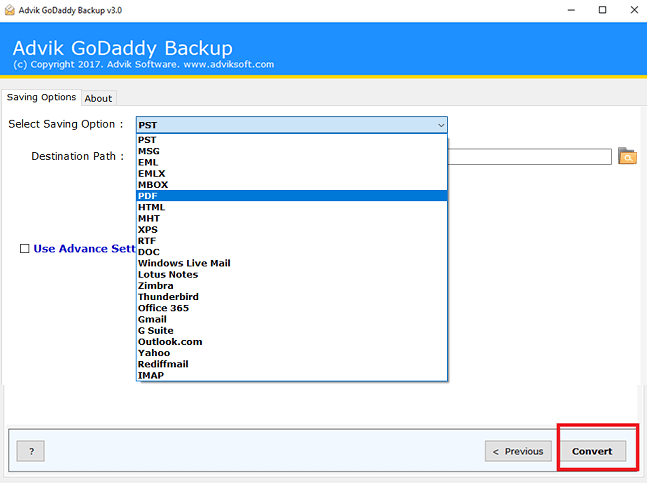 Step 5. Click the Convert button and analyze the process of conversion.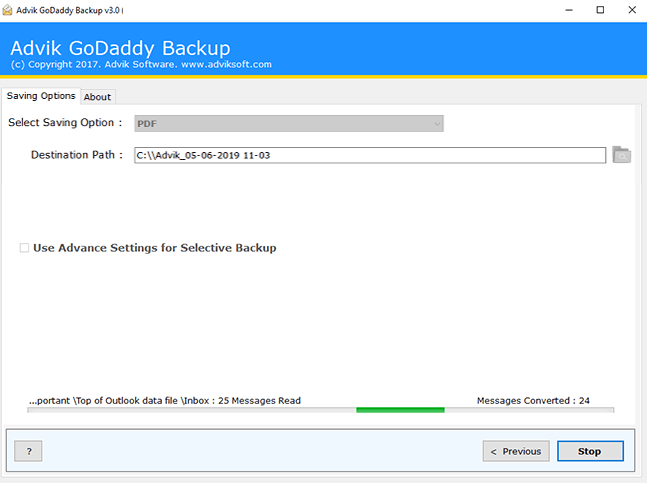 Done! All the mailbox then saved as a PDF format in your desired location. Apart from this, you can also apply various filters that help you to save only desired emails.
In addition, you can also download GoDaddy emails in multiple file formats. You can export emails from GoDaddy to EML, MSG, MBOX, EMLX, RTF, XPS, and TGZ, etc. file formats. Moreover, you can migrate GoDaddy emails to Office 365, Gmail, G Suite, Outlook.com, Rediffmail and many other server accounts in the cloud.
Summary:
Now I would like to wrap up the things. I have told you two different methods that you can apply to export GoDaddy Emails to PDF files. If you want to reduce your efforts then you can go for the Advik software which is 100% authentic and genuine. In Case you stuck somewhere while using this tool you can contact our customer support for further help.

You can also solve some of the queries given below using this method.
"How to convert GoDaddy emails to PDF in bulk?"
"Suggest me the easiest way to export GoDaddy emails to PDF format?"
"Where can I get the best GoDaddy to PDF Converter software?"