How to Export/Import Mailboxes in Apple Mail?
Apple Mail supports .mbox file extension to import or export mailbox folder, which includes Inbox, Sent, Drafts, and Trash etc. You can view mailbox for each local account on the sidebar. If you are unable to see sidebar, choose View and then click on Show Mailbox List or simply click on Mailboxes in the Favorites Bar.
Steps to Import Mailbox in Apple Mail
If you want to import MBOX in Apple mail then you have to follow these simple steps.
Click File menu and then select Import Mailboxes.
Select relevant source in the list, then click on continue

Select Apple mail, if you are importing mailbox from another Mac mail from folder ~/Library/Mail/V5
Select "Files in MBOX format" if you are importing mailbox from MBOX file.

Now you can reorganize Imported emails if you want.
After the completion of import, you can drag the complete folder or email messages from import mailbox to new or existing mailboxes.
Steps to Export Mailbox from Apple Mail
You can export MBOX from Apple Mail using these simple steps.
Select mailbox that you want to export >> Mailbox and then click on Export Mailbox.
Select the folder or create a new folder and then click choose.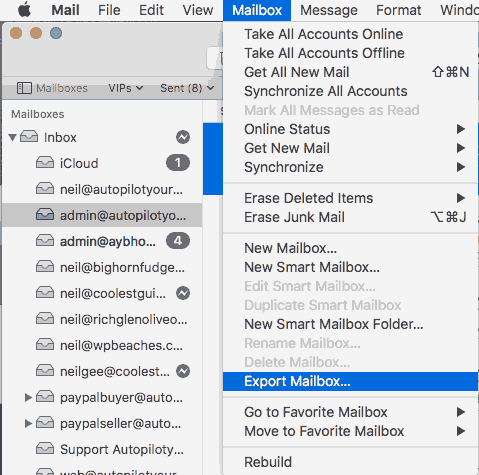 Apple Mail instantly creates the mailbox as .mbox file extension.
Final Words:
In the above blog, we have explained the ways to import/export mailboxes in Apple Mail application. So, go with these manual solutions and accomplish this task. Hope, this article will help you.
See Also
Migrate from Apple Mail to Outlook