[Solved] How to Extract All Attachments from Outlook?
"I am looking for Outlook attachment extractor for my Windows pc. I have large mailbox database with important files. Now, I got an urgent requirement to extract attachments from Outlook. Please help me with this issue asap."
Do you want to extract all attachments from Outlook in multiple emails? If yes, then your search has now come to an end. In this article, we share the easiest way to export attachment files from Outlook 2019, 2016, 2013, 2010, etc. Before starting this discussion let's take a quick glance at Outlook.
Microsoft Outlook is a desktop-based email client from Microsoft. Outlook comes as a part of Microsoft Office Suite. Apart from sending and receiving emails, Outlook also includes a calendar, task manager, contacts, notes, journals, etc.
Methods to Extract All Attachments from Outlook – Top 2 Solutions
Now, we will move further to provide you with a step-by-step guide to the two best solutions. we have explained both manual and professional solutions to extract all attachments from Outlook. However, it's totally up to the user to choose the method which best suits to their needs.
Solution #1. Quick Way to Extract Outlook Attachments – One-Click Solution
Download and Install Advik Outlook PST Converter on your PC. This software is an advanced application that automatically detects your Outlook mailbox folders. After that, you can export Outlook attachments without any modification.
Read Also: PST Attachment Extractor
Also, the software can be used for multiple purposes. You can export Outlook emails to Thunderbird, Gmail, Office 365, and almost any email service provider.
Steps to Extract all Attachments from Outlook Effortlessly;
Run the tool and it will automatically detect Outlook profile.
Select Desired email folders from which you want to extract attachments.
From Multiple Saving Options, select TXT as a saving option.
Hit the convert button and analyze the process.
After conversion, all your attachments save in a single folder named as "Attachment"
That's how you can easily save all attachments from Outlook in multiple emails. Hence making it the best Outlook Attachment Extractor for Windows.
Watch Video Tutorial – How to Extract All Attachments from Outlook?
Solution #2. How to Download all Attachments from Outlook Folder?
It is the most widely used method to save all attachments from Outlook. You can use this manual solution to extract all attachments from Outlook, but a major disadvantage of this solution is that you can only download all attachments from Outlook one by one. You cannot bulk download all attachments from Outlook. To get this benefit, you should choose the above method. So, no, let's see how it works.
1. Start and run the Outlook email client application on your system.
2. Now open the email you want to extract attachments from.
3. Right-click on this email and select "Save All Attachments" from the drop-down list.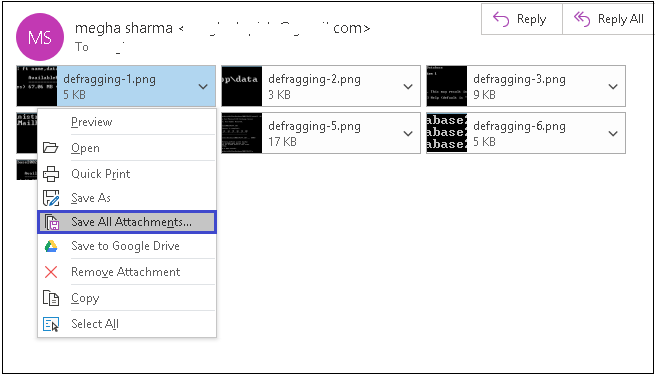 4. All attachments will be displayed in the new tab. Select all and click "OK" to continue.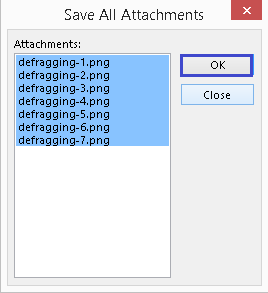 5. Browse and specify the folder on your system to save all attachments from emails on your system and tap "OK".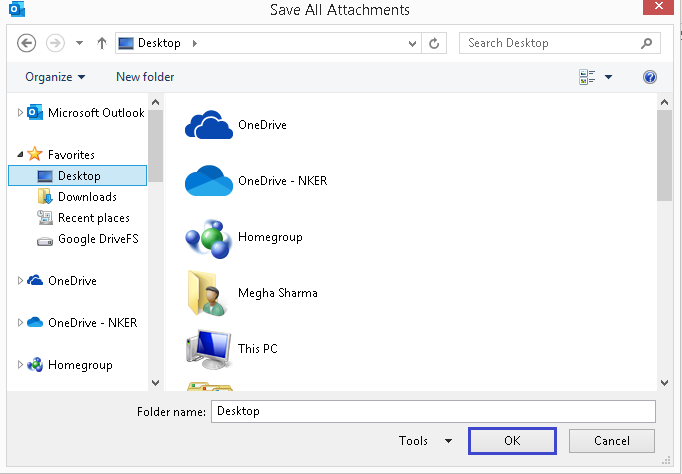 Done!! In this way you can extract all attachments from Outlook.
In order to download other attachments, you have to repeat this step over and over again, which is a bit tedious. But if you don't want to use a tool, you still have to do it. Otherwise there is no other solution besides these two.
Why Use Advik Outlook Attachment Extractor?
There are many reasons to opt for this tool to extract attachments from Outlook. Some of them are as follows;
Most accurate conversion; This tool provides the most accurate extraction of all attachment files from Outlook Application.
Fast Conversion Process; Our tool is programmed to provide a faster conversion process. You can extract Outlook attachments quickly using this tool.
All attachments in the Respective folder; The tool saves all attachments of respective of email folders in their respective folders. It makes the user to easily find attachments. For e.g. attachment of Inbox can be found in the folder named Inbox.
Supports Multiple Formats; Apart from the extraction of attachments you can also use this tool to convert PST file to MBOX, MSG, EML, PDF, etc. You can also migrate PST emails to Gmail, Yahoo, Office 365, etc.
Unlimited Conversion; This tool can be used for unlimited conversion for an unlimited time.
Free Demo Download: You can also download this tool for free to check its efficiency. Download this tool by hitting the download button below.

Final Words
This solution is the most accurate and quickest way to extract all attachments from Outlook. Hope this article solves all your queries. Download the no. 1 Outlook Attachment Extractor now. It is completely free to use a trial version.