How to Extract Attachments from MBOX Files in Bulk?
"Hi there, I want to extract attachments from MBOX file. I have 15 GB of .mbox file containing important files in it. Is there any reliable MBOX attachment extractor tool available fot this task? Please help me asap."

– Sam Cullins (United Kingdom)

"How do I download attachments from MBOX? The file was generated from Google Takeout and has around 1.5k emails."

– Shamang Thomas (Canada)

"I am looking for MBOX Attachment Extractor tool for my Windows 11. I had exported .mbox file from Thunderbird, and now wondering how can I export MBOX attachments from each email in one go. How can I execute this extratcion process with my .mbox file. Is it fine if I use a utility or it can be done manually?"

– Christopher Plummer (USA)
If you want to extract all attachments from MBOX file then you landed on the right page. In this article, I will show you step by step instruction to export MBOX attachments in a single folder.
MBOX stands for Mailbox. This file format is used to store multiple emails along with attachment files in a single file. Most of the popular email clients used MBOX to export emails.  Some of these emails clients are Apple Mail, Thunderbird, Gmail etc.
Download the #1 MBOX Attachment Extractor For Free – Instant Solution
Before starting you need to download and install Advik MBOX Converter Toolkit. This tool allows you to extract all attachments from MBOX file. The tool offers the simplest user interface which makes it easy to operate for all kinds of users.
Advik MBOX Attachment Extractor solution also offers you to export attachments from multiple mailbox files in one attempt. The program is designed to minimize manual efforts and to save you valuable time. Aprt from this, you will get many additional features like email filtration, email conversion into 15+ file formats, email migration and many more.
Download it for free and give it a try!
Steps to Extract Attachments from MBOX File are as follows;
Step 1. Launch Advik MBOX Converter toolkit.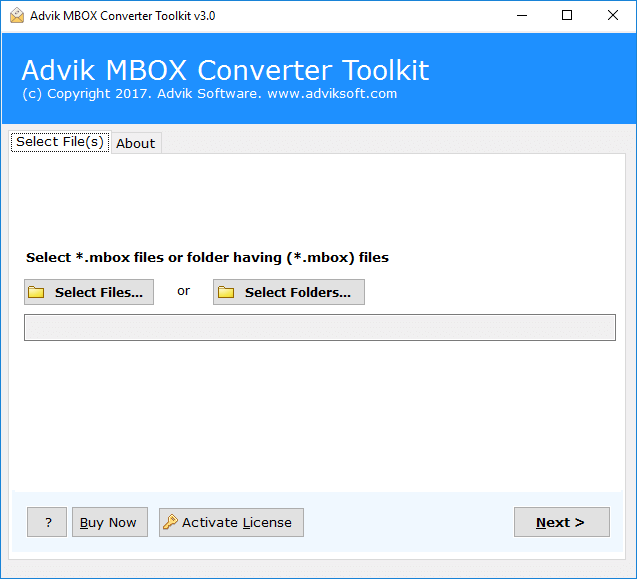 Step 2. Add MBOX file or a folder having multiple MBOX files in the tool.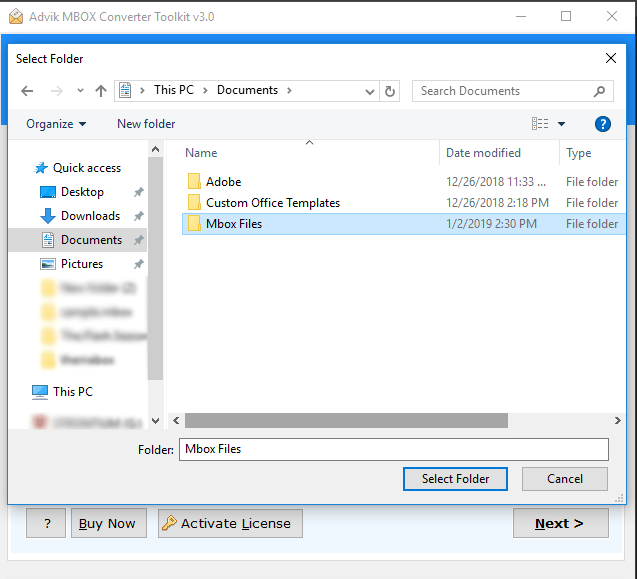 Step 3. Select Mailbox folders from which you want to extract attachments.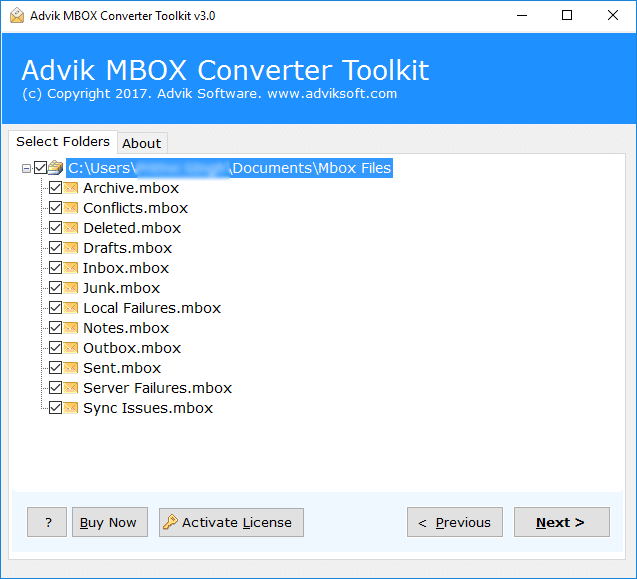 Step 4. Select DOC from Saving Option Menu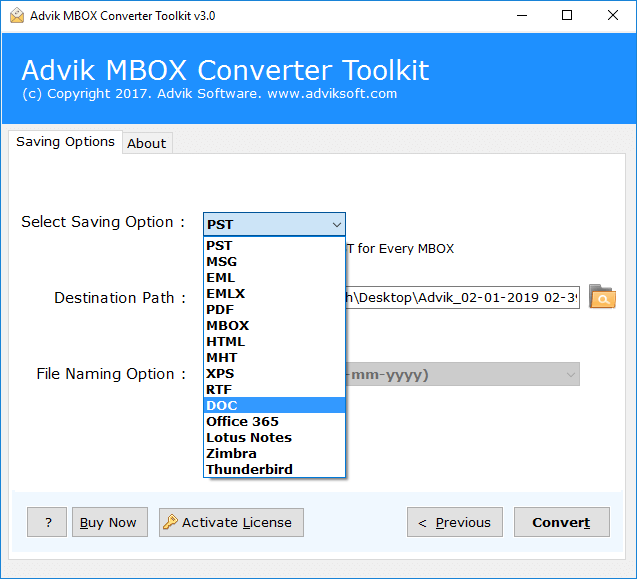 Step 5. Hit the convert Button and analyze the process.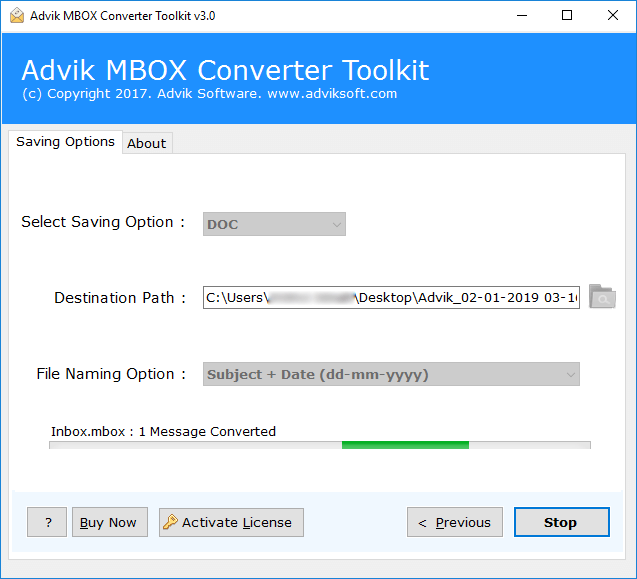 Step 6. All Done, the software will create a separate folder to store all the attachments of the MBOX file.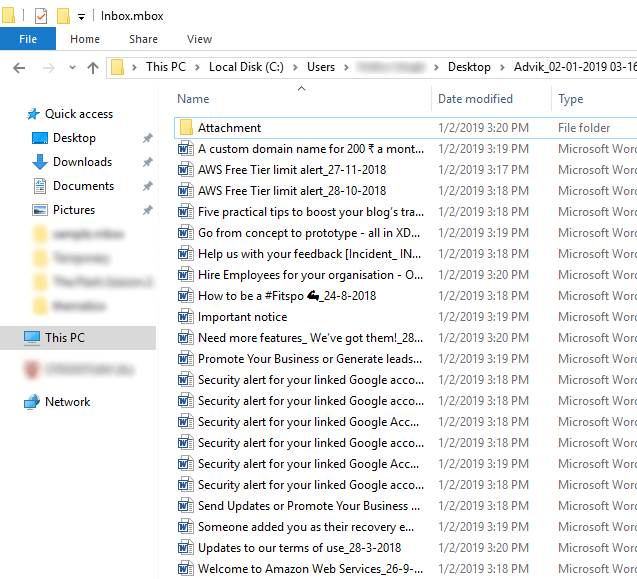 The "Attachment" folder which is shown above contains all the attachments of your MBOX file.
Note: The software will export 25 attachments from MBOX for FREE. For unlimited access, you have to upgrade to the full version.
After going through easiest and simplest steps, now go through a video guide that will assist you to extract attachments from MBOX File in more easy way.
Why Use Advik MBOX Attachment Extractor?
Trusted Brand: Advik Software provide 100% malware free and authentic applications. Our software can be easily accessible by skilled as well as non-technical experienced users to download attachments from MBOX.
Simplest Graphical User Interface: The tool offers the simplest layout in order to extract attachments from MBOX file. Anyone with little to no technical knowledge can use this software
Multiple Saving Options: Apart from the transfer of attachment from MBOX file, you can use this tool to convert MBOX file into Multiple file formats such as MBOX to PST, MSG, EML, PDF etc.
Offline Conversion: You don't need any internet connection to extract MBOX attachments while using MBOX Converter tool.
Supports All Versions of Windows: This software supports all versions of windows such as Windows 10, 8, 7, XP, Vista etc. You can also use this tool on 32-bit as well as 64-bit computers.
Dedicated Customer Support: You can also contact our support team in case you stuck somewhere while using this tool.
Free Demo Download: You can download this tool for free to check it's efficiency. Hit the download button and start extracting attachments from MBOX file.

Final Words:
Using this MBOX attachment extractor you can also extract attachments from Gmail MBOX, Thunderbird MBOX, Apple Mail MBOX etc. As per my opinion, this method is the simplest way to extract attachment files from MBOX. If you have any query related to this article you can email us or you can chat with our support team. Also, you can extract emails from MBOX using same toolkit.
Related Article: Extract Attachments from Outlook – Complete Guide