G Suite to Gmail Migration – Export G Suite Emails to Gmail
Quick Overview: Looking for a G Suite to Gmail Migration tool? Then, this article is only made for you. In this blog, you will get the easiest way to export G Suite emails to Gmail accounts instantly. Read this article completely to get a complete solution. As there are thousands of users who are searching for a reliable solution to migrate from G Suite to Gmail. However, there is no remarkable solution available that can guide them to safe migration. Let's discuss and explore the solution.
Before we move on, in the next section we explained a key difference between G Suite and Gmail. Since most users were confused about this.
G Suite vs. Gmail – Basic difference between G Suite and Gmail Account 
1. Google Accounts:
G suite, also known as Google Applications at work, is a popular cloud-based tool for sending emails to individuals or groups of people, managing tasks using calendars, building contact groups, and keeping a list of recipients for business applications, schools, universities, and personal usage. 
Whereas, A Gmail account is a free Google email account using the @gmail.com domain. Gmail accounts have been around for nearly 20 years, and 1.5 billion people use them every day. You can use Google Sheets, Google Docs, Google Calendar, and Google Slides for free if you have a Gmail account.
2. Cost:
One of the most appealing features of Gmail is that it is completely free. When you have a Google account, this is also true. Although the services are limited, they are free.
While, G Suite is a paid service. The ownership remains with the person who established it or given admin privileges to it who owns the account. G Suite is essentially a paid version of Gmail and Google accounts with a few additional features.
3. Control and Admin:
 As Gmail is built for personal use rather than commercial use, you have complete control over the admin.
As previously said, G Suite is built for corporations, so the control admin is in charge of all accounts. Each member of your team is given an email account, and the admin will have complete control over how they are utilized. This includes every facet of the account, including the password. It's critical for you to preserve control of your company's data as a business owner.
4. Storage: 
Every Gmail account comes with 15 GB of storage space for free. This affects Gmail, Google Drive, and Google Photos, to name a few. You'll reach that limit faster if you snap a lot of images. However, if you find yourself in need of more storage, you can upgrade to Google One. When you upgrade, you'll gain an extra 100 GB of storage capacity.
Google Workspace, as you may expect, has a larger storage capacity:
30 GB Business Starter

2TB Business Standard

5TB Business Plus
This storage limit is shared across Gmail, Google Drive, and Google Photos, just like it is with Gmail.
Read Also: Export Emails from G Suite to PST File
Now, you might be wondering how to export G Suite emails to Gmail. 
Having a Google account is fascinating; we all have one, and some of us even have multiple accounts. As a result, data management becomes critical. The subject of how to export G Suite to Gmail may now arise, and the solution is provided here.
Three Methods to Export G Suite to Gmail – Which do You Choose?
There are essentially three efficient approaches for backing up G Suite email. The first two is manual, whereas the third is professional tool. You may quickly transfer your data to G Suite using any of the techniques. Exporting G Suite mail data may cause issues, which are detailed in the article's later sections.
Both techniques for exporting G Suite emails are enumerated below.
Method 1. How to Migrate Emails from G Suite to Gmail? – Forwarding & POP/IMAP
G Suite emails can be exported using this simple and manual way. However, it's tough and time-consuming to transfer your G Suite to Gmail account. 
Follow the steps precisely to get desired results:
1. Sign in your G Suite account.
2. Navigate to Settings >> Forwarding & POP/IMAP >> POP Download and Enable POP.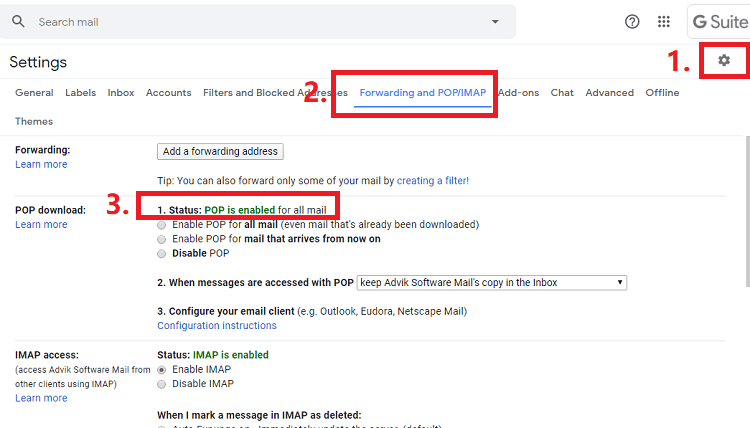 3. Now sign your Gmail account in which you want to import the G Suite mailbox.
4. Navigate to Settings >> Account and Import and click "Import mail" and contacts.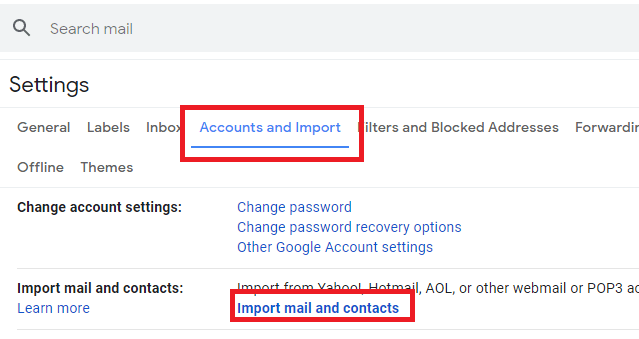 5. Enter your G Suite account email address.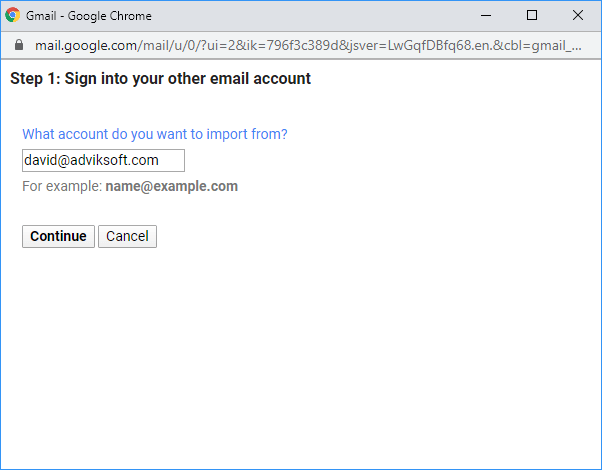 6. Now enter your G Suite login credentials and click "Continue".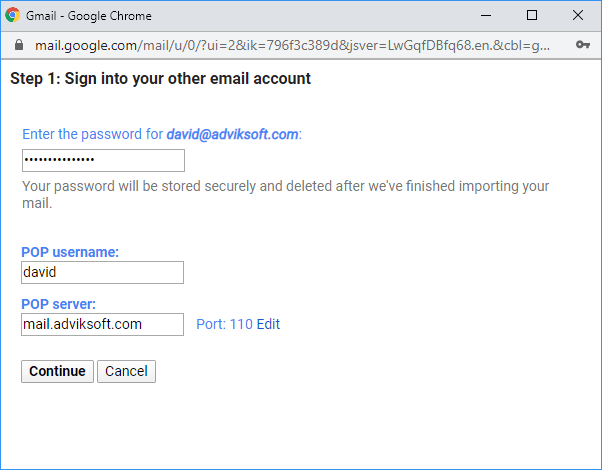 That's it!! The process of G Suite to Gmail migration will take a while based on the mailbox size.
Method 2. How to export G Suite Emails using G Suite Takeout?
The most difficult part of data migration is downloading everything and then copying it to a new location. G Suite, on the other hand, helps to alleviate the problem to some level. 
Try this method by following the instructions below:
1. You may effortlessly replicate bulk emails, calendars, and contacts from your team if you have a G Suite Admin account. Simply go to Google Admin Account and sign in with your administrator account.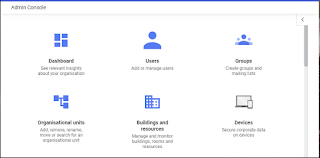 2. Then, from the ">" icon, select the Data Export option. Click the "Continue" button after selecting what you want to import.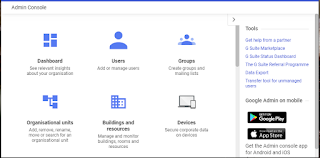 3. To begin the export process, click Start "Export".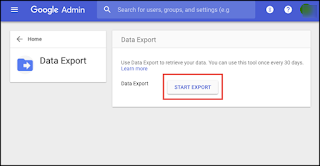 4.You will receive an email with instructions on how to export G Suite data for all user accounts.
Drawbacks associated with manual solutions:
The above two methods are the best alternative method to export G Suite emails to Gmail account. However, there are several users who faced few technical difficulties during the migration process. Some of them are mentioned below;
Gmail couldn't identify your POP server. Please enter your POP server information below.

It doesn't provide an email or date filter option for selective migration.

A lengthy and complex process to follow.
Method 3. The Solution You've Been Looking For !! – Advik G Suite Migration Tool
Check out Advik G Suite Migration Tool for Windows OS users. This tool is specially designed and developed to export G Suite emails to Gmail account instantly. You need not be a technical geek to operate this wizard. Despite having a self-explanatory user interface, the tool offers Email Filter, Date Filter, Mailbox Folder Selection and many other useful features.
It is a useful tool that can be used to easily export G Suite emails. This tool is available in a free trial edition.
Download the free demo version now to make the best use of it.
Steps to Export G Suite Emails to Gmail account;
1. Run Advik G Suite to Gmail Migration tool in your system.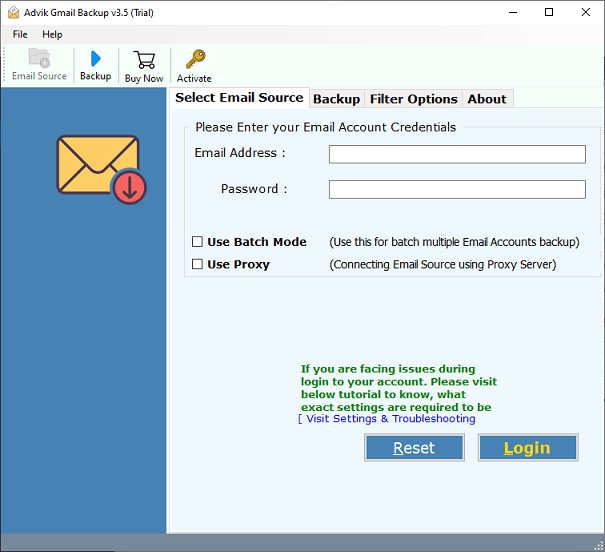 2. Enter your G Suite login credentials.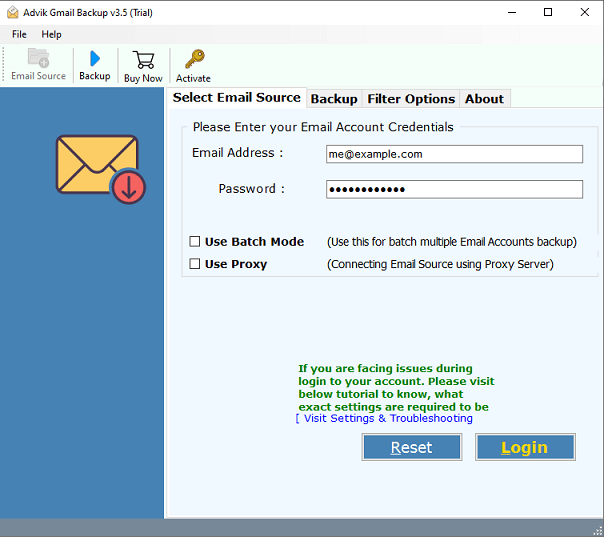 3. Choose mailbox folders to migrate.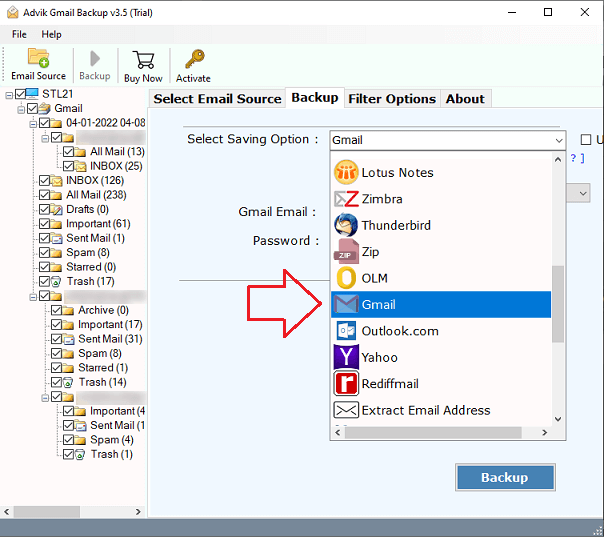 4. Select Gmail as a saving option from the list.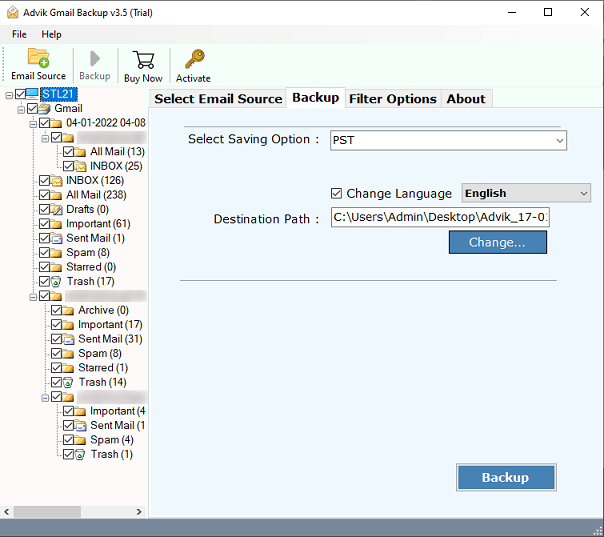 5. Enter the Gmail login credentials in which you want to export.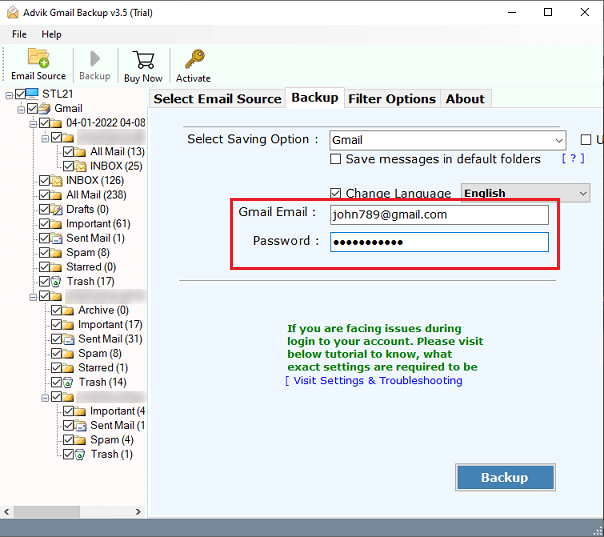 6. Apply Email Filters (if required) and click "Convert".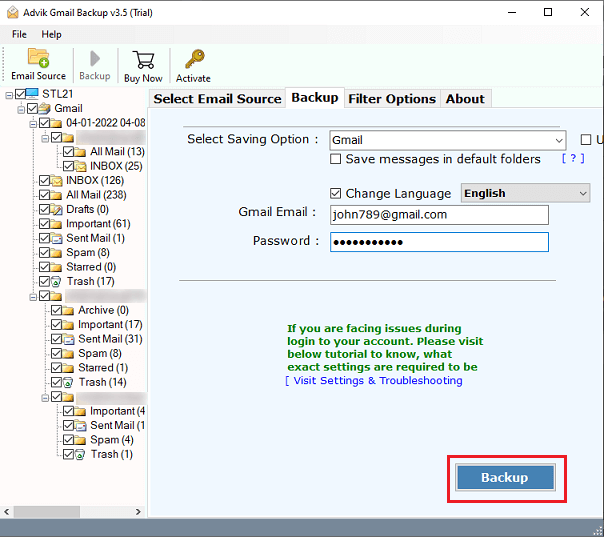 Done! Now sit back and relax!! The software will transfer emails from G Suite to Gmail in no time.
Why choose Advik G Suite to Gmail Migration Tool?
Below are the key highlights which insist users choose this option over the manual.
Simple User-friendly Interface: The user interface of software is self-explanatory or intuitive. It makes it easier for the user to manage the tool. The interface makes the procedure easier and more straightforward, so you don't need to be a technical expert to complete it.
Email Filter Option:  Provides Advanced filter option to extract useful data from Gmail account by filtering undesired emails. The Gmail Backup tool has a Date Range Filter that allows users to specify a certain date range and the software will handle the rest.
Maintain Folder Hierarchy: During the Gmail backup procedure, this software ensures data integrity. It's feasible because of the tool's highly optimized and well-designed algorithm, which ensures that no data is altered or changed after it's run.
Multiple Saving Option: The programme is well-known for its ability to save Gmail data in a variety of file formats.  With this tool users can export their data in more than 30 multiple formats, including EML, MSG, MBOX, EMLX, PDF, HTML, TXT, and more.
Download G Suite Email: If you're using the G Suite Application then using the same tool, you may back up your Google Workspace email account. You won't have to look for or install any other software. This multi-purpose tool works with both Gmail and G Suite accounts.
Conclusion
Till now, we had discussed two possible methods for G Suite to Gmail migration. As per my research, I had found plenty of glitch and difficulties to export G Suite emails to Gmail account. It does work, but it requires technical knowledge. On the other hand, Advik G Suite to Gmail Migration tool is a standalone application that has the capability to transfer G Suite mailbox to Gmail instantly. So I would like to suggest choosing the professional approach for instant and safe migration.