How to Backup Europe.com Emails to Hard Drive? – Quick Solution
The problems of losing one's important email files, could be painful and also lead to disturbance to your work. This can be solved by simply backing up Europe.com email files to your storage device. However, many users looking for a way to backup Europe.com emails on their computers. If you're seeking a way to download emails from Europe.com to your computer, then you should read this post carefully. In this guide, you'll learn how to export emails from Europe.com to the computer using a safe and secure straightforward manner. So, let's do it now!!
Instant Solution: Most email providers use similar backup techniques, but to make this Europe.com backup process different, we'll use Advik Email Backup Wizard to export Exurope.com email to PC/Computer/Hard Drive. You can use any email provider, including one of the more secure email providers that already protect your data in the cloud; just make sure it's reputable and has a strong track record when it comes to security.
Europe.com like other email hosting service providers offers a free email hosting option. Users with a premium membership can choose from 200 domains based on their interests. Apart from that, all desktop and mobile interference are compatible with Europe.com. You may quickly access this webmail from any browser.
Before diving into the main topic- how to backup Europe.com emails, I want to explain some of the important reasons why you need a Europe.com emails backup copy.
Why Backup Europe.com Emails?
Generally, Europe.com emails or any other webmail backups are very important because of unforeseen circumstances. It could be any type like getting corrupted files, or unintentionally deleting Europe.com emails, Internet connectivity will always require checking your important emails. These conditions will cause damage and delay your work and bring convenience to your work and life.
Some of these reasons to backup Europe.com emails are mentioned below. Users are requested to go through these points before moving forward to find a solution to save Europe.com emails to Computer.
Having a backup is always recommended in this digital era, where cybercrime is supposedly on the rise. As Europe.com Webmail data is stored on the server, anything can happen to your information.
Offline access to Europe.com webmail data is possible. The data could be viewed at any time, even if there was no internet connection.
Sometimes we need to share or print the Europe.com webmail data. Then, in this case, users must also save a copy of Europe.com in PDF format.
If users want to move from another email client, they must first backup Europe.com to a compatible format such as PST, EML, PDF, MBOX, and so on.
Your data is safe in double location as Europe.com's webmail backup is done locally. For example, data is more secure both locally and on the server.
You can quickly recover your data. In the event of unintentional deletion, malware, or ransomware assault on the server, the local backup can be used.
How to Backup Europe.com Emails to External Hard Drive?
Email File Backup is crucial to prevent your file from being attacked and any loss and damage to your email files. In this post, we will cover a quick and easy solution that will surely help you to backup Europe.com emails to your Computer. A Good Email Backup is needed by anyone who regularly deals with email files they don't want to lose. If you set it up correctly, it can help you migrate to a new email account faster and potentially protect you from a ransomware attack. However, many email services make it difficult to back up emails. We'll go through how to backup Europe.com by using the easiest and simplest method in this section.
As even the most powerful internet backups are far from flawless, you should additionally consider utilizing an external hard drive. If you need to keep your email data safe, you should use Advik Email Backup Wizard, which is considered the most reliable and convenient way to backup Europe.com emails to Hard Drive in just 4 easy steps.
It efficiently takes backup of Europe emails to Hard drive/PC/Computer. It allows users to save Europe emails into multiple formats like PST, MSG, EML, MBOX, PDF, etc. The best thing about this tool is that it maintains the Folder structure of your Europe.com mailbox data throughout the backup process. If you are in need to save Europe.com emails with attachments then don't worry as this tool also exports Europe.com emails along with the attachments without any data loss. This software is capable enough to give the advantage of both reliable and high-speed software to deliver satisfactory results.
Steps to Download Europe.com emails to Hard Drive are as follows;
Below are the following steps on how to backup Europe.com emails to computer.
Step 1. Firstly, install and run Advik Email Backup Software on your system.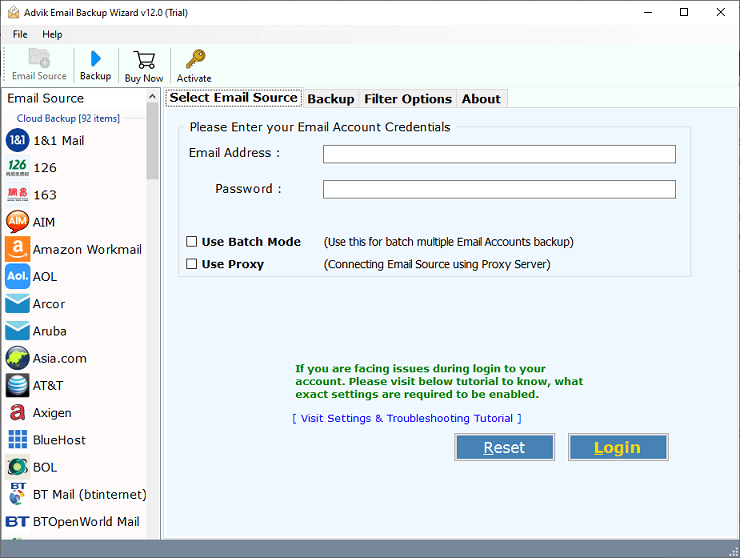 Step 2. Select "Europe.com" as an email source from the list of 90+ options.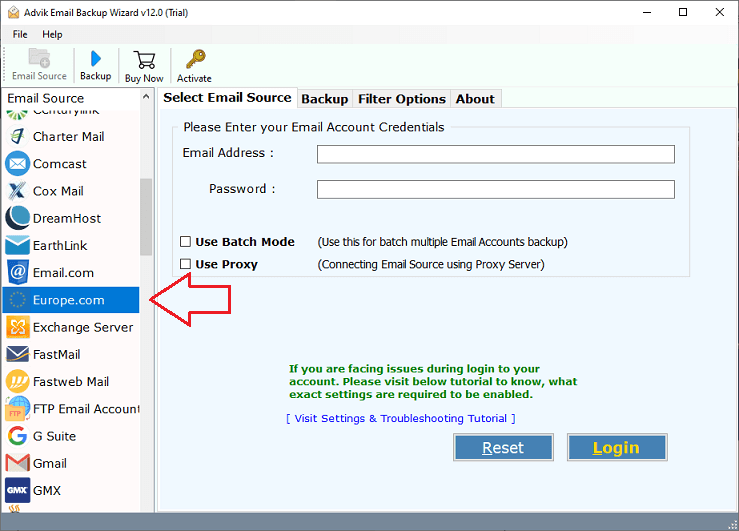 Step 3. After that, enter the login credentials of your Europe.com email account.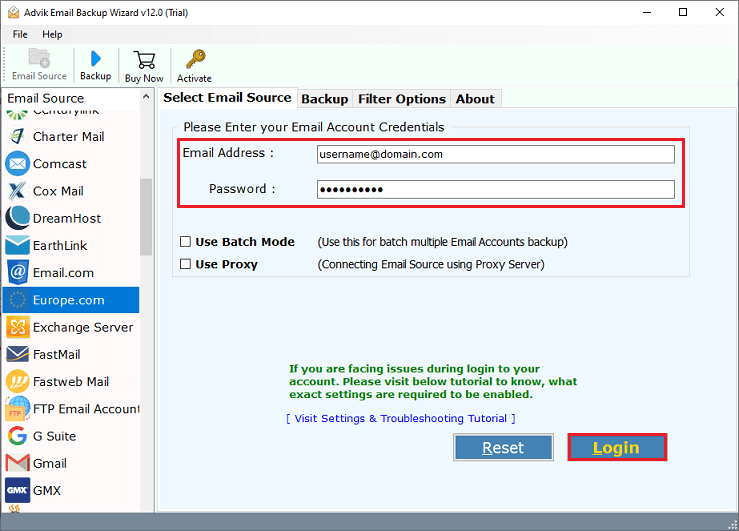 Step 4. Thereafter, the software will start analyzing your Europe.com mailbox, Choose the required emails and proceed further.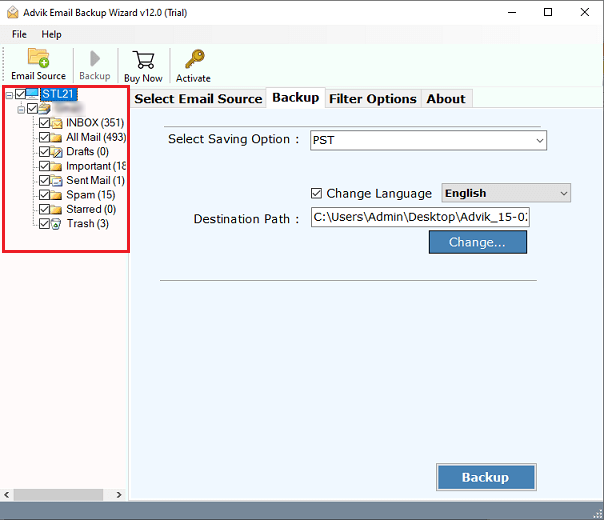 Step 5. Now, select "PST" as a saving option from the list of 30+ file formats.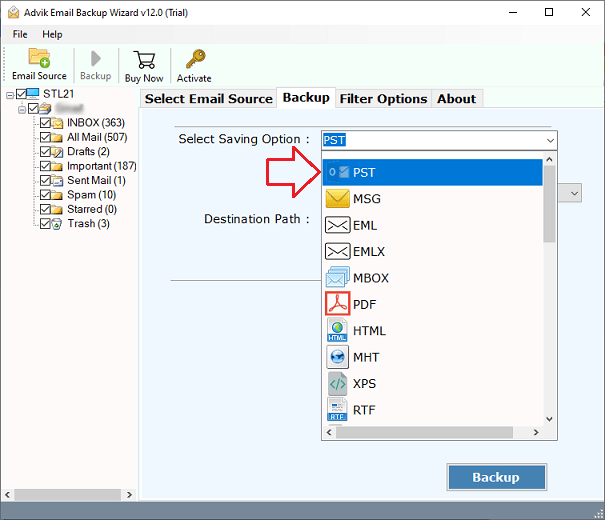 Step 6. Choose the desired "destination path" to save the resultant data file at your preferred location.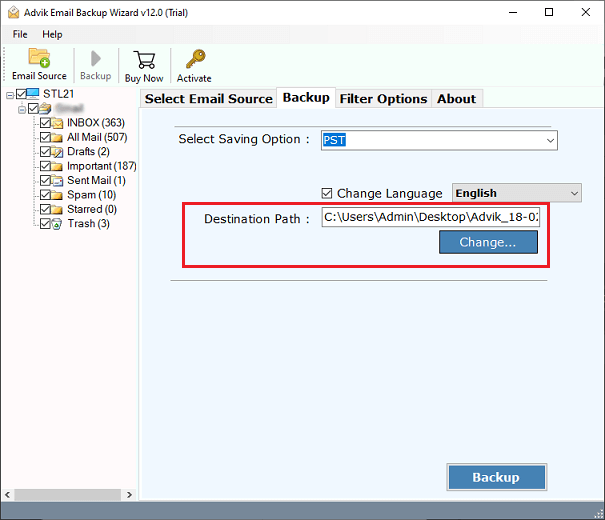 Step 7. Finally, Click on the "Backup" button and start downloading emails from Europe.com Webmail to Computer directly.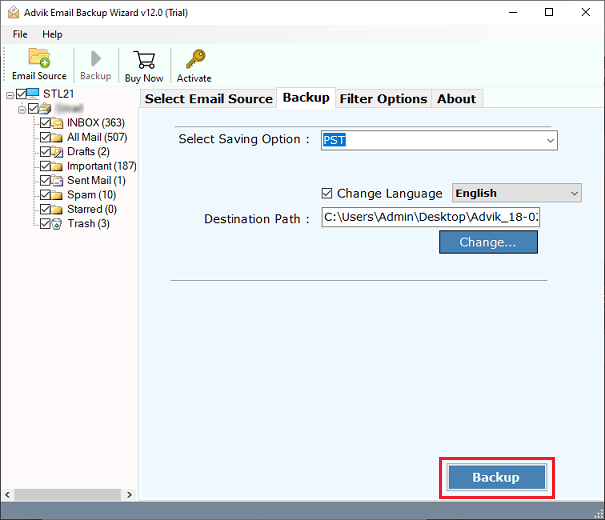 Now, Open your chosen location and view your exported emails.
Conclusion
In this article, we have learned the easiest method to get the Europe.com emails backed up. Here, is a detailed explanation of the Europe.com email backup process. If you were looking for an instant solution that can easily download emails from Europe.com, Then we recommend using Advik Email Backup Tool. It only takes a few seconds to export all of your emails from Europe.com to Computer. It is a sophisticated tool that even non-technical users can use this tool without any further assistance. All you need is just your email address and password and start exporting emails from Europe.com to Hard Drive.