How to Backup Windstream Email to Computer?
Looking for a Windstream Backup solution? This guide introduces a quick and easy way to backup Windstream email to the computer. Here we have compiled one of the best methods you can use to download emails from Windstream to the local system, among others.
Recommended Approach: Luckily, using Advik Email Backup Software you can easily download emails from Windstream to PC. It is easy and effective toolkit to backup Windstream emails to local system. You can even transfer saved backup to another flash drive or USB. The powerful tool lets you to download Windstraem emails to 30+ file formats such as PST, EML, MSG, PDF, MBOX etc.
As much as users want to use email when it comes to using communication. If you manage email for your business or personal use, it is important to ensure that all of your email data is secure or backed up elsewhere. It is also important to ensure that no one else has access to this part of your email account, otherwise, great harm will be done to you. But no worry!! We are here to help. One of these email backup solutions has been developed by us to make you aware of how to save and backup your email account with a reliable and easy method.
The motive of this article is to give a brief description of Windstream email backup. Those users who have been looking for a technique to create a backup will have their queries solved here. Read this blog till the end to make sure that you have learned the method to backup Windstream email.
Effortless Way to Backup Windstream Email to PC/Hard Drive
While looking for a solution, you may find plenty of solutions to backup your Windstream data. But here, we will explain only the best one. Advik Email Backup Wizard is one such tool that is the most powerful and professional solution which allows you to perform an easy and reliable Windstream backup task.
This application is a standard utility to attempt this task in one single step. Apart from its simple user interface, it is embedded with many useful features that will complete the whole task in 4 easy steps.
If you have ever backed up your email account, you know backing up your email can be a painful point. Until you have got an automated tool, it wasn't even possible manually. However, there is no direct manual solution to export emails from Windstream Mail to Computer. Here's how to backup Windstream email to PC/Computer/Hard Drive etc. In addition, you can also use this utility to migrate emails from Windstream to another webmail. It allows you to export Windstream to PST, EML, MSG, MBOX, PDF, CSV, DOC, and other file formats as well.
Download the .exe file of Advik Email Backup Wizard to avail its FREE trial edition. It will give you an option to try it first and check its efficiency and working steps and then move forward to upgrade to its premium version.
Step-by-Step Approach to Take Windstream Email Backup:- 
Step 1. First of all, install and run it on your Windows PC.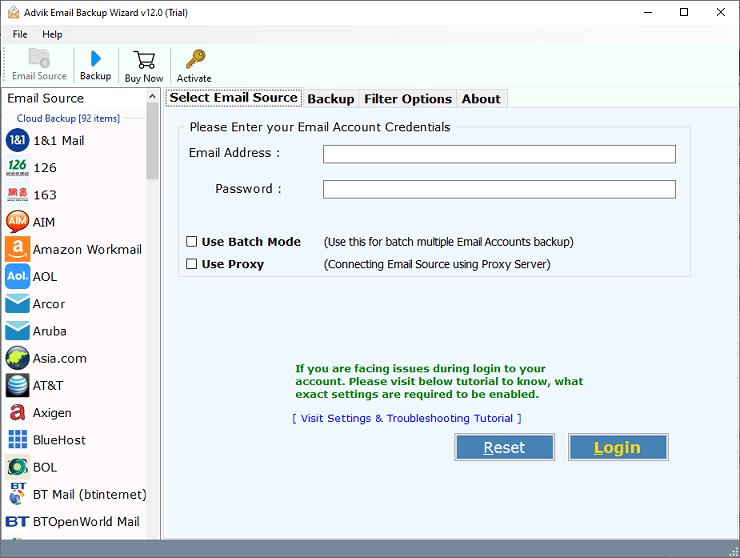 Step 2. Now, move towards the "Email Source" list, and choose the "Windstream" option to continue further.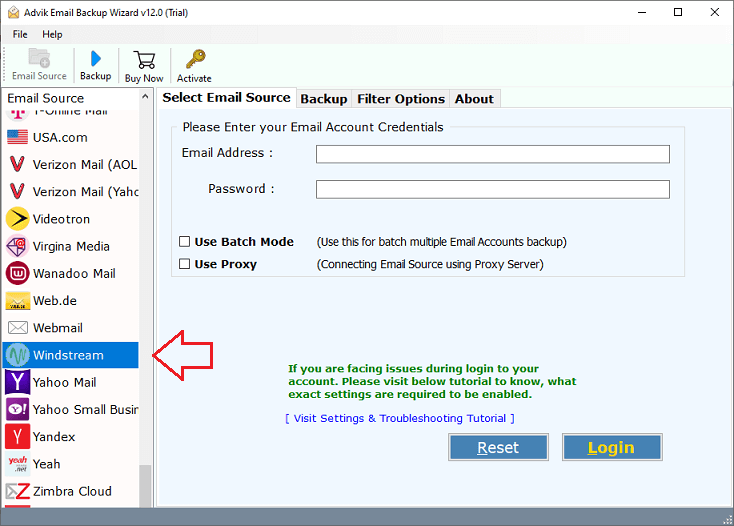 Step 3. Then, enter the Email address and password of your Windstream email account in the respective fields and press the "Login" button.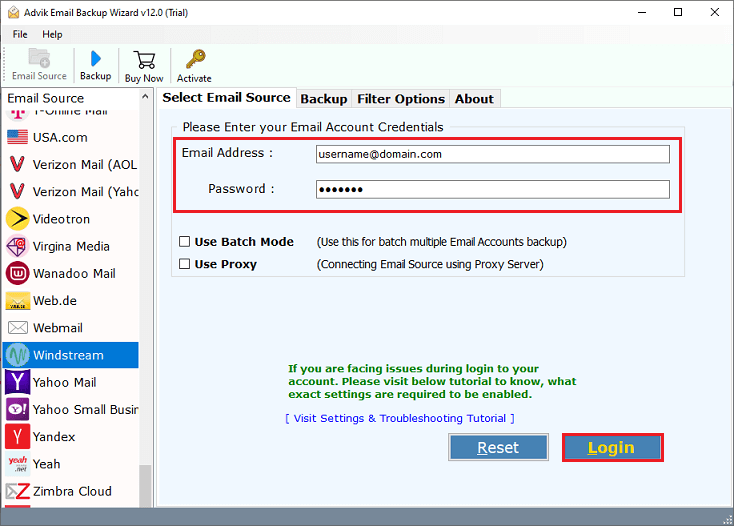 Step 4. Now, the software begins fetching emails from your Windstream email account. It will appear on the left side of the panel screen, choose the required folders, and move forward.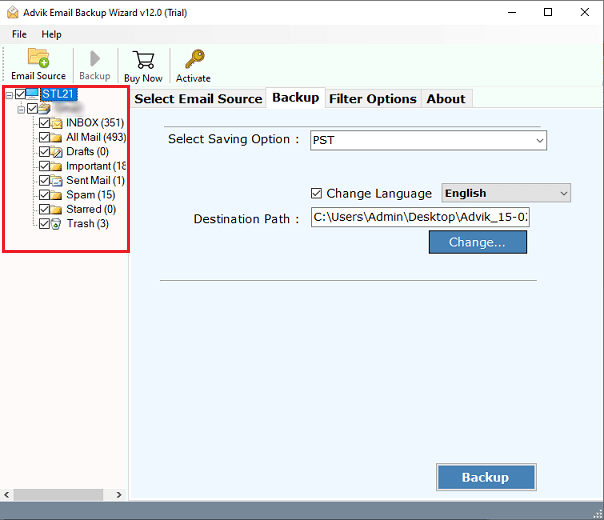 Step 5. Thereafter, choose any of the file formats in which you would like to backup Windstream emails. Here we are selecting MBOX option, you are free to choose any of them.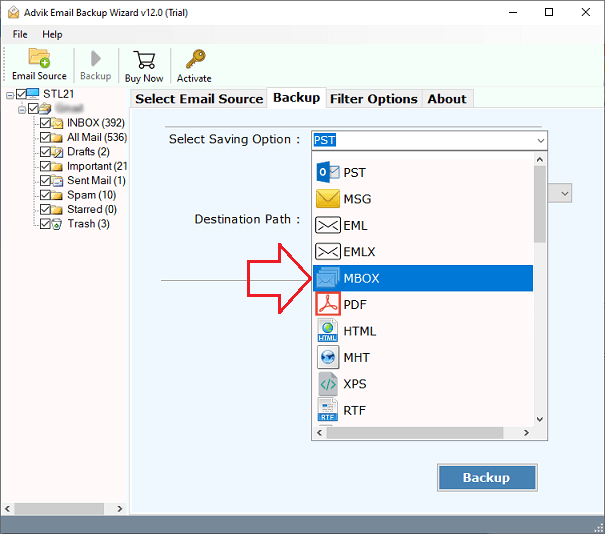 Step 6. After that, if you wish to modify the default destination path, click on the Change button and choose the targetted location.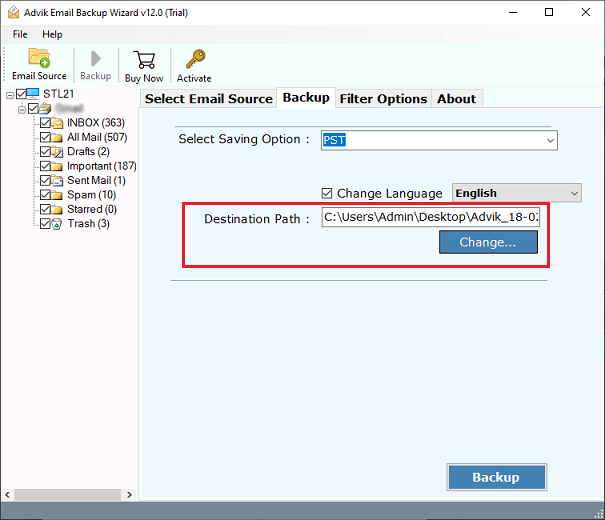 Step 7. Once you are done with the above steps, click on the Backup button and start downloading emails from Windstream to PC.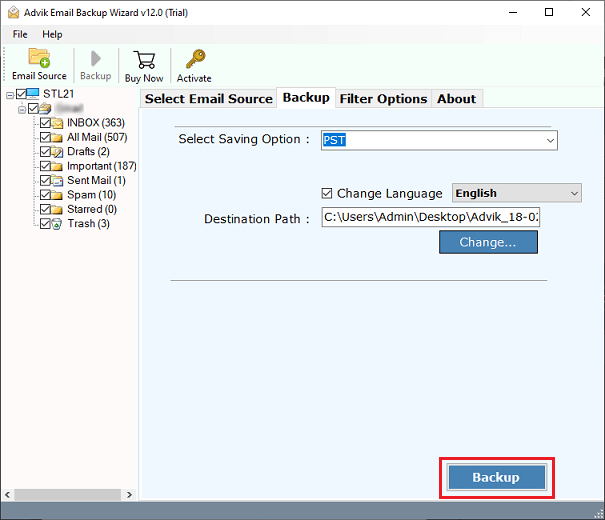 Done!! "Backup Completed Successfully" message will pop up on your Windows screen. You can go to the chosen destination path and check the resultant data file.
Important Characteristics Of  Advik Email Backup Tool
Multiple File Formats: This solution offers numerous alternatives for backing up particular Yahoo Small Business tenant email folders, not just one. Whether you want to backup all of your data or just the info you need depends entirely on your preferences.
Complete Data Backup: When using this software to backup emails from a Yahoo Small Business account, there is no possibility of data loss. Even email attachments will maintain their original format after the conversion.
One-Stop Solution: Users merely need to mention the login information of the Windstream email account for unlimited and collective data backup. The remainder of the backup procedure is done without much user involvement, this tool safely handles the remainder of the backup operation.
Maintain Folder Hierarchy: When backing up Windstream to a local computer or cloud-based accounts, this software preserves the same folder hierarchy. This feature is crucial since users can quickly view and arrange the backup folders that result from the export procedure because it will have the same structure.
Advanced Email Filter: A number of email filter settings in the Windstream Backup Tool that allow you to export particular Windstream emails to your local PC. Users can backup certain date-to-date emails, emails with a certain email ID, emails with a certain subject, etc. using email filter options.
Different Account Backups: Limitless emails from unlimited Windstream email accounts may be exported with this amazing backup service. The product comes with lifetime license keys, thus there is no time limit on how long you can use it. Users of this software can export emails one by one from various Windstream email accounts.
Conclusion
Hence, we have provided you with the best and most direct way to backup your Windstream mailbox in this article. This tool comes with various advanced features as we have mentioned above that can be easily used by users even in the Trial version also. You can save Windstream emails to any of your chosen locations without any barrier. The software will assist you in downloading emails from Windstream to PC in many different ways. If you will look for a manual solution, then SORRY! No manual solution is available except this tool which surely exports emails from Windstream to PC in just a few seconds.