How to Import Gmail to Roundcube Mail? – Complete Guide
Overview: If you are looking for a way to export emails from Gmail to Roundcube Mail, then you have reached the right place. This blog is going to mention the best and fastest solution to import Gmail to Roundcube account directly. Here we will mention the complete step-by-step process for Gmail to Roundcube email migration.
You can import Gmail to Roundcube account with the help of a powerful solution i.e., Advik Gmail Migration Tool. This application directly migrate emails from Gmail to Roundcube webmail account. It supports the batch email migration of multiple Gmail mailboxes to the Roundcube program.
Some users want to transfer Gmail to Roundcube because of the extra features it offers to its users. Roundcube is a web-based application of cPanel that is popularly used by professional users.
Advantages of Migrating Gmail to Roundcube Mail
What are the reasons for users wanting to migrate from Gmail to Roundcube? Roundcube is a web-based email application available on cPanel, which offers several features and enables users to manage their emails, contacts, tasks, address book, etc.
Allows the option to drag and drop in organizing emails
Provides HTML composition
Customized email plugins
User-friendly web interface
The following are some of the reasons for users to consider migrating emails from Gmail to Roundcube:
Gmail does not provide domain-based email addresses, whereas many users prefer an official email address through Roundcube.
Google temporarily disables accounts if users send messages to over 500 recipients or if they send a large number of irreversible messages.
For Gmail accounts, the daily sending limit via Google Script, such as in the case of Gmail mail merge, is 100 recipients per day.
Users may need to transfer their personal email to their business email account, which can be done using Roundcube's business email address with their domain name.
Gmail displays advertisements on every email, whereas Roundcube is a professional email client that does not support advertisements.
Methods to Save Gmail Emails to Roundcube
There is no direct way to import all mail from Gmail to Roundcube. But, if you try to Move Gmail to Roundcube by using Google Takeout. Still, this method is not working. Because you need to export Gmail to MBOX, which involves various complex steps.
Moreover, this manual solution to import Gmail to Roundcube is divided into two parts. First of all, you need to export Gmail data using Google Takeout and then you have to extract MBOX files from zip file to desktop.
After that, using the Roundcube Import feature, upload MBOX to Roundcube mail account. So, let's start with the steps to conduct the process.
Step 1. Export Gmail Data using Google Takeout
1. Search "Google Takeout" on your web browser as shown in the screenshot.

2. After that, enter your Gmail account credentials and sign in to your account.
3. Now, you will be redirected to the Google Takeout page.
4. Thereafter, by default all of Gmail data has been selected, deselect all and choose "Mail" only and tap on the "Next" step to backup Gmail emails.
5. After that, choose "delivery method" as per your choice.
6. Now, you have to choose the frequency to export Gmail data.
7. Then, select the file type in which you wish to export your data and click on the "Create export" button.

Now, the export process will start instantly. It may take time depending on your data size.
Once it's completed you will get a mail that consists of a download link to export your Gmail data.
Now, click on that link and extract that .zip file on your desktop. You will get all of your Gmail data exported in MBOX file format.
Step 2. Import MBOX File to Roundcube
1. Login to your Roundcube mail account through a web browser.
2. To import MBOX files to a specific folder, click on the desired folder.
3. Then, click on the three-dot icon the in the menu and choose the "Import" option from the drop-down list.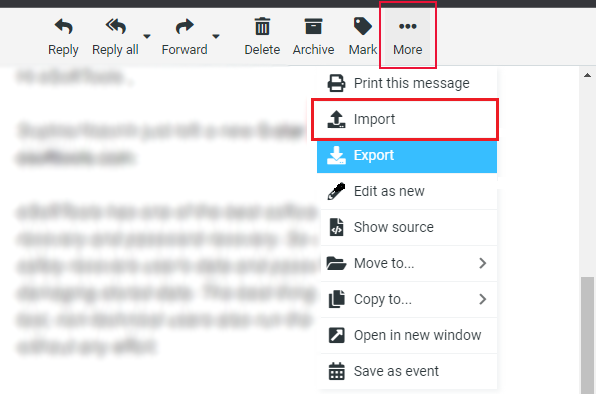 4. Now, in the "Import messages" tab, click "Browse" and choose the file you want to import from your computer's hard drive.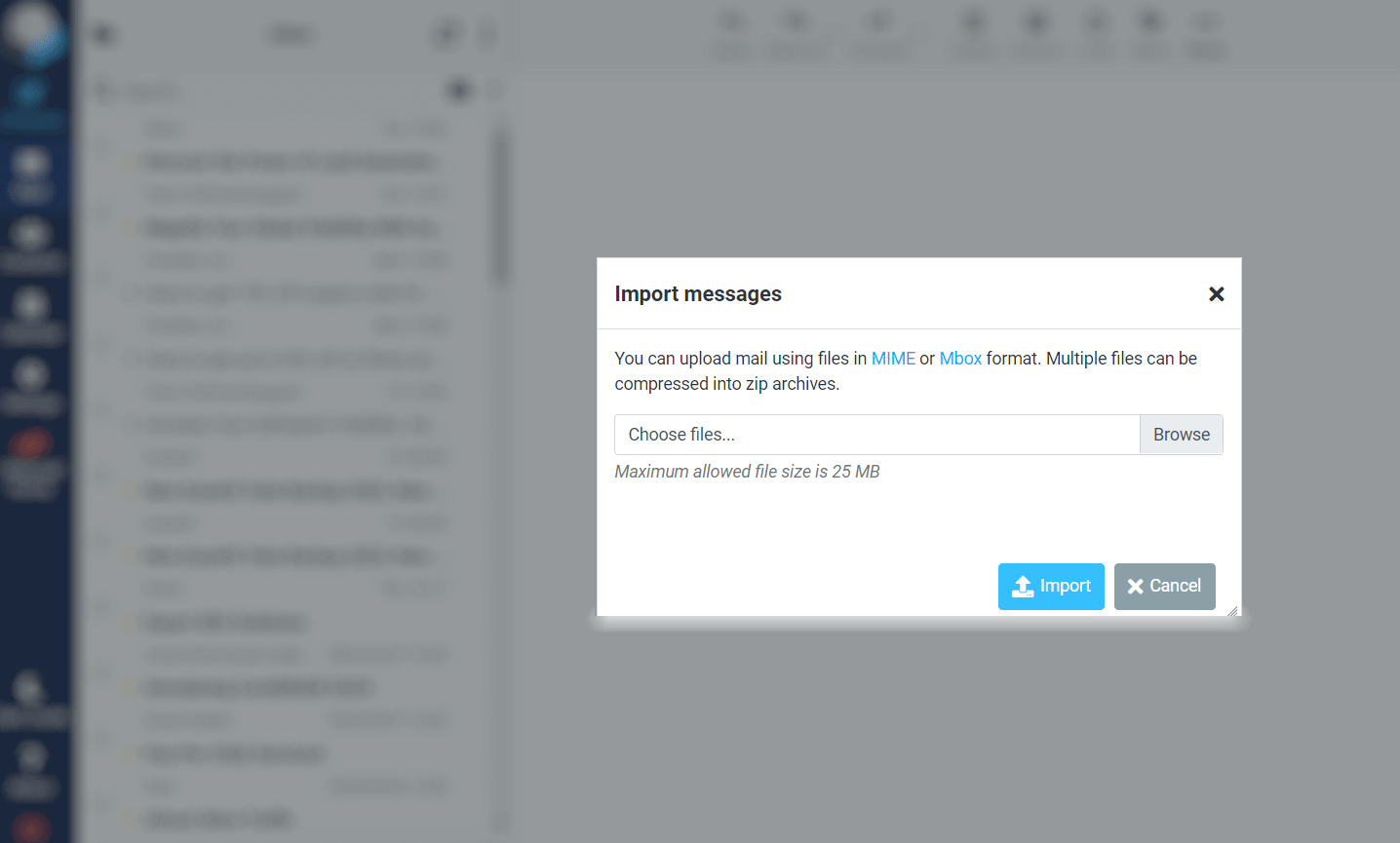 5. Finally, click on the "Import" button to initiate the uploading process.
Done!! In a few seconds, all your MBOX data will be imported into Roundcube account.
Pit-Fall of Manual Approaches
The maximum allowed file size is 25 MB using Roundcube import feature.
Google Takeout is an extremely lengthy process that may take up to 2-3 days to download.
Google takeout usually exports a large mailbox with many emails; as more than 25 MB MBOX file is not allowed.
It doesn't support folder structure to manage emails.
No direct option to transfer Gmail emails to Roundcube Mail account.
How to Move Gmail to Roundcube Webmail Account?
Here we will show you the expert solution to Move Gmail to Roundcube to overcome the above-mentioned limitations. The Advik Gmail Migration Tool is a highly recommended software to transfer emails from Gmail to Roundcube webmail account. For your all Gmail email migration problems, this is the one solution.
The tool is specially created with advanced technologies, which makes the software more powerful and easy to use for all technical and non-technical users. Also, you can migrate Gmail to Outlook.com, Yahoo Mail, Office 365, Exchange Online, Yandex Mail, Zoho Mail, Zimbra Webmail, and many other IMAP-based email services with this single utility.
Free download the trial version from the below link;
Simple Steps to Import Gmail to Roundcube Account;
Step 1. Install and Run the recommended solution on your Windows PC.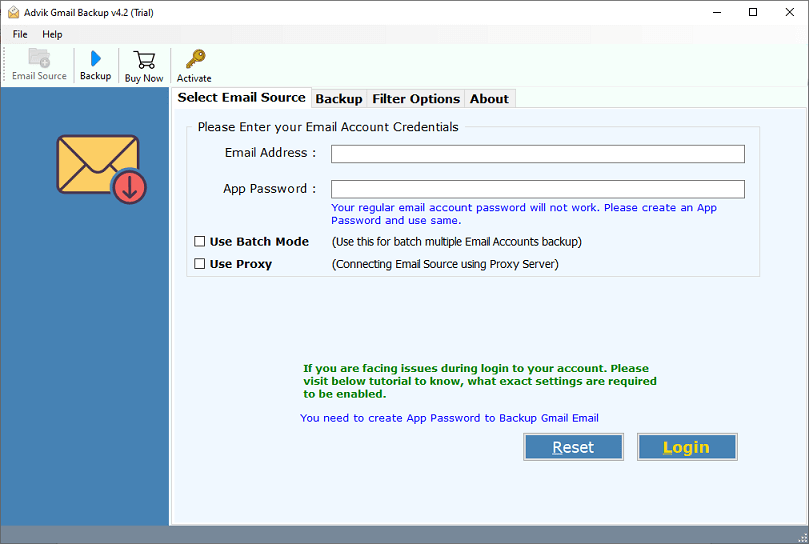 Step 2. After that, you need to enter your Gmail account email address and App-Password. Then, press the "Login" button.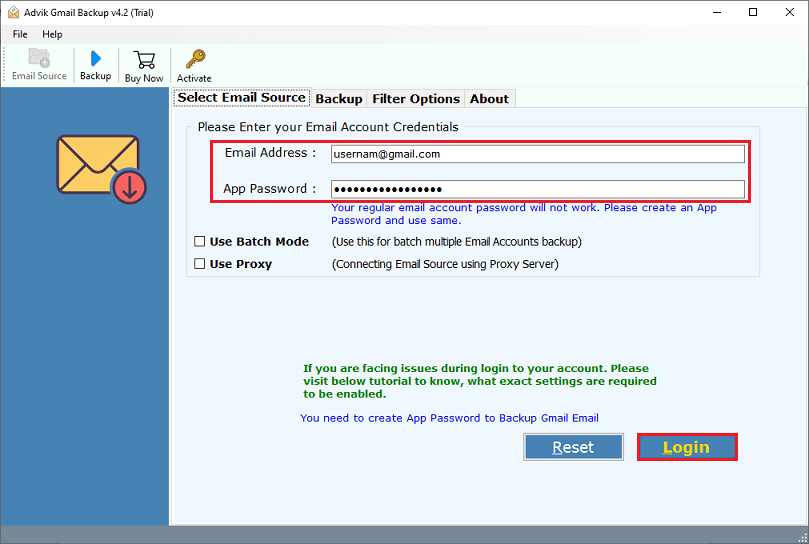 Step 3. Now, preview and choose the required emails from the left pane on the windows side.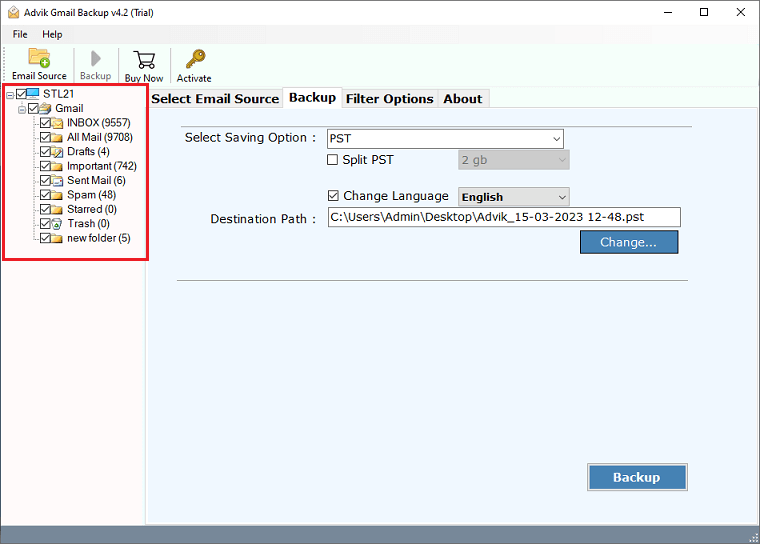 Step 4. After that, go to saving options and choose "IMAP" and proceed further.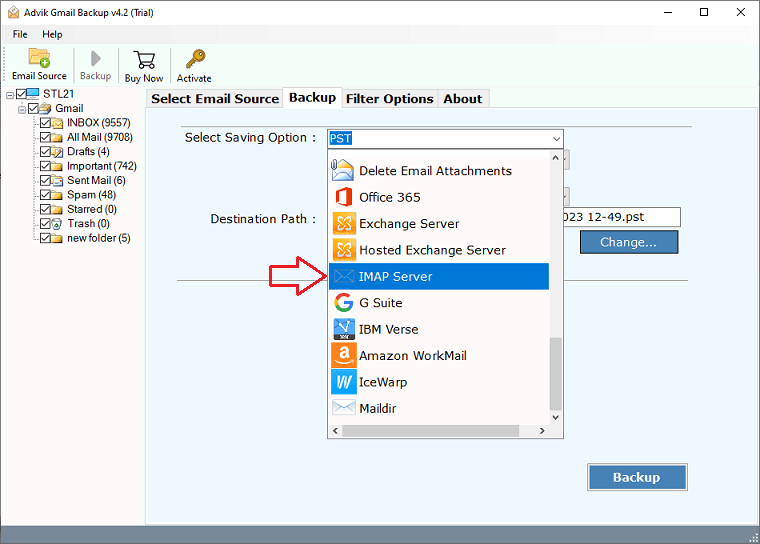 Step 5. Then, provide your Roundcube email account credentials such as email address, password, and IMAP server.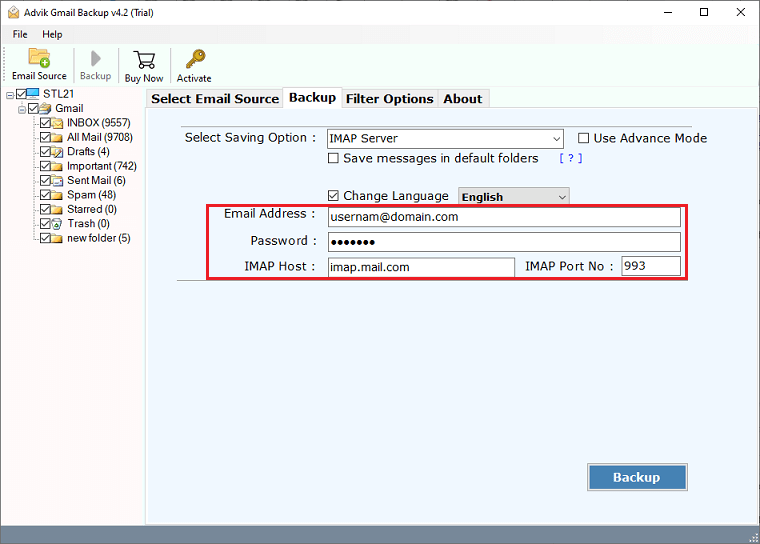 Step 6. Finally, press the "Backup" button to start Gmail to Roundcube migration process.

Concluding Thoughts
Thus, migrating emails from Gmail to Roundcube depends largely on the user's personal choice and the purpose of use. Today, we have seen a comparative analysis and methods to import Gmail to Roundcube. We suggest you choose an automated solution to do this task to avoid data loss issues. Also, you will be able to save crucial time and effort.