How to Import MBOX to Outlook 2021 With Attachments?
Summary: In this blog, we have shared a step-by-step guide on how to import MBOX files to Outlook. As you know, Microsoft just released the new updated version of Outlook 2021. Hence, how to import MBOX to Outlook 2021 arises for most of the users. That is why we have come up with reliable and effortless solutions to get the best results. Just read this blog to the end so you don't miss any of the important steps.
Quick Approach: Want an Instant solution? Try Advik MBOX to PST Converter to quickly upload MBOX to Outlook 2021 with ease. It is an effective tool which is especially designed to import MBOX to Outlook 2021. Download this free tool and perform your needed task now.
MBOX is a versatile file format that is generally used by various email clients. Many Unix, Linux, and Apple Macintosh mail systems, as well as some Windows mail clients like Mozilla Thunderbird and Eudora, use the MBOX message database format. But due to various extensive features that MS Outlook offers to its's users have driven most of the users towards it's application.
Now, Microsoft has released it's an updated version, most of the users surely are in need to Import MBOX to Outlook 2021.
Outlook 2021: A Guide to the Latest Update by Microsoft
A new rollup update has been made available for all MS Outlook users. The latest version of Microsoft Outlook 2021 is now available. It appeared as if we would never see another traditional Outlook release as Microsoft went all-in on its Outlook 2021 version.
With new features like Search at Top and Translator, Outlook 2021 for Windows allows you to better manage your inbox than earlier. If you're upgrading from Outlook 2019 for Windows to Outlook 2021 for Windows, you'll keep all of the features you're used to plus a few new ones that are mentioned below:
Search and Email filter
Translate and ink in Outlook
Color dialog box
These were the new updated features of Outlook 2019. Now, you have understand the needs to Import MBOX to Outlook 2021. So, let's start with methods to do this effectively.
Method 1. How to Import MBOX to Outlook 2021? – Professional Approach
Outlook has many extensive and versatile functions. Some of them are that it can only recognize two file formats like PST and EML. Nowadays, popular email programs like Gmail and Thunderbird use different variants of MBOX. If you have MBOX file of it and want to transfer it to Outlook. Then you need to convert MBOX to PST to do this. As there is no direct method to import MBOX to Outlook 2021 other than this one.
Advik MBOX Converter is such an amazing software designed solely to upload MBOX to Outlook easily. After using this tool, you don't need to make any extra efforts. This is the best way to import MBOX into Outlook 2016, 20219, and 2021 including emails, attachments and entire mailbox folders. This tool allows you to upload unlimited MBOX files in single attempt. This tool is compatible with all versions of Outlook 2021, 2019, 2016, 2013, 2011, 2007, etc.
Steps to Open MBOX File in Outlook 2021 are as follows;
1. Install and run Advik MBOX to PST Converter in your system.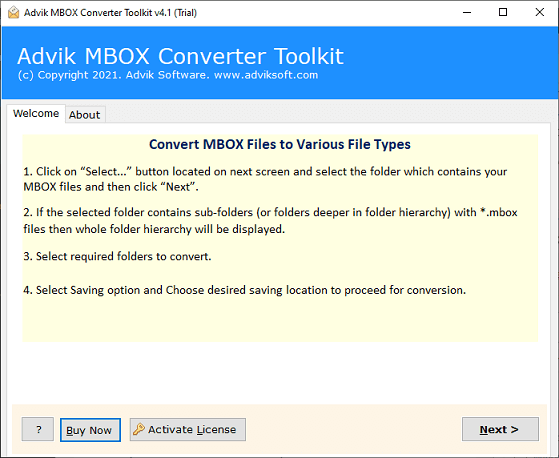 2. Click "Select Files" or "Select Folder" option to upload MBOX files to the software interface.
3. Select the desired mailbox folders you want to import to Outlook 2021.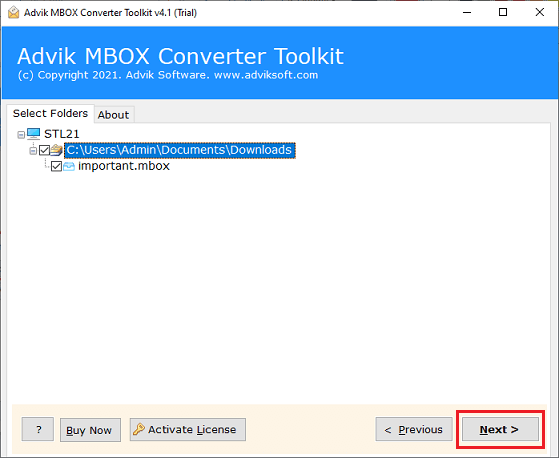 4. Choose "PST" as a saving option from over 30 file formats.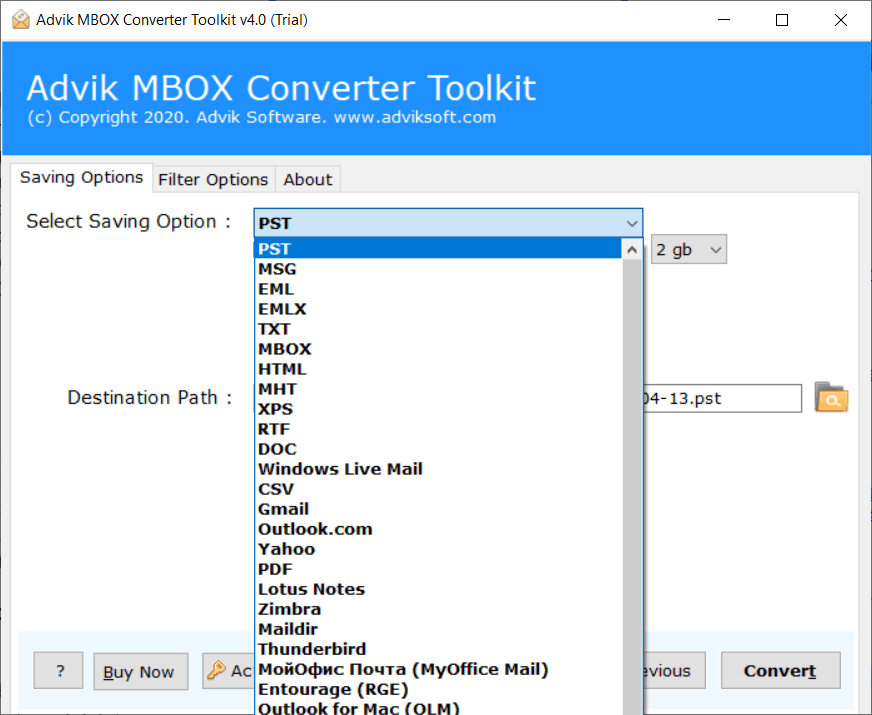 5. Browse a destination path to save the resulting PST file.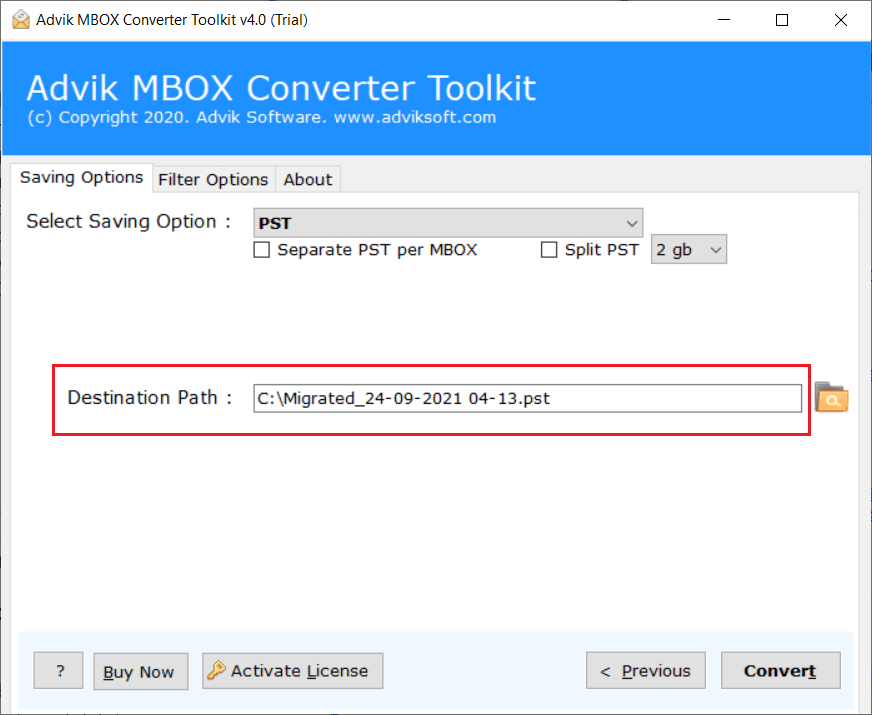 6. Finally, click the "Convert" button to start the conversion process.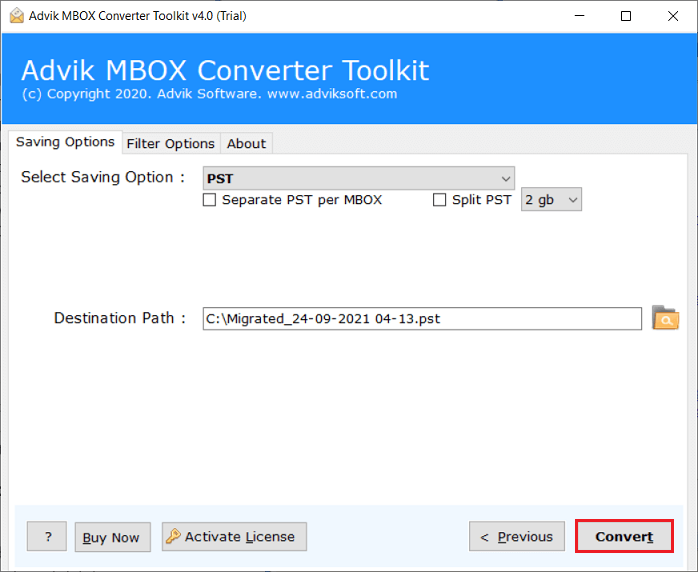 Now relax and analyze the whole conversion process and convert your MBOX files to PST format for Outlook 2021 for free.
Steps to Import PST File into Outlook 2021:
1. Launch and Run MS Outlook in your system and click "File" tab and Open & Export >> Import/Export.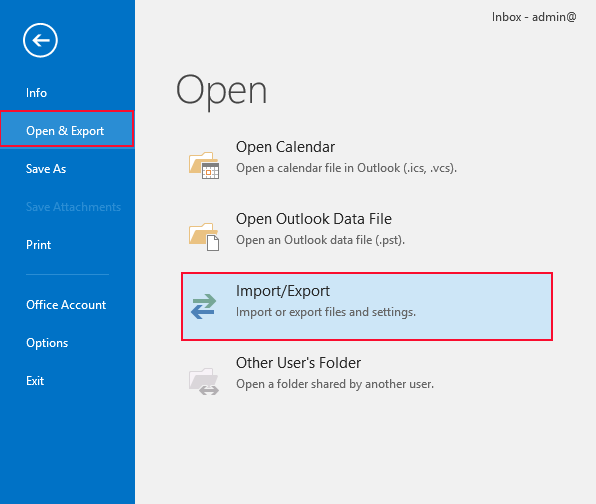 2. Now select the option "Import from another program file" and click on "Next".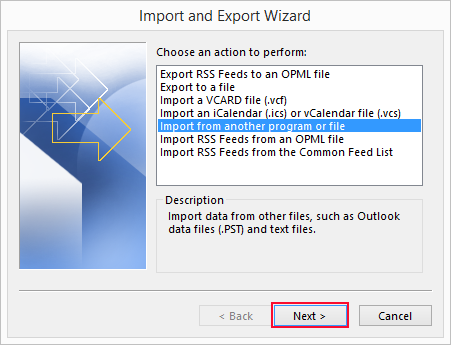 3. Select "Outlook data file.pst" and process further.
4. Browse PST files from your destination path and click "Finish".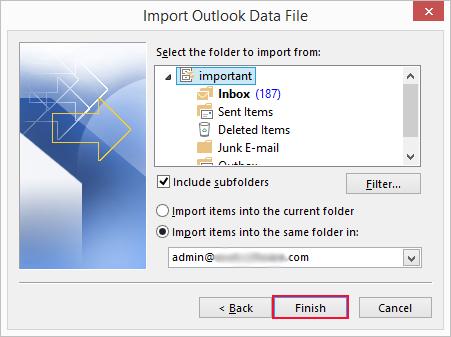 In this way, all your converted PST files will be imported into Outlook 2021.
Method 2. How to Import MBOX File in Outlook 2021? – Manual Solution
For this manual process, one must be configure Gmail account with Thunderbird and Outlook via IMAP settings.
1. In Thunderbird, create a new folder where you can save the emails you want to read in Outlook.
2. Now select the messages you want to import into Outlook and drag them to a new folder. Drag and drop the files you want to keep into a new folder.
3. Click on the "Tools" option in the menu bar.
4. Now, choose "Import MBOX file" option from the drop-down list.

5. Browse location and select all the MBOX files.
6. After that, Your MBOX file is now imported into Thunderbird.
7. Right click on selected emails and choose "ImportExport Tools NG>>Export all messages in the folder>>EML format" from the list.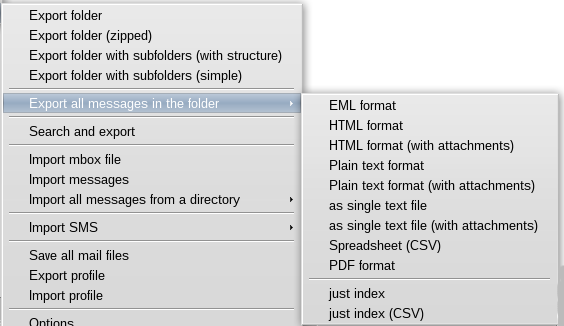 8. Now, select a location to save EML files.
9. Thereafter, import these EML files to Outlook(local folder) by drag and drop method.
10. After that, open MS Outlook 2021 and select the messages you want to add to Outlook.
11. Then, in Outlook, drag the emails you want to keep to a new folder (or any required location). In this folder, you can access your MBOX files.
Drawbacks of Manual Solutions:
You need to install both Thunderbird and Outlook 2021 for Gmail configuration.
Lengthy and time-consuming process to read MBOX file in Outlook.
One has to be very careful while executing the process as one wrong step can lead to huge data loss.
Conclusion
Now we are done with two best techniques to import MBOX to Outlook 2021. You are free to choose any of the above methods. However, don't forget to check the limitations that come with it, as it can cause problems. To avoid such manual solutions, you can use MBOX to PST Converter tool to open MBOX file in Outlook 2021 with ease.