How to Import PST Contacts to Thunderbird?
It's never easy to transfer contacts between phones to an email client application, especially when you choose email client application like "Thunderbird". Don't worry!! To solve these types of query, we have come up with two different ways to import PST Contacts to Thunderbird. This blog discusses easy solutions along with reasons to Import PST Contacts to Mozilla Thunderbird. So, read this blog till the end to know the working steps of each methods.
Instant Solution: Looking for a quick and easy tool? If yes, then you must go with Advik PST to VCF Converter tool to freely Import PST Contacts to Thunderbird directly.
Thunderbird is a popular open-source email client that can also manage email accounts in groups. It can be customized with a variety of features based on the user's needs. This fantastic email client comes with a slew of features, including multiple platforms, open-source, and server addresses.
Why to Import PST Contacts to Thunderbird? – Reasons you should know
The following are some of the most common reasons why a user might want to move Outlook contacts to Thunderbird.
Outlook contacts transfer to Thunderbird is often observed as Thunderbird is considered to be a low-cost email application and is widely used by personal and professional users.
Outlook is comparatively costlier than Thunderbird as it is a free email application.
Many users want to switch to a free client like Thunderbird because they do not want to pay for email services, as Outlook is a paid email client.
Users of Mozilla Thunderbird can open emails and other data items in separate tabs so that they can switch between them quickly.
Mozilla Thunderbird's update system checks for the latest version on a regular basis and notifies users when a security update is available.
Thunderbird works much faster than Microsoft Outlook.
Thunderbird's default storage format is MBOX, which is also supported by other email clients.
The first method requires both Thunderbird and Outlook installation on your system. As you have to configure both to Import PST Contacts to Thunderbird. While, the second method doesn't requires any outlook or thunderbird installation.
Method 1. How to Upload Import PST Contacts to Thunderbird? – Manual Solution
Follow the given steps to import Outlook PST Contacts to Thunderbird:
1. Open Thunderbird application and Go to Tools in the menu bar and select "Import" from drop-down options.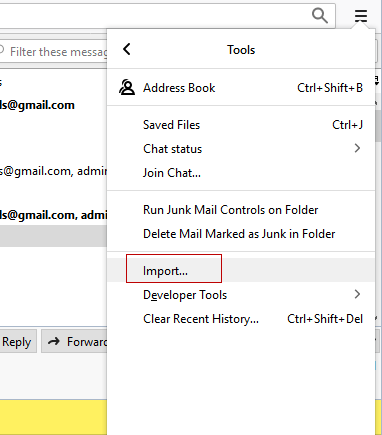 2. Choose "Address Books" radio button and tap "Next" button.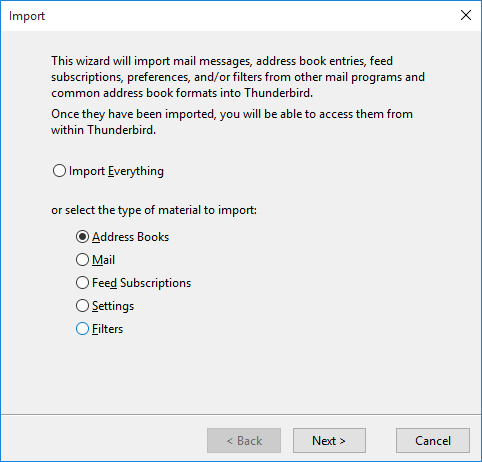 3. Select Outlook from the given options and this will automatically import Outlook Contacts to Thunderbird and press the "Next" button.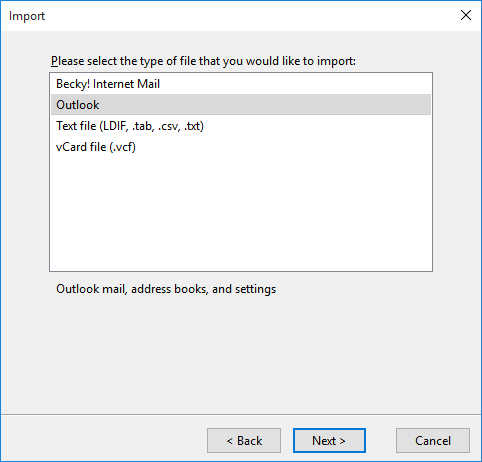 4. Lastly, you will get notified through a message "Addresses successfully imported from Outlook". Click "Finish" to complete this process.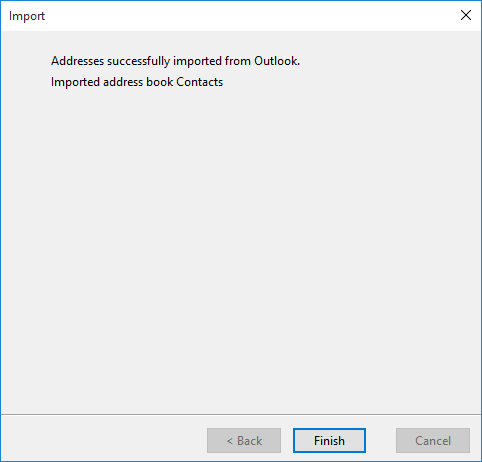 Now, Open Thunderbird again and check all of you outlook contacts in Thunderbird.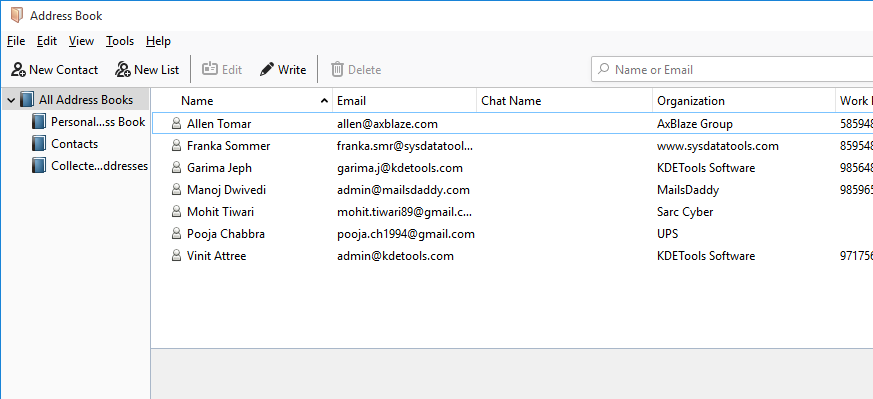 Limitations of Manual Solutions
Wait!! This method seems easy but full of lost of drawbacks which creates problem while choosing methods.
Requires more time to transfer contacts from Outlook PST file to Thunderbird.
Not suitable for non-technical users as it requires manual configuration steps.
Not surety to get 100% accurate results.
So, if the user wants to avoid these drawbacks, they should avoid using this solution. The best method for completing this task is to use an automated solution.
Method 2. How to Import PST Contacts to Thunderbird without Outlook? – Effortless Solution
If you want to access PST Contacts to Thunderbird without Outlook. Then, without wasting a single seconds, try this free utility to Import Outlook PST Contacts to Mozilla Thunderbird. Advik PST Converter is one of the most widely used tool among the users to accomplish this task in more easy way. It effortlessly and effectively transfer data of PST file to directly Thunderbird in just 4 simple steps.
This tool also useful is you want Import PST Contacts to Gmail, Office 365, iCloud, Yahoo, outlook.com, exchange server, G Suite, IBM Verse and more than 20+ emails services. You can even export PST file to MBOX, MSG, EML, PDF, CSV, DOC, EMLX and many other file formats.
Working Steps to Import PST Contacts to Thunderbird Directly;
1. Install and run PST Converter on your local system.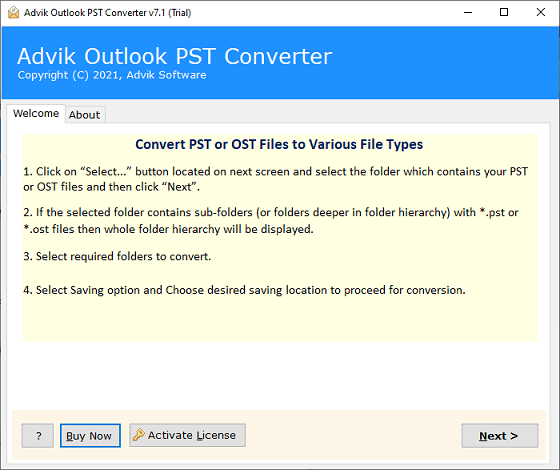 2. Now upload PST files from your computer to the software panel, click "Select Files" or "Select Folder" and then click "Next".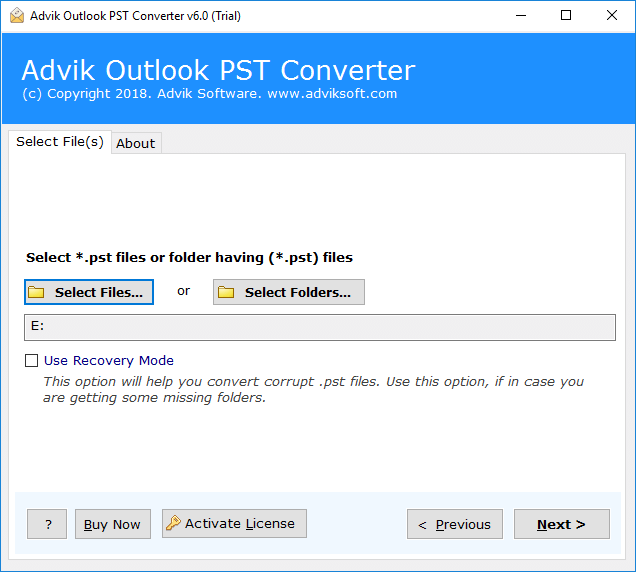 3. After that, this tool will automatically load folders and subfolders of the PST file into the software window. You need to select the "Contact" folder among them.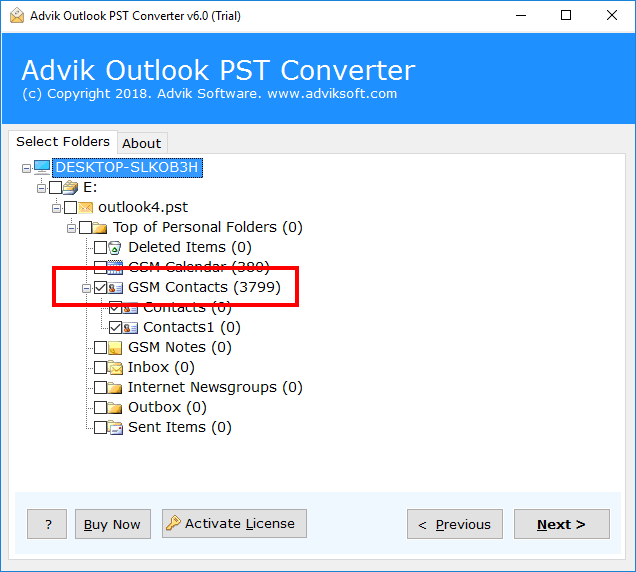 4. Now select "vCard" as a saving option from the list of multiple file formats.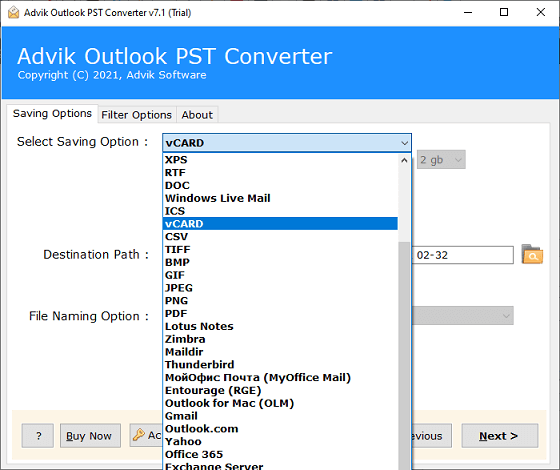 5. Select a desired "destination path" to save your resulting vCard file to the location you chose.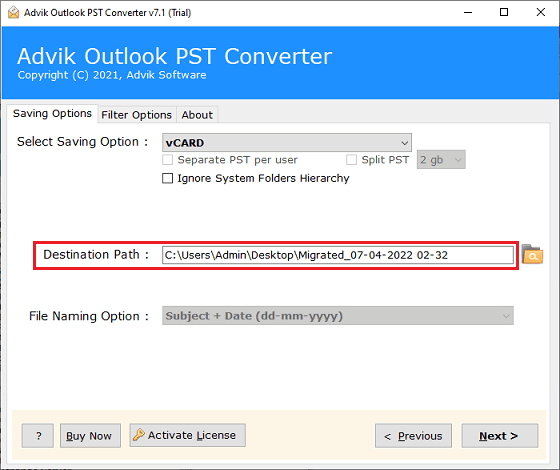 6. Finally, click on the "Next" button to start the file conversion process.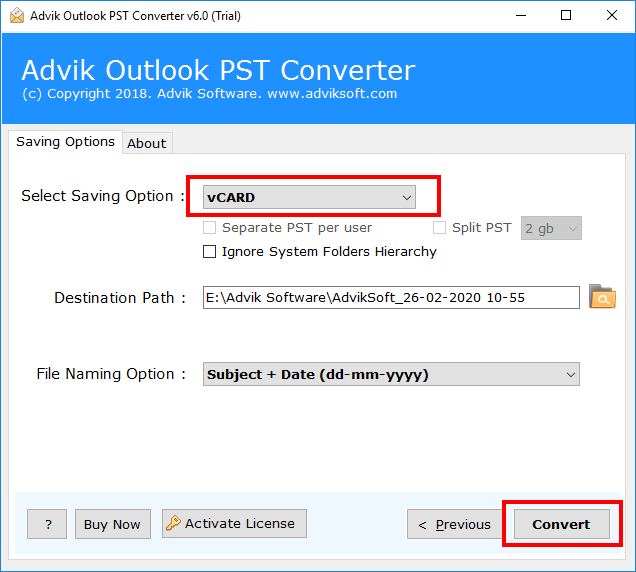 Steps to import Outlook PST contacts to Thunderbird:
1. Open Thunderbird and go to the menu bar and click on the "Address Book" option.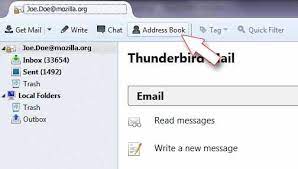 2. Now select the "Tools >> Import" option as shown below.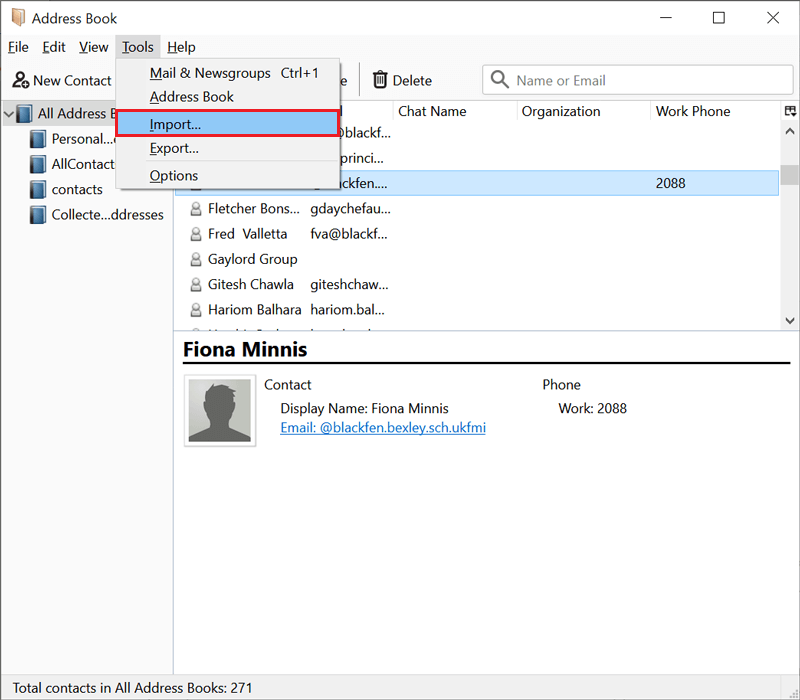 3. Select the "Address Book" radio button from the options and click Next.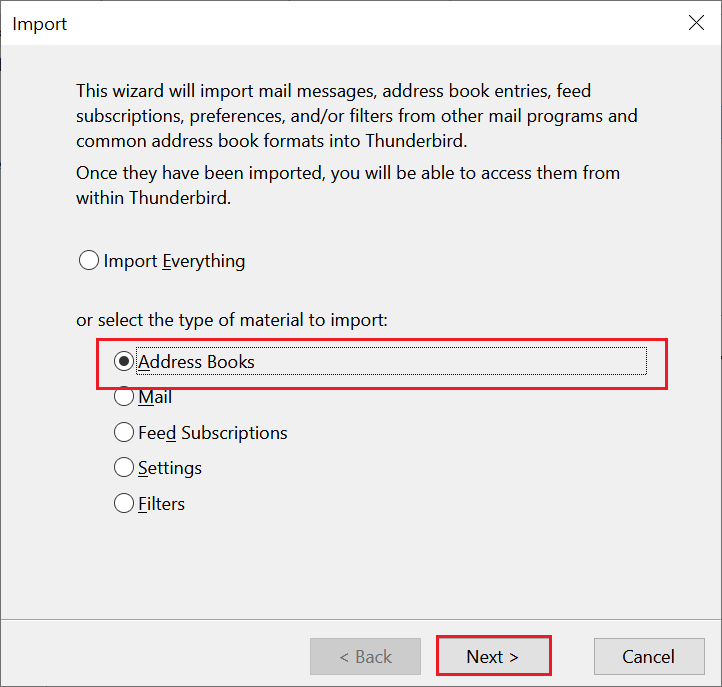 4. Select "vCard File (.vcf)" and click the "Next" button.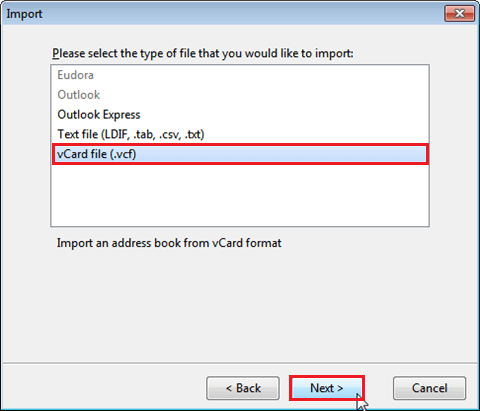 Now all your Outlook contacts will be imported into Thunderbird.
Conclusion
Finally Done!! This is how you can Import PST Contacts to Thunderbird using two different techniques. Both of the two mentioned methods are tried and tested by our experts. However, we found manual solutions bit tricky and lengthy to  execute as it doesn't guarantee 100% data transfer. Alternatively, you can choose automated solution to open and access Outlook contacts in Thunderbird with so much ease.