How to Merge OST Files For Outlook 2016/2019? – Two Easy Guide
Summary: Do you need to combine multiple OST Files? or have you ever needed to combine and merge multiple OST Files into Single one? Of Course, you can do it manually, if you don't have a lot of Outlook OST Files. However, what if you have a number of offline cached OST files from the Exchange Server that need to be merged? In this article, we are going to look at how to Merge OST Files into One. If you are looking for a quick way to combine 2 OST files in outlook, you will find the detailed guidance in next section. Go through this blog and find out the solutions you have been looking for.
Quick Approach: If you are in a hurry and wants an instant solution. In order to Merge all these OST files, you need a reliable and effortless tool. Here, we have Advik OST Converter tool that will combine multiple OST Files into one single File for free.
OST (Offline Storage Table) files are one of the most commonly used files types that stores Outlook emails, calendars, contacts, tasks etc. Microsoft Outlook creates two files and one of them is OST which is a offline cached files from the Exchange Server. It allows users to access Orphan OST Files even in offline mode also.
Top Reasons to Merge OST Files (Updated 2022)
Although it is an extremely effective and useful feature that Outlook offers, many users are unaware that the feature exists and often wonder how to merge 2 OST files. Some of the most common reasons and benefits of merging OST files are mentioned in this section. You must read these points so that you know some advantages.
Maybe you have many different old OST files that you now need to manage in one place.
You may want a master OST file that references some other OST files.
To share a copy of the OST file with your team that has updated parts of it and now you want to merge them back into a single OST file.
Merging your Outlook OST files not only saves time in organizing your OST files, but it is also much easier to access multiple OST files at a time.
You may need to merge or combine two OST files to free up storage space.
There are many methods to combine OST files. Each method can be useful in its own way to merge two OST files in Outlook 2016 depending on your needs and requirements. So, without further delay, let's go through some of the most popular and widely used ways to combine Outlook OST files.
Methods to Combine Two OST Files For Outlook 2016/2019
This Tutorial shows two ways to combine OST Files into One. It is a lot easier to process data of Outlook OST Files in a single OST file instead of switching between numerous sources. However, merging multiple Orphan OST Files into one File could be cumbersome and long process with manual solutions, especially if you needs to combine multiple OST Files. So, what are your options to approach this problem? Will you be merging two OST Files manually or with an instant Solution? Don't Worry!! Below you will find some of the good ways to handle this task.
Method 1. How to Merge OST and PST Files Manually?
In this section, you will learn how to manually merge OST and PST files. You need to follow the steps below to merge OST to PST.
1. First, install the Outlook application in your system.
2. Go to the "File" tab, click "Open and Export" and select "Import/Export".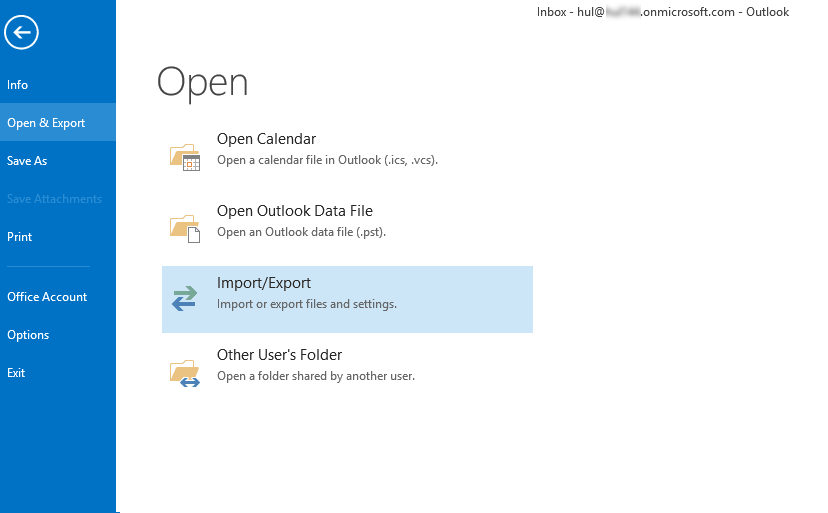 3. Then select "Import from another program or file" in the Import and Export Wizard and click on the "Next" button.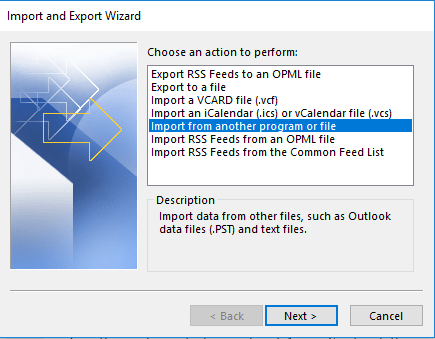 4. On the new tab, select "Outlook Data File (.pst)" and click "Next" to continue.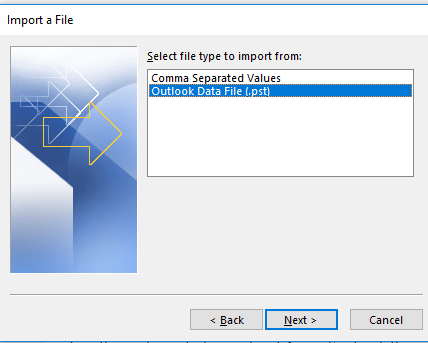 5. Now browse the PST file under "Import Outlook Data File" tab and click "Next" to continue.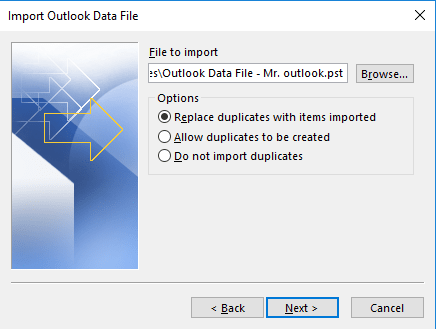 6. After that, select the folder where you want to merge OST file and click "Finish".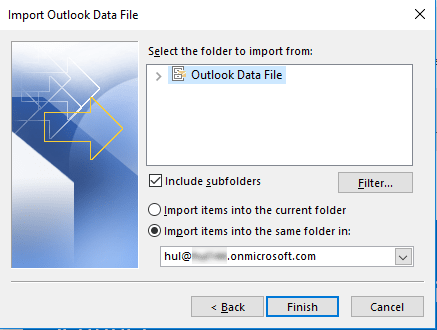 Now both OST and PST file will be merged in few minutes.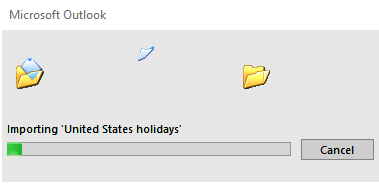 All data files are now merged into Outlook.
Why you Shouldn't use this Solution to Merge OST Files?
To use this process, one must have proficient skills and knowledge.
It doesn't guarantee that it will securely merge OST and PST Files.
You must have patience to wait until the whole process gets completed, as it is a very time-consuming process.
Method 2. How to Merge OST Files For Outlook 2016/2019? – Quick and Easy Way
Microsoft has powerful data storage and management capabilities that can work alone to merge two OST files. But when you want to combine multiple OST Files into one, there is no simple in-built solution. Using above manual solution is time-consuming and lengthy procedure. Not only is that tedious, but it also doesn't assure you that there will be np error in this process.
Instead of relying on manual solutions, we suggest Advik OST Converter that allows you to merge multiple OST files into one automatically. This tool will simple merge and combine multiple Orphan OST Files into One single OST File at a time. Also, there is no file size limitation on uploading number of OST Files. You can use this tool to merge two OST File of Outlook 2019/2016 or any previous versions of Outlook. It safely merge cached exchange mode OST file for free.
An automated OST Merge Tool has many advantages
It enables you to:
Combine multiple OST Files into Outlook
Save Time – No delay in process
Merge Bulk OST Files automatically
Export OST into 30+ Saving Options
No File Size Limitations
Easy to Use Graphical UI
Step-by-Step Guide to Merge Multiple OST Files of Outlook are as follows;
1. Install and run OST Converter in your system.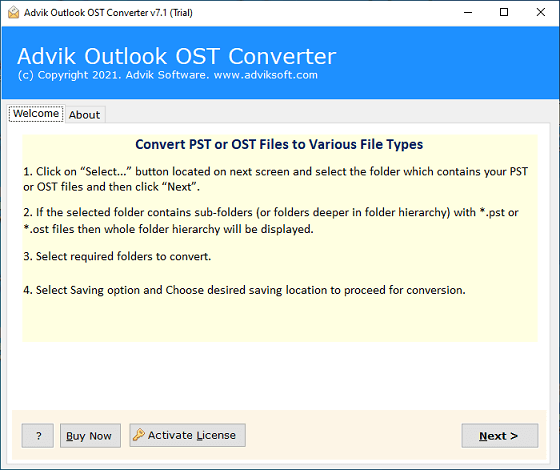 2. First, click "select file or select folder having OST files" to upload OST Files.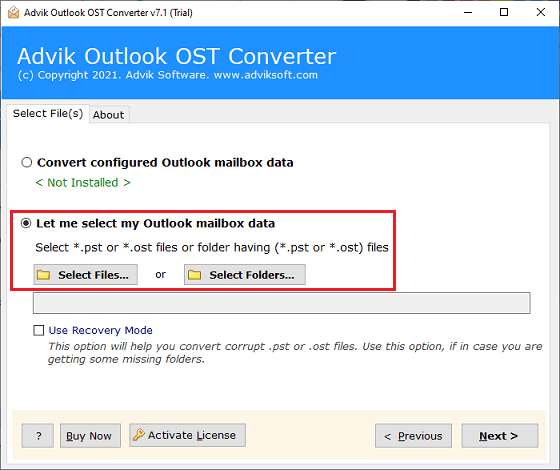 3. Browse OST files and upload them to the software window.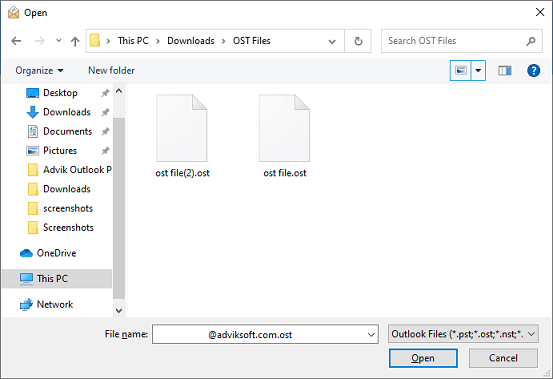 4. After that, this tool will give you a preview of your OST files, select them and click "Next".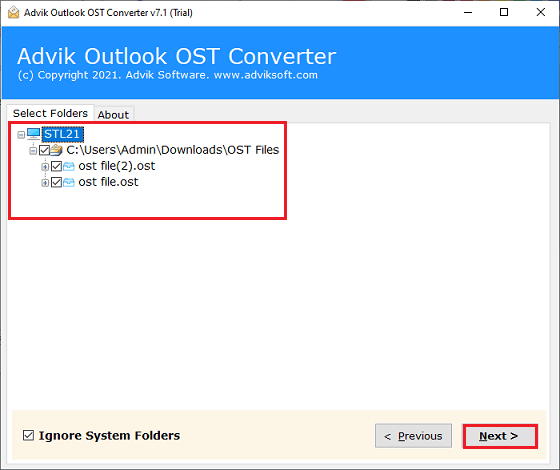 5. Now select "PST" as a saving option from the multiple options list.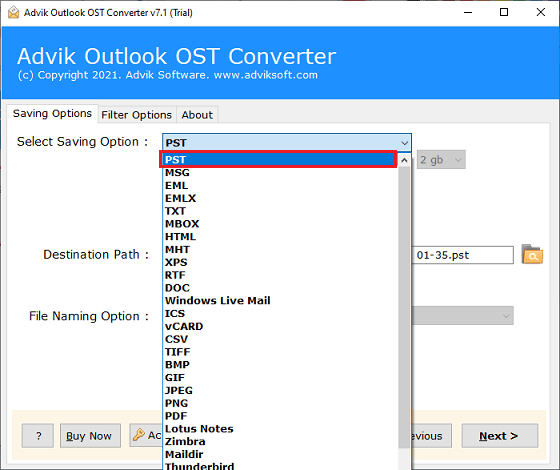 6. Choose a preferred location to save your resulting PST file to your selected location.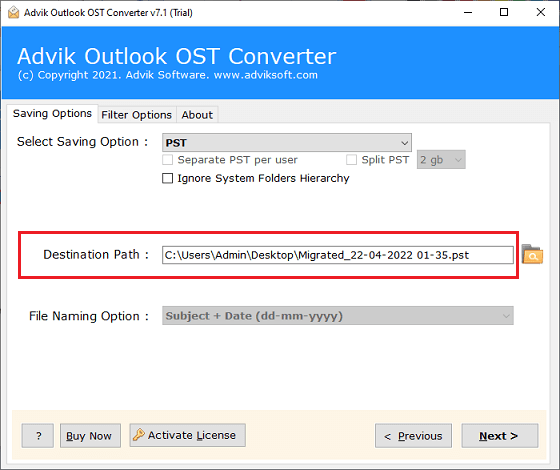 7. Finally, click on the "Next" button to merge the OST files.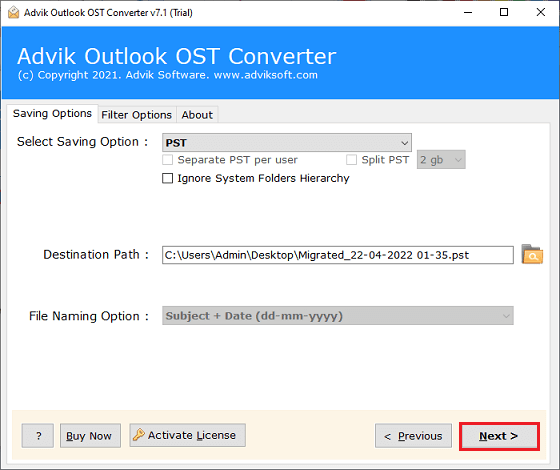 Wait a while, in a few seconds this tool will quickly combine 2 OST files into one.
You can now see how easy it was to merge multiple Outlook OST files. This software has a user-friendly interface that you will find very easy to use this tool.
Conclusion
Therefore, there can be various reasons for which you need to merge 2 OST files. That's why we've tired our best to make this process as easy as possible. Both manual and professional solutions have been explained in detail. You can choose one of two methods, but one needs to go through its limitations first, otherwise you will face some data loss situations. In addition, to avoid such problems, you can choose alternative solution Advik OST Converter to combine OST files.