How to Split PST File by Year – 2 Simple Tricks
You may occasionally have large PST Files including email folders, Contacts, Calendar, Journal, tasks and many more. In particular, you need to extract the data you need to obtain smaller PST files or for sharing large PST files that can be difficult to use. You may need to Split PST files on the basis of size, months, weeks, days and most important Split PST File by Year. If you are searching for a solution to how to split outlook PST file by year, this blog will be extremely helpful for you to solve this issue.
Splitting a PST File is most difficult task to do in your life. we are actually know the problems users faces while splitting large PST files. So, Don't Worry!! we will go through two easiest ways to solve this issue, right after this sentence.
Instant Solution: If you are looking for a quick tool to Split PST file without any delay, then we have an amazing tool that is especially designed to Split PST file. Advik Outlook PST Splitter Tool is an advanced software that enables users to split a PST into multiple files for easier file sharing. So in this post, we will guide you how to use this tool to split PST file by year in easy way.
Need to Split Large PST File by Year
Splitting a large PST file by Year has a number of advantages. There are several benefits to splitting an oversized PST file, which are listed below:
Splitting a PST file into smaller parts makes it easier for a user to manage small PST files in MS Outlook.
This improves the searching process in Outlook.
Due to the large size of the PST file, the hanging problem and slow performance issue in MS Outlook can be overcome by splitting PST file.
There could be some information in PST file that you need to share.
Splitting a PST file reduces the chances of Outlook data files becoming corrupted. That's why, many users need to break the Outlook data file to avoid corruption.
Methods to Break Outlook PST Into Smaller Files – Top 2 Ways
After several analyzing, we have come up with two different techniques through which you can split PST file by year. As, Outlook doesn't provide any direct solution to do this, we will use "Archive feature" to manual divide large size PST file by year. If this method didn't work then you can alternatively use an automated tool which directly split PST file without any issue.
1. Archive Feature

2. Professional Solution
Method 1. How to Split PST File by Year using Archive Feature? – Manual Approach
This manual method helps users to split PST file yearly. Follow the steps given below to complete the splitting task.
1. Open Microsoft Outlook and switch to the File tab.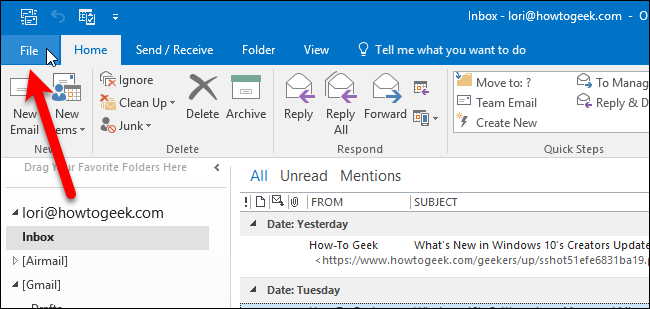 2. Now click on the File tab and select the "Archive" option.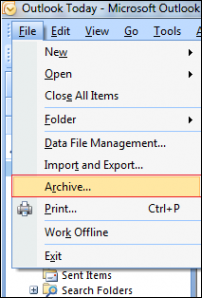 3. In the new tab, select the "Archive this folder and subfolders" radio button.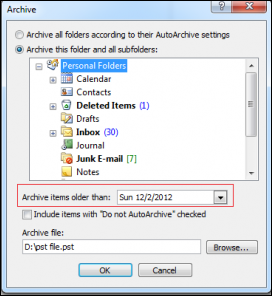 4. Select the Archive items older than option from the drop-down list as shown below. In this step you can select a specific year.
5. Click "Browse" button and select preferred file location to archive PST file.
Limitations of Manual Solution
Wait!! Before opting for this method, you need to go through the following limitations of using this manual solution. Otherwise, data corruption may occur.
Time-consuming and tedious way to split PST files.
The probability of data loss is very high.
You must have technical skills to split Outlook PST files as the whole process involves complex steps.
Method 2. How to Split Outlook PST File by Year? – Professional Approach
Advik Outlook PST Splitter Tool is an advanced tool to split a large PST file by year. This tool can be used to split, combine, break and merge PST files in easiest steps. You no longer need to use large PST files. Just download this free utility to split large PST files, which works efficiently and handles the whole splitting process in an easy way. This tool allows you to upload PST files with no file size limitation. You can even upload 25GB PST files and select a specific year to split large PST files.
Apart from that, you can also use this tool to convert PST files to 20+ file formats like MBOX, EML, MSG, PDF, CSV, HTML, etc. You don't have to worry about the mailbox folder hierarchy, it will be preserved during the conversion process.
Steps to Break Large PST Files into Smaller One are as Follows;
1. Install and run Outlook Splitter Tool on your system.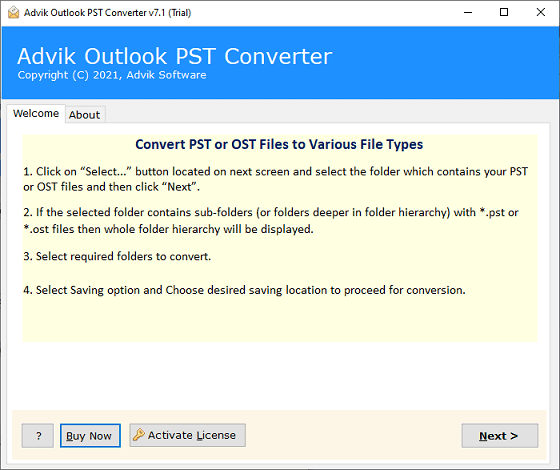 2. Click "Select Files" or "Select Folder having PST Files" to upload PST files to the software window.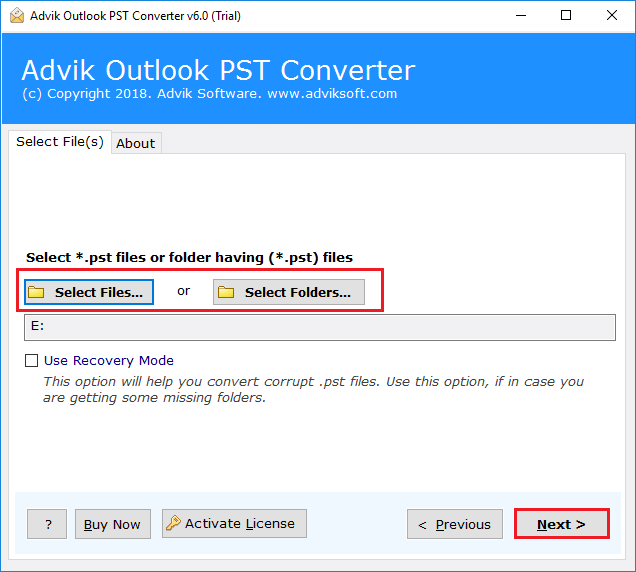 3. Now this tool will automatically fetch all folders and subfolders in the software panel. Select the one you want.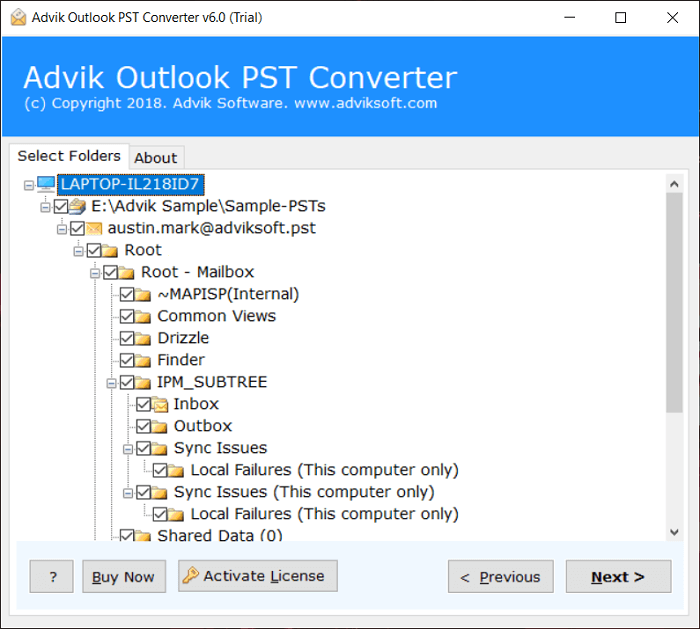 4. Select "PST" as the save option from the list of multiple save options.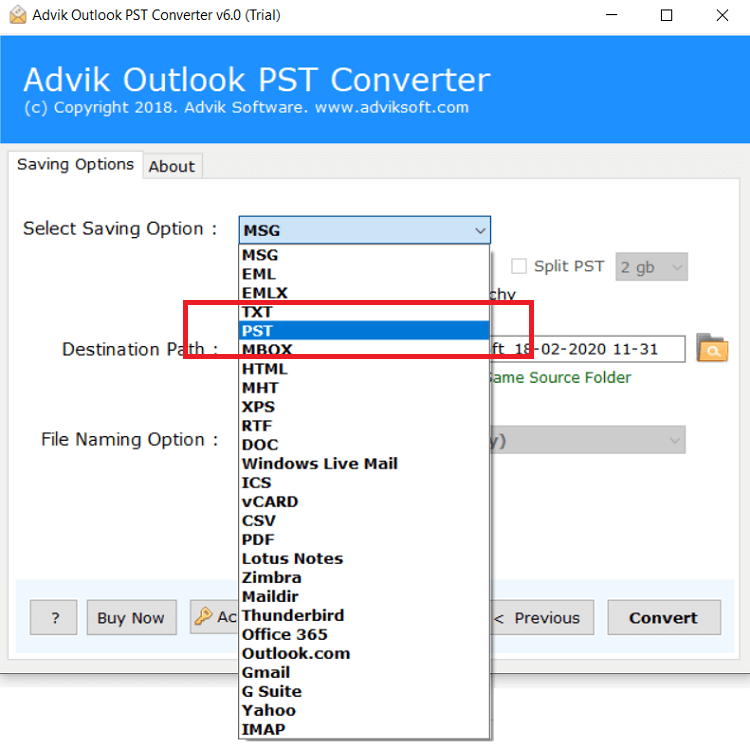 5. Go to "Filer Options" and click on "Use advanced settings to save filter >> Date range" and select the year as required.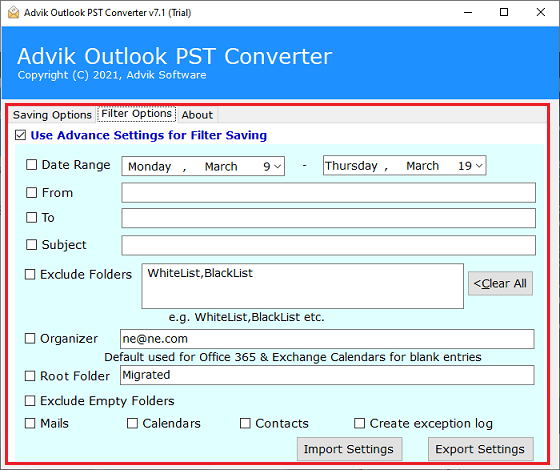 6. After that, choose a location to save your resulting data to the location you choose.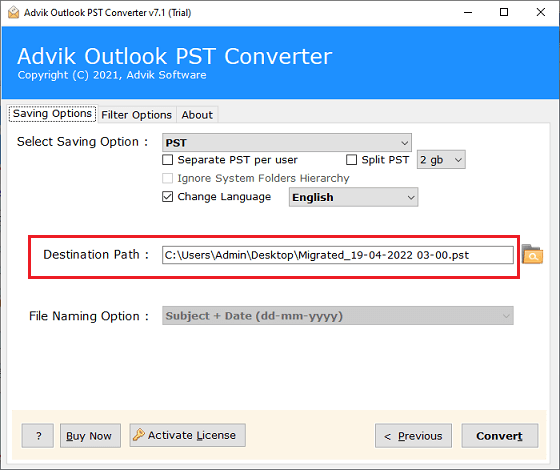 7. Finally, click the "Convert" button to start splitting PST files by year.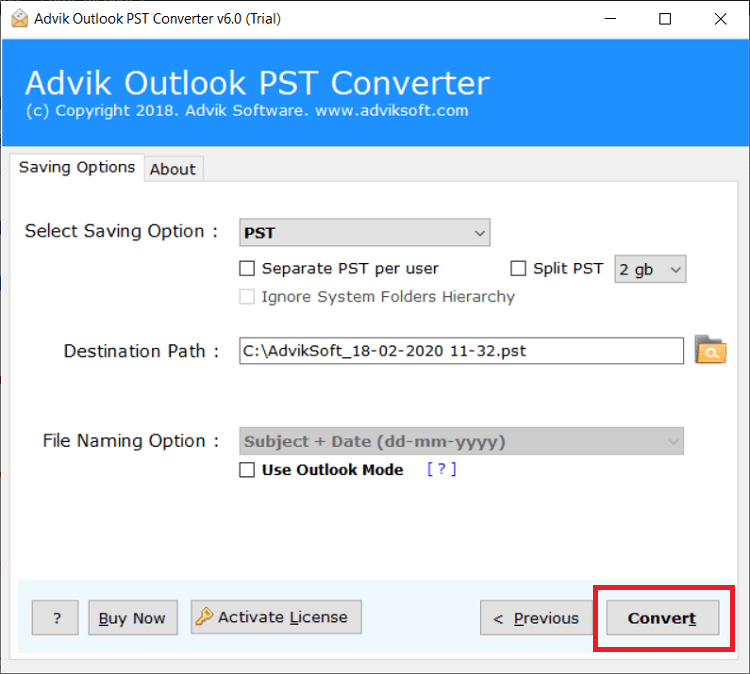 Sit Back!! and analyze the whole process of splitting PST file using Outlook Splitter Tool.
Final Words
As we have mentioned, there are various ways to split PST file by year. Therefore, you should wisely select method that suits best to your needs otherwise you may face several challenges. Alternatively, you can use a professional approach to avoid any issue while splitting PST files. For you comfort and convenience, we have explain both methods in detail but it's up to you to choose any of those method.