How to Transfer AT&T Email to Yahoo Mail? – Complete Guide
Summary: In this blog post, we will discuss an easy and simple method to transfer AT&T email to Yahoo Mail. Here, you will get to know how to perform AT&T to Yahoo migration process in 4 simple steps. This article will guide you through to transfer emails from AT&T to Yahoo with all attachments.
Instant Solution: Users should use AT&T to Yahoo migration Tool to archive transfer AT&T email to Yahoo mail directly. This allows you to migrate AT&T emails to Yahoo in an efficient manner. It also allows you to export AT&T emails to Outlook, Gmail, Office 365, Exchange server, Yahoo, Thunderbird, and other email clients. This AT&T backup solution will quickly resolve all of your issues and allow you to create an AT&T mailbox backup for future use.
Introduction:
As Yahoo and AT&T Email were previously regarded as interchangeable because they were partners. Until 2017, Yahoo and AT&T email accounts were combined into a single account, and users used the same account password to check in to both their AT&T and Yahoo accounts.
However, Yahoo and AT&T services were isolated after December 2017. They don't have the same sign-in page after that. Users who accessed these email platforms after 2017 accessed their accounts through separate login pages. 
If you want to access your old AT&T emails or just move, read this blog till the end to find a solution which you were looking for.
Reasons to migrate emails from AT&T webmail to Yahoo
AT&T is the world's largest telecommunications firm, as we all know. It has been providing a variety of services such as mobile phone services, fixed line telephone services, email providers, and so on. It bought a number of email service providers and merged them into one AT&T webmail platform for users.
However, there are a number of issues that users face when attempting to move from AT&T to another cloud-based platform. Some of the reasons why users should use AT&T mail backup program to save AT&T emails to selected saving choices are explained below.
As AT&T webmail account and yahoo both are separated now, then users must transfer AT&T email to Yahoo mail to avoid any loss to their crucial data.

If your AT&T account gets accidentally deleted or removed. then transferring emails to another account will be helpful for you at that time.

AT&T email account backup allows users to access their AT&T mailbox from a cloud-based program or a local computer.

Users can import their AT&T mailboxes into either a cloud-based or a desktop-based email solution.

This is a safe and secure way to save all of your personal and sensitive AT&T information in Yahoo Mail.
How to transfer AT&T Email to Yahoo Easily? – Effortless and reliable solution
However, there may be other reasons besides what we have explained in the above section. In which users need to transfer AT&T email to Yahoo Mail. To complete this process in easy and simple steps, there is only one solution which helps you to do so. You need to use Advik Email Migration Tool which provides an affordable and effortless solution to transfer AT&T emails to Yahoo with ease.
It has a direct and straightforward option to migrate AT&T emails to Yahoo with all attachments. Apart from it, this tool has a simple graphical user interface that can easily be used by even non-technical users. This tool is also capable enough to export AT&T emails to various other file formats such as PST, MSG, MBOX, EML, PDF, DOC, CSV and many others.
Download AT&T to Yahoo migration tool to transfer emails directly from AT&T account to Yahoo in a single click.
Step-by-Step Guide to Export AT&T Email to Yahoo
To transfer AT&T emails to Yahoo, you need to follow these 4 simple steps:
1. Install and run the AT&T to Yahoo Migration Tool on your computer.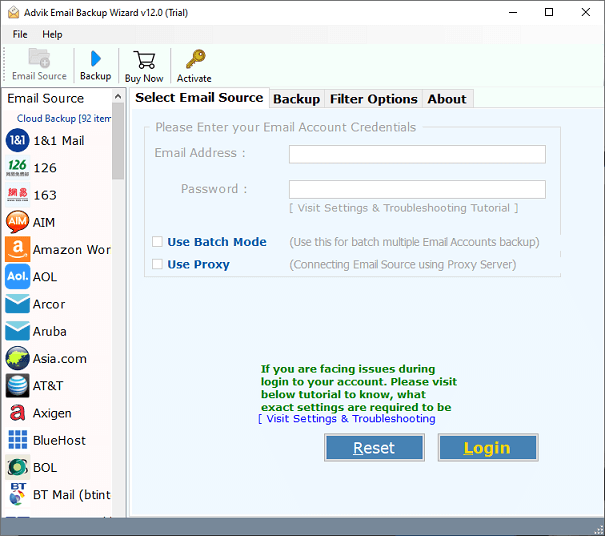 2.Go to the email source list and select "AT&T" from 90+ email source options.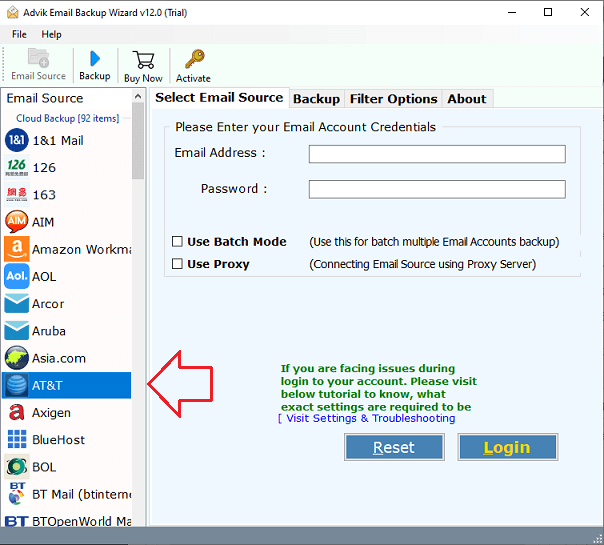 3. Enter your AT&T webmail account credentials into the software interface.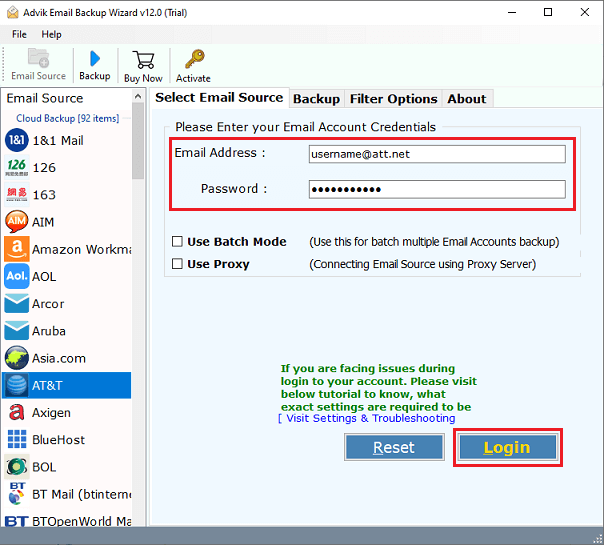 4. Now the tool will start loading all your AT&T mailbox folders in the software panel. Select the required one you want to transfer to Yahoo account.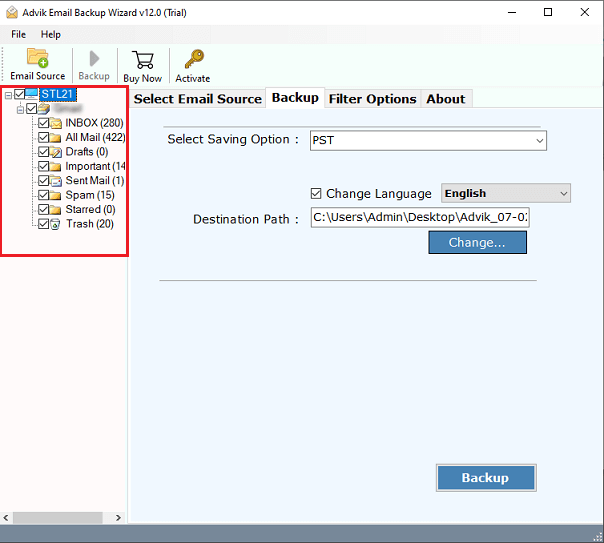 5. Select "Yahoo" as a saving option from the list of over 30 other options in this step.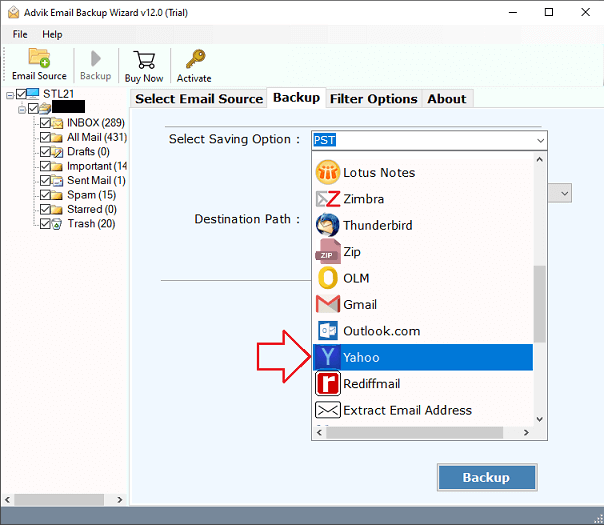 6. Enter your Yahoo account credentials to allow the software to connect your both accounts.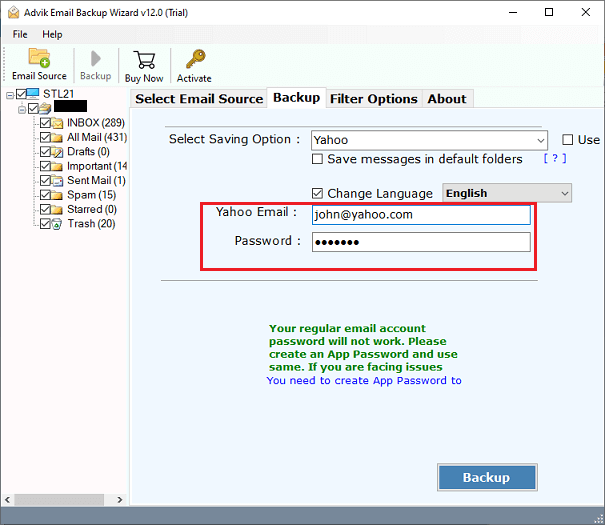 7. Finally, click the "Backup" button to start transferring emails from AT&T to Yahoo.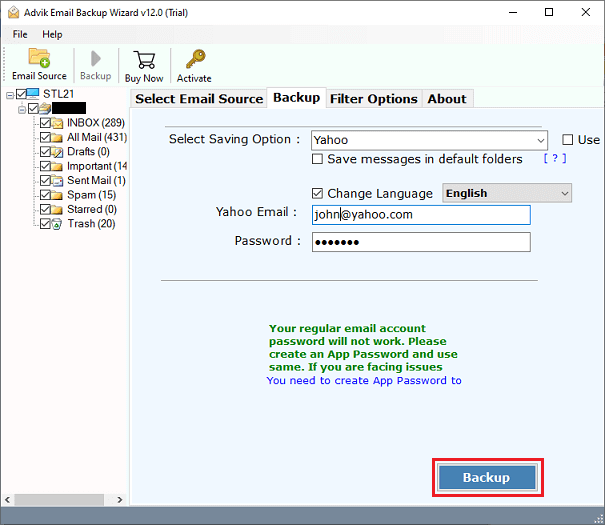 Premium Benefits of AT&T to Yahoo Migration Tool
Complete process:

It has the ability to export all of the data items from AT&T to Yahoo t in a hassle-free manner. It can effortlessly move AT&T inboxes, drafts, sent items, trash, and other folders to Yahoo.

Unlimited migration:

This tool has no limitations when it comes to moving AT&T emails to Yahoo. There are no restrictions on how many AT&T accounts you can export.

Easy to use Interface:

The software features a very simple user interface that allows you to migrate from AT&T to Yahoo in a matter of seconds. It can be simply managed by anyone, whether he is a professional or not.

Advanced Filters:

It contains a number of advanced filters that allow you to create filters depending on the date range of emails, the subject, the sender or receiver's email address, and so on.

Maintains Folder Structure:

It is extremely capable of maintaining the same hierarchy of folders and subfolders for all emails without losing any data.

Preserves meta properties:

The tool is quite effective at preserving the full email layout and structure in order to keep emails in the same format.
Conclusion
In this article, we have covered the most popular way to export AT&T emails to Yahoo. If you're wondering how to transfer AT&T email to Yahoo mail, here's the answer. Users can find here an easy solution to migrate AT&T email to Yahoo. To export AT&T emails to Yahoo, just follow the simple step-by-step instructions. If you want to test the tool's capabilities, you can also download the free version. I hope this article meets the needs you wished for.