How to Transfer Blueyonder Email to Gmail?
I want to migrate emails saved in my Blueyonder account to Gmail. Though I have tried a lot to add Blueyonder account to Gmail in the process, I cannot export the complete mailbox from Blueyonder to Gmail. I want to know some alternative solution to easily transfer Blueyonder email to Gmail account with all mailboxes.
There are plenty of reasons other than this you may want to transfer Blueyonder emails to Gmail. Also, Blueyonder is Outdated now but still the users have their accounts with it and they want to migrate data to Gmail account.
Try Advik Email Migration Tool to import multiple emails from Blueyonder to Gmail account. It is the only automated solution that can export Blueyonder to Gmail with attachments. You can also export emails from 80+ email sources list.
Are you also one of those who are searching for a solution to migrate Blueyonder to Gmail account? or want to learn how to transfer emails from Blueyonder to Gmail account? Then, read this blog completely. Here, we will explain an instant solution to export Blueyonder mailboxes to Gmail account directly. So, read the complete article to know more.
Why do Users Need to Transfer Blueyonder Email to Gmail?
There could be several reasons why users might want to transfer their Blueyonder email to Gmail. Here are a few possible reasons:
Gmail offers a wide range of features and functionalities that may not be available in Blueyonder email such as it's user-friendly interface, labels and filters for organizing emails, integration with other Google services etc.
It also offers enough storage space for emails and attachments, allowing users to store a large amount of data without having to worry about running out of storage.
Gmail data can be easily downloaded through its in-built service which is known as Google Takeout. Blueyonder email, on the other hand, may have occasional service interruptions or downtime.
Gmail integrates smoothly with other Google services such as Gmail, Google Drive, Google Calendar, Google Docs, and more. This integration allows for better productivity and collaboration.
Blueyonder email is a service provided by Virgin Media, and there is always a possibility that the service may undergo changes or discontinuation in the future. By transferring Blueyonder emails to Gmail, users can ensure long-term stability for their emails.
Thus, Blueyonder to Gmail migration depends on individual user preferences and specific requirements and it may vary also.
Now, let's move on to the solution to solve this user query.
Direct Way to Migrate Emails from Blueyonder to Gmail Account
Users who are searching for a quick and easy way to transfer emails from Blueyonder to Gmail can do it with the help of professional software – Advik Email Migration Tool. It's a one-stop solution that offers a direct way to export Blueyonder emails to Gmail instantly. Also, with this approach, you can migrate multiple Blueyonder emails to Gmail account at once.
You can take a FREE trial version that allows you to check its efficiency and effectiveness to export Blueyonder emails to Gmail account.
Procedure to Export Blueyonder Mailbox to Gmail Instantly
Here's a quick steps to Migrate Blueyonder Email to Gmail;
Install and Run the software on the PC.
Choose IMAP in the list and enter details.
Select the required email folders.
Pick the Gmail option to transfer Blueyonder emails.
Click Backup to start the migration process.
So, these were the simple steps that will let you move email folders from Blueyonder to Gmail account. For detailed steps, refer to the below section;
How to Transfer Emails from Blueyonder to Gmail Account?
Step 1. First of all, download and install the recommended solution on your computer.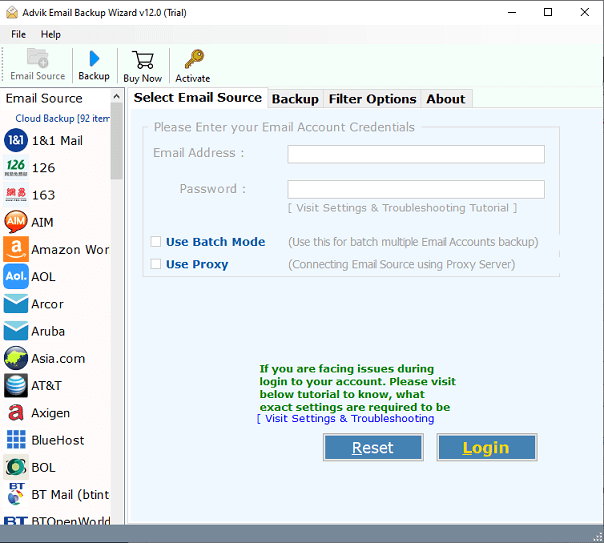 Step 2. Now, choose IMAP as an email source from the list and enter the following details;
Email Address- Your full email address
Password- Your Blueyonder.co.uk password
IMAP Host- imap4.blueyonder.co.uk
IMAP Port No- 993
and once done, press the Login tab.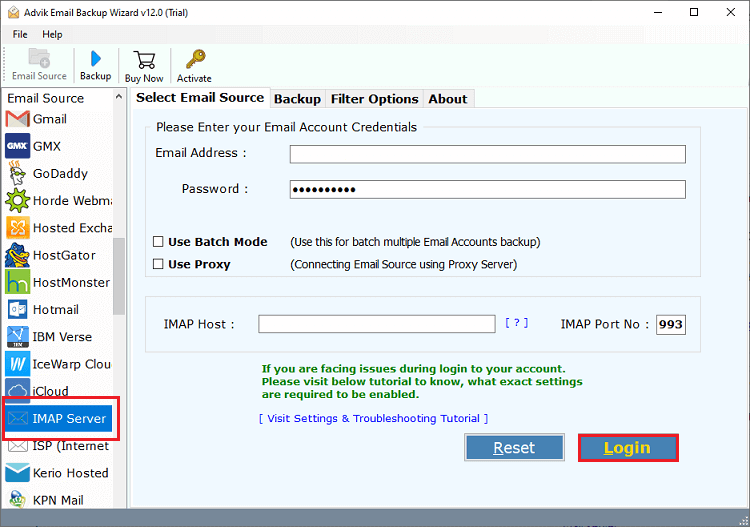 Step 4. After that, choose the required folders from the Blueyonder mailbox and move further.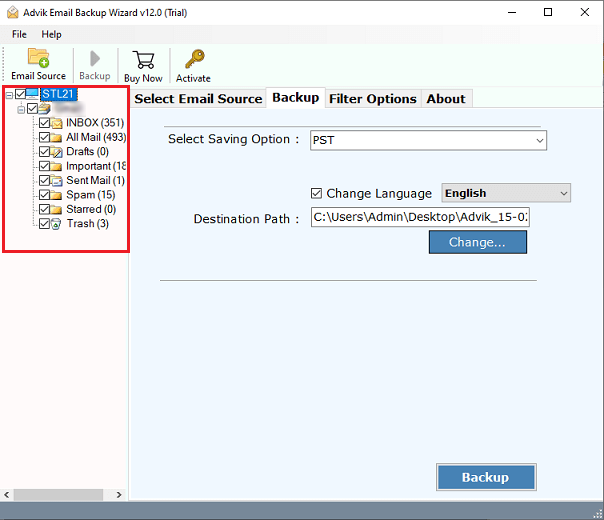 Step 5. Now, select Gmail as a saving option from the list of various file formats.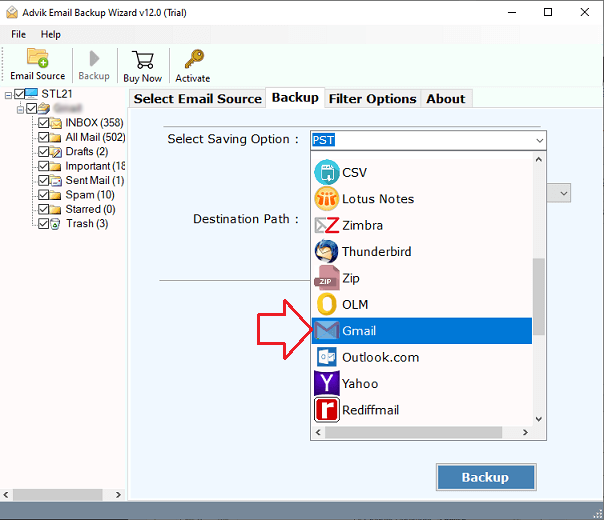 Step 6. Then, provide your Gmail email account details and press the Backup button to initiate the Blueyonder to Gmail migration process.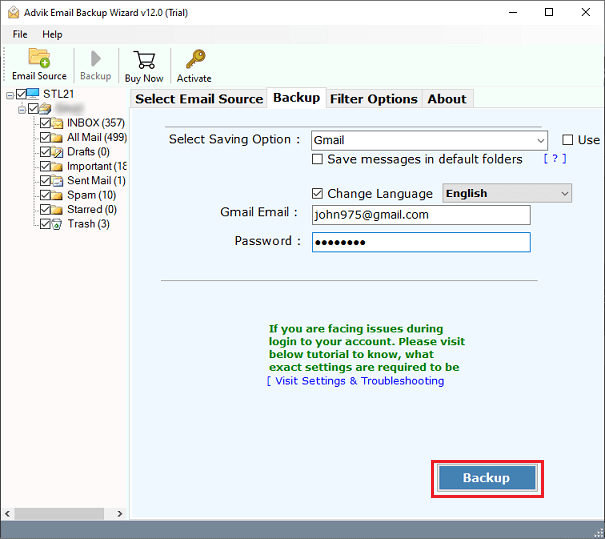 Done!! Now, log in to your Gmail account and view your transferred Blueyonder emails in it.
Unique Features of Blueyonder to Gmail Migration Tool
Secure Interface: The software offers a secure interface that ensures the confidentiality and privacy of your data during the migration process. It uses advanced algorithms that don't save any of your email account credentials and offers a 100% safe and secure Blueyonder to Gmail migration process.
Standalone Platform: As it is a standalone platform which means it operates independently of any specific email client. It doesn't require any additional software installations or dependencies and provides a convenient and hassle-free migration experience.
Bulk Blueyonder to Gmail Migration: This program also supports bulk migration which allows you to transfer multiple Blueyonder email accounts to Gmail simultaneously. This feature is especially useful if you have multiple users or a large number of Blueyonder emails to transfer, as it saves time and effort.
Maintain Folder Hierarchy: During the migration process, the tool preserves the folder hierarchy of your Blueyonder mailbox while transferring it to Gmail. The structure of your folders and subfolders will be maintained and ensures a seamless migration.
Export Blueyonder to 30+ options: The tool also provides the feature to export Blueyonder emails to more than 30 different options. These options may include various file formats, such as PST, EML, MBOX, EML, PDF, MSG, DOC, HTML, etc. It gives you flexibility in choosing the desired export format to transfer your data to different email platforms if needed.
Final Verdict
In the above article, we have discussed the best approach to migrate Blueyonder emails to Gmail account. As there is no manual solution available to export emails from Blueyonder to Gmail, we use Blueyonder to Gmail migration Tool. It is a safe and reliable automated solution that allows you to move email folders from Blueyonder to Gmail account directly. Also, it comes with amazing features and functions such as selective email migration, 30+ saving options, maintenance of folder hierarchy, preserving email properties, etc.