How to Archive Emails in Office 365? – 2 Easy Methods
Archiving Email Files is an important activity that ensures the security of data. The same applies to email files of Office 365 too. Talking about one such leading email service, Office 365 is a complete suite of various useful applications including Microsoft Word, Excel, PowerPoint, Outlook, OneNote, OneDrive, etc. In this tutorial, we learn different methods to archive emails in Office 365.
We received many users queries to find about the best way to archive emails in Office 365. To provide solutions to more users, this blog contains a variety of methods to archive email in office 365 webmail.
Instant Solution: With Advik Office 365 Backup Tool, users can easily try to archive email folders in office 365. The user can backup specific Office 365 email folders without any difficulties. It is a quick and reliable way to archive emails in Office 365 to 30+ saving options of your choice.
Why Archive Emails in Office 365?
How to Archive email folders in Office 365? It sounds simple enough, but what does the term "archiving" actually mean? what are your opinions when it comes to archiving emails in Office 365? Well, there are a couple of different reasons why your might be thinking to archive emails in Office 365.
One is for general cleanup and data security purposes and the other is because you don't need your old emails anymore.
Another reason for archiving Office 365 emails is that you may be actively migrating away from Office 365 platform or perhaps you have just some older email messages that are no longer required for you.
Even if you are not migrating away from Office 365, it's a good idea to scoop up these old Office 365 emails and archive them somewhere they can easily be accessed in the future.
If you think of archiving emails in outlook 365 for either of the above reasons then you most likely want to find an archive format that is independent of Office 365.
If your condition falls into the above category, then go through this blog to find out the solution you have been looking for.
Benefits of Archiving Email in Office 365 Online
There are numerous advantages of email archiving that are not well known by many consumers. We will discuss most of them;
It guarantees a distinct division of each email in the primary mailbox.
You may effortlessly view these preserved emails from any computer or location.
Users can use the search tool to quickly locate the appropriate message.
Unlimited storage is available once you archive emails in Office 365
A tidy, well-organized inbox.
Offers a higher level of productivity because less time is spent looking for emails.
Method 1. How to Create Office 365 Emails Archive? – Manual Approach
The whole process of archiving emails in Office 365 includes two major steps. First, look in the Exchange admin center for the Archive page. If it isn't there, you don't have the right permissions to make archiving possible. Before beginning the method outlined below, you need to enable the archive mailbox in Office 365. After that, you may be able to archive emails in office 365.
To do so, follow the steps below;
Step 1. Sign in to Protection.Office.com using your Office 365 login information.
Step 2. Select "Data governance" from the "Security and Compliance Center", and then click "Archive".
Step 3. On the screen, the "Archive" page will appear. You will see every mailbox associated with your Office 365 account. The archive mailbox column will also display whether a mailbox has been activated for archiving or not.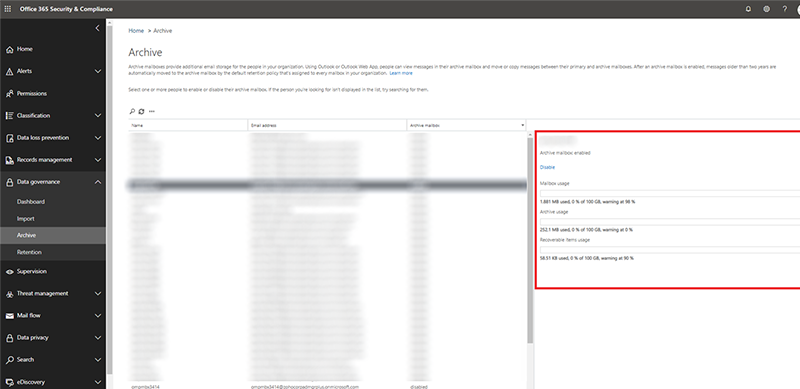 Step 4. Select the mailbox that you want to enable "Archive mailbox" for right now. Tap "enable".
Step 5. Your screen will show a warning as seen below. To enable the archive mailbox, click "Yes".
The "Archive mailbox" will be created in a short while. The user will be able to see the archive mailbox once it has been created.
Steps to Archive Emails in Office 365 With Attachments
Users of Office 365 can archive emails by following these instructions if the archive mailbox is enabled:
Step 1. Access your Office 365 account. Open the place where you want to store your email archiving now.
Note: You can also complete this step by choosing the particular emails that you want to archive, then click the "Archive" icon on the Office 365 account's top pane.
Step 2. Right-click on the chosen emails to select them. The screen will show a drop-down list. Click the "Archive" button to move these emails to the archive mailbox.
Limitations of Manual Solution;
The above-discussed method seems good for archiving email folders in office 365 but you may face several difficulties while executing this process. The following are mentioned below;
As using Office 365 interface is not an easy task, it might require some special knowledge related to this otherwise you may end up losing your important emails.
It consumes a lot of time; first, you have to enable the archive feature and then follow the steps to archive emails in Office 365.
So, if you want a quick, reliable, and effortless solution; then proceed with the solution in the next section.
Method 2. How to Archive Emails in Office 365 Webmail? – Professional Solution
The automated solution Advik Office 365 Backup Tool to easily archive email in office 365 webmail. Users need not worry about data loss or alteration as this tool prevents data loss with its sophisticated algorithms. This tool allows you to export Office 365 emails to PST, EML, MSG, PDF, MBOX, HTML, MHT, XPS, RTF, and many other file formats as well.
The application is designed in such a way that it makes it easy for users to archive emails in Office 365. As this tool offers 30+ saving options, users can use their archive file on any other platform easily. The software is simple, interactive, and easy to use for even non-technical users. This tool comes with various advanced features that make it easy for the users to perform the archive process in Office 365 account.

Steps to Archive Emails in Office 365 are as follows;
Step 1. Launch and Run Advik Office 365 Backup Tool on your Machine.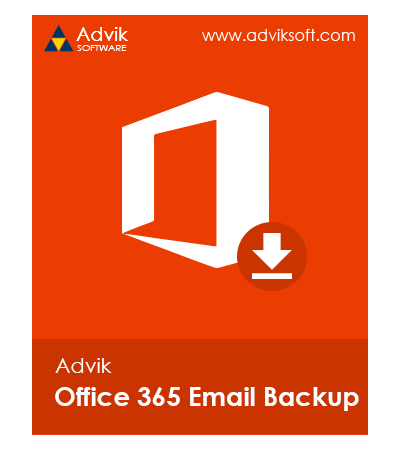 Step 2. After that, enter your Office 365 login details and press the "Login" button.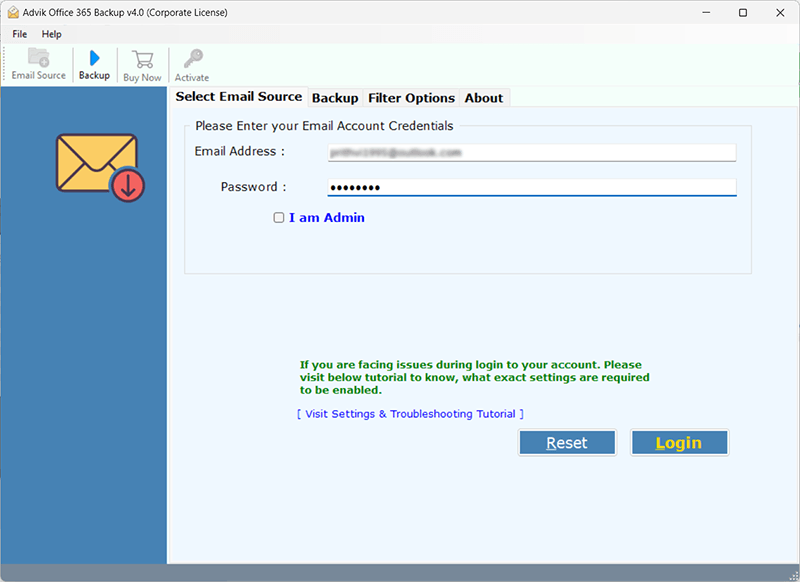 Step 3. Select the required mailbox folders that you wish to archive from the Office.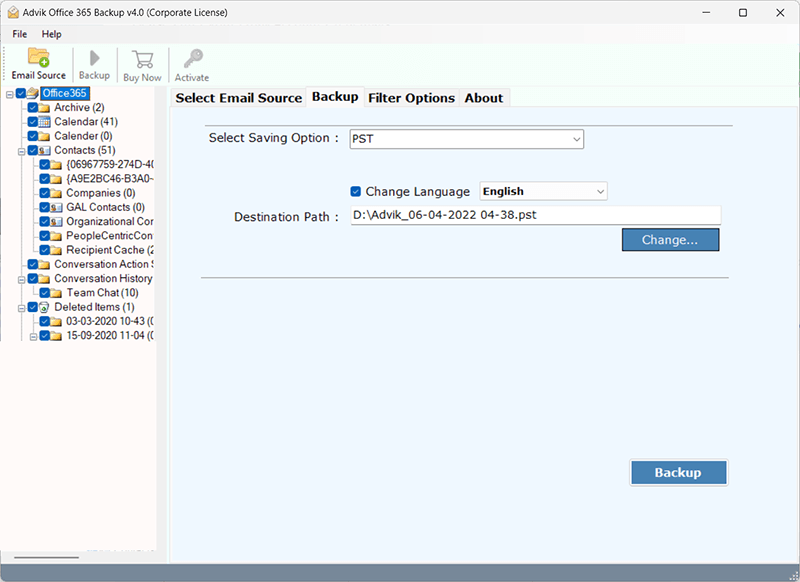 Step 4. After that, choose a preferred file format from the list of 30+ saving options to save the archive files.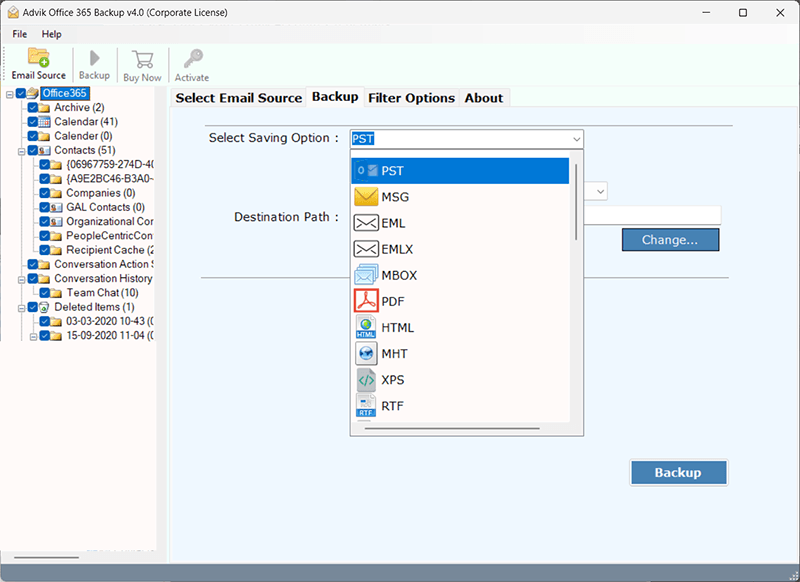 Step 5. Choose the desired destination path to save the resultant data file.
Step 6. Finally, tap the "Backup" button to start archiving Office 365 emails.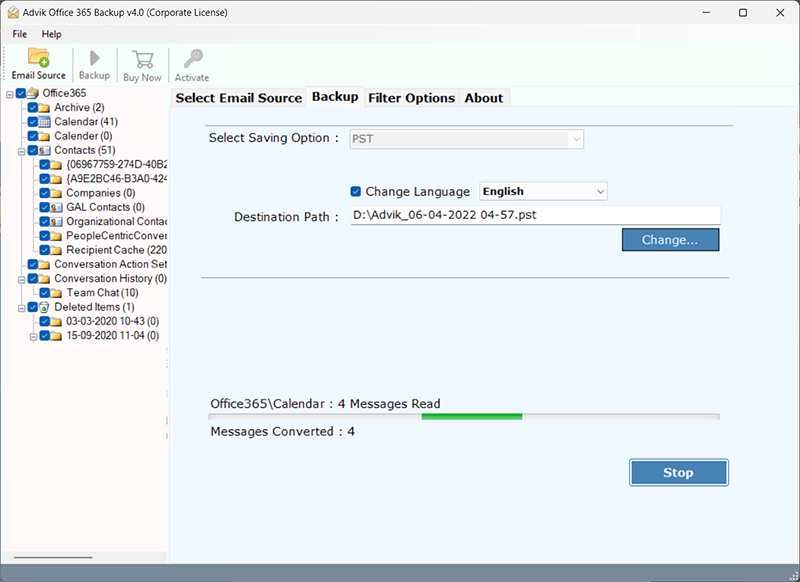 From the above steps, you can analyze that the overall working of this tool is very easy and simple. It is one of the safe and secure solutions to archive email in Office 365 webmail in bulk mode.

Final Words:
In the above article, we have discussed both manual and professional solutions to archive email folders in Office 365. However, you can manually and professionally try to archive Office 365 emails, but an automated solution will only give you satisfactory results.