How to Backup GoDaddy Email to Hard Drive Safely?
"How do I backup my GoDaddy email to local hard drive? I want to safegaurd my business email folder to an external drive with attachments. Is there any option availble to do that? If yes, then please share the tutorial. "

– A user from GoDaddy Community
"I want to backup GoDaddy emails to computer with exact folder heirarchy that is currently having in my webmail. I tried to backup cPanel account but that one is useless trick. Unable to find the right way to save GoDaddy emails to PC. Any suggestions?"

– Omar Almulla (UAE)
If you are looking for Godaddy Webmail Backup solution then, you have landed in the right place. Continue reading this article to know how to backup Godaddy email to hard drive or pc.
GoDaddy is an Internet domain registrar and web hosting company from America. Apart from domain registration and web hosting, GoDaddy also provides business email service. GoDaddy has more than 17 million customers and over 6,000 employees worldwide.
Most Reliable Way to Backup GoDaddy Workspace Email
If you want to take GoDaddy Email Backup to Hard Drive then you can one of out all in one email backup software; Advik Godaddy Backup Tool. Using this tool is as easy as ABC, apart from this the tool has many options that make this tool superior. Some of the best features of GoDaddy Webmail backup data are as follows.
Save GoDaddy cPanel emails to External Drive Directly
Convert GoDaddy Emails to PST, PDF, MBOX, and 10+ File Formats
Maintain Original Mailbox Folder Hierarchy and MetaData
Endless Backup with Unlimited Accounts
Advance Email Filter Option
Steps to Backup GoDaddy Email to the Hard Drive are;
Step 1. Run Advik GoDaddy Email Backup Software and enter GoDaddy email credentials.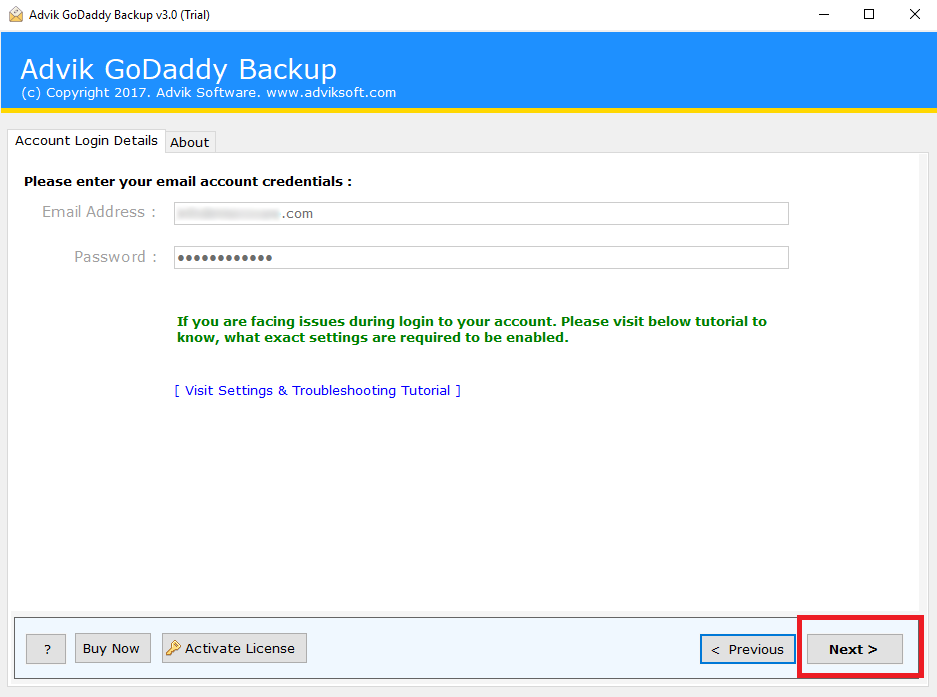 Step 2. Select mailbox folders and click the Next button.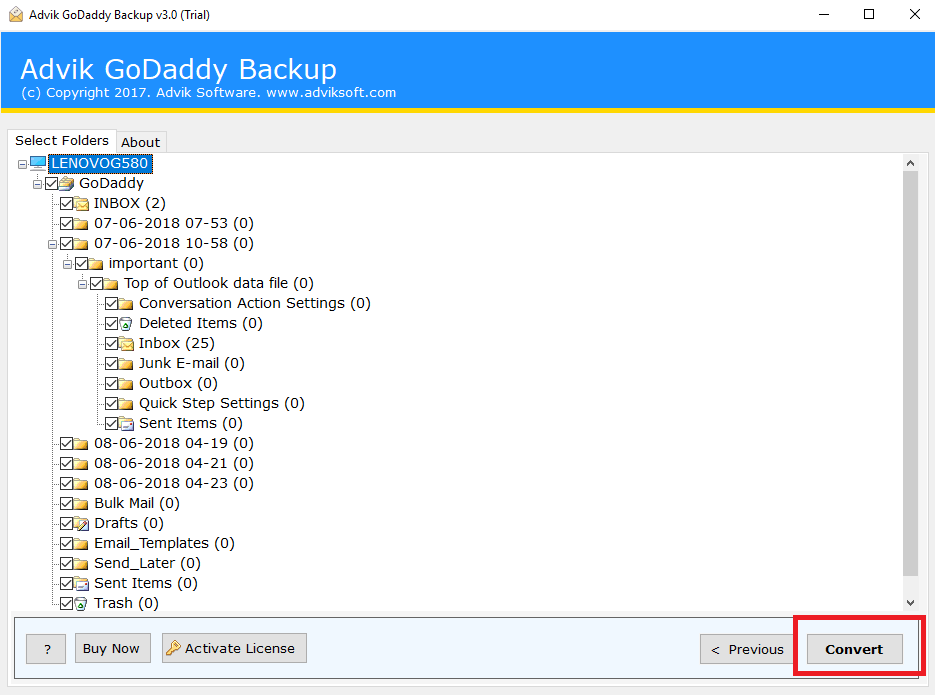 Step 3. Select Saving Option from the list and output destination path.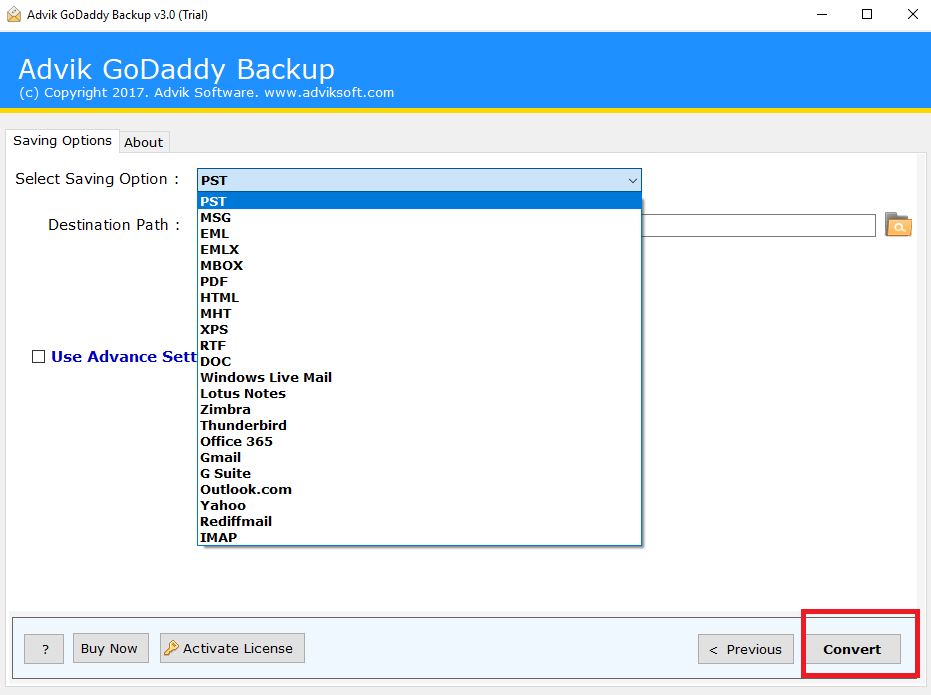 Step 4. Click the Convert button and analyze the backup process.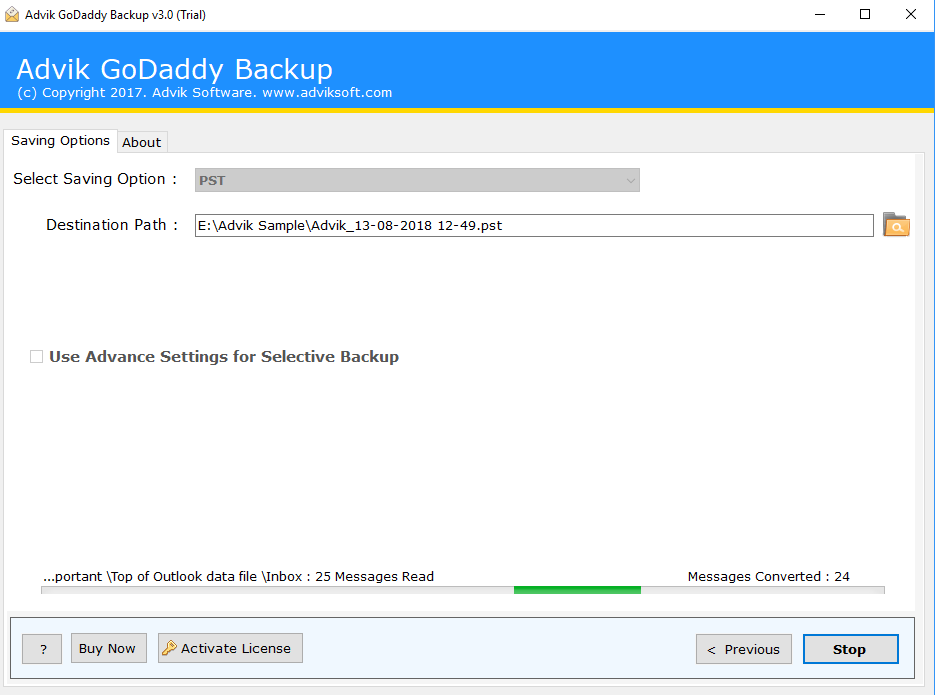 Watch this video tutorial to better analyze the simplest steps

This is how you can download GoDaddy emails to hard drive or pen drive. You can choose several file format as per your requirement. The emails will be downloaded along with attachment files. Hence no data loss will occur. Below are the few queries that can be resolved using this affordable Webmail backup tool.

FAQs
Can I backup GoDaddy workspace email with attachments?
Yes, the above solution provide 100% safe email backup without losing any attached file.
How to save emails from specific month?
Advik GoDaddy Backup Tool provide "Advance Setting" option to apply email filters.
Why I am getting unable to Login error?
You have to enable IMAP and allow third party access from GoDaddy Email Security Settings. Afterthat you will be able to sign in. Or contact our technical team via Live Chat.
Also Read – How to Import PST to GoDaddy?