How to Backup IMAP Emails to Hard Drive | PC?
Overview: This blog explains a simple and easy way to backup IMAP emails to computer. Taking the IMAP webmail backup proves to be helpful in a number of ways. To create the backup users need a reliable and quick way to download IMAP emails to computer.
To Save IMAP emails locally, we suggest using Advik Email Backup Wizard. It is a convenient solution that backup emails from 90+ email sources into multiple file formats such as PST, EML, MSG, MBOX, HTML, MHT, etc.
Know about IMAP:
Let's know about the IMAP and its usage before moving to the solutions to backup IMAP emails to a computer.
An internet connection is required to send and receive emails from mail servers using the IMAP (Internet Message Access Protocol) Internet Protocol. Many email providers have their own mail servers where they store your personal or business database. You will need a protocol like an IMAP server in order to utilize this data locally.
Method 1. How to Backup IMAP Emails to PC Using MS Outlook?
The "Import/Export" feature of Outlook is one of the quickest ways to backup IMAP emails.  You can add an IMAP email account to Outlook and quickly export IMAP emails to PST files using the Import/Export wizard.
To get the desired results, stick to the procedures below:
Open Outlook Application and Go to the File tab.
Click Open & Export and Select Import/Export option.

Now choose export to a file option, then click Next.

Choose Outlook Data File (.pst) from the drop-down list and click Next.

Choose the "IMAP" folder you wish to backup.

Note: Only one mailbox can be backed up at a time using this method.

Click Finish after choosing the location to save the file.
Thus, in this way you can export IMAP email to PST as a backup file. However, using manual methods has certain drawbacks. For instance, a single mistake during the execution of this process leads to data loss. Therefore, it is preferable to select an automated and easy method for backing up IMAP emails.
Note: Above solution won't work if Outlook Import Export Wizard Greyed Out.
Method 2. How to Backup IMAP Emails to Hard Drive in Seconds?
Advik Email Backup Wizard is the best tool available to download, export, and backup IMAP emails with all attachments. It offers multiple file formats to download IMAP emails. Also you can export IMAP emails to HTML, MSG, PDF, PST, MBOX, EML, EMLX, and many more. The best thing about this tool is that it preserves data integrity and folder hierarchy throughout the conversion process.
Also, this tool offers a direct option to migrate IMAP mailboxes from various IMAP-supported email services. You can migrate emails from IMAP to Gmail, Yahoo Mail, Zoho Mail, Outlook.com, Zimbra Mail, and Office 365 to other email services. It is an expert solution to transfer emails from one server to another with advanced algorithms.
Steps to Export All Emails from IMAP Account in 15+ Formats
Follow the detailed step-by-step guide along with tool screenshots;
Step 1. First of all, install and run the utility to backup IMAP mailbox on your Windows PC.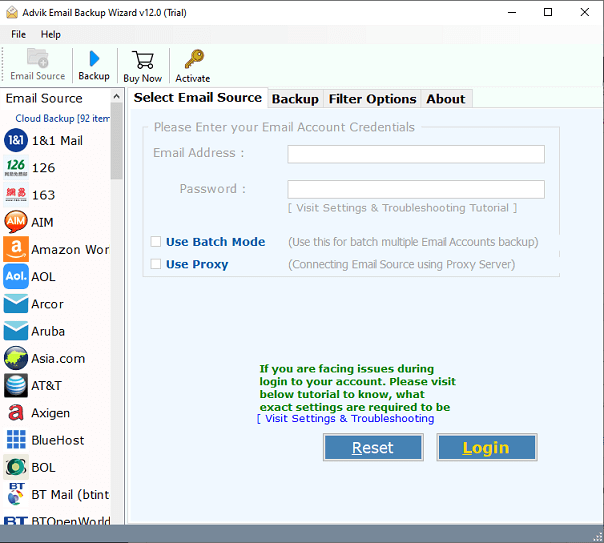 Step 2. After that, choose "IMAP" from the list of 90+ email sources list and also enter login credentials along with IMAP server and IMAP Port No.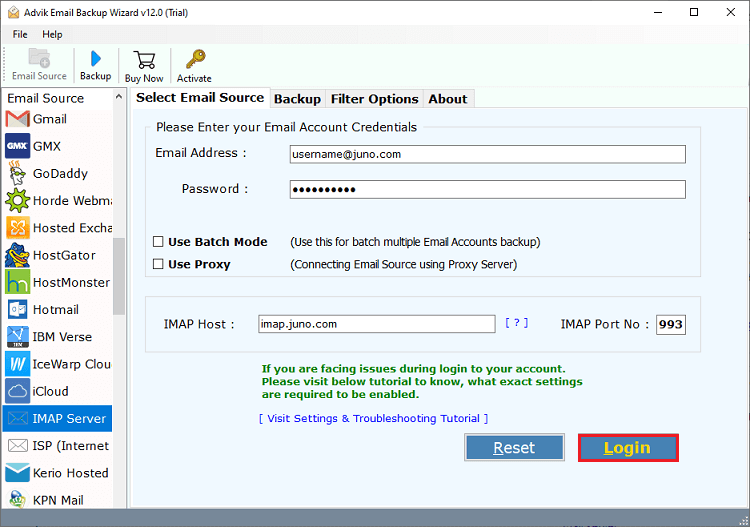 Step 3. Now, this tool will fetch all of your IMAP mailboxes on your screen, and choose the required email folders that you want to backup.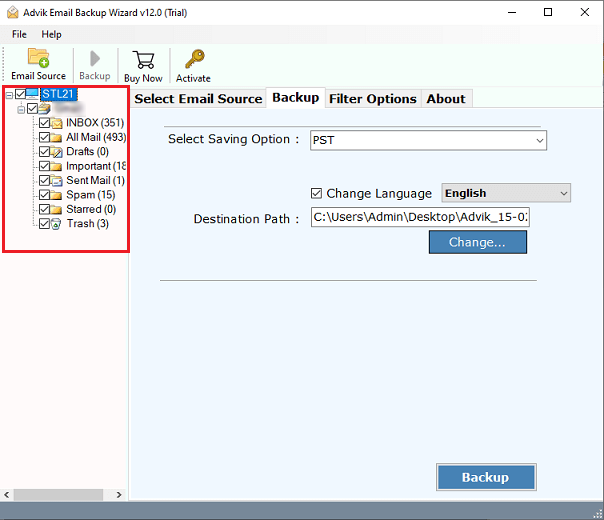 Step 4. Next, go to saving options and choose any of your choices from the list of 30+ different file formats.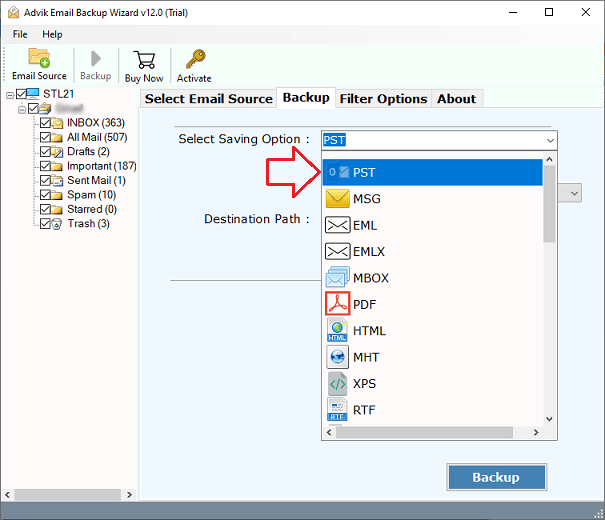 Step 5. Also, browse the destination path to save the resultant data file on your system.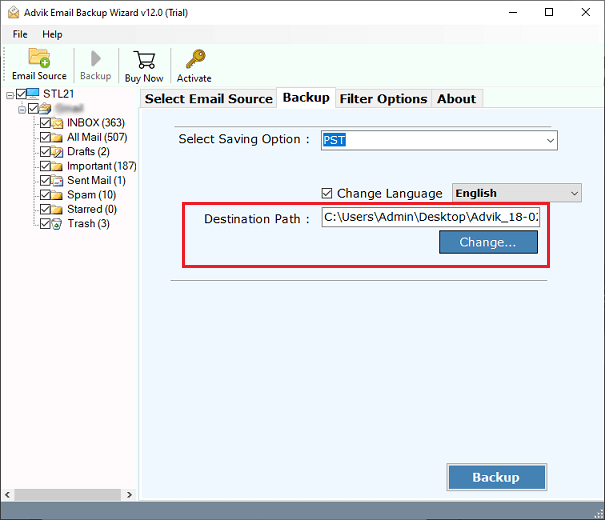 Step 6. Lastly, tap on the backup button to start the task of downloading IMAP mailboxes.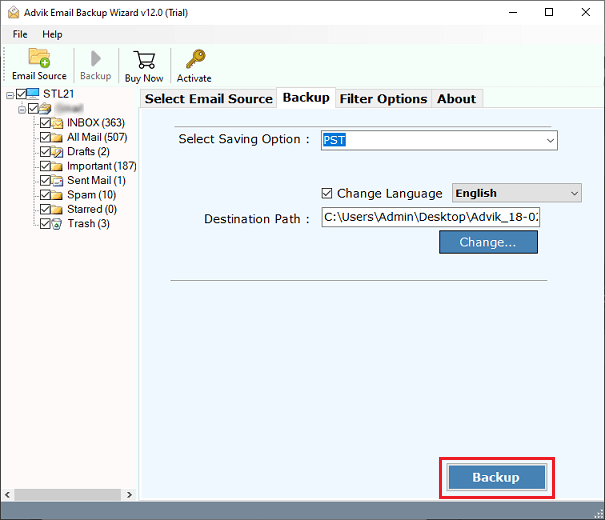 Done!! the process has been completed now and the tool will automatically redirect you to the chosen location.
Elegant Features and Capabilities of Advik IMAP Backup Tool
This software offers its users a wide range of advantages. Following are a few of them:
Smart and Interactive GUI: This tool's GUI is very simple to use. All of the user needs were taken into consideration by the experts when creating this program. Because of this, you may discover all the features and advantages you need in a single toolbox. Additionally, this product's distinctiveness and usability make it simple for anyone, technical or not, to utilize.
Batch Mode: If you want to backup IMAP emails from all of your accounts, regardless of how many you have, you have chosen the perfect product. This program makes it simple to download multiple IMAP webmail accounts at once. To do this, create a CSV file with all of the account information filled in and upload it to the toolkit.
Numerous Data Filters: This tool has a tonne of different data filter options, which is one of its wonderful benefits. Any user is able to utilize these options to only download specific attachments from IMAP account. By grouping emails by date range, subject, email address, etc., users can use this capability.
No Data Restrictions: This software does not impose any fill restrictions. Emails from IMAP can be downloaded without any limitations to a user's local PC.
Windows compatibility: This software can be installed on any Windows operating system, including Windows 10, Windows 8.1, Windows 8, Windows 7, Windows XP, Windows Vista, Windows Server, etc.
Conclusion
It is better to opt for an automated tool instead of a manual solution to create a safe and secure IMAP backup. This is a highly efficient software that can easily and quickly backup IMAP emails in bulk. Apart from all these, it is capable to export IMAP emails in 30+ different file formats, maintain data integrity, and offering advanced email filters for the selective IMAP email backup process.