How to Copy Emails from Outlook to USB Drive With Attachments?
In today's digital era, it has become crucial to backup your Outlook emails. There are many ways to do this, but some methods are more effective than others. In this blog post, we'll discuss the top 2 methods of backing up your Outlook emails to a USB drive.
Outlook is an email client that is used by millions of people worldwide. It stores emails, attachments, contacts, and other information in an Exchange Server. One can access Outlook on any device with an internet connection.
One of the most common problems with Outlook email is that it keeps using up disk space because it keeps storing copies of the same emails in various folders. So it becomes very difficult to find a particular mail or to know which folder the email should be in. This problem can be solved by backing up your Outlook Emails to USB Drive. Backing up your data is also a smart way to prevent crucial data from being lost. In the next section, we'll go over the complete process of backing up Outlook emails to an external hard drive / USB Drive.
Queries Related to Backup Outlook Emails to USB Drive
I've been using Outlook for 10 years, but now I'd like to save my Outlook PST emails to a USB stick so that I can access them when I'm not connected to the internet. Is there a way for me to back up my 10-year Outlook mailbox data to a USB flash drive?
My Outlook email file has been corrupted, but they included essential information. Can someone suggest an easy & safe way to repair my corrupted/damaged Outlook files and save them to my flash drive?
Is it possible to manually export Outlook emails to a USB drive? I'm looking for a cost-effective approach to export Outlook 2016 emails to USB drives since I'm an individual working professional.
Ways to save Outlook Emails To USB Flash Drive

Method 1. Using Advik Outlook Converter Tool (Direct)

Method 2. Using Microsoft Outlook (Free/ Manual technique)
#1. Quick and Reliable Way to Copy Outlook Emails to Flash Drive
Advik Outlook Converter Tool is a time-saving approach for converting Outlook OST / PST files to the required format. Furthermore, the tool has no File size constraints, allowing users to backup an unlimited number of Outlook files without confronting any issues. If you have a corrupted pst file, you can use the recovery mode to repair the file and convert it to the required format. Along with that the software comes with a variety of outstanding features some of them are mentioned below:
Export Outlook Emails into MBOX, PDF, PST, and 10+ Formats
Save Outlook Emails to USB Drive with Attachment
Bulk Export Outlook Files to USB Drive
Backup Encrypted / Password Protected Outlook Files
Preserve Folder Hierarchy
Steps To Download Outlook Email files to Flash Drive With Attachment :
You can Follow the stepwise process to Backup Your Outlook Emails to USB Drive:
Step 1. Download and Run Advik Outlook Converter Tool.
Step 2. The software will automatically load the configured Outlook Mailboxes data, or you can choose Select Files / Folders Option to manually load your .pst File into the Software panel.
Step 3. Select mailbox items to include in backup file.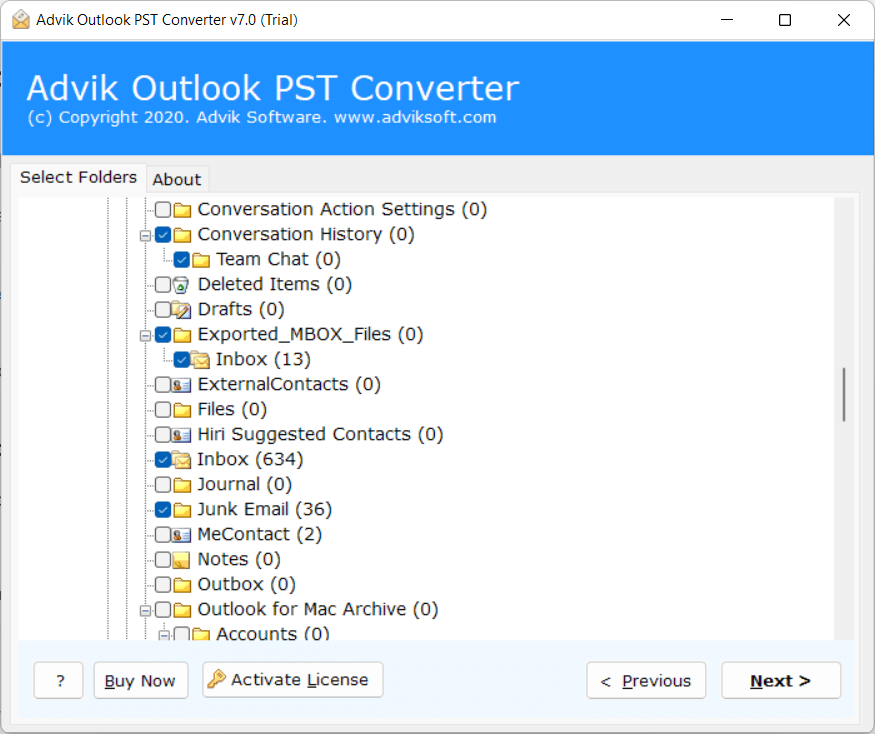 Step 4. Choose File format in which you want to save Outlook file.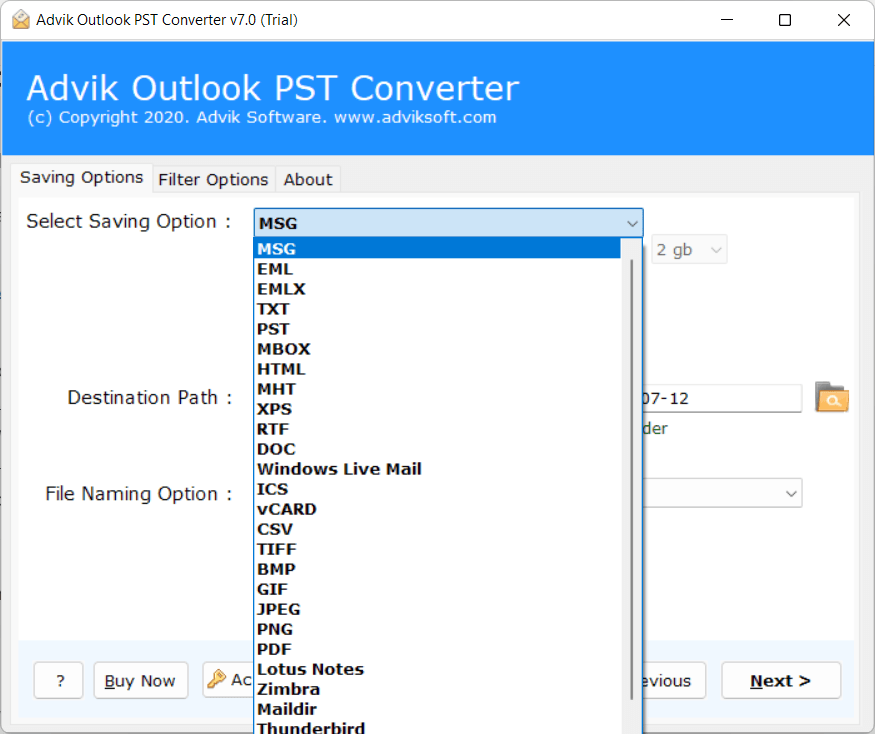 Step 5. Click Destination Path and choose your USB drive as a target location.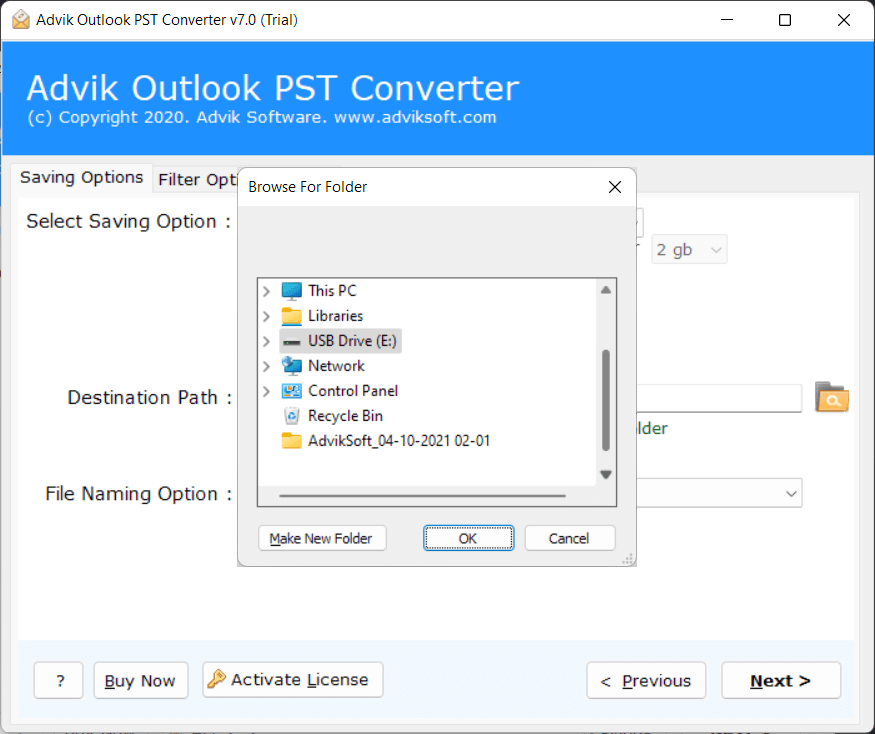 Step 5. Click on Next Tab to Backup your Outlook PST to USB Drive.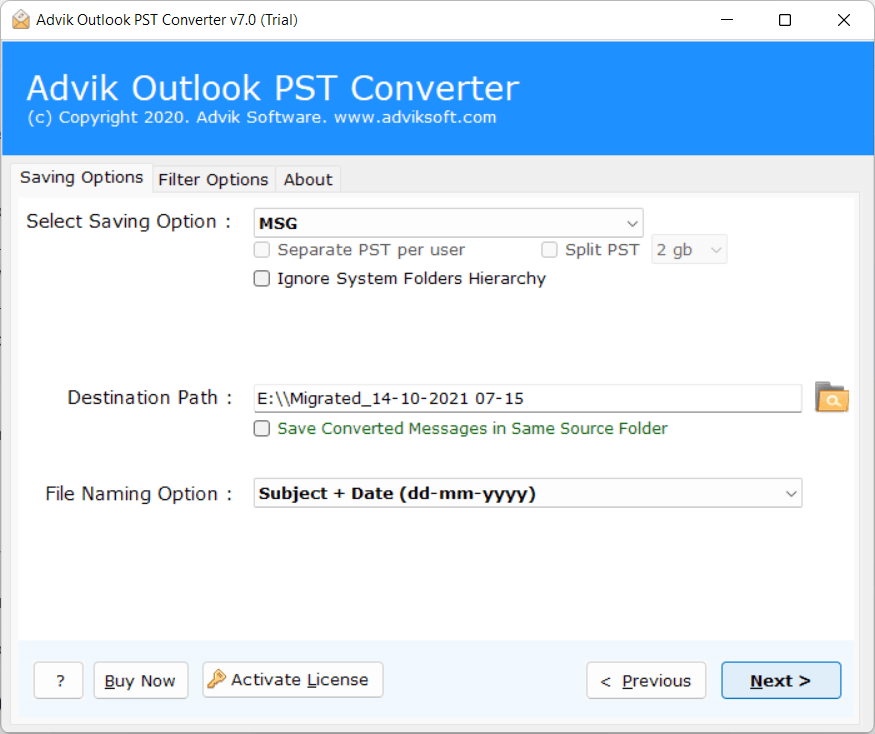 Method 2. Export Outlook Emails to USB Flash Drive Manually
To export your Outlook Emails to USB Flash Drive manually, you must have to install Microsoft Outlook in your system. Follow the given stepwise processor to Learn How to Backup Outlook Emails to USB Drive Manually:
Here is the manual method to save your Outlook Email files to USB drive:
Step 1. Open Microsoft Outlook Application.
Step 2. Now, Go to File, Select Open and Export, and then choose Import/Export.
Step 3. Choose the "Export to file" option from the drop down menu.
Step 4. Select Outlook Data File (*pst), then click on Next.
Step 5. If the user wants to backup his/her emails to an USB drive, the external USB hard drive Should be connected.
Step 6. Select the USB Drive from the list of storage devices by clicking the 'browse' button. After that, Create a name and click OK.
Step 7. Finally, hit the Next and Finish buttons. (Set the password when prompted and then click OK to encrypt your messages.) Otherwise, the user can choose to cancel the process by selecting Cancel.
But the Free manual method has some limitations:
Time consuming
Doesn't allows to convert Corrupted Outlook files
Risk Of Data Loss
Choose Advik Outlook Converter Tool Instead Of Manual Efforts
No more need to waste time with the manual technique when you can use a smart & quick Advik Outlook Converter Tool? Skip the manual process and instantly export Outlook email folders to your hard drive. Hundreds of handy features are included in the software. Download it for free and check out its amazing features.
Conclusion:
In this Article, We've covered how to backup Outlook emails to a USB drive. The user can try the manual way first, but if they run into any issues or difficulties, they can use Advik Outlook PST Converter Tool. This is the most effective way to save and export Corrupted outlook file emails to an USB drive. This tool is also compatible with all versions of Microsoft Outlook 2019, 2016, 2013, 2010 and so on.
Frequently Asked Question
Ques 1. How can I Export password Protected Outlook emails to a USB flash drive?
Ans. You may achieve this by using the Advik Outlook Converter Tool. Users can effortlessly convert their encrypted / password-protected email files from Outlook to USB storage using this tool.
Ques. 2 Is Advik Outlook Converter Tool compatible with Windows 11?
Ans. Yes, the software works with every version of Windows.
Ques 3. Can I Export My Outlook 2016 Emails to a USB Stick Using This Tool?
Ans. Yes, the application works with all Outlook versions, including 2010, 2013, 2016, and 2019.