How to Export AOL Email to Hard Drive With Attachments?
"I want to export AOL email to external hard drive along with attachments. I tried to save email via Ctrl+S but it saves an html file with incomplete information. Is there any option available to download or save AOL emails to Computer in batch?"

– Rick Moranis
"How do I transfer AOL Mail to Hard Drive? I guess there is no such option to backup AOL emails anywhere in the settings. Please help me with an alternate solution."

– Nathan Fillion
If you are searching for an easy way to export AOL email to hard drive with attachments, then you had landed on the right place. Stay with this article till the end, and you will be able to transfer and download AOL mail to your Computer or external disk with ease.
Ways to Save AOL Mail to PC/External Hard Drive
Using Free and Manual Way
Using Advik AOL Mail Backup Tool
Check out the below methods to archive AOL mail to local drive.
Method 1. How to Download AOL Email to Computer In Seconds
Step 1. Open an email in your AOL Mail account and click Print Icon.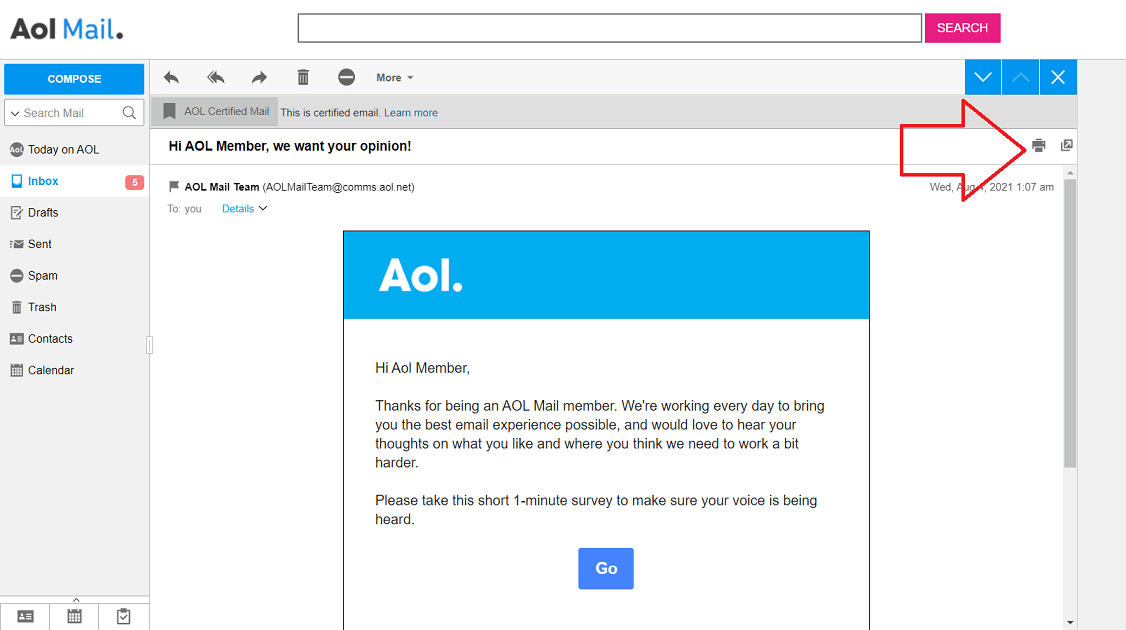 Step 2. A new window will appear, now click Save button.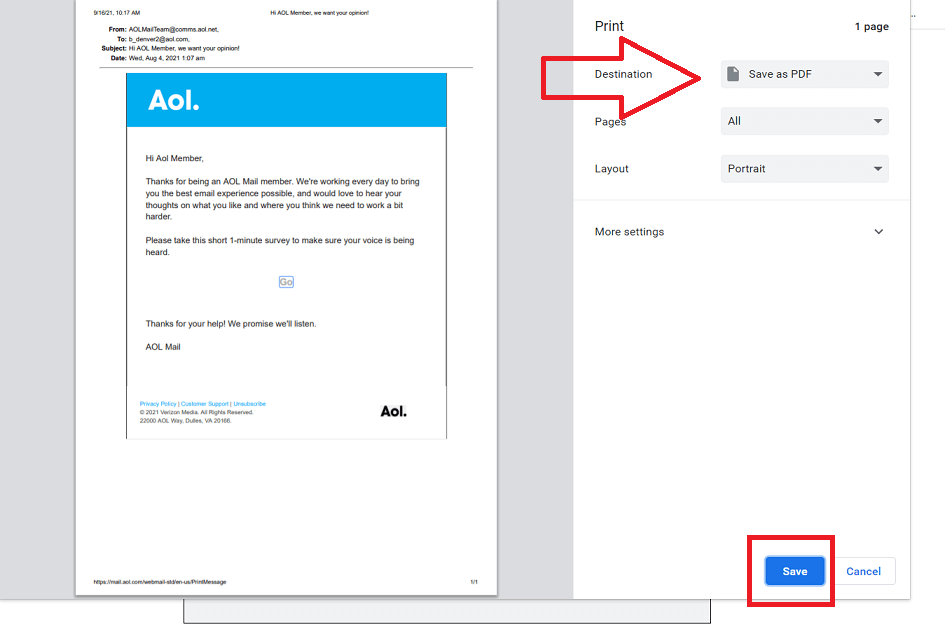 Step 3. Choose target location where you want to save AOL email.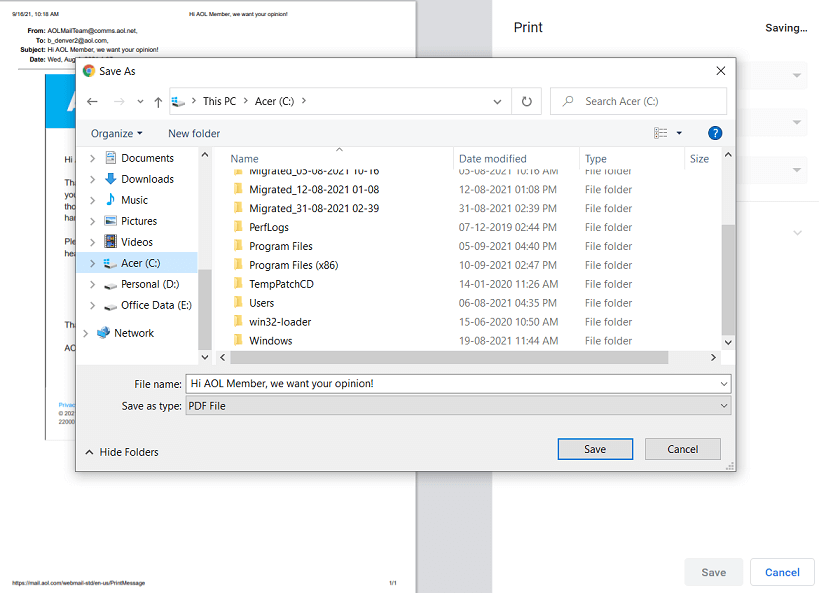 You have to repeat the same process to download each AOL email over and over again.
Limitations
Time-Consuming Process for Bulk Emails
No Attachments will be Saved
Method 2. Export AOL Email to Hard Drive With Attachments
Download and Install Advik AOL Mail Backup Tool in your Windows machine. This utility will export AOL email to hard drive or computer along with attachments. You can download multiple or entire email folders in one single attempt.
Maintain Mailbox Folder Hierarchy
Export Multiple Emails to Hard Drive Instantly
Advance Email Filter Option
Freedom of Saving Email as Desired Location
Lifetime Validity and Free Future Updates
Important: Enable Less Secure Apps/Third Party Access and Generate One Time Password in AOL Mail Security Settings for Signing into Advik AOL backup Tool.
Steps to Export Emails from AOL Mail to Hard Drive are;
Step 1. Run Advik AOL Mail Backup Tool and Sign in.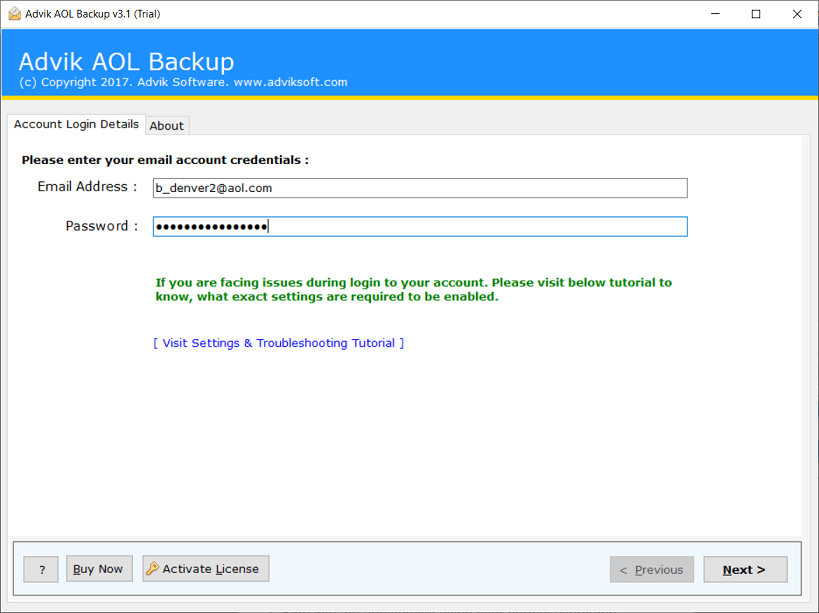 Step 2. Select email folders to export.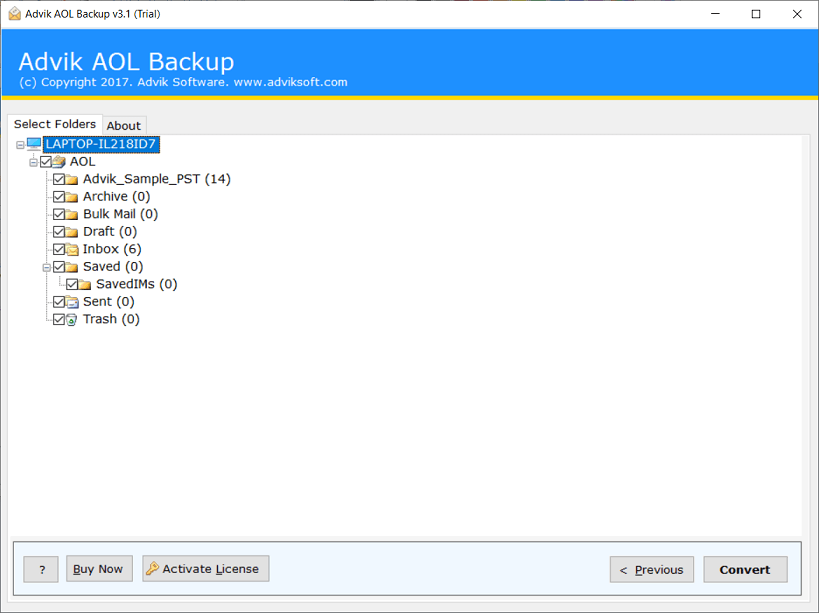 Step 3. Choose file format to save emails.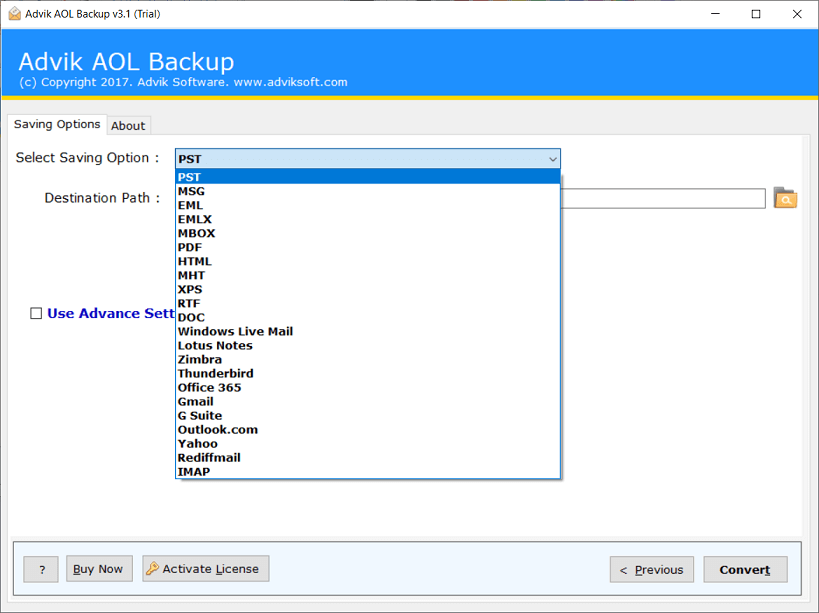 Step 4. Select location to save/export AOL emails to.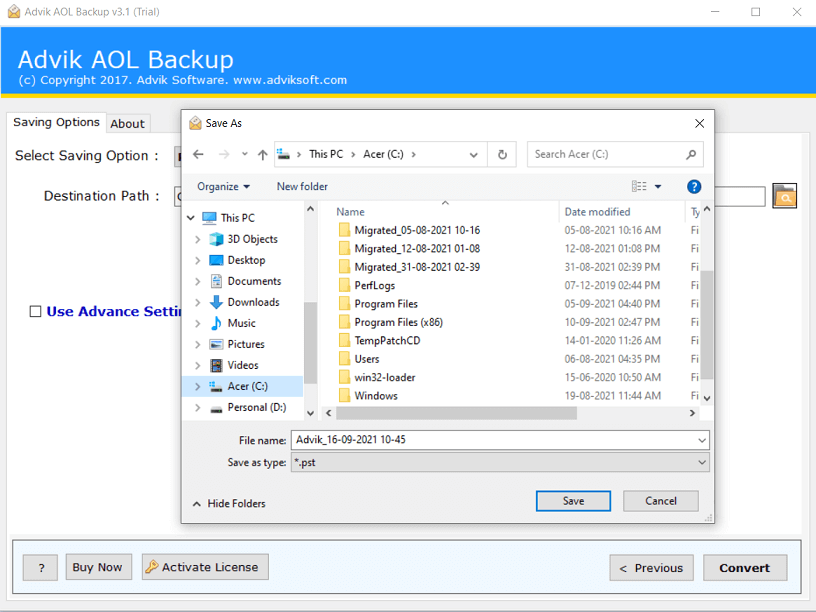 Step 5. Apply Email Filters if Required and click Convert button.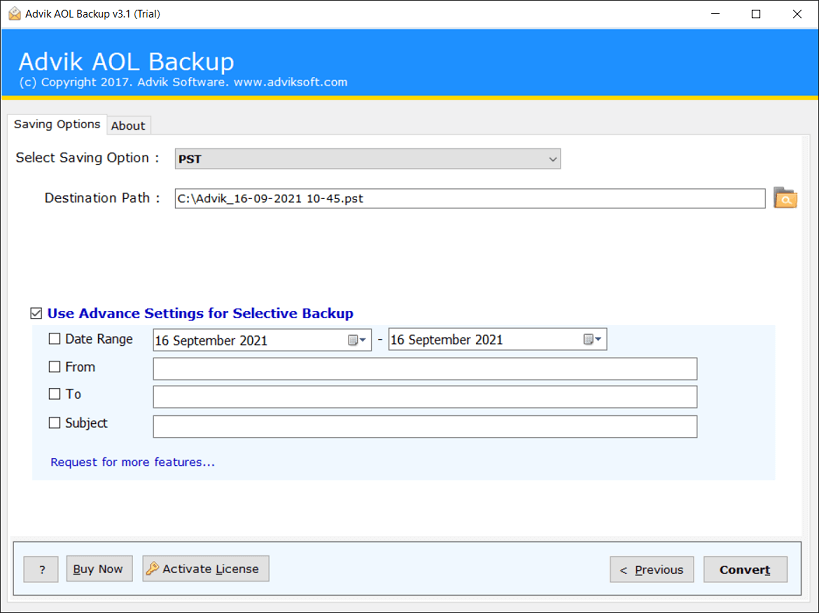 Now sit back and relaxed! Let the program do the rest transfer process. It will automatically export AOL email to Hard Drive/local drive or any targeted location with ease. No data loss or omission or any information will take place.
Which Solution Is Adoptable?
As you can see using Manual Trick, you can save single email less than seconds, however, you won't able to save attachment files. Meanwhile, Advik AOL Backup Tool is far better and experts suggested solution to backup AOL emails to Hard Drive in bulk. Also, you can save attachment files as well.
Thus, it is suggested to choose an automation way to save manual efforts and your valuable time.

FAQs.
Can I export AOL Mail to Hard Drive with Multiple Email Folders?
Yes, you can copy or transfer multiple email folders from AOL to External Drive.
How do I save only desired emails, skipping unwanted mails?
You can apply filters from the software panel. This option will help you skip unwanted emails.
Can I export AOL Emails to Microsoft Outlook .pst file?
Yes, this file format is available in the tool. Hence, you can export AOL Mail to PST without any trouble.