How to Export Emails from GoDaddy to EML Files in Bulk?
Do you want to export GoDaddy emails to EML files? If yes, then you had landed on the right page. In this article, you will learn to Batch Export emails from GoDaddy to EML File in an easy manner. Before Starting this discussion let us take a quick look at Godaddy and EML File.
GoDaddy is an Internet Domain Registration and Web Hosting Company with approximately 19 million customers worldwide. Apart from Domain registration and web hosting, GoDaddy also provides web-based email solutions. GoDaddy webmail is also popular among premium Email hosting solutions.
On the other hand, EML is an email file format used to store email messages along with respective attachment files. This file format is used by many email clients for storing email messages. This email client includes Mozilla Thunderbird, eM Client, Outlook Express, and Gmail.
Godaddy webmail does not provide any solution to batch export Godaddy to EML files. To overcome this issue, you need to download and install third-party software i.e., Advik GoDaddy Backup Tool. This software is an advanced GoDaddy to EML Converter available on the web. Using this tool user can easily download GoDaddy emails to EML files without additional configuration. Click the button below to download this tool for free.
---
Steps to Export emails from GoDaddy to EML Files;
Step 1. Launch Advik GoDaddy to EML Converter software in your system.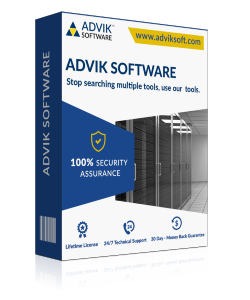 Step 2. Enter Godaddy webmail login credentials in the software panel.
Step 3. Check the Desired mailbox folder that you want to download in .eml Format.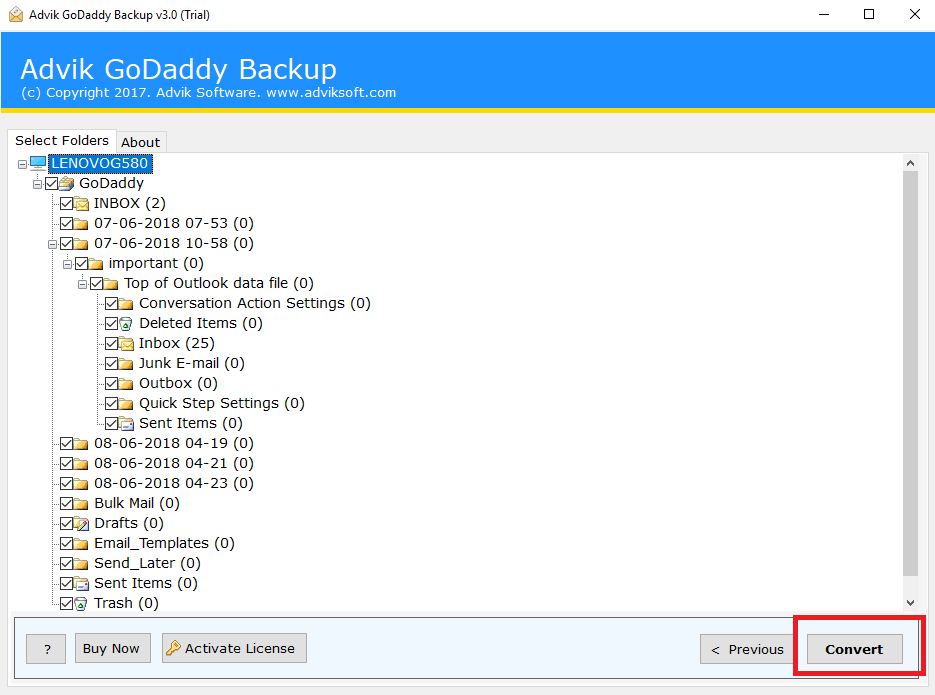 Step 4. From the Multiple Saving Option list, Select "EML" as a saving option.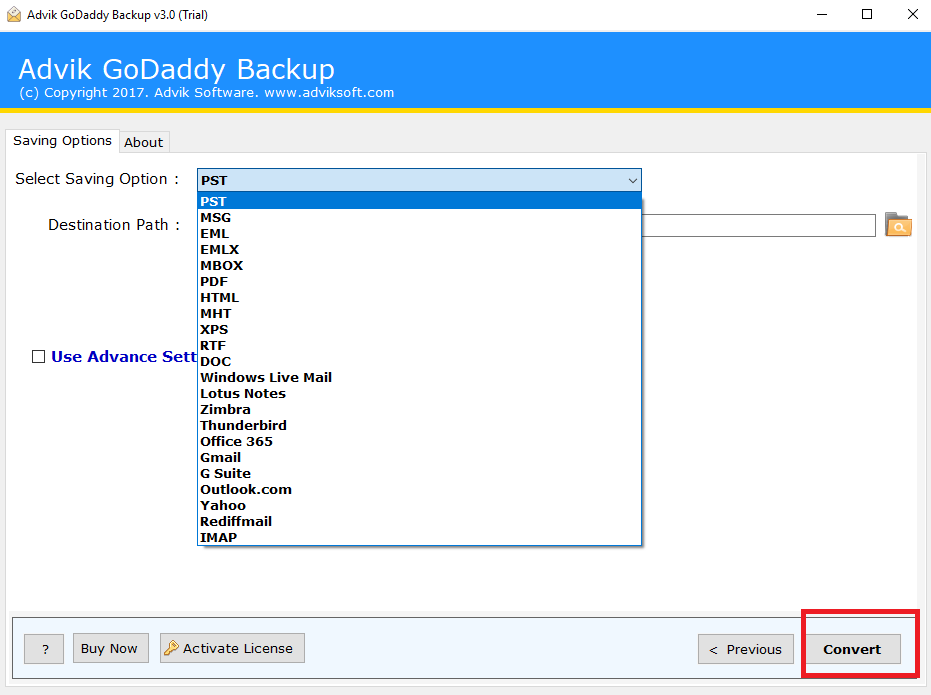 Step 5. Click on the Convert button and analyze the process of conversion.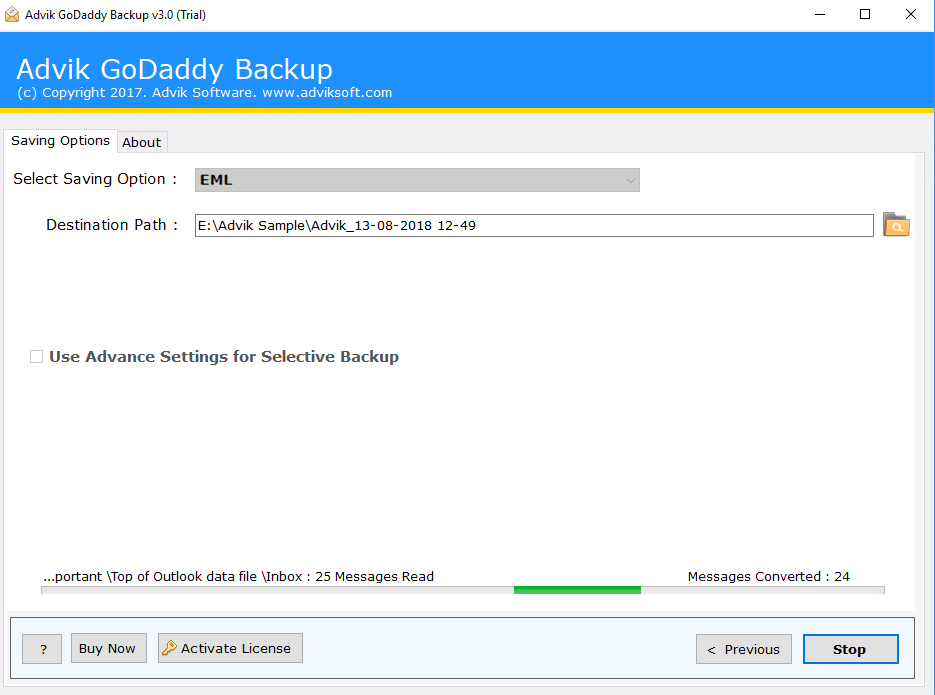 Finished! This is an ultimate solution to export Godaddy Webmail to EML Files.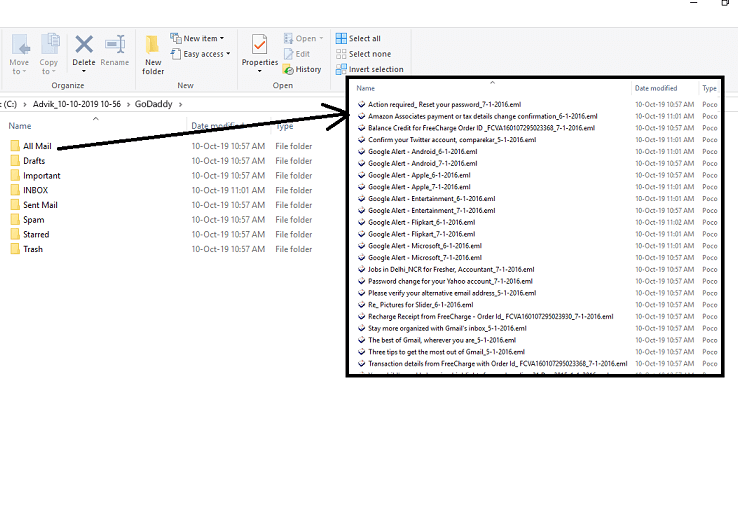 You do not need to perform any hectic and lengthy manual process to perform this task. This is how you can Batch export GoDaddy to EML files easily.
---
Special Features of GoDaddy to EML Converter
Advik Godaddy Backup tool is loaded with many advanced features. Some of the best features of this software are as follows;
Preserve Key Elements; Advik Godaddy to EML Converter tool is designed to preserve all the details of an email. These key element includes "Header info", "Footer info", "to", "from", "Cc". "Bcc", "embed images", etc. The layout of the email also remains the same.
Include Attachment Files; Attachment is an important part of an email message. Most of the important and confidential information is sent through attachment files. that's why this tool includes all attachment files during GoDaddy to the EML conversion process.
Multiple Output Format; Apart from GoDaddy to EML, this tool is capable to download GoDaddy emails to PST, MSG, EML, MBOX, PDF, DOC, TGZ, etc file formats.
Cloud Migration; You can also use this software to migrate emails from GoDaddy to Gmail, Yahoo Mail, Office 365, Outlook.com, and any other cloud-based email service using IMAP protocol.
Windows OS; You can easily install this software on almost all versions of Windows OS such as Windows 10, 8, 8.1, 7, XP, Vista, etc.
Free Demo Download; Download free version of GoDaddy to EML Converter for free to check the efficiency and working of the tool. Click on the button below to download for free

Dedicated Customer Support; In case, you stuck somewhere exporting emails from GoDaddy to EML File, you can contact our customer support for further help. Feel free to ask anything related to this query.

Below are some technical queries that can be resolved using the above solution.
"How can I export emails from GoDaddy to EML Files??"
"Can I Batch Export GoDaddy to EML File?"
"Suggest me the best GoDaddy to EML Converter."
"How to Export Godaddy webmail to EML files?"