How to Import MBOX to Exchange Online?
Overview: Are you one of those who are looking for a solution to import MBOX to Exchange Online? Or are you looking for information on how to upload MBOX file to Exchange? If your answer is YES!! Then go through this article completely to know the complete process. In this blog, we will explain the complete process to transfer emails from MBOX file to Exchange Online. So, stay with us to know more information.
Introduction:
MBOX file format is a simple message box in which all messages are connected together and kept in a single file as plain text. Multiple email applications, including Thunderbird, Spicebird, Mulberry, OperaMail, ClawsMail, Evolution, Mozilla Mail, and others, support the MBOX file type.
While Microsoft Exchange Server is a mail and calendaring server developed by the Microsoft Corporation. It works with every version of Windows. To communicate with email clients, Exchange Server now supports POP3, IMAP, and EAS.
User Query:

"I've been using Gmail for quite some time, I get MBOX file when I export my Gmail mailbox." Now I'd like to transfer these emails from MBOX to Exchange. There are approximately 20TB of e-mails and messages, which proves difficult for me to manage using the usual Microsoft PowerShell command line. Without having extensive technical knowledge, assist me in helping to find the best solution to transfer emails from MBOX to Exchange Server."

"Hello, in my former office, I used the Thunderbird email client. I was exporting all of my key mailbox info in MBOX format before quitting my work. I now have a Microsoft Server Online account in my new office. Is it possible for me to export the MBOX file into Exchange? Please, assist me. This MBOX data is critical in my Exchange server account."
Best Way to Import MBOX to Exchange Online Account
I have discovered the best and simple method to resolve your queries. As there is no manual technique for moving data from MBOX to Exchange Server.
We recommend that you must install the Advik MBOX Converter on your PC. You should be able to download this application without any problems. The software also has batch options for selecting several MBOX files at the same time. It has a straightforward and easy-to-understand user interface. Download this tool now to easily export emails from MBOX to Exchange Online.
Choosing the best option for implementing the data migration process is a crucial decision. As a single complicated step can result in data loss. But this tool will only give you desired results without encountering problems. 
Follow the steps which are mentioned below to import MBOX to Exchange server:
1. Install and run Advik MBOX Converter and choose the MBOX file you want to convert.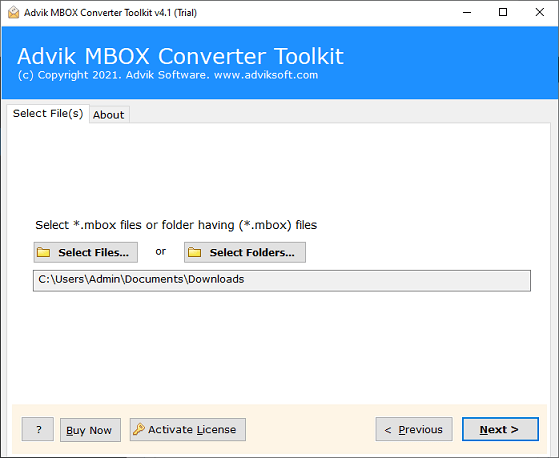 2. Locate the MBOX file in your computer's file system.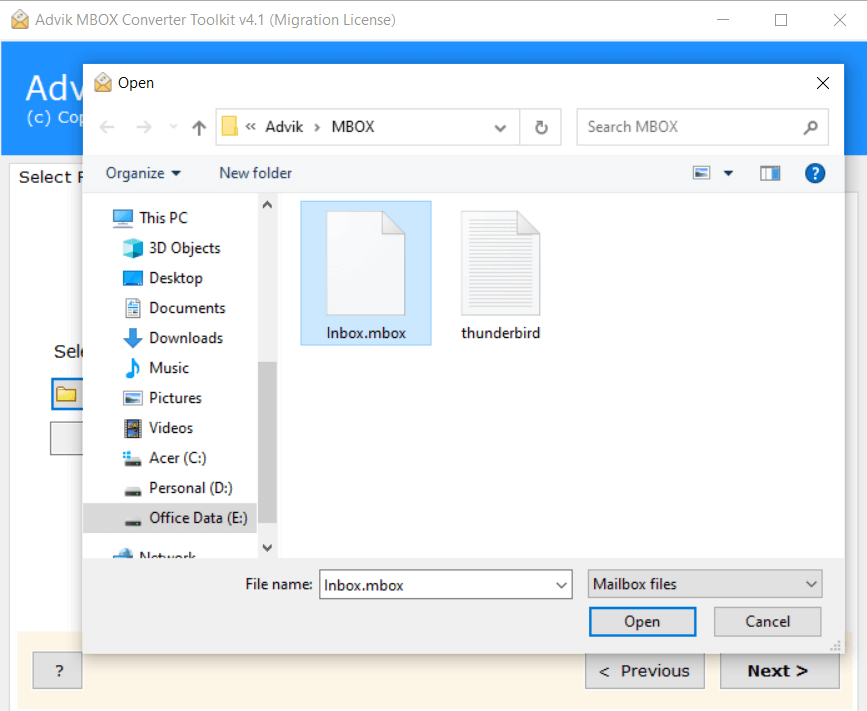 3. Now, select the mailbox folders that you wanted to export to Exchange server.
4. From the drop-down menu, select "Exchange Server" as a select saving option.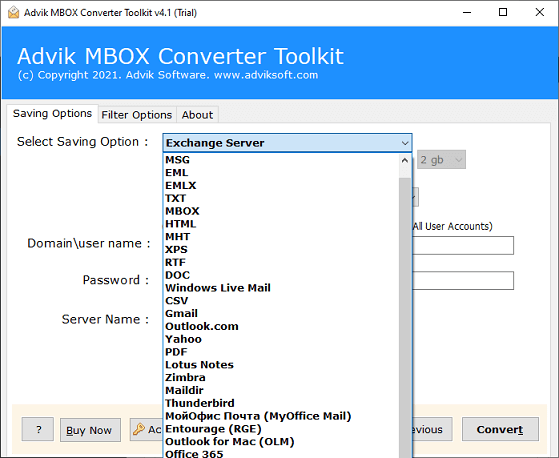 5. Enter your Exchange Server credentials such as
Domain/ user name: Exchange Server email address
Password: Exchange server password
Server Name: mail.contoso.com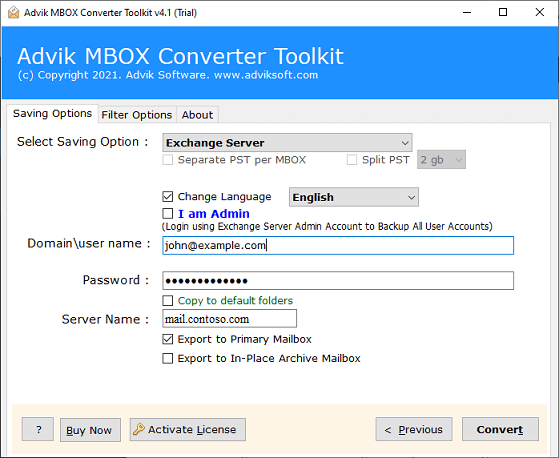 6.  Click "Convert" Button to start the process. The migration of MBOX to Exchange Server is underway; it will take a short time, depending on the size of the database.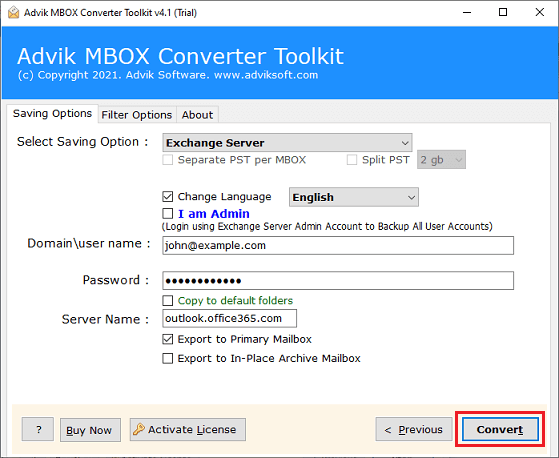 Log in to your Microsoft Exchange Server account and view MBOX emails in Exchange Server after receiving the completion message.
Why to choose Advik MBOX to Exchange Converter
One of the most popular conversion programs among IT administrators and forensic experts is this one. This is a complete solution for exporting emails from MBOX to Exchange server. Users can, on the other hand, export MBOX file to Exchange server, Gmail, Office 365, Outlook.com, AOL Mail, Rediffmail, Yahoo Mail, and other email clients. This is the most useful aspect of this tool, as it will assist you in resolving all concerns. It keeps track of the folder hierarchy in your MBOX file. 
Remarkable Features:
There are over 25 email export options available
With this tool, you can convert MBOX to PST, MBOX to PDF, MBOX to EML, MBOX to CSV, and 20+ file formats. Hence, making it one of the best MBOX to Exchange Migration Tool.
MBOX Files in Bulk Export
You can convert several MBOX files in a single effort using this software's feature. The Advik MBOX to Exchange Converter program is capable of handling batch conversions with ease. Furthermore, there is no file size restriction, so you can convert big MBOX files without experiencing any glitches or errors.
Option for a more advanced email filter 
This Filter Option will come in handy for users who want to convert specific emails from a mailbox file. Advik MBOX Conversion Software will assist you in eliminating the need for complete file conversion in order to save time. To convert only the emails you want, apply some filters (for example, Sender and Receiver Details, Subject Name, and Date Range).
MBOX Applications that are supported
MBOX files are used by many email applications and services to store their mailing data. This tool, on the other hand, is set designed to work with MBOX file are created by nearly all email clients, including Mozilla Thunderbird, Google Takeout, The Bat!, Proton mail, Entourage, Eudora Mail, Opera Mail, Mac Mail, and others.
Conclusion
Finally, we are done with the best solution to transfer emails from MBOX to Exchange server. we assure you that you do not jeopardize your data by choosing the finest option for exporting MBOX file to Exchange Server. You can utilize this MBOX Converter software for free, which is a popular choice among many customers. Choose the best option and export the data in a safe and secure manner that preserves the data's original attributes.