How to Export Emails from Office 365 to PDF in Batch?
Want to export Office 365 emails to PDF in bulk? If yes, then you had landed in the right place. As there are several users who are looking for Office 365 to PDF Converter utilities. Today I am going to share the manual and automatic solution.
In this article, we will show you two methods to convert Office 365 emails to PDF format. We will cover the pros and cons of both methods. Before going further let's take a quick glance at Office 365 and PDF.
Office 365 is a subscription-based service offered by Microsoft. Office 365 consists of the number of services and software.  All Office 365 plans consist of automatic updates at no additional charges.
PDF is a file format created by Adobe for the presentation of text and images. PDF was standardized as an open format, and no longer requires any royalties for its implementation. Today PDF files may contain rich media, video content, interactive elements, and various other data formats.
Method 1. How to Export Office 365 Emails to PDF Files?
Step 1. Login into your Outlook.com email account.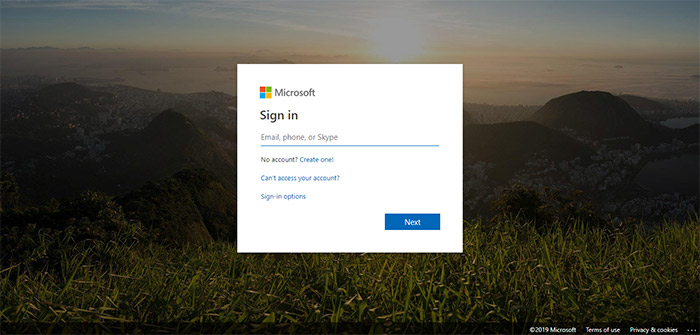 Step 2. Open the desired email that you want to print into PDF format.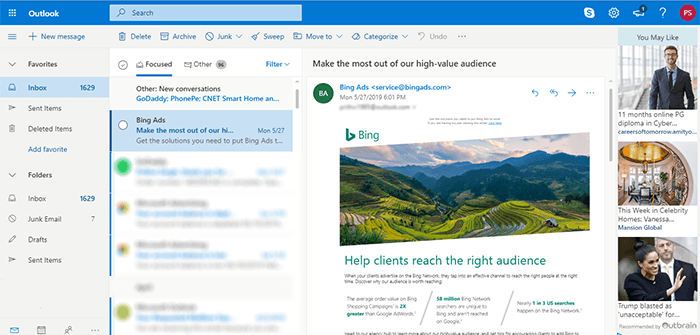 Step 3. Click on more icon on Top Bar and select the print option.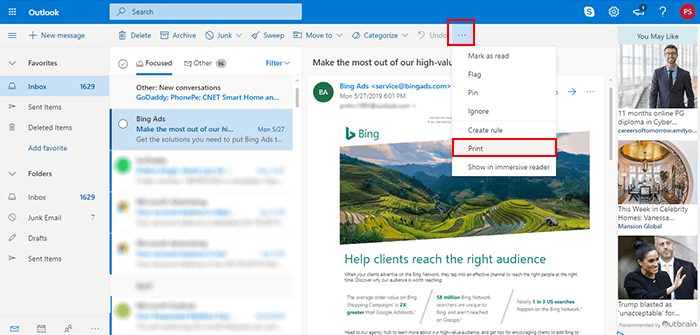 Step 4. Again, click on the Print button as shown in the screenshot.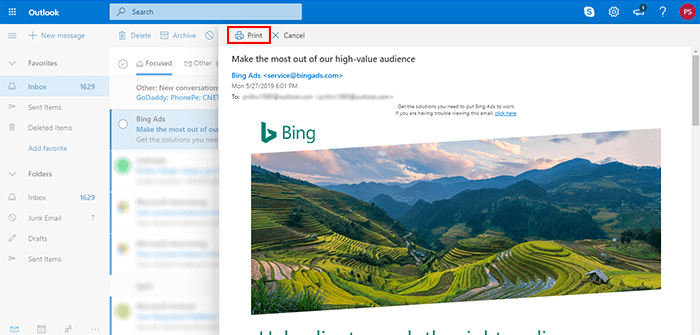 Step 5. Make sure "Save as PDF" is selected on the destination menu.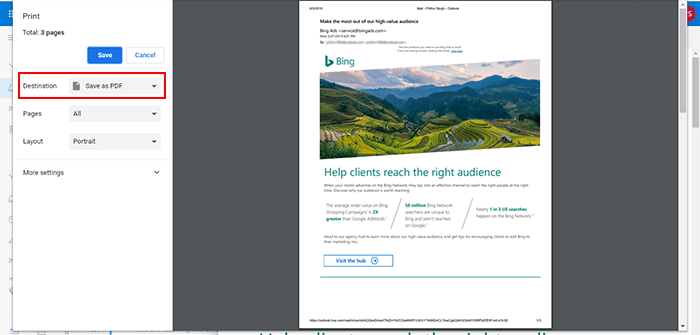 Step 6. Hit the Save button and save your email in your desired location.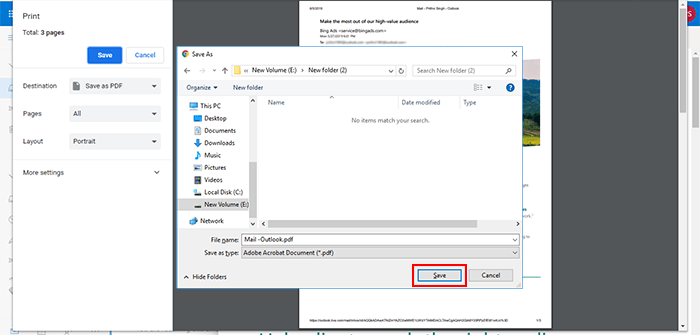 That's how you can export Office 365 email to PDF instantly.
The above solution is workable and can be done easily for few emails. The manual process for thousands of emails would be big challenge. You will face various limitations which are mentioned below.
Read Also: How to Export Office 365 Emails to PST File from Admin Center?
Limitations and Drawbacks!
a. This method is suitable only if you have a limited number of emails.
b. You can not save attachment files using this method.
c. Very Time-Consuming Method.
In order to overcome the limitations, go for a third-party tool to minimize manual efforts and time.
Method 2. How to Save Emails from Office 365 to PDF in Bulk?
Check out Advik Office 365 Backup tool for Windows. This wizard is specially developed and designed for Office 365 users for email backup/migration solutions. Using this program you can batch export Office 365 emails to PDF with attachments. In addition, the software will preserve the mailbox folder hierarchy and key elements of emails. Hence no data loss will take place.
Steps to Batch Export Office 365 Emails to PDF are;
Step 1. Launch Advik Office 365 to PDF Converter and enter your email ID.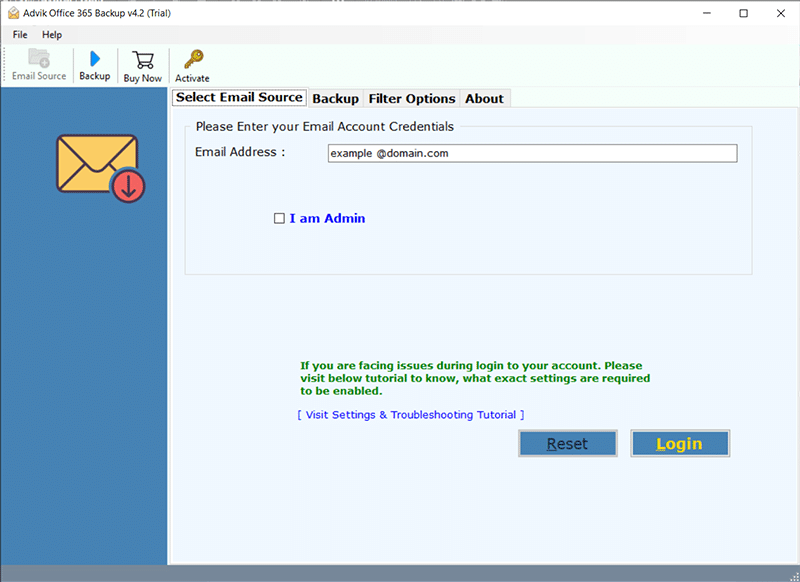 Step 2. Once you click on the Login button, a Microsoft Popup will be displayed where you can input your Office credentials..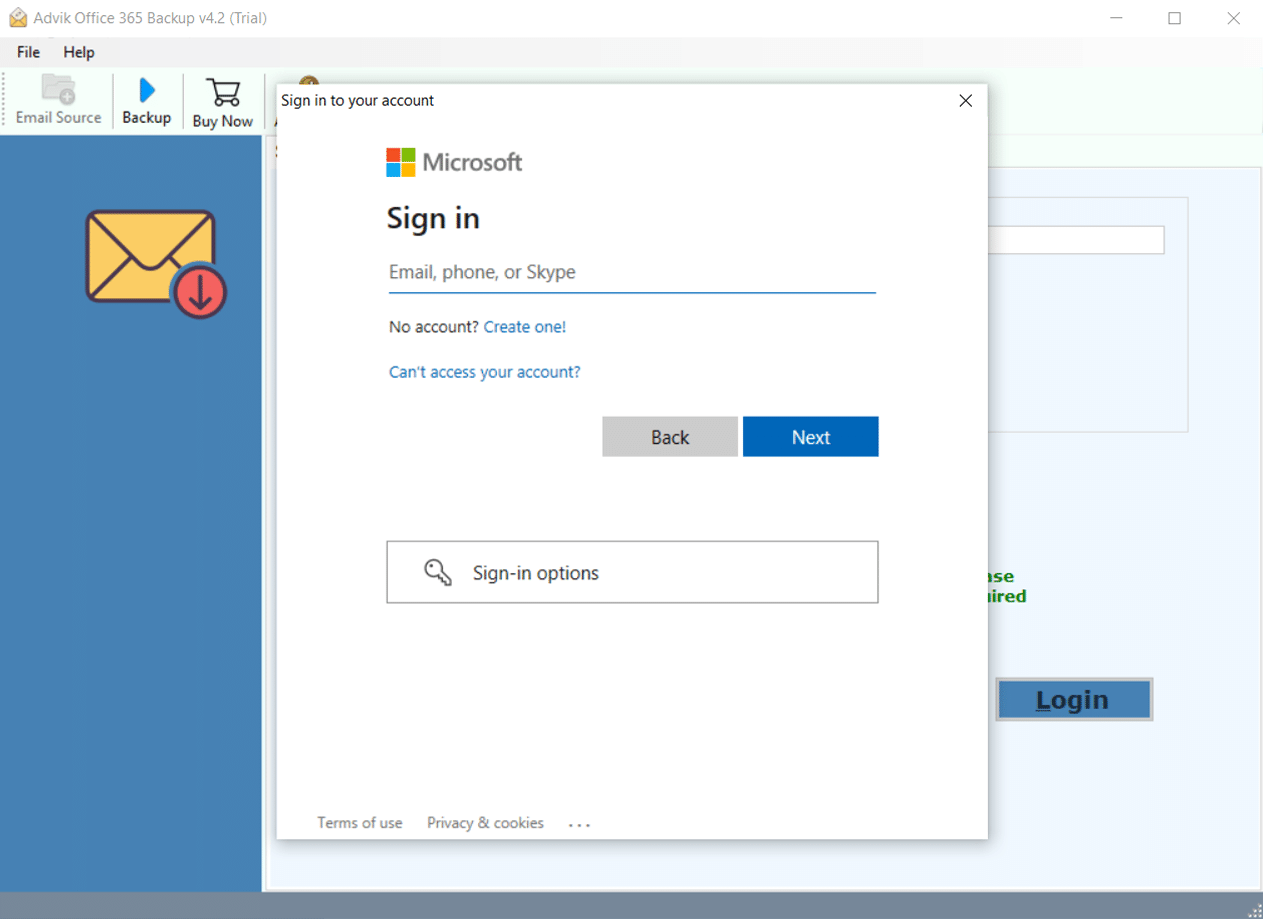 Step 3. Select the desired mailbox folder that you want to print/export.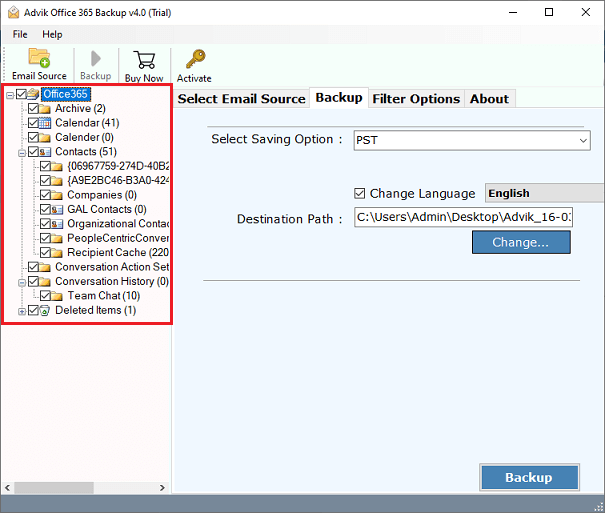 Step 4. Choose PDF as a saving option from the list.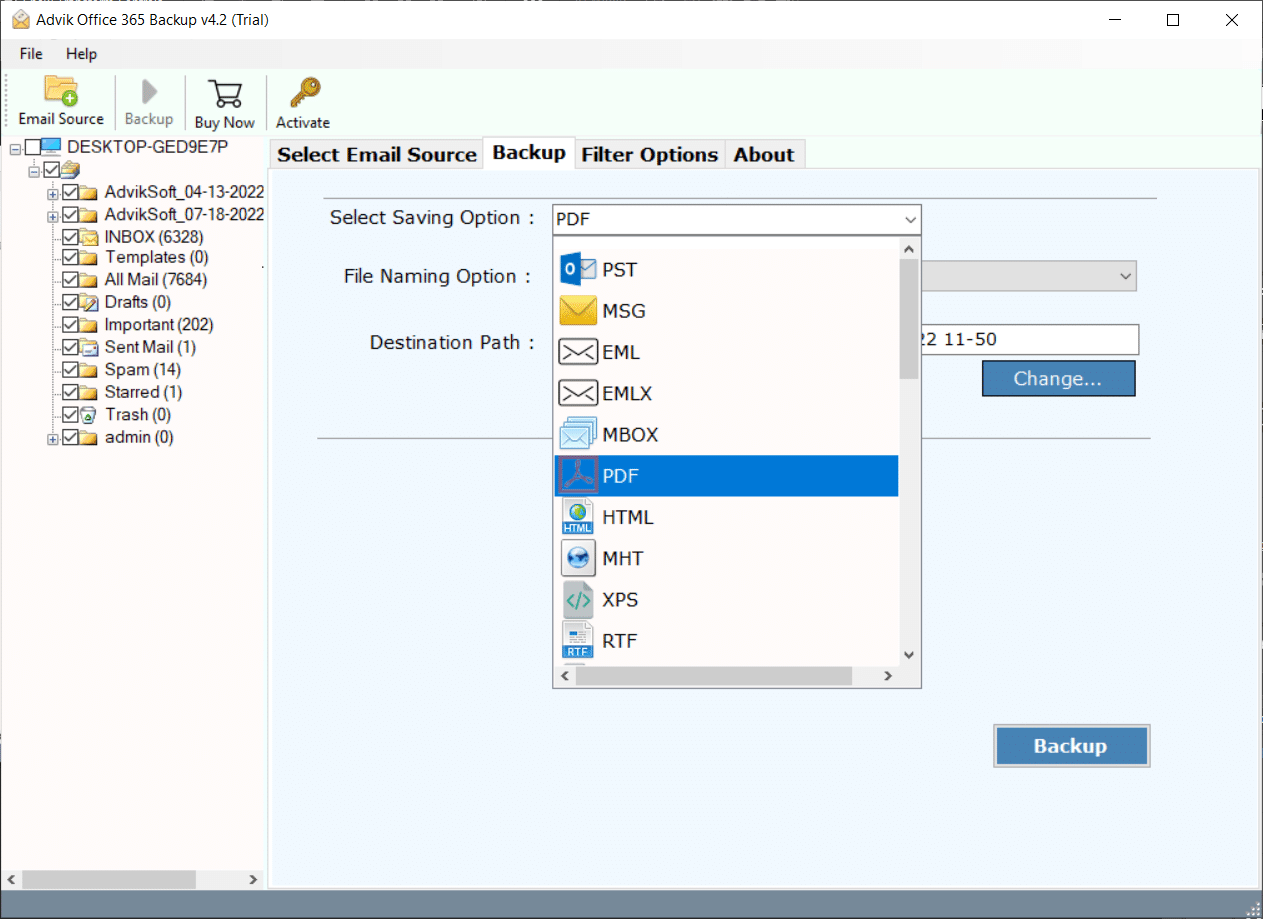 Step 5. Select the destination path and click the Backup button.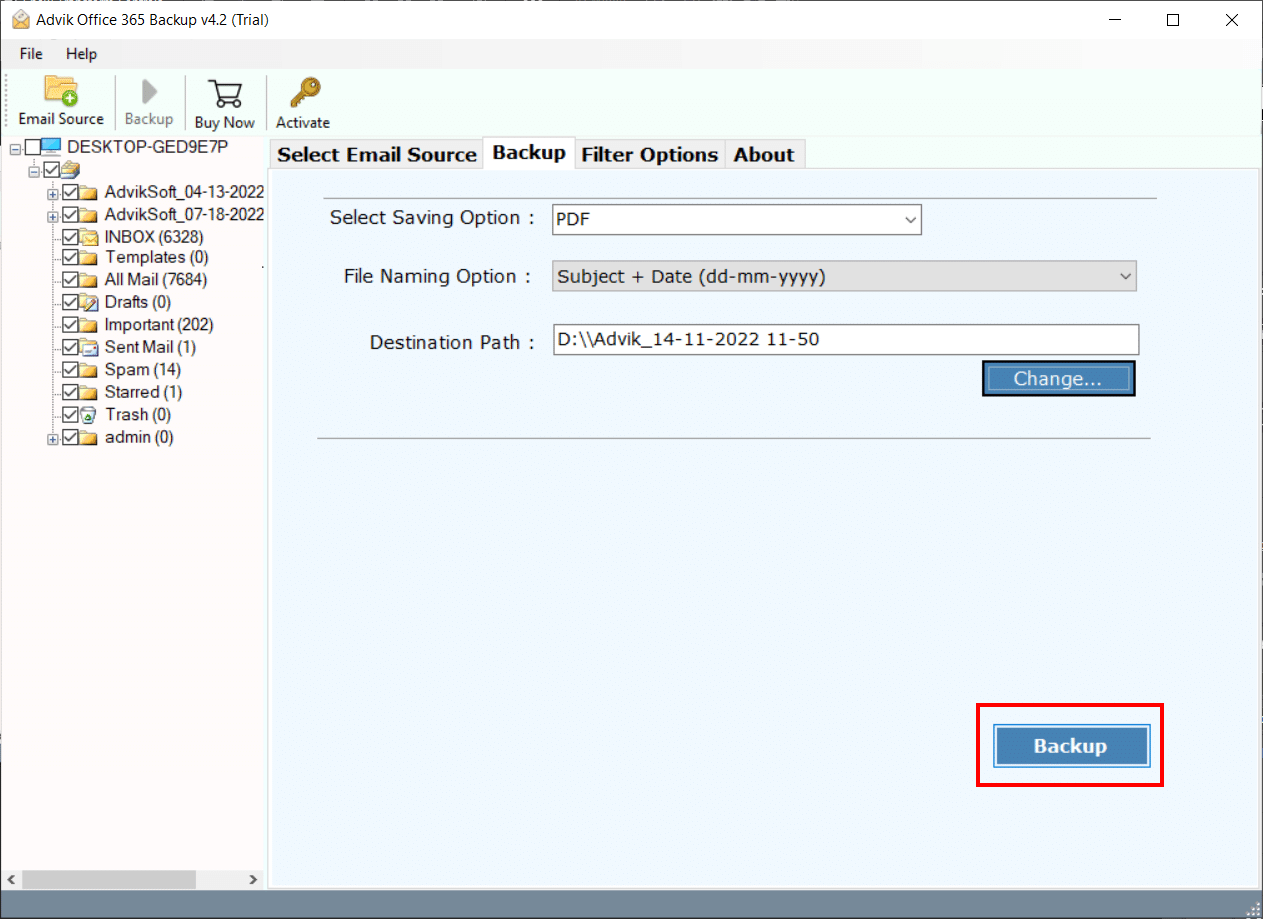 Optional: Select the Advanced Settings feature to apply email filters for selective email conversion.
Now sit back and relaxed, this wizard will download Office 365 emails to PDF files with attachments. Hence opting for this method would be a nice choice. No manual efforts and configuration required for this time-saving solution.
How to – Migrate Office 365 to G Suite Account
Watch Tutorial – How to Export Office 365 Emails to PDF in Batch?
How to –  Export Office 365 Mailbox to CSV File
Reasons to Choose Advik Office 365 to PDF Converter
There are several reasons to choose for Advik Software. Some of the reasons are as follows;
Bulk Conversion: Using this tool you can convert complete as well as multiple mailbox folders into PDF format without spending much time. This software can easily save Office 365 as PDF in bulk.
Include Attachment Files: This software embeds attachments directly into the PDF file so you can view your attachments directly from the PDF of that email.
Multiple Output formats: Apart from Office 365 to PDF conversion, you can save Office 365 to PST, MSG, EML, MBOX, TXT, HTML, Thunderbird, Zimbra, etc.
Cloud Migration: This advanced tool is also capable of migrating your emails from Office 365 to Gmail, G Suite, Yahoo Mail, Yandex Mail, another Office 365 account, and any other cloud-based email service that uses IMAP protocol.
Preserve Key Elements: All the key elements of emails remain intact during the process of conversion. These key elements may include Cc, Bcc, to, from, date and time stamp, header information, hyperlinks, etc. The layout of emails also remains intact.
Free Demo Download: You can download Advik Office 365 to PDF Converter for free, in order to check the efficiency of the tool. To download this software, click on the below button.
Dedicated Customer Support: In case you stuck somewhere while using this software, you can contact our customer support for further help.