How to Export Yandex Mail to PST File? – Complete Guide
"What are the steps to export Yandex Mail to PST file? My mailboxes have 100k emails and now I want to create an archive file. I guess there is no option to convert Yandex to PST file. Kindly share me a reliable way to create PST from Yandex.Mail account."
"Is there any alternate way to import Yandex to Outlook 2019?" I mean, is it important to synchronize account? I want to import Yandex data in Outlook 2019 in my existed account. Suggestions are welcome."
Yandex.Mail doesn't have any option to export emails to Outlook.pst file. This file format is only used by MS Outlook to store data.
However, if you want to export Yandex to PST file there are few alternate solution are available. In this tutorial, I will be sharing with you TOP 2 WAYS to CONVERT Yandex.Mail to PST file. Continue reading the article till the end.
Method 1.
Export Yandex Emails to PST Manually – Step by Step Guide
Launch MS Outlook in your system.
Add Yandex.Mail account and let the Outlook sync emails.
Navigate to File>>Import/Export>>Open/Export.
Select Export to a file option and click Next.
Select mailbox folders and click continue.
Choose output location and click Finish.
Done! MS Outlook will export PST from Yandex Mail account.
Drawbacks
There are few drawbacks from this method. Some of them are mentioned below.
No email filter option
MS Outlook installation is required
Time-consuming
Method 2.
Convert Yandex to PST – One-Click Solution
Download and Install Advik Yandex Backup Tool in your Windows machine. This software will export Yandex mailbox to PST file safely. The best thing is you don't have to install Microsoft Outlook on your system. The software will take care of it. Below are the key features of the tool that makes it unique from other utilities.
Note: Setup application Password from Yandex Access Settings. Use that OTP to sign into the software.

Steps to Export Yandex Mail to PST for Outlook 2019;
Step 1. Run Advik Yandex Backup tool and Sign in.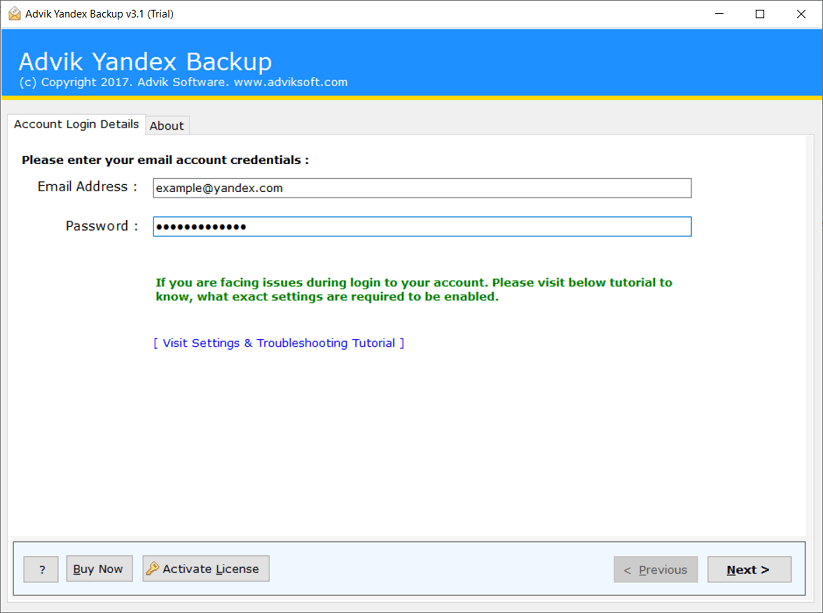 Step 2. Select mailbox folders to export.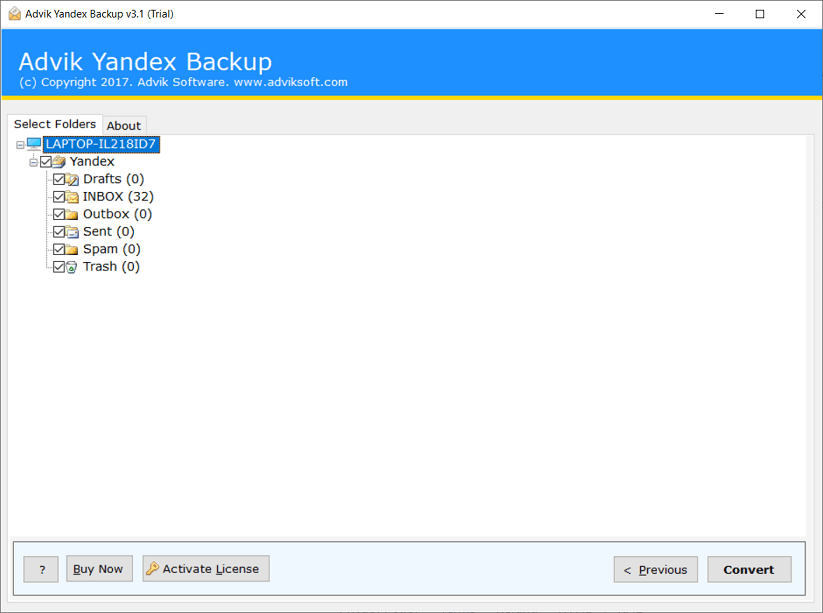 Step 3. Choose PST from saving option.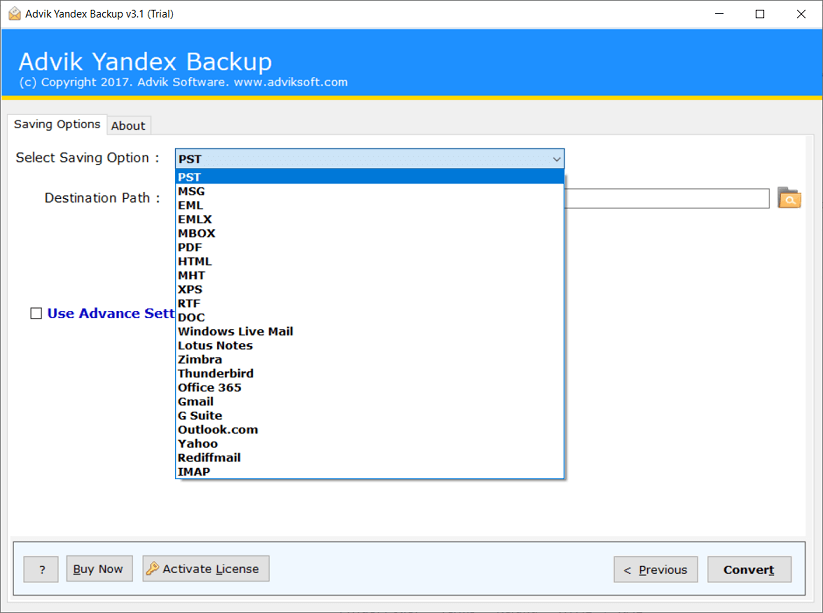 Step 4. Select output target location to save PST file.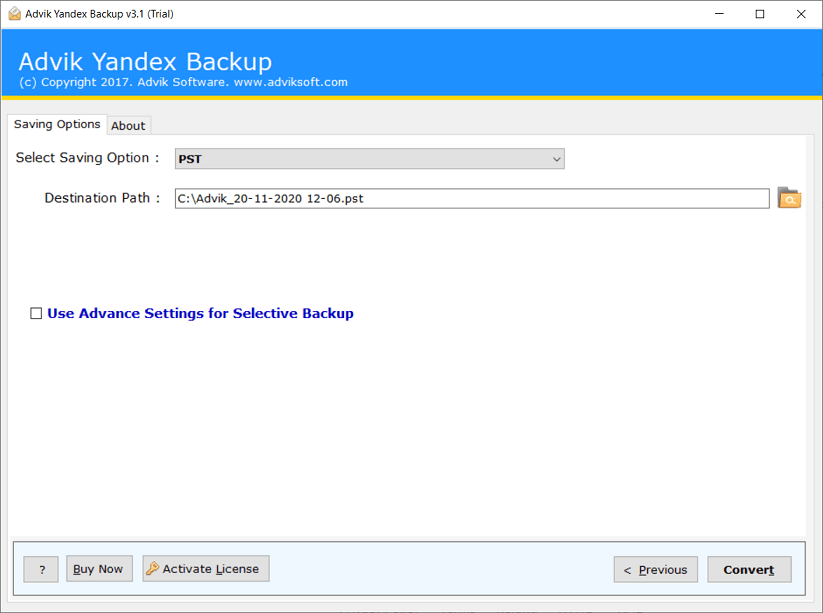 Step 5. Now, apply email filters if required and click Convert button.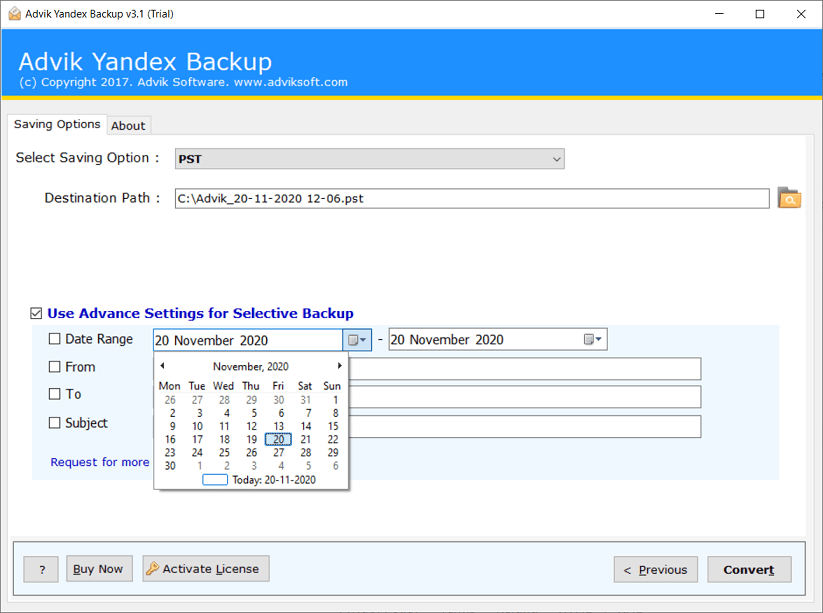 Finished! This is how you can export Yandex to PST file without Outlook. No manual configuration is required.
Now you can see how easy it was to use this tool in a few simple steps. We will go through this video tutorial to understand it better.
Download this Yandex to Outlook Converter and and give it a try!

Why Choose Yandex to Outlook Converter?
Export PST from Yandex Mail Business/Domain account
Maintain mailbox folder hierarchy and key elements
Advance Email filter option to export specific email folders
Lifetime validity with unlimited access
Import Yandex to Gmail, Office 365, G Suite, Yahoo, etc
Final Words
There are various alternate tricks are available but for expert solutions, I would recommend choosing Advik Yandex to PST Converter. This tool is the best way to export Yandex Emails to PST file for Outlook 2019, 2016, 2013, 2001 versions. Meanwhile, the automation solution will minimise your efforts and time.