How to Migrate Yandex to Gmail Account | 2 Solutions
If you want to Import Yandex Mail to Gmail account, then you landed on the right page. In this article, you will be able to perform safe Yandex to Gmail migration without any assistance. In this article, we provided you two different methods to Migrate emails from Yandex Mail to Gmail account.
Yandex Mail is a web-based email service provided by Yandex.  It is a Russian Multinational Corporation specializing in internet-related products. Yandex Mail is loaded with many features such as better attachment management, modern interface, better contact management, better aliases management, etc.
On the other hand, Gmail is one of the most used email services worldwide. Gmail started its service on 24th April 2004. It is designed and developed by Google. Some of the best features of Gmail are, Schedule emails, better security, better management of emails and contacts, send a large file through Google drive link, etc.
Migrating from Yandex to Gmail seems to be a tough task. But in this blog, we share the exact steps to do the same. In the first method, we learn the process of Yandex to Gmail Migration using Gmail's feature of importing account. And in the second method, we learn to transfer emails using Third-party applications. So let's get started.
---
Method 1. Import Yandex to Gmail Manually
You need to follow these simple steps to migrate emails from Yandex Mail to Gmail account.
Step 1. Login into Gmail account and press the gear icon on the top right corner.
Step 2. Click on a setting menu.
Step 3. In the setting tab, select Account and Import.
Step 4. Click on "Import Mail and Contacts".
Step 5. In a new tab enter your Yandex login details.
Step 6. Select the items that you want to import.
Step 7. Hit the done button and then wait for the completion of the operation.
Limitations
Completion of this task may take up to 2 days depending upon the size and number of emails. This method imports only the Inbox folder.
If you want to import complete mailbox data then you can opt for the second method.
---
Method 2. Migrate Yandex Email to Gmail – Automatic Approach
Advik Yandex Backup Tool is one of the best tool to migrate emails from Yandex Mail to Gmail. Using this method you will be able to Export Inbox, Sent Mails, Drafts, Trash, Spam, and any other folder created by users. The interface of this software is very simple, anyone with a basic knowledge of computer can easily migrate emails from Yandex to Gmail account. There is no limitation involved in this method.
Note:

*Enable Less Secure Apps and IMAP from Gmail Security Settings

*Enable Third Party Access and Generate One Time Password in Yandex.Mail Settings
Steps to Import Yandex Mail to Gmail Account;
Step 1. Launch Advik Yandex backup Tool.
Step 2. Enter Yandex email address and App Password to Sign in.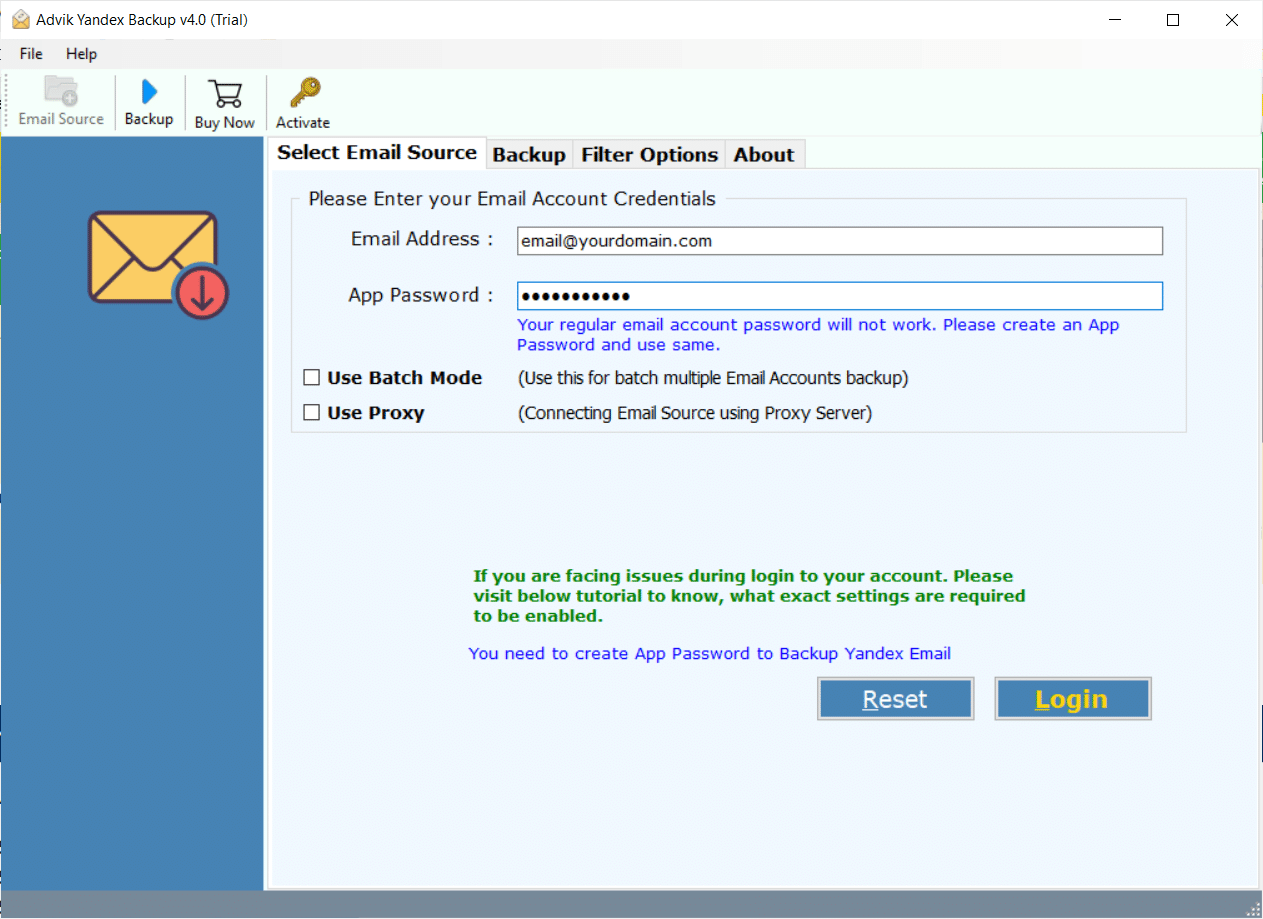 Step 3. Select the desired mailbox folder that you want to export.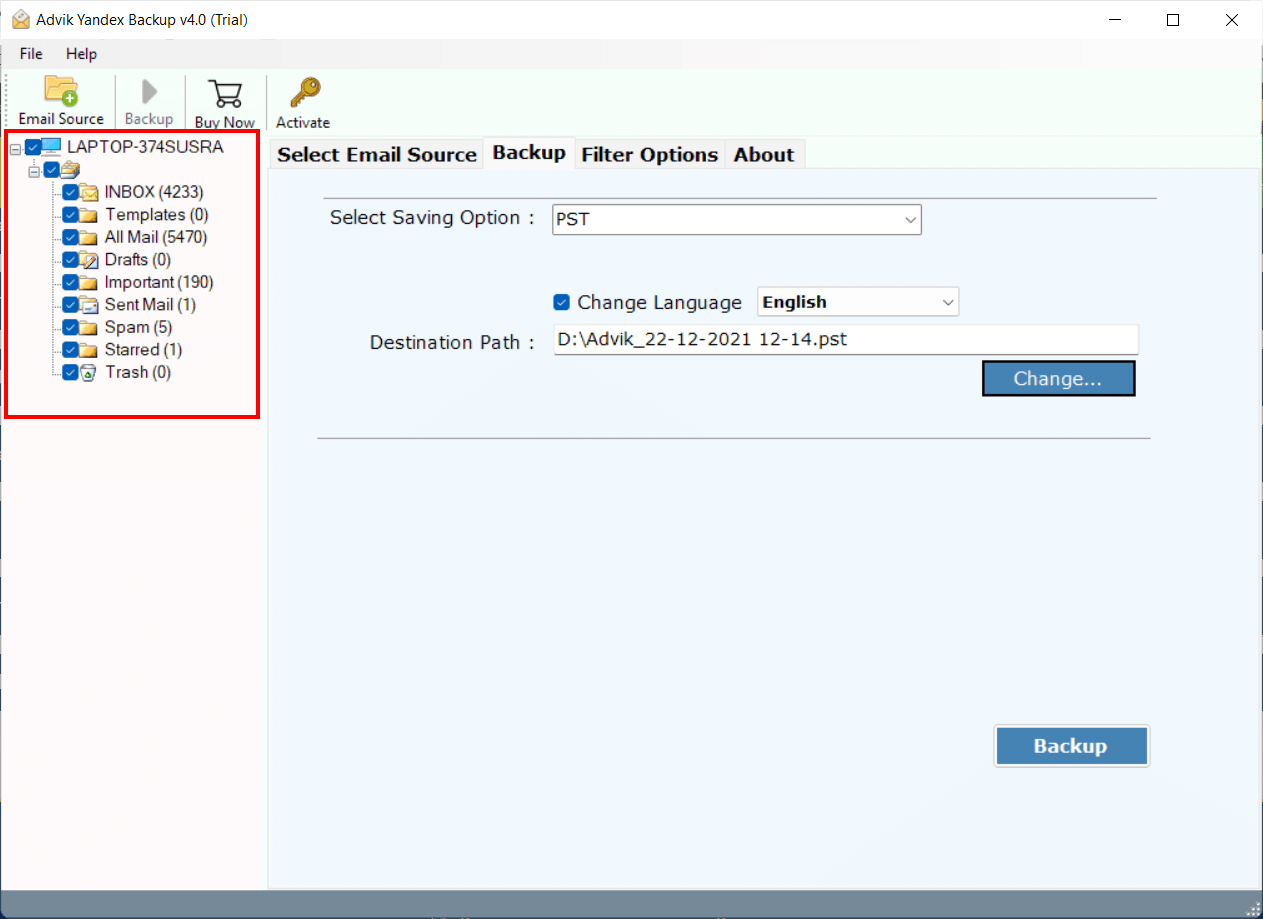 Step 4. From multiple saving list, select Gmail as a saving option.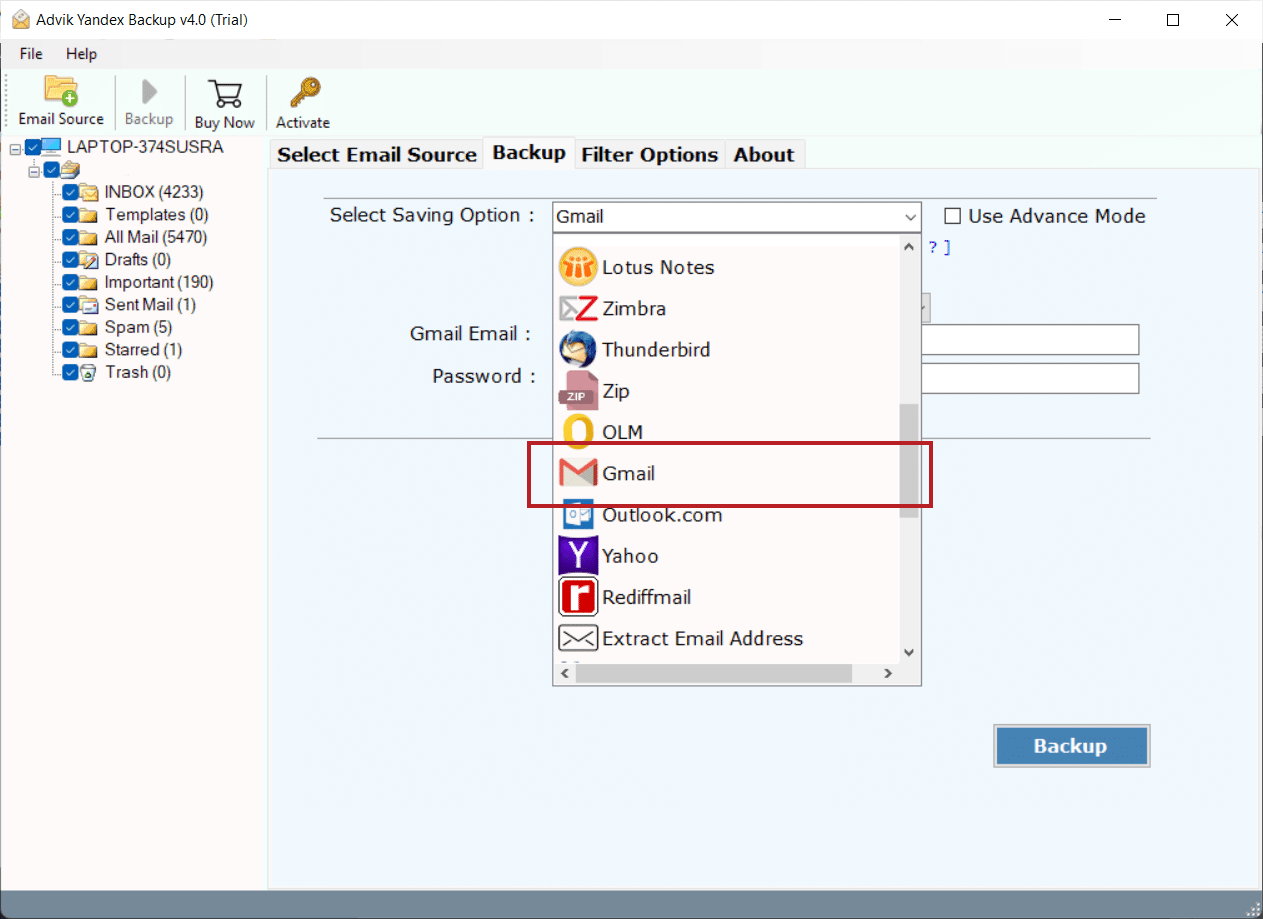 Step 5. Enter Gmail or G suite login details and hit the Backup button.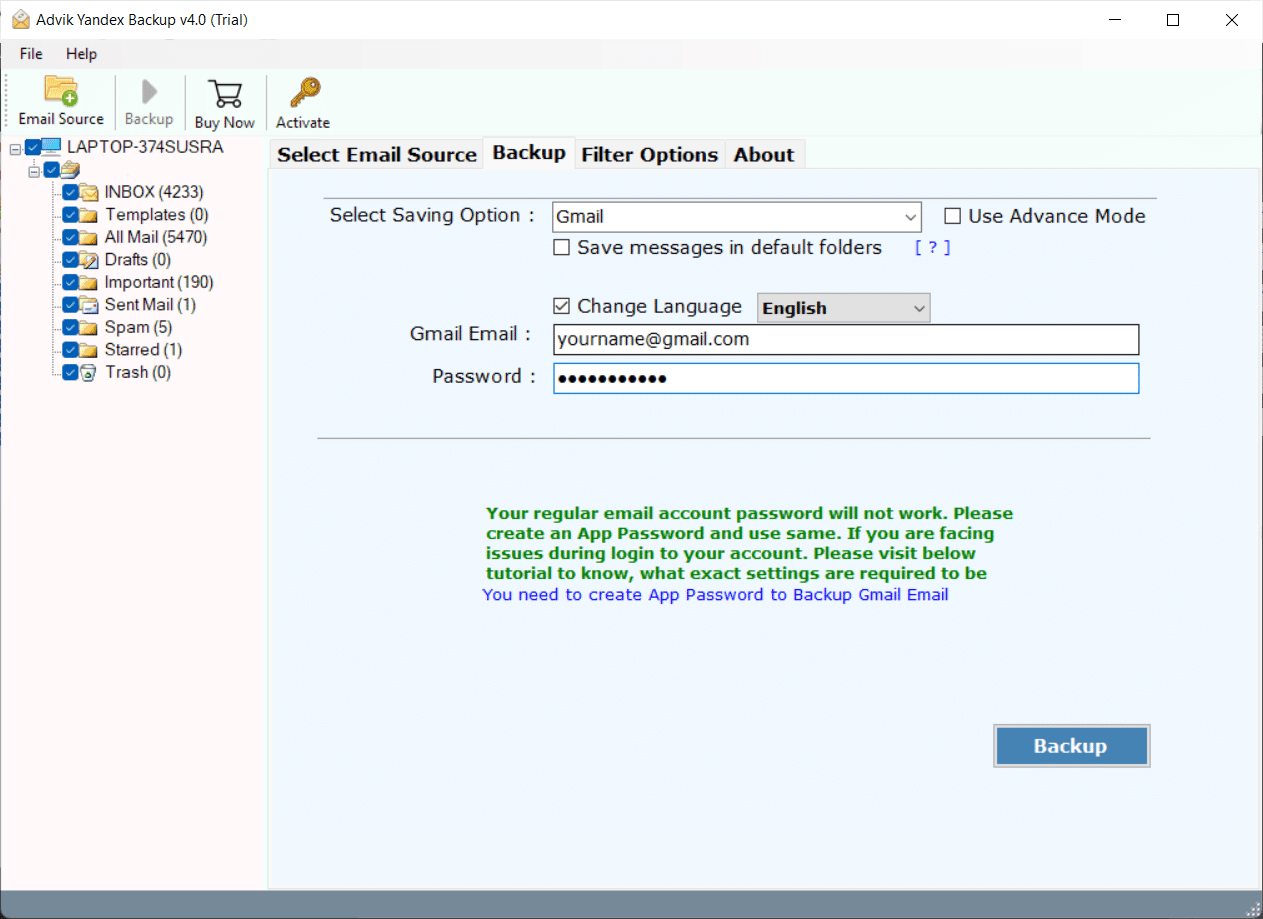 This is how you can migrate emails from Yandex to G Suite or Gmail in an easy manner.
---
Reasons to choose Advik Software.
There are many reasons to choose for Advik Yandex to Gmail Migration tool. Some of them are as follows;
Maintain Folder Structure; The folder and sub-folder structure of email remain the same during the process of Yandex to Gmail Migration. So that it will be easy to navigate emails after the migration.
Preserve Key Elements; All the key elements of emails such as "to", "from", "Cc", "Bcc", "Footer info", "embed image", etc remains same. The layout of the email also remains intact during Yandex to G Suite Migration.
Multiple Output Format; You can use this software to download the backup of Yandex mail into multiple formats such as Yandex to PST, MSG, EML, MBOX, PDF, HTML, MHT, XPS, RTF, DOC, etc.
Cloud Migration; Apart from Yandex to Gmail Migration, this software can easily migrate emails from Yandex to G Suite, Office 365, Yahoo Mail, another Yandex Mail account or another cloud-based email service that uses IMAP protocol.
Support Windows OS; You can install this software on almost all versions of Windows OS including Windows 10, Windows 8, Windows 7, Windows Vista, and Windows XP.
Free Demo Download; Download the best Yandex to Gmail Migration software for free to test the efficiency and working of the tool. Hit the button below to download for free.

Dedicated Customer Support; In case you stuck somewhere while migrating emails from Yandex to Gmail, you can contact our customer support for further help.

You can also solve some of the queries given below using this method.
"Can I Transfer Yandex emails to Gmail Instantly?"
"How to import emails from Yandex to G Suite account?"
"Suggest me the easiest way to Import Yandex Mail to Gmail account?"
"Where can I get the best Yandex to Gmail Migration Step by Step Guide?"