[Solved] How to Extract Calendar from OST file Without Outlook?
If you are searching to export calendar data from OST file then you are landed on the right page. In this article, you will learn to extract calendar from OST file in an easy manner. After extraction, you can easily access your calendar data (such as events and tasks) easily on Outlook, Google calendar or any other calendar services. Before starting this discussion lets take a look at term OST and ICS.
What is OST and ICS File?
OST stands from Outlook Storage Table. The OST file is designed and developed by Microsoft Inc. for MS Outlook. Microsoft Outlook automatically creates Offline Storage Table while working offline. OST file includes emails, contacts, tasks, calendars, events, etc. The default location of the OST file is "%userprofile%\Local Settings\Application Data\Microsoft\Outlook"
ICS stands for Internet Calendaring and Scheduling. ICS file format is also known as iCalendar. This file format allows users to store calendaring and scheduling information such as tasks, events, to-do, journal entries, free/busy information, etc. A Large Number of Products used ICS format for storing Calendar data. These products include Outlook, Google Calendar, Yahoo Calendar, Apple calendar, eM Client, Evolution Mail, SeaMonkey, etc.
How to Export OST Calendar to ICS File
As you saw above the ICS file is supported by a large number of email clients and products. So, after extracting the Calendar from the OST file you can easily import your calendar data in any product that supports ICS format.
For this task, you need to download and install Advik OST Converter. Using this tool, you can easily extract Calendar from OST in ICS format. The interface of this software is very simple and it provides the most accurate conversion. Follow the below steps to export the calendar from OST file.


Steps to Extract Calendar from OST file are as follows;
Step 1. Launch Advik OST Converter Pro Application in your System.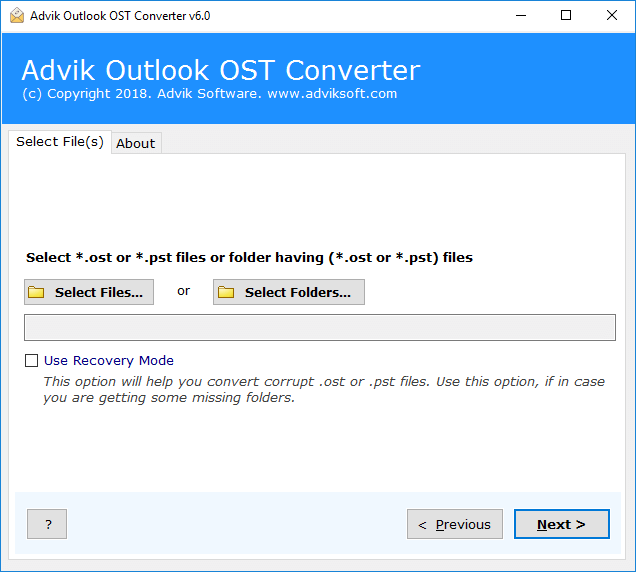 Step 2. Add OST file having calendar data in software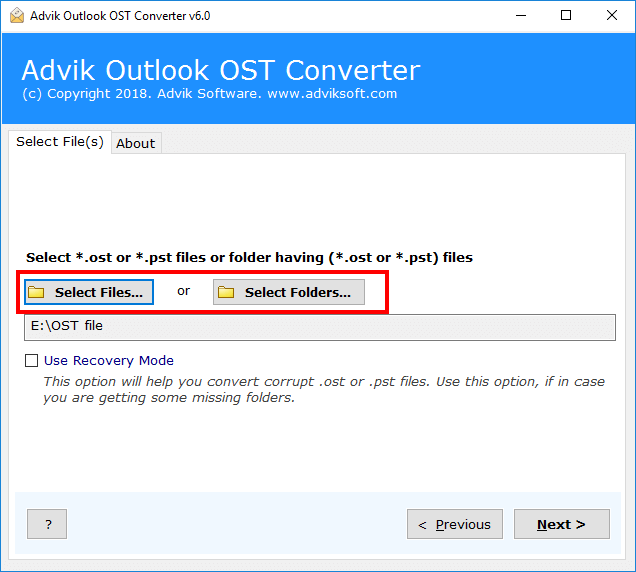 Step 3. Select the mailbox folder with calendar data.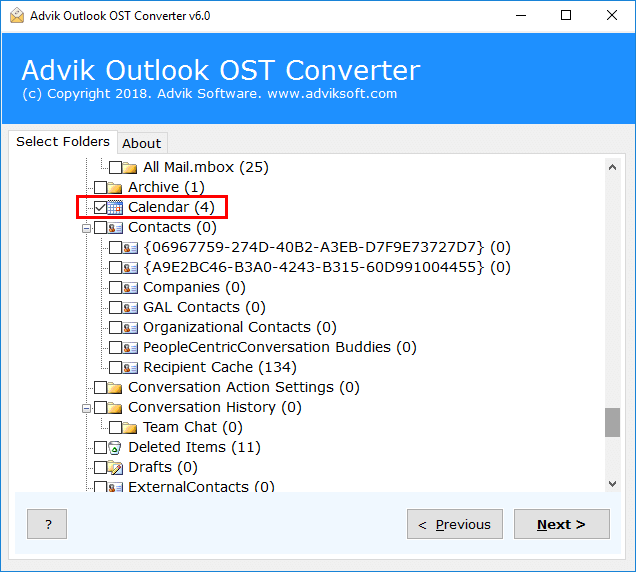 Step 4. Select ICS from multiple Saving Options.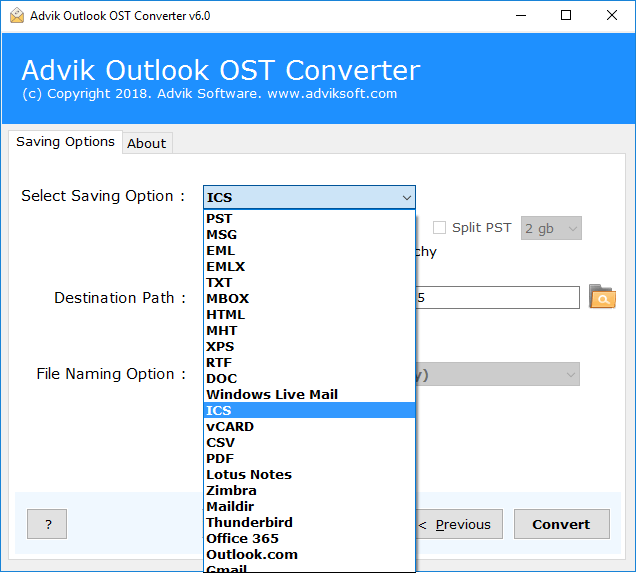 Step 6. Hit the Convert button and analyze the process.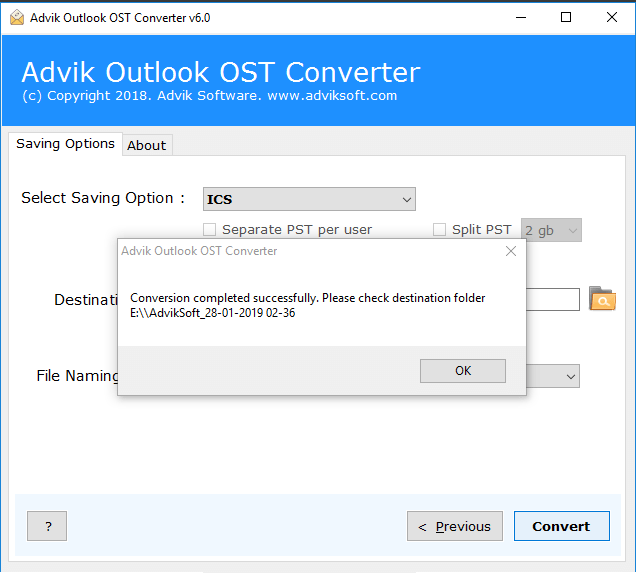 After Conversion hit the okay button and tool will automatically open a folder containing converted data. You can then easily find a file with the .ics extension.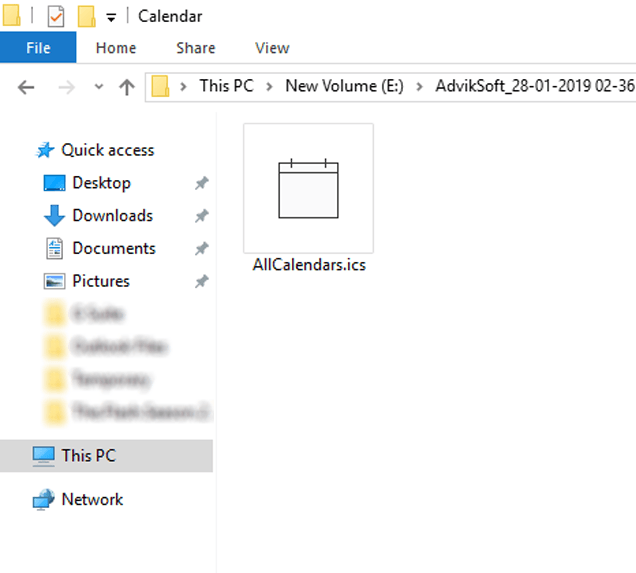 This is the most accurate and relevant solution to import Calendar data from OST file.
Watch Video Tutorial – How to Extract Calendar from OST file?
Let's take a look at some of the best features of this tool…
Why Choose Advik Outlook OST Converter?
There are many reasons to opt for this software to export calendar from OST file. Some of the reasons are as follows;
Powerful and Accurate Conversion: This tool is programmed to provide the most accurate and quick conversion. The tool ensures no data loss during the process OST to ICS Conversion.
Supports Multiple Formats: Apart from OST to ICS Conversion you can use this tool for OST to PST, PDF, EML, MSG, XPS, etc. file formats. You can also import the Ost file into Thunderbird, Zimbra Mail, Windows Live Mail, etc. email client.
Simplest Graphical User Interface: The User interface of the tool is very simple. The tool can convert OST file easily.
Supports All Windows OS: You can easily run this tool on any version of Windows such as Windows 10, Windows 8, Windows 7, Windows XP, etc. Also, you can easily install this tool on both 32-bits as well as 64-bits architecture Machines.
Dedicated Customer Support: In Case you stuck somewhere while using this tool, you can contact our customer support for any help regarding this tool.
Free Demo Download: You can easily check the efficiency of the tool by downloading this software for free. To download OST Converter hit the download button below.

Final Words
Apart from these features, there are more features that can be useful to extract calendar from OST file format. This proves the worth of Advik OST Converter and makes it the best software to convert OST emails into multiple formats. If you still have any queries related to this article feel free to chat with our customer support executives or email us at support@adviksoft.com.