How to Export Thunderbird Emails to PDF Files in Bulk?
Summary: In today's modern era, many people desire to save Thunderbird emails to PDF with attachments. As PDF file is supported by almost every Windows OS and also it is simple and easy to share and edit PDF files. Users can quickly and simply print Thunderbird email messages. In this blog, we have covered the three easiest and simplest solutions to bulk export Thunderbird emails to PDF format.
Since PDF format is well preferred to print Thunderbird emails to PDF without losing crucial information. This article outlines both manual and automatic methods for exporting numerous Thunderbird emails to PDF. To convert Thunderbird emails to PDF in bulk, one can choose from one of the available solutions.
Table of Content
Introduction
Mozilla Thunderbird is a free and open-source cross-platform email client, personal information manager, news client, RSS, and chat client developed by the Mozilla Foundation. This email client is the world's second most popular desktop-based email application after Microsoft Outlook. It offers email, contact, calendar, journal, etc useful services free of cost.
The email client allows you to save email messages in various file formats like eml, html, csv, and pdf also. Aprt from this let's find how many solutions are available to export Thunderbird mbox to pdf.
Solutions Available to Export Thunderbird Emails to PDF
Currently, there are three methods available in which you can copy emails from Thunderbird to PDF file along with attachments. One is manual and another is automation i.e. software. In the below article, we will be discussing these two ways to print Thunderbird email as PDF.
Note: Both the solutions have been tested and practically executed. You can choose whichever solution you like without any second thought.
Method 1. How to Convert Thunderbird to PDF Manually?
1. Launch Mozilla Thunderbird on your computer or laptop.
2. Open the email which you want to save or download to .pdf.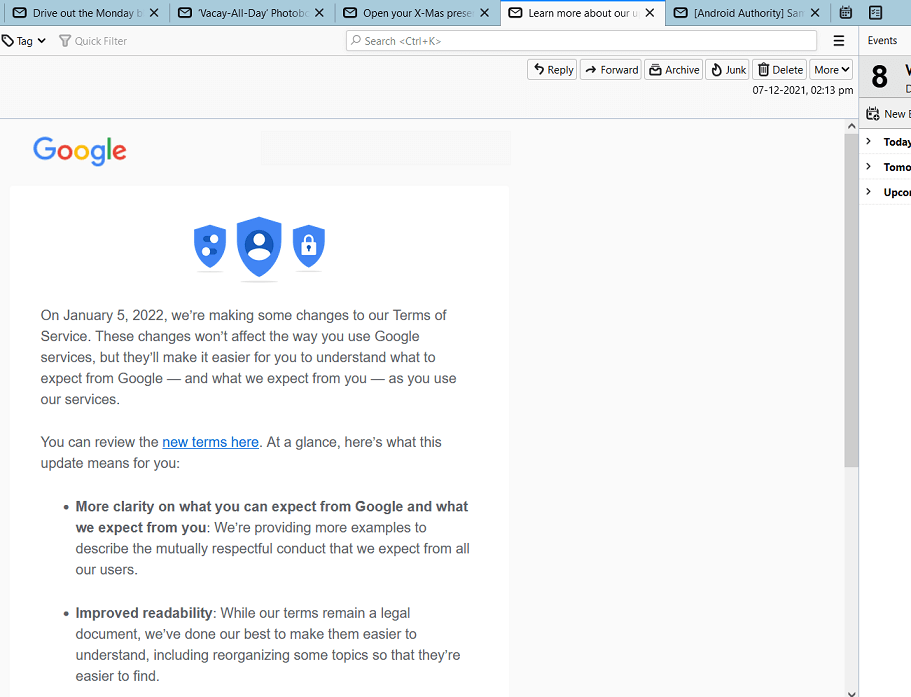 3. Click on the more button and select the "Print" option.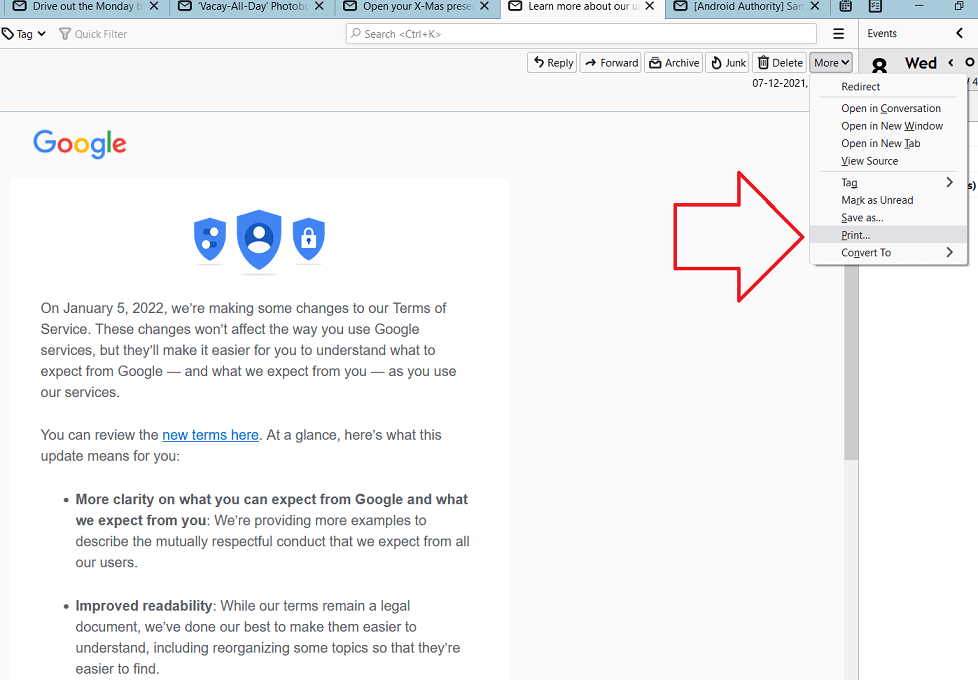 4. A pop up window will appear, choose PDF as saving option and click Save.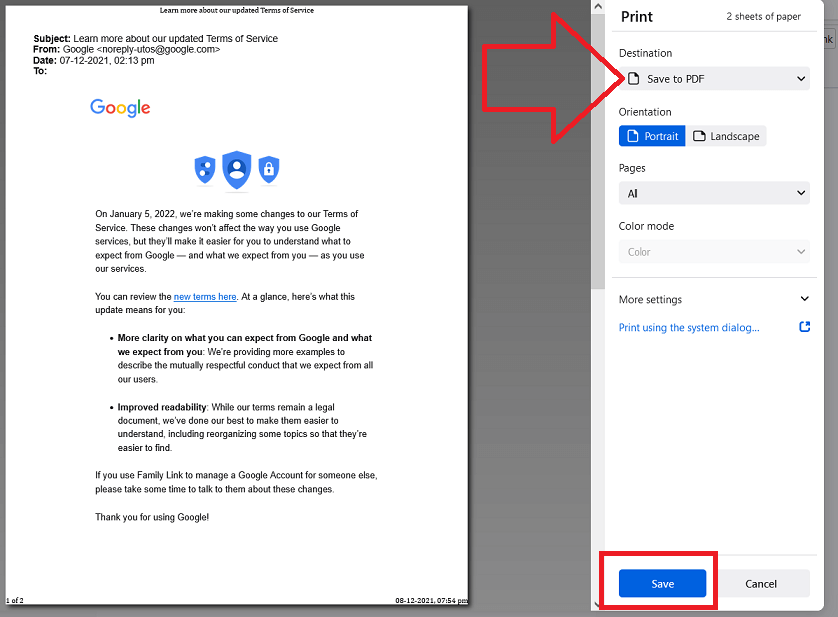 Your email will be saved as .pdf file to you local system.
Challanges You Will Face With this Solution
Time consuming process
No option to download multiple emails at once
Risk of data loss i.e. attachments
Method 2. Reliable and Effortless Solution to Convert Thunderbird Emails to PDF Files
Using a professional Advik EML Converter solution gives you a lot of advantages over a manual solution. The reason is that offers a direct option to export Thunderbird emails to PDF files. If you have EML files as a Thunderbird email then you must try this approach to convert Thunderbird emails to PDF with attachments.

Moreover, it allows you to convert EML to PDF in just 5 simple steps. You also get multiple advanced features to export EML to PDF files as per your choice.
Working Steps to Bulk Export Thunderbird Email Messages in PDF
Follow step-by-step solution to easily bulk convert Thunderbird emails to PDF format-
Step 1. Install and Run EML to PDF Converter software on your Windows PC.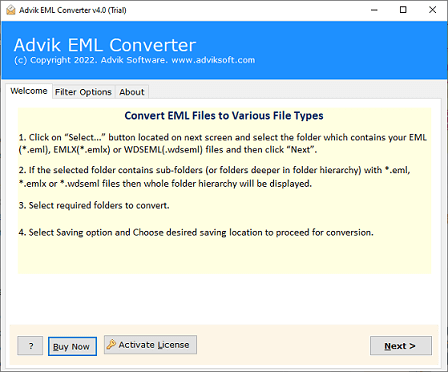 Step 2. After that, Tap on the "Select File or Select Folder" option to upload Thunderbird email files (EML) to the software interface.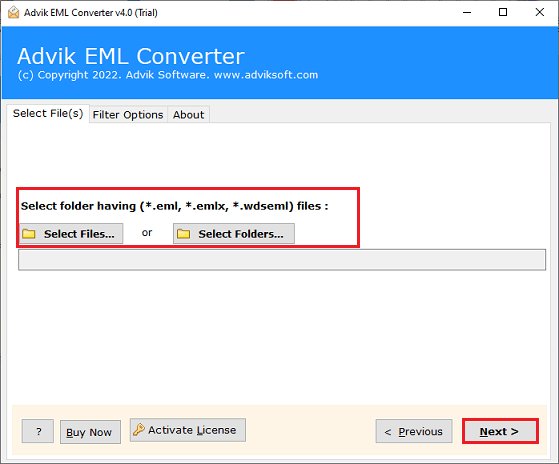 Step 3. After loading EML files, you will get a smart preview of the EML mailbox. Choose the required files or folders that you wish to convert into PDF files.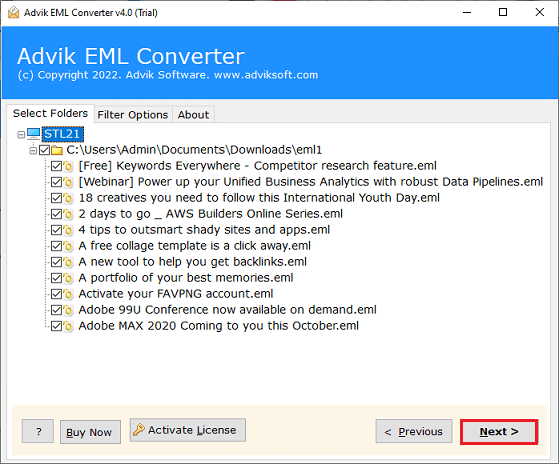 Step 4. Thereafter, navigate to saving options and select "PDF" as a file format from the list of multiple options.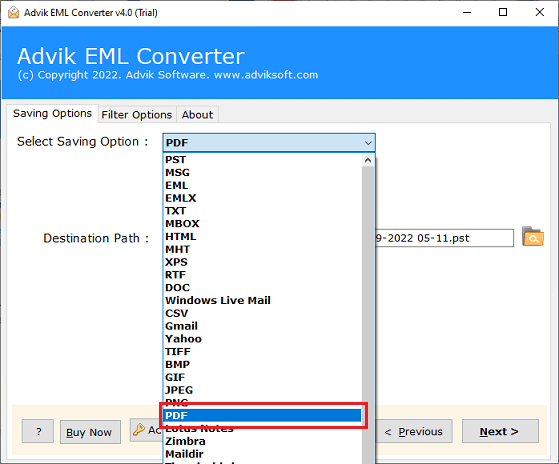 Step 5. Choose the desired location to save the resultant data file.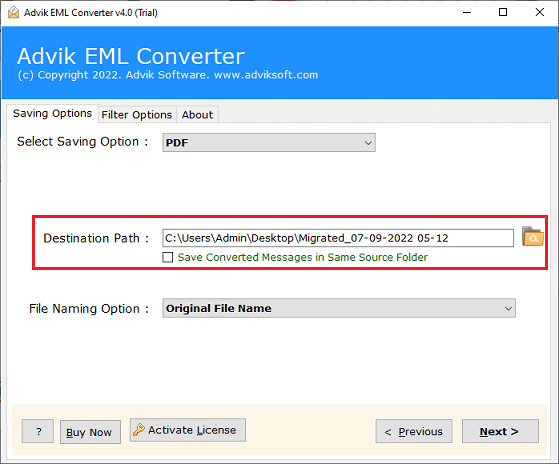 Step 6. Finally, tap on the "Convert" button to start EML to PDF conversion process.
The software will complete the whole conversion process within a few seconds.
Method 3. Easy Way to Export Thunderbird Emails to PDF in Bulk
Free download Thunderbird to PDF Converter on your Windows PC. This wonderful utility will help you to print, extract, convert, or export Thunderbird emails to PDF in bulk. Yes, the tool is compatible to convert the entire Thunderbird folder to .pdf files without any data loss.
Highlights Features of this software
Support .mbox file of Thunderbird 91, 78, 68, and earlier versions.
Convert mbox to pdf, eml, msg, doc, html, txt, etc file formats
Maintain folder and subfolder hierarchy and email attributes
Export multiple emails to PDF in a single attempt
and many more

Steps to convert Thunderbird to PDF with attachments are;
Step 1. Run Thunderbird to PDF Converter tool.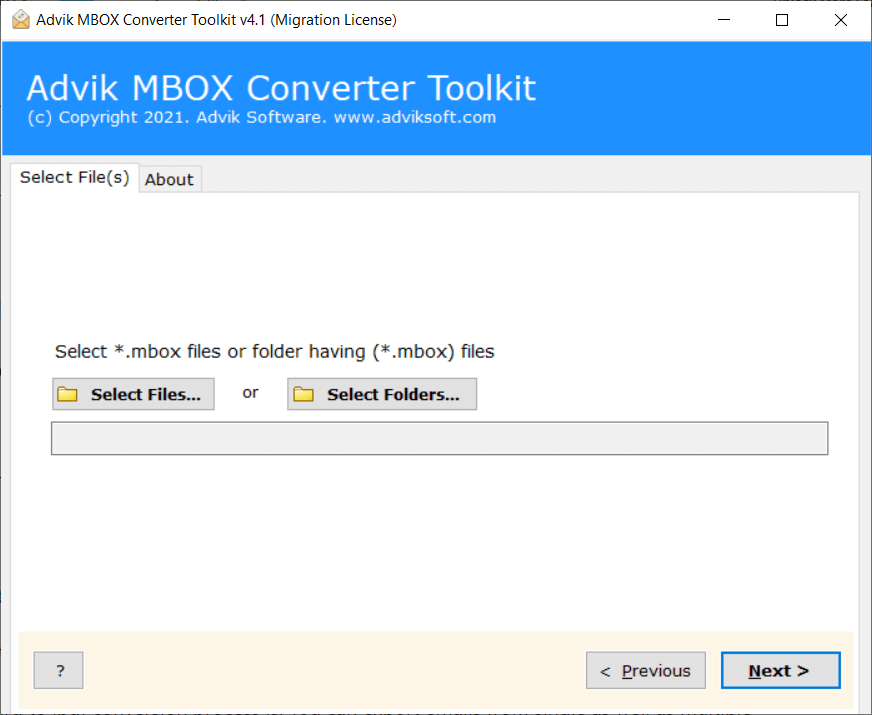 Step 2. Click "Add File" and add Thunderbird .mbox file.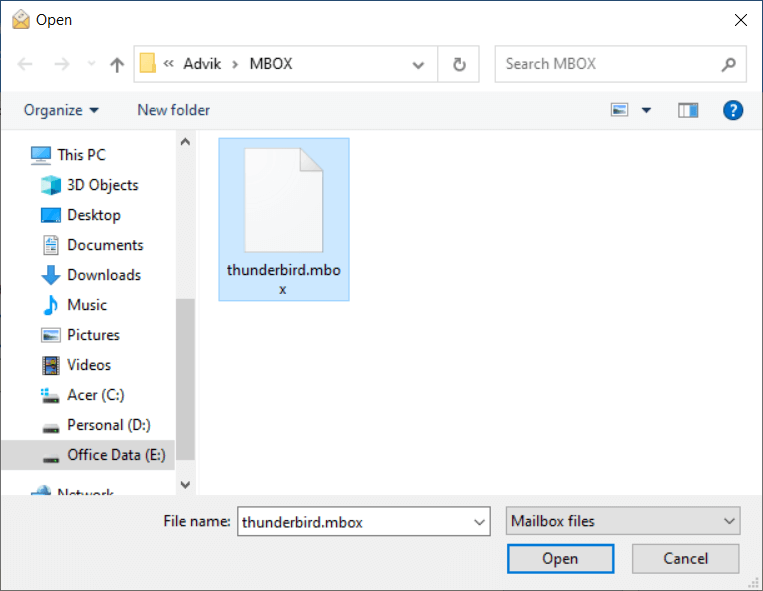 Step 3. Choose PDF as saving option from the list.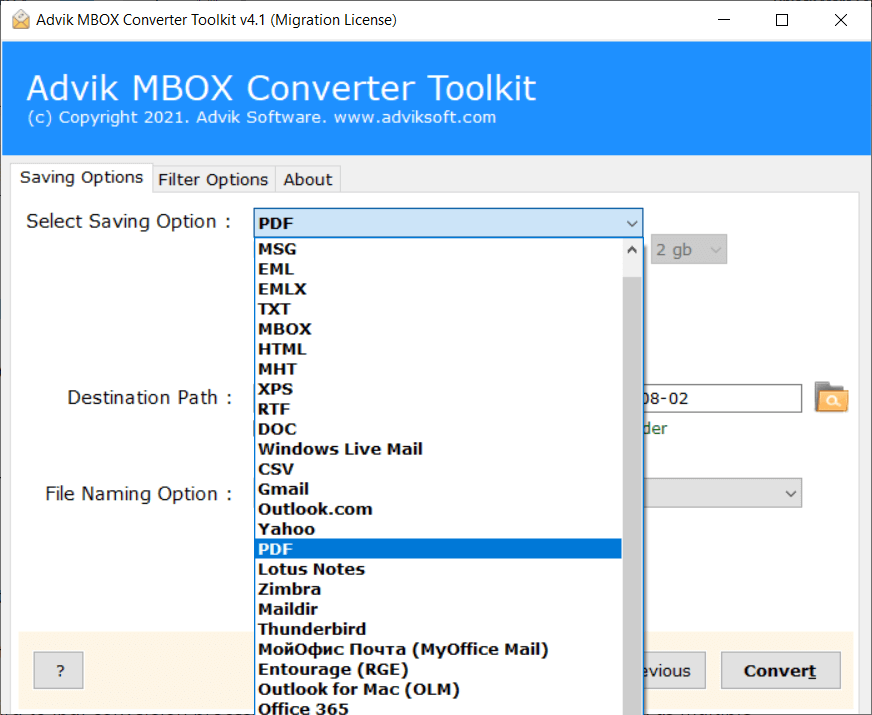 Step 4. Select output target location to save resultant files.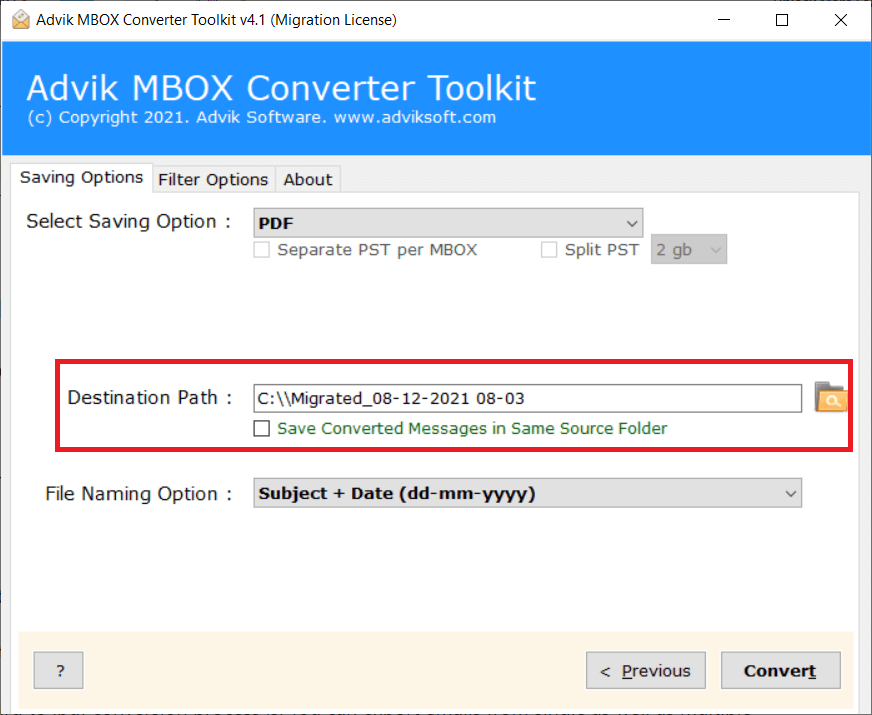 Step 5. Click Convert button to start conversion process.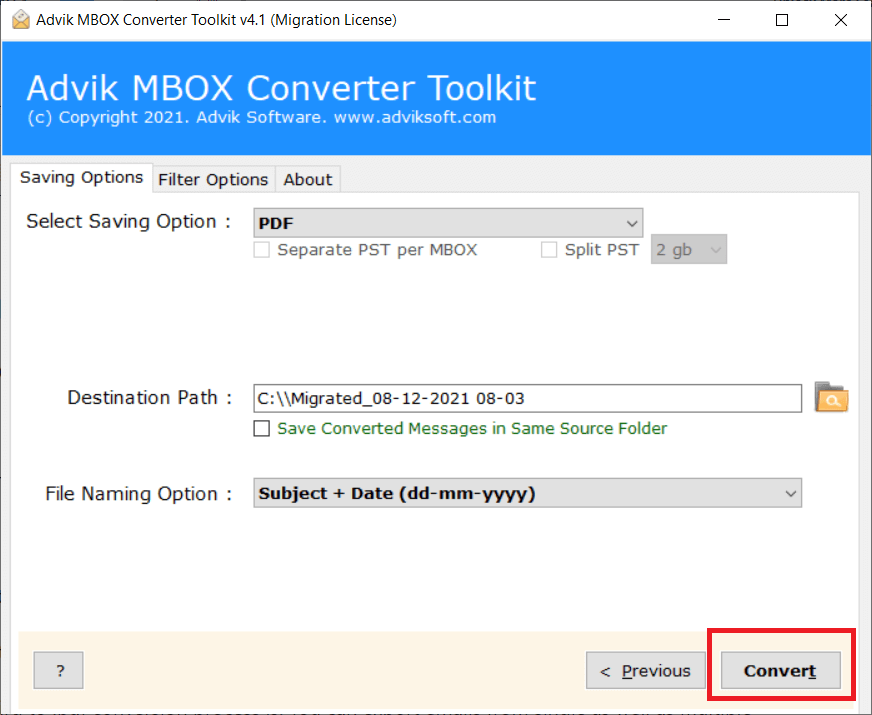 This is how simple the Thunderbird to .pdf conversion process is. You can export emails from single as well as multiple email folders in one fell swoop.
Conclusion
Despite knowing the fact that manual technique is very simple and easy to perform. However, if you want to export multiple emails, you need to opt for Advik MBOX Converter. As the software will help you to convert entire mailbox folders to .pdf files without losing any information. Download for free and convert 25 emails into the trial version.