[Solved] How to Export Thunderbird Emails to PST File?
Summary: Want to Convert Thunderbird emails to PST File? Unless you have find a quick and easy approach it is a challenge for you. In this blog, we will explore the best methods to Export Thunderbird to PST format. It speaks about both manual and software approaches to execute this conversion process. However, it also recommends one of the most dependable and reliable solution to convert thunderbird emails to PST.
Mozilla Thunderbird is an open-source email client that uses the MBOX file format to store emails and other mailbox items.
Microsoft Outlook, on the other hand, does not support the MBOX file format. As a result, if you want to export Thunderbird emails to Outlook, you'll need to convert Thunderbird to PST file.
PST, also known as Personal Storage Table which is an Outlook data file that can be imported into any Outlook account on Windows or Mac. It's the most precise and consistent way to export Thunderbird emails and other mailbox items to Outlook.
Reasons to Export Thunderbird to PST File Format
The export Thunderbird to Outlook data file is required for a variety of reasons. The same has been elaborated in the paragraph below:
Thunderbird is lacking in enterprise-level features and customer service.
Tasks and schedules are not available in Thunderbird.
Unlike Outlook PST, Thunderbird does not have a calendar integration or the ability to group contacts.
If you want to view Thunderbird message threads, you'll have to go through a long setup or procedure. This isn't the case with Outlook, either.
Despite the fact that Thunderbird supports a variety of platforms, the reasons listed above compel most, if not all, users to export emails from Thunderbird to PST Data File.
The decision of switching from one email client to another is not at all easy, especially for business owners. The fear is that their day-to-day operation associated with it may hindrance and the migration process can result in losing saved contacts and messages. The Big reason is both these email client supports different file formats. Outlook support PST File format while Thunderbird stores data file in MBOX.
Therefore, whatever the reason is, a user needs to convert Thunderbird emails to PST data file to export Thunderbird emails to PST without Outlook.
How to Convert Thunderbird Emails to PST File?
As Thunderbird does not have a native conversion feature to export Thunderbird to PST, but it lets the user to download the Thunderbird emails in MBOX format.
In this section, you will see two parts in which you will convert thunderbird emails to PST file along with step-by-step instructions.
Part 1
The steps to Save Thunderbird folder to PST are as follows;
1. First of all, Run Mozilla Thunderbird on your PC, and click on the Drop-down menu bar.
2. Choose "Add-ons" from the drop-down menu.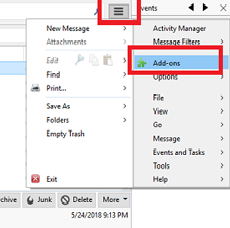 3. In Add-ons windows, choose "Up-Coming" option.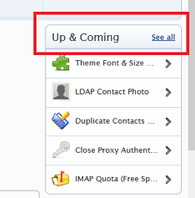 4. Now, in the search bar, look for the "ImportExportTools" Plugin and add it to Thunderbird. After this, re-open the thunderbird application.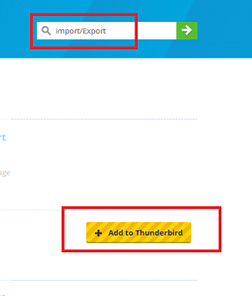 5. Now, Choose folder and right click on it. Select "ImportExportTools">>"Export Folder" as shown in the screenshot.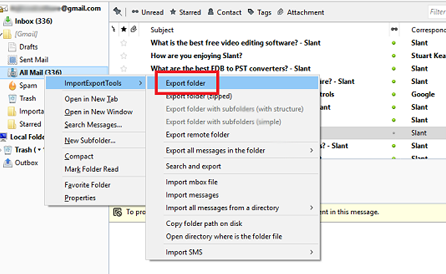 6. Browse and select location to save emails from Thunderbird and Click "Select Folder" button.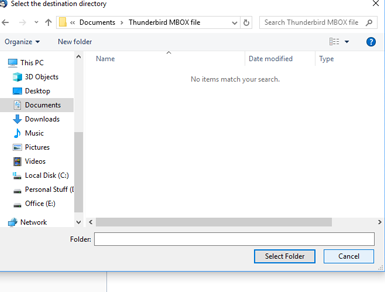 7. Now, Go to the destination path and check file with .mbox extension.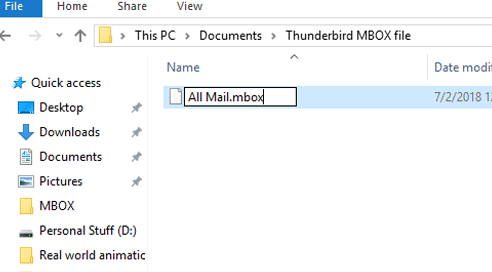 This is how you can export Thunderbird to MBOX file. Now, you need to convert this file into .pst format. Continue with Part 2 for further solution.
Part 2
Now Convert Thunderbird MBOX to PST
An advanced data conversion tool to export Thunderbird to PST with Advik MBOX Converter. This smart application has been provided to work safely with any file size. You can upload an unlimited number of Thunderbird emails to this software with utmost ease. This tool also provides a Self-explanatory interface to perform its easiest steps. with this tool, you can expediently export thunderbird to PST file effortlessly. Once converted, these files can easily be imported as well as opened in Outlook.
One can easily export Thunderbird emails to PST data files with or without look using this standalone solution. There is not even a single doubt to trust the efficiency and effectiveness of this tool. You can effortlessly convert MBOX to PST file using this tool. Hence, we always believe in providing a powerful solution to our users that is very easy and simple to use.
1. Install and launch Advik MBOX Converter in your system.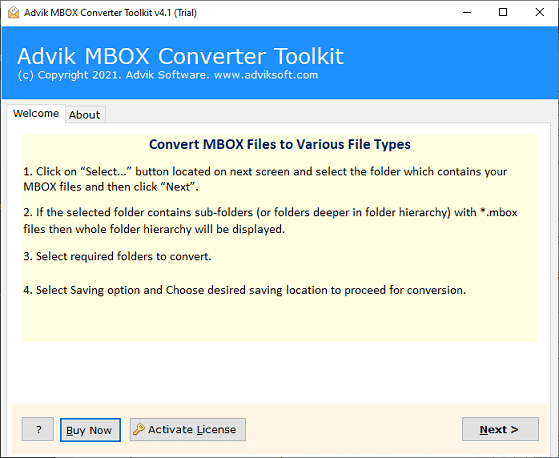 2. Now click "Select Folder or Select Files" to upload MBOX files to the software.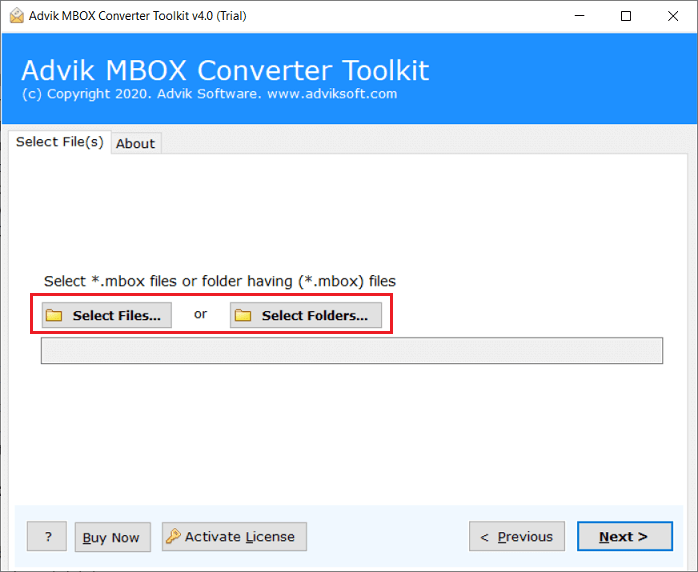 3. You can view Thunderbird mailbox folders in the software window, select required mailbox folders and click "Next" button to continue.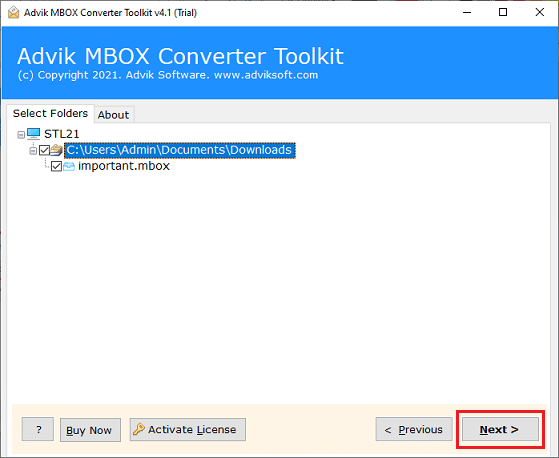 4. Select "PST" as a saving option from the multiple options list.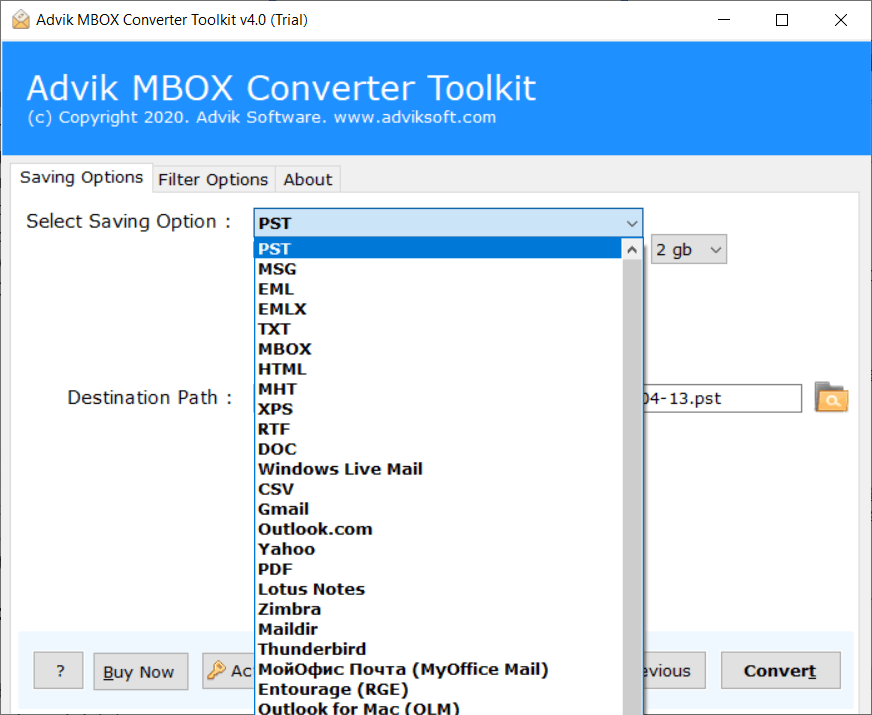 5. Select the destination path to save the resulting Outlook data file to the location you choose.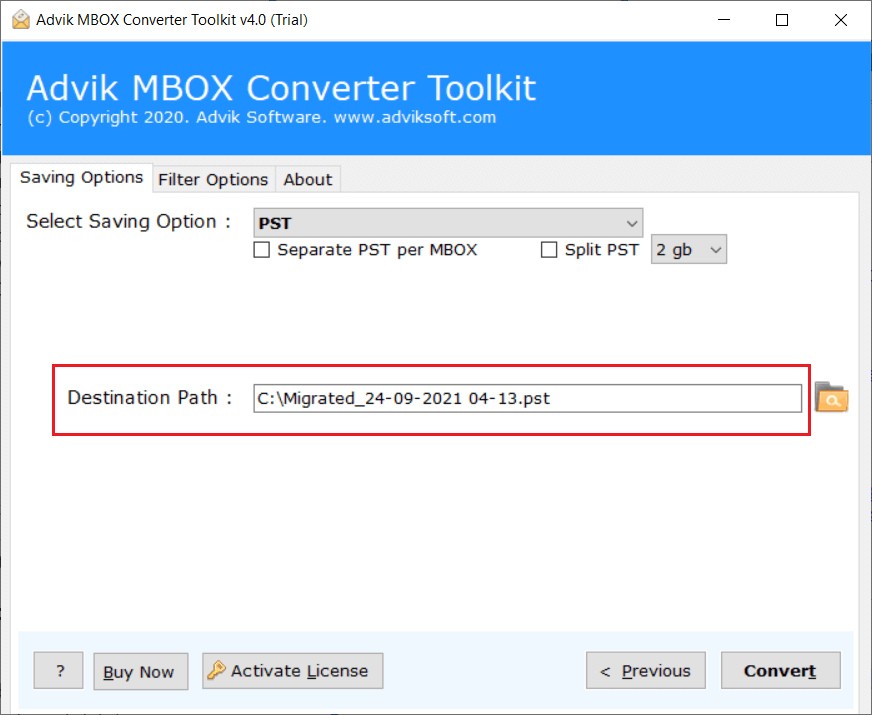 6. Click "Convert" button to start MBOX to PST conversion.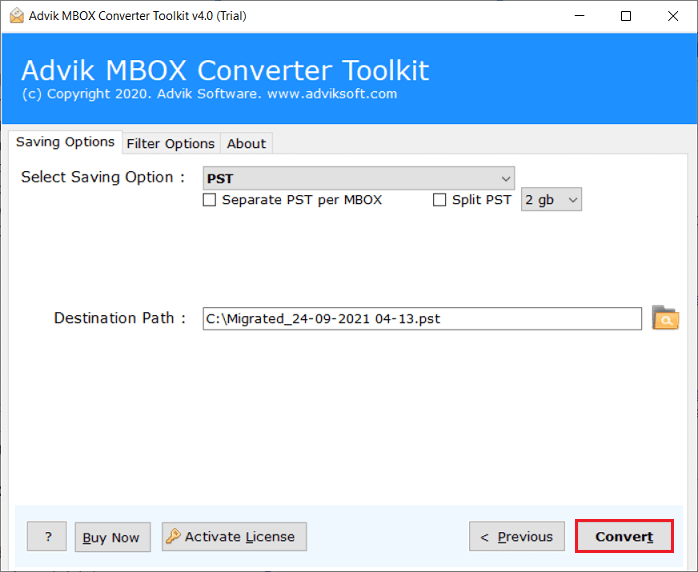 Wait a while, this tool will start converting Thunderbird emails to PST data file.
After completing this task, you will get the resulting data file on the destination path you chose.
Prominent Features of Thunderbird to PST Converter
The application proves to be the best and most powerful utility for converting selective or multiple Thunderbird emails to PST data file.
Provides an option to export multiple Thunderbird emails.
Convert Thunderbird to PST with all components
Two dual options to upload multiple Thunderbird emails.
Maintains Folder-hierarchy during the export process.
Preserves Email Properties and other meta properties of emails.
Supports all types of MBOX files whether it is orphan or associated with any email client.
Advanced email filter options for selective email conversion
Self-explanatory GUI to easily understand and execute the process.
Final Words
Thunderbird and Outlook are entirely different from each other. So, you need to choose a tool that can effectively handle all of your data safely. In this present blog, we have tried our best to provide a solution that will assist you to export Thunderbird to PST. Advik MBOX to PST Converter is one of the best tools to get the intended results. You can download the free version of this tool to try its efficiency and effectiveness of this tool.