How to Convert SeaMonkey Mailbox to PST File?
Quick Overview: In this article, we will focus on methods for transferring data between two widely used email services: Seamonkey and MS Outlook. So, we will provide a useful way to convert emails from SeaMonkey to PST file.
In today's time for communication purposes, emails are widely used by many users. In, email clients play a crucial role in facilitating billions of emails daily, from organizations to employees, clients to administrators, and many more. Users prefer email applications due to their immediate services, documentation, etc.
However, if a user is not satisfied with their mail client's services, they may wish to transfer their data to another email application with smarter features.
Reasons to Convert SeaMonkey to PST File
In this section, we will explore some basic reasons why users need to export SeaMonkey emails to PST file format.
Although SeaMonkey has a user-friendly interface and is a lightweight application, it may slow down during the synchronization process compared to other email clients.
Since SeaMonkey has not released any new versions since its introduction, it is now considered an outdated email program.
It is also no longer a popular choice, and many users prefer to convert their emails from SeaMonkey to PST to overcome this issue.
Microsoft Outlook provides additional features to simplify communication, such as direct connectivity with the Exchange server for extensive search, and a variety of themes, including dark themes for all users.
It offers advanced security and flexibility features to its users that are not available in SeaMonkey.
Now, you know the reasons to convert SeaMonkey to PST file. After that, we will move on to learn the easiest solution to achieve this task.
How to Export SeaMonkey Mailbox to PST File in Seconds?
This conversion process is a two-step process that is easy to implement. Just follow each step strictly to get desired results.
Step 1. Export Mailbox from SeaMonkey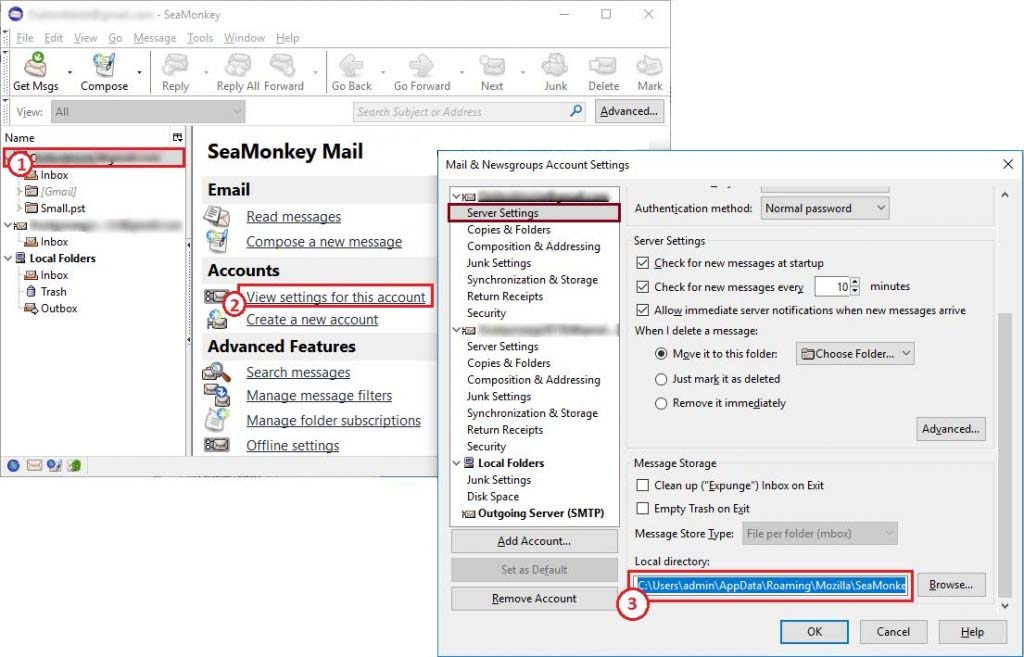 To find the MBOX files in the SeaMonkey email client, follow these steps:
Launch the SeaMonkey email client on your system.
Choose and click on the email account you want to access.
Click on "View settings for this account" under Accounts.
Then, in a new tab, select "Server Settings" and press the OK button.
Now, go to the "Local directory" path and get MBOX files in this directory.
After locating the SeaMonkey mailbox, the next step is to convert the Seamonkey folder to PST file format. To know more, proceed with the next section.
Step 2. Convert SeaMonkey Emails to PST File
Advik MBOX to PST Converter is an excellent program that was specially launched to convert SeaMonkey mailbox to PST file format. It is fully automatic software that can easily convert SeaMonkey to PST file.
Moreover, it is capable enough to export mailbox files to various other file formats such as that you can convert MBOX to EML, PDF, MSG, PST, DOC, CSV, HTML, MHT, etc. Also, it offers various Advanced email filter options for converting specific emails only.
Free Download Automated Solution to Convert SeaMonkey Emails to PST File Instantly;
How to Export SeaMonkey to PST within Simple Steps?
Follow the given steps to convert SeaMonkey emails to PST files;
Install and Run this tool on your Windows PC.
Now, choose a way to upload MBOX files into the software panel. i.e., click on the Select Files or Select Folders option.
After that, Choose the required email folders and tap on the Next button.
Then, select PST from the drop-down list of various file formats.
Browse a destination path to save the resultant file and click on the Convert button. format.
Completed Successfully, in this way, you can easily save SeaMonkey emails to PST file.
Features and Benefits of an Automated Tool
This automated solution offers several advanced features that are highly beneficial for converting SeaMonkey to PST file format.
Below are some of the specifications of the software;
Users can convert multiple SeaMonkey files to PST files using the dual-mode feature.
The software creates a UNICODE PST file that is compatible with all the latest versions of MS Outlook, including 2019, 2016, 2013, 2010, 2007, 2003, and others.
With this tool, users can also export SeaMonkey Mail to Thunderbird, Outlook.com, Gmail, Office 365, Zoho Mail, Yandex Mail, etc.
Also, the tool maintains folder hierarchy during the procedure to export SeaMonkey to PST file.
The software allows users to convert SeaMonkey to PST files with all critical details such as inserted attachments, email folders, same message layout, etc.
The software also has a feature to split resultant PST files based on the size of the mailbox file, such as 2 GB, 5 GB, and 10 GB.
Also, this tool is compatible with all the latest versions of Microsoft Windows, including Win 10, Win 8.1, Win 8, Win 7, Win XP, Win Vista, etc., for both 32-bit and 64-bit OS editions.
Final Words
In this article, we have learned an easy way to export the SeaMonkey mailbox to PST format. This can be easily done with the help of an automated program that we have explained in this article. Also, the trial version of this professional software has also been given which lets users convert 25 emails from each folder. Try it and analyze all the features and specifications of this program for free.