How to Export Spicebird Email to PST File? – Full Guide
Desktop email clients are still relevant despite the rise of web email services and it doesn't look like they will be disappearing anytime soon. If you are looking for a way to export Spicebird to PST, it's important to note that Spicebird Mailbox uses the .msf file format, which is not compatible with Microsoft Outlook. Therefore, in order to convert Spicebird emails to PST format, you'll need read this article till the end.
Spicebird is an email client application for managing emails and was developed by Synovial, an Indian company. It was free software that could handle multiple SMTP/IMAP accounts.
However, the application is now discontinued. That's why users are looking for other popular email clients.
Microsoft Outlook is a personal information manager that is included in the Microsoft Office Suite. It enables users to work efficiently with email, contacts, calendars, tasks, and other functions, all within a single platform.
Thus, in this blog, we will explain a quick approach to easily export Spicebird to PST file format. So, let's start it out!
How to Convert Spicebird to PST with Ease?
Spicebird used the .msf file format to store its data, and its default location for the mail folder was '
C:\Documents and Settings\Administrator\Application Data\spicebird'
Copy this path as you will need it to export .msf files from Spicebird.
Step 1. Export Mailbox from Spicebird Client
First of all, you need to mailbox from the Spicebird email client application. Then, we will use an automated tool to convert it into PST file format.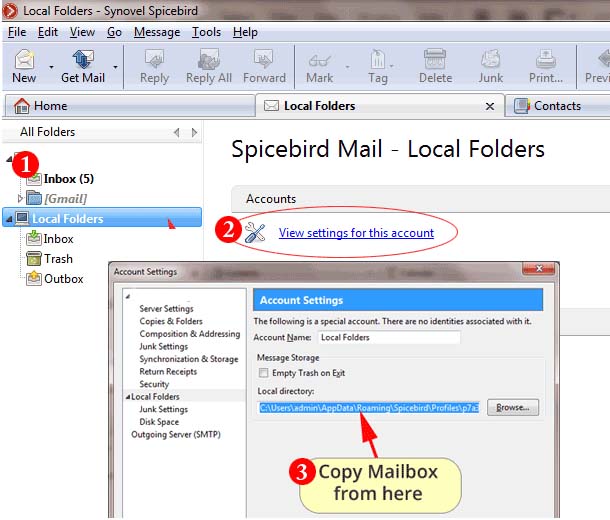 Open the Spicebird application.
Click on Local Folders and then "View Settings for this account" on the right side.
The local directory will be displayed, so copy the path.
Paste the copied location into your computer's browser window.
You will see two types of file formats, one with the .msf extension and the other without any extension.
The file without any extension is the Spicebird data file. Now, click on it and rename .msf with the .mbox extension.
Step 2.
Now, Convert Spicebird Email to PST File
We would suggest using the Advik MBOX to PST Converter Tool as a solution for exporting Spicebird to PST file. This efficient software can convert Spicebird email to PST format, including all attachments, with ease. It incorporates advanced features that guarantee secure conversion of Spicebird emails to PST. This all-in-one solution can easily export Spicebird mailbox to PST file in bulk.
It is a proficient utility that helps users to export Spicebird mailbox into various file formats such as that you can convert MBOX to PDF, MSG, DOC, HTML, XPS, RTF, and many other file formats as well. Apart from its prime function, it also allows you to import MBOX to Office 365, Gmail, Yahoo Mail, Yandex Mail, Rediffmail, Roundcube, Zoho Mail, Zimbra Webmail, AOL Mail, AWS Workmail, etc.
Follow the steps to Convert Spicebird Mailbox to PST File Without Outlook;
First of all, install and run this software on your Windows Machine.
Now, click on the Select Files button.
After that, add Spicebird mailbox file (.mbox) into software.
Then, go to saving options and choose PST as a saving option from the list.
Choose a destination path to save the resultant data file on your system.
Finally, click on the Next button to start exporting Spicebird emails to PST file format.
Done!! In this way, you can easily convert Spicebird folder to PST file in just a few simple steps.
Benefits of using an Automated Tool
The Advik MBOX Converter Tool is equipped with several features that make it an excellent tool for exporting Spicebird email to PST and other multiple file formats.
Some of the best features of this software are:
This software can convert Spicebird mailbox files to various file formats while preserving attachments, metadata, attributes, and more.
This software ensures data integrity by maintaining the original formatting of the Spicebird emails after conversion to PST.
Whether you are a technical or non-technical user, you can easily use this tool to perform the conversion process.
The software is designed to export Spicebird to PST in a swift manner, providing users with results in seconds.
It supports both single and multiple modes of mailbox file conversion options, allowing users to choose the way as per their requirements to convert Spicebird emails to PST.
The software is compatible with all versions of the Windows Operating System, including Windows 10, Windows 8.1, Windows 8, Windows 7, Windows XP, Windows Vista, etc.
Summing Up
Transferring Spicebird emails to PST seems tough as it only exports Spicebird emails as .msf file format. However, as you can see we can rename .msf to .mbox file extension without any trouble. The file will remain workable. Now you can export this Spicebird mailbox into PST using the above-explained method. We hope that we were able to give you the required solution you have been looking for.