How to Import Gmail to GMX account with complete mailbox?
Summary: At the end of this article, you'll get your following queries solved such as how to import emails from Gmail to GMX, easy Gmail to GMX migration, import Gmail MBOX to GMX, migrate Gmail to Mail.com, import Gmail to GMX in the perfect way, etc. In this blog you will get the best and simple methods to import Gmail to GMX account. Continue reading this article to know the exact process.
Gmail, as well as GMX, are both excellent email service providers. However, Gmail is much more popular as compared to GMX. As GMX or Mail.com is widely used in Germany, over 70% users of GMX are from Germany. Whereas others are working on Gmail itself. So for helping out those users we had come up with a great email migration solution. 
Firstly, we will discuss the reasons why you should migrate from Gmail to GMX or Mail.com.
Reasons to Transfer Gmail Mailbox to GMX Account
Moving from one email account to the next is a difficult task, and no one will be able to do it without a detailed explanation or a well defined reason. The following are the main reasons why users wish to switch from Gmail to GMX Account.
There are many reasons to migrate from Gmail to GMX to Mail.com some of them are as follows;
You get unlimited inbox storage.

Great desktop interface for sending and receiving email.

Free mobile apps for access on the go.

Supports large file attachments (up to 50 MB).

Flexible filters can do things like sort incoming email into custom folders or forward messages automatically.

The web interface for Mail.com and GMX Mail features drag and drop and rich-text formatting.

Vacation auto-reply is supported so that you can send out emails when you're away.

The web interface for Mail.com and GMX Mail features drag and drop and rich-text formatting.

All email is scanned for viruses, and a learning spam filter keeps both Mail.com and GMX Mail inbox clean from malware.

In addition to an address book, these email providers also include a calendar and online storage (to which you can save attached files).
Method 1. How to Transfer Gmail to GMX Account with Mail Collector?
In this section, we will discuss the manual method that you can use to open Gmail emails in GMX account. Using the Mail Collector, you can import your Gmail mailbox to GMX mailbox. First you need to add your Gmail account to GMX account via "Mail Collector".
Requirements to Add Gmail account to GMX account:

 To set up a Mail Collector for a Google mailbox, go to your Google Account settings and enable Two-Step Verification, then create an App Password for the Mail Collector.
1. Go to the "Settings" tab.
2. Select the "Mail Collector" option.
3. Enter the Gmail email address and password.
4. Choose from the following options:
If the e-mails from the other mailbox should be deleted after they are retrieved.

If the email that was retrieved should be saved in a separate folder.
5. Click on the "Save" button to save the settings you have just entered.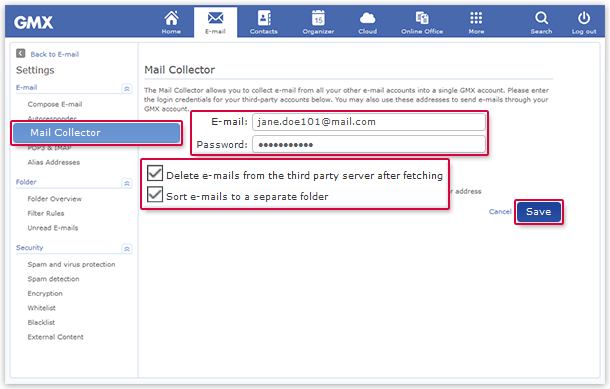 6. You'll see the message "Your settings have been successfully saved". In this way, the Mail Collector was successfully created.
7. Alternatively, new input fields appear. If you have your own email domain, then further information is required to create the Mail Collector in this scenario. 
8. Enter the following details as shown below in the screenshot:
Server: 
Port:
Username:
9. Tap "Save" to finish the process.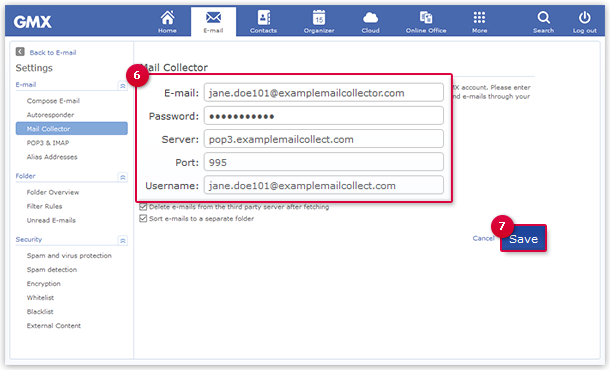 Limitations oh Manual Method:
A manual approach to open Gmail in GMX is too difficult and complicated. 

Importing Gmail to GMX takes some time when you have a large number of messages. As a result, it is possible that you have lost your data.

Requires technical knowledge to add a Gmail account to GMX, as it involves multiple technical steps which is difficult for common users to do.
Method 2. A Quick way to migrate Gmail to GMX Account
If you want to import Gmail mailbox to GMX account, Advik Gmail Backup Software is one of the most recommended tools. No matter if you are a specialized or non-specialized user, this tool will definitely come in handy for you. Just enter your GMX email address and server details and you can easily import a full Gmail mailbox to GMX account without complicated steps.
Although there are several devices on the market, a big number of them either support an older or newer version of Windows, But Advik Gmail Backup Tool is designed to function with both. 
Download this amazing free tool now to start importing Gmail to GMX account. This tool is loaded with plenty of useful features that help you in every way for data backup or migration.
Follow the steps below in order to import emails from Gmail to GMX
1. Launch Advik Gmail Backup Software and enter your Gmail login Credentials.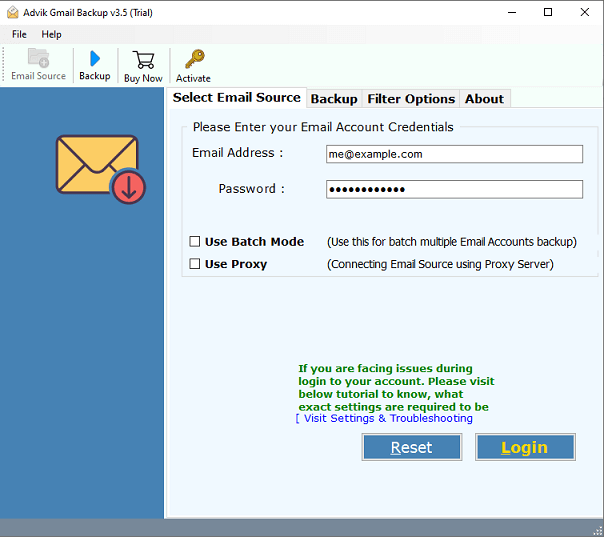 2. Select folders that you want to migrate to the GMX account.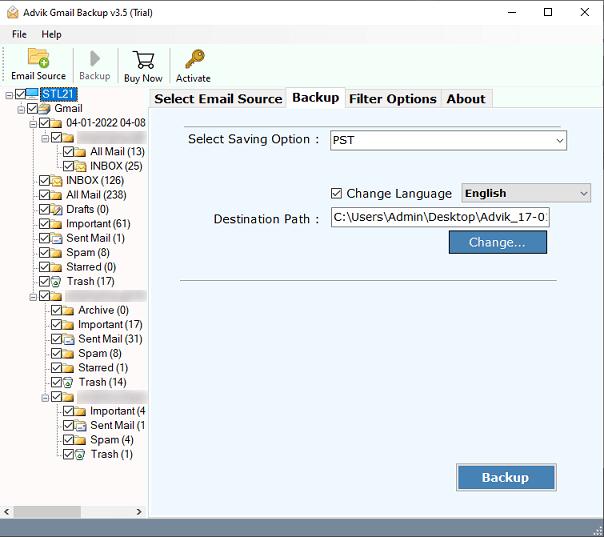 3. Select "IMAP" from saving options.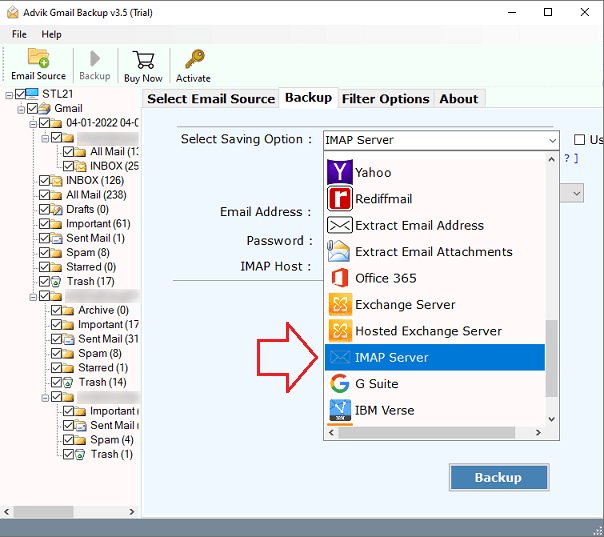 4. Fill your GMX login credentials and other details should be filled as shown below;
IMAP HOST: imap.gmx.com
PORT: 993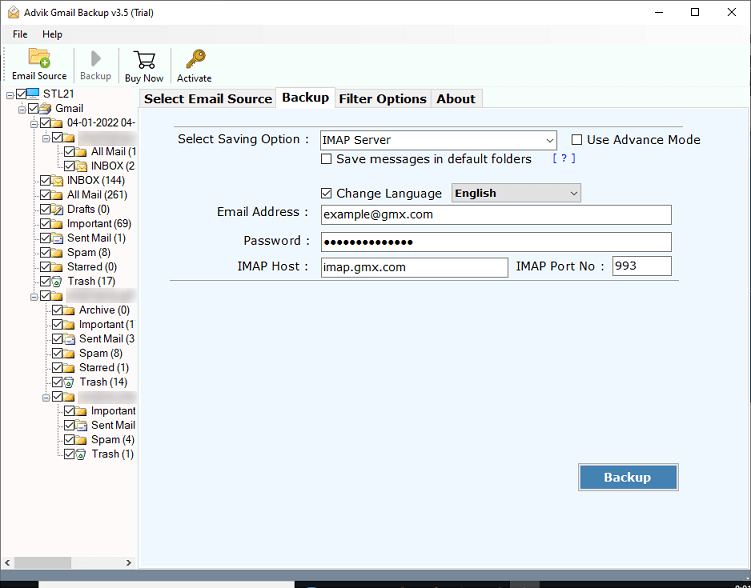 5. Now click the "Backup" button to initiate the process.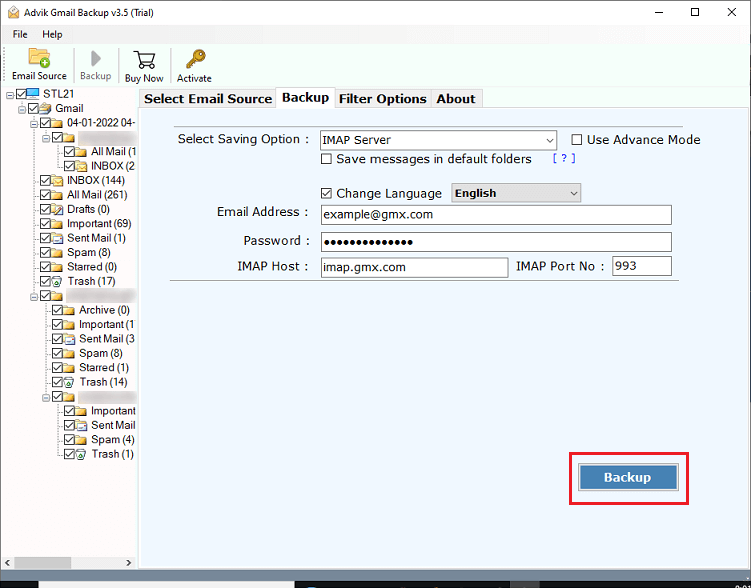 That's it! Advik Gmail Backup Tool will soon import your Gmail messages to GMX account in no time.
Optional: Apply Email Filters if required for selective email migration.
Why Choose Advik Gmail Backup Software?
This tool is a one-stop solution for all of your Gmail data backup requirements. You can have a better understanding of this utility's specific features by reading the following:
Maintain Folder Hierarchy:

The amazing thing you'll notice when you download your backup is that your data will be preserved in a structured way it was before. You don't have to put them in any sort of order.

30+ Email Saving Options:

This program is capable of exporting your email file into 30+ different formats, depending on your preferences. MSG, EMLX, MBOX, PDF, HTML, MHT, XPS, RTF, DOC, TGZ, PST, MSG, EML, and many more.

Advanced Email Filter Option:

Advanced filter options might help you improve your backup procedure. You can specify certain dates between which you want to take backup. For example, if you wish to take a backup of emails from a group of people, you can enter their information.

Simple user interface:

This utility has a simple graphical user interface that is simple to grasp and use. It is not necessary for users to be technological specialists in order to use this product.

Folder Selection Option:

Users have the option of selecting specific folders from which to backup. They have the option of selecting entire folders or a subset of them.
Final words
Nothing is difficult if one follows the correct method. The same is true in this scenario as well. Users who want to try the software on their own before purchasing it can do so by downloading the free version. Non- technical users can also utilize this tool without following a complex configuration process. We have provided both manual and professional approach to import Gmail account to GMX account.