Gmail to Exchange Online Migration – Convert Gmail Mailbox to Exchange
Summary: Are you Looking for a method to export Gmail to Exchange migration? If yes, then we have come up with the best and easy solutions. In this blog, we have explained the step by step guide to export Gmail emails to Exchange Server in an effective manner. 
What is Exchange Server?
Exchange Server, a Microsoft product, is a mail and calendar server that assists small and medium-sized businesses in achieving greater reliability and performance.
It's only compatible with Windows Server operating systems. It's also known as a server-side application because it feeds data to the collaborative application platform on the client side. 
This messaging platform, also known as an exchange mail server, allows users to build collaboration and messaging service applications by sending emails, calendaring, voicemail transcriptions, and scheduling. The first version was called Exchange Server 4.0, to position it as the successor to the related Microsoft Mail 3.5.
Why do users want to migrate from Gmail to Exchange Server?
There are multiple reasons why a user may desire to migrate Gmail mailboxes to Exchange Server. Below are some of the reasons which result in email migration:
Exchange server provides internal compliance policies with a single interface for Data Loss Prevention (DLP) capabilities.

Integrate relevant web-based Office Apps into Outlook and Outlook Web App to personalize Exchange.

Give users a touch-enabled, intuitive inbox experience on any device.

With Exchange archiving, big mailboxes, and retention policies, you can keep all of your crucial data in one location.

Allow compliance officers to execute In-Place eDiscovery from a single interface across Exchange, SharePoint, and Lync.

With Data Loss Prevention (DLP) capabilities, you can protect sensitive data and alert users about internal compliance standards.

When a user has to log into their Gmail account from an Exchange Server mailbox.
There are several users who are searching for a reliable solution to migrate Gmail to Exchange Server with complete emails and attachments. However, there is no direct manual solution. You have to go through a lengthy process. Thus, you can choose an alternative technique that we are going to discuss in the upcoming sections. So let's go through the complete article to get the best method to transfer emails from Gmail to Microsoft Exchange Server.
Methods to Export Gmail Mailbox to Exchange Server
If you've tried to transfer your email from Gmail to an exchange server, you know: While it sounds simple, in truth, it can be a time-consuming, frustrating, almost painful experience!!
No matter how big or small your migration, finding a solution that's easy to use and reliable is a challenge. We have come up with two best and easy methods.
Manual Approach – Exchange Database

Professional Approach – Advik Email Migration Tool 
Method 1. How to migrate
Gmail

to an exchange server?

The process of exporting Gmail emails to Exchange Server is divided into two major steps.
Step 1. Add Gmail account to MS Outlook 
1. To begin, you must first configure your Gmail account with Microsoft Outlook.
2. Select File >> Add Account.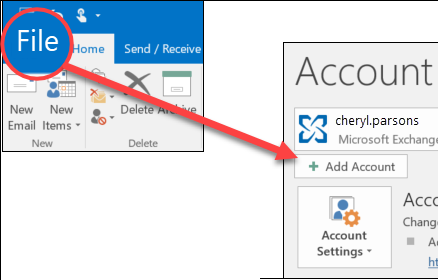 3. Enter your Gmail email address.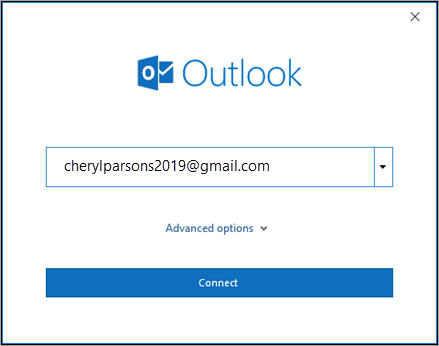 4.In the new window tab, it will ask you to enter your password. Select Sign in after entering your password.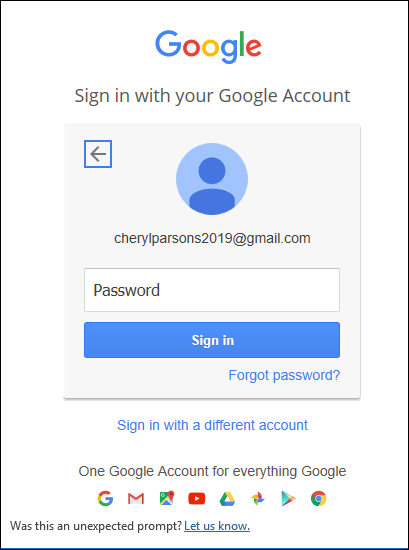 5. In a few seconds, Outlook will finish adding your Gmail account.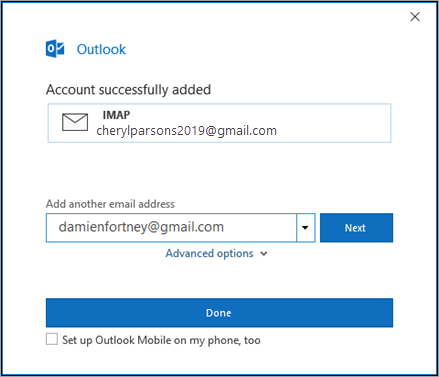 6. When you set up your Gmail account in Microsoft Outlook, now export Gmail to the pst file.
Step 2. Export Gmail to PST File
1. Select File > Open & Export > Import/Export from the File menu.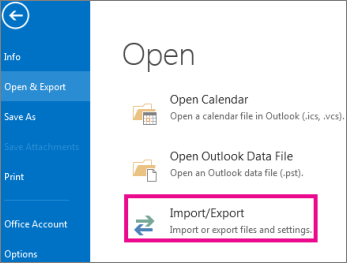 2. Now, Tap "Next" after selecting Export to a file.
3. Choose "Outlook Data File (.pst)" in drop down menu.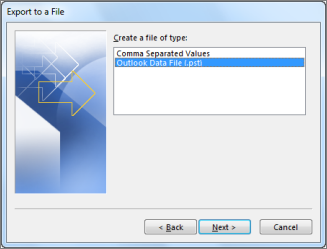 4.  Now choose the mail folder you wish to back up and tap "next".
5. Click "Finish" after selecting a location and a name for your backup file.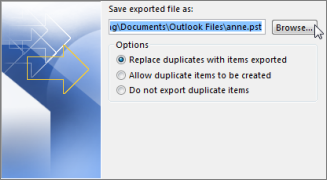 Step 3: Import Outlook PST to the Exchange Server
1. To move the PST files to the MS Exchange Server Mailbox, use PS commands.
2. The PST file is transferred with the help of the PowerShell command. An Exchange Administrator can import the Outlook PST file into the Exchange Mailbox on a regular basis.
3. Before running the import command, some rights must be assigned to the mailbox.
Note: The Administrator does not have authority to use the mailbox to import the file.
Limitations of the manual method:
The manual technique for transferring Gmail to an Exchange Server Mailbox has certain drawbacks, which are listed below:
The manual procedure is time-consuming and lengthy.

The PowerShell program cannot import more than 2GB of Outlook Data file (.pst) to Exchange Mailbox.

This command only works with Exchange Management on a 32-bit client system.

Tools have been installed. This requirement stems from the MS Outlook client's reliance, hence it won't work on a 64-bit client PC.

When using PowerShell commands to export Gmail emails to Exchange Server, the user must have a strong technical background.
Method 2. How to Migrate Gmail to Exchange Server ?
With the limitations mentioned above in using manual methods, it is necessary for the user to use an automated professional and efficient tool like Advik Email Migration Tool to export from Gmail to Exchange Server. With this software, the task can be completed quickly and without fear of data loss.
You can migrate in whatever way you like. It is a Quick and simple software. This automated tool can be installed everywhere and as many times as necessary to transfer your users fast and efficiently. 
Download this free Tool and move your Google Mail mailbox now by following the simple steps:
1. Install and run the Advik Email Migration Tool on your computer.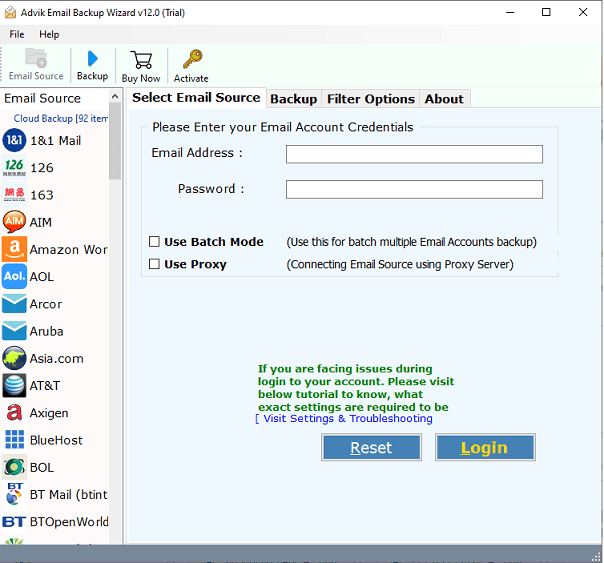 2. Choose "Gmail" as your email source.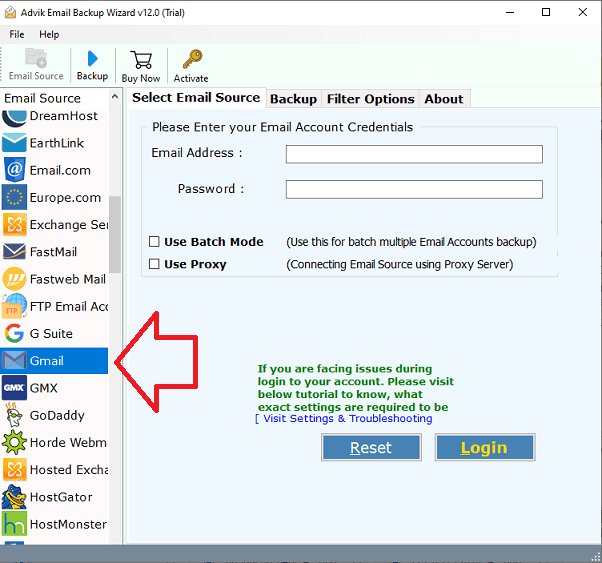 3. Sign in with your Gmail credentials and press "Login" Button.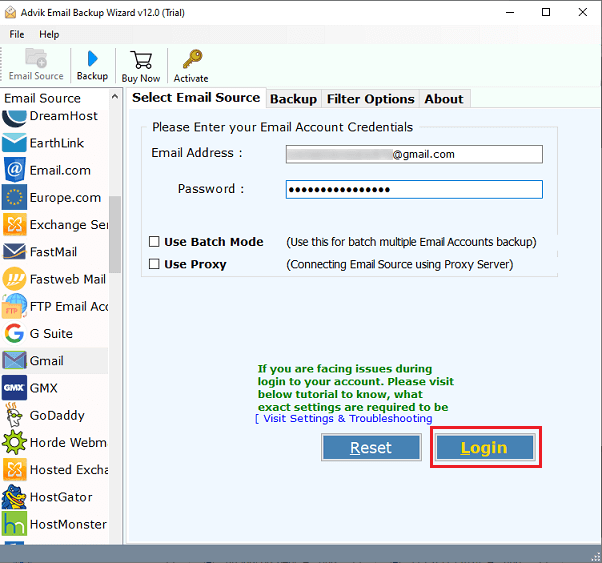 4. Now, this tool will quickly scan all your folders and subfolders, it will appear on the left side of the interface.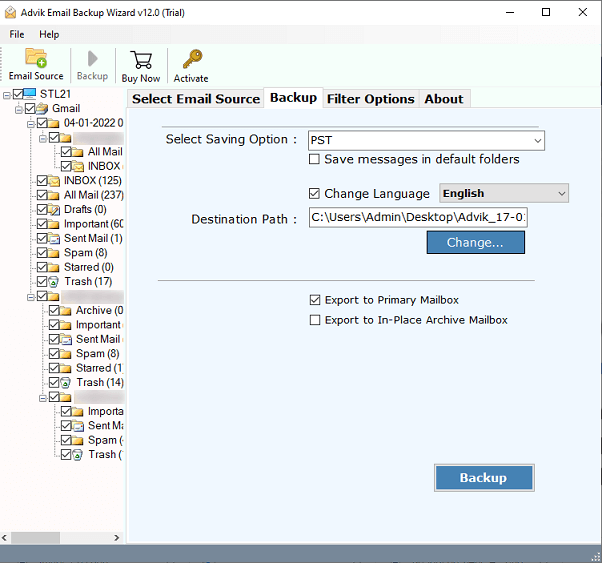 5. Select "Exchange Hosted Server" as "select saving option".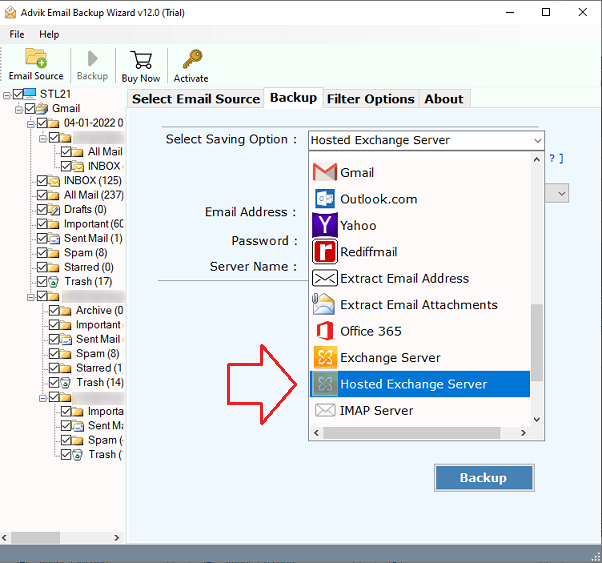 6. Enter the details for your Hosted Exchange Server i.e. Email Id, Password and Server Name.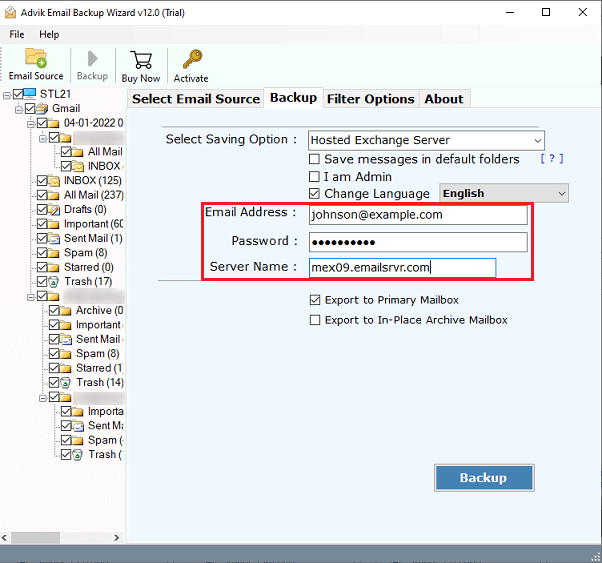 7. Finally, click Backup and analyze the process.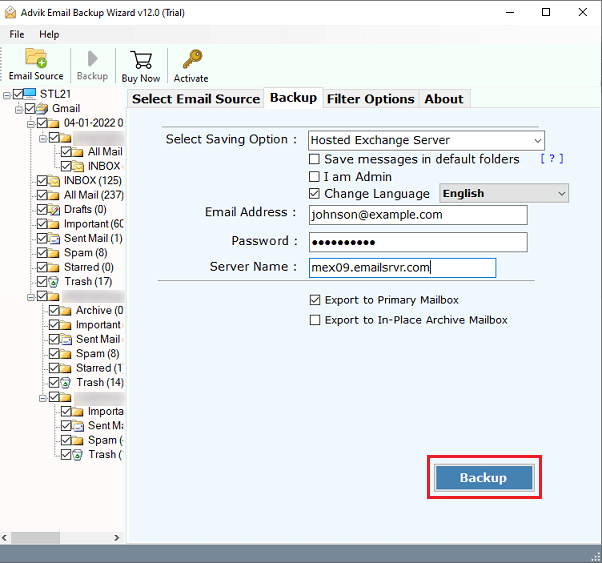 In no time, this wonderful wizard will move a whole inbox from Gmail to Exchange Online Server. You will also receive a comprehensive log report after a successful conversion.
Why choose Gmail to Exchange Migration Tool?
Despite having a simplified user interface, the software is loaded with plenty of useful features. Below are the key highlights of Gmail to Hosted Exchange Export tool.
Email Convert Options
This tool is capable of converting emails to a variety of popular file formats. You can also.Export Gmail to PST, PDF, EML, DOC, TGZ, 15+ file formats with just single tool.
Unlimited Migration
With Advik Email Migration Tool, there are restrictions to use in a limited manner. You can transfer or copy emails from an unlimited number of accounts. You can also move numerous email mailboxes at the same time.
Email Migration Options
Your emails can be moved from one account to another. Gmail to Office 365, Yahoo mail, Rediff mail, Outlook.com, Exchange Server, Rediffmail, IceWrap, AWS Workmail, G Suite, and practically any other email service provider are all supported by the software.
Advance Email Filter Option
You can apply email filters such as cc, date, time, subject name, etc. to move only selected emails.
Selective Folders to Transfer
You can select your preferred mailbox folder using Advik Email Migration Tool. So that you can move an email folder from one email application to another. As a result, you won't have to relocate your entire email account. You have the option of migrating or transferring emails to a different folder.
Batch Account Migration
Batch migration is also possible with this wizard. In a single attempt, you can move emails from many email accounts. You do not have to go through the same migration process for each account.
Wrapping up
We covered both the manual and automatic methods for exporting Gmail emails to Exchange Server in this blog. We've also mentioned the reasons why you should export Gmail to exchange server. Due to the limitations of the manual method, it is suggested that users should opt for automated Advik Email Migration Tool so that you can easily transfer Gmail to Exchange Server.