How to Transfer Email from Opera Mail to Gmail?
Well, no introduction is required when it comes to Gmail. It is one of the most widely used or we can say popular email services that is available for both professional and personal purposes. Hence, it's a good idea to choose Gmail as a replacement for Opera Mail. Since you have decided to switch between these, we are here to guide you on how to easily transfer emails from Opera Mail to Gmail effortlessly.
To make this difficult task easier for you, we offer you an instant approach to complete this email migration process.
But before that, we're going to dive into the benefits of using Gmail services and what you get out of it better than any email service.
Why Should I Transfer Emails from Opera Mail to Gmail?
Opera Mail is outdated now that's why users need to shift to cloud-based Gmail email services.
Some of the main reasons given by users to move emails from Opera Mail to Gmail are:
Opera Mail does not offer a spam filter which leads to a bad user experience. On the other hand, Gmail provides an in-built anti-spam feature.
This traditional mail client restricts you to platforms whereas, Gmail lets you store and manage your mail messages, calendars, and contacts from any location or device.
Gmail is the most popularly used email service that offers fast connectivity, easier collaboration, and proper arrangement of all data items in the mailbox.
Gmail allows you to manage and store bulk data which isn't possible with this Opera Mail.
Most companies are opting for a cloud-based platform like Gmail. This service allows users to work with any machine or operating system, as they are no longer dependent on a platform.
Although setting up the account in Opera Mail can be a little challenging, using Gmail to retrieve your email is more dependable.
Gmail offers the ability to access your email from anywhere, however, Opera Mail does not as its email client is a desktop program.
The majority of users desire to transfer emails from Opera Mail to Gmail because of the features that Gmail offers.
Instant Solution to Import Opera Mail Emails to Gmail
To handle email migration from an email client to an email service, we need to download Advik MBOX to Gmail Tool. It is truly an outstanding solution that allows users to export Opera mailbox to Gmail account directly. If you are searching for a simple solution, then your query ends here. It is the most desirable solution when it comes to transferring emails from Opera Mail or any other MBOX-supported email clients to Gmail account.
It is an automated tool that is designed for the Windows operating system to also convert MBOX to PST, EML, PDF, MSG, DOC, HTML, MHT, XPS, and many different file formats as well.
To know, how it works go with the steps that are explained below;
Step 1. Export MBOX Files from Opera Mail
To import Opera Mail to Gmail, first users have to export emails and mailboxes from Opera Mail. To do this simply, follow the given steps;
Opera Mail exports its emails in MBS file format. So, we have to manually change its file format to MBOX after exporting Opera Mail emails.
Right-click on the Inbox label or a mailbox folder and select the Export button.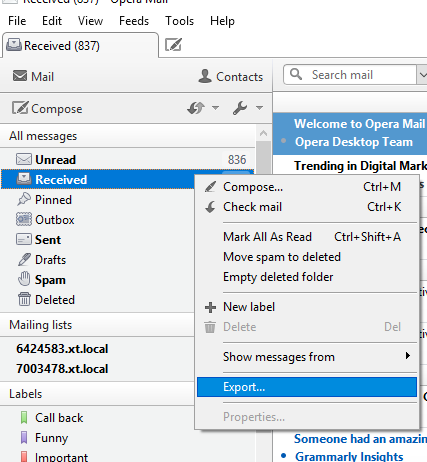 Click the Save button and choose where to save the file.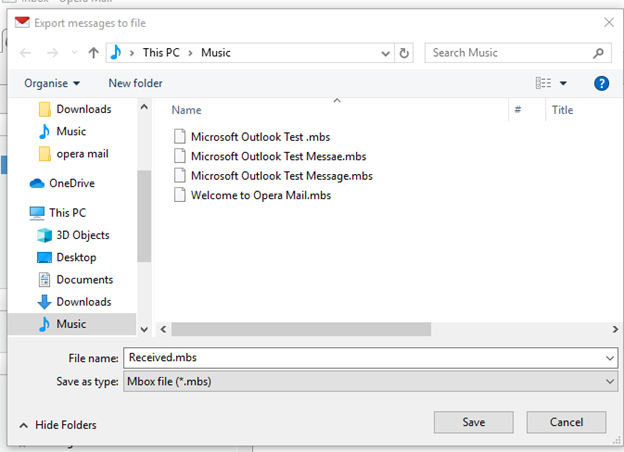 Now, click on MBS file and rename it as MBOX file.

Step 2. Import Opera Mails to Gmail using an Automated Tool
Download and Run Advik MBOX Converter Tool on your windows Machine.
After that, upload your Opera Mail mailbox through dual options in the software panel and click Next.
Now, the tool will show a preview of your Opera  Mail emails, choose the required items and tap on the Next button.
After that, Select Gmail option from the drop-down list.
Enter your Gmail address and the password in the respective field.
Finally, click on the Convert button to start transferring emails from Opera Mail to Gmail account.
Done!! In this way, you can easily transfer emails from Opera Mail to Gmail account effectively.
Final Words
In this busy world, no one prefers to choose the difficult solution to perform email migration. So, it is recommended to choose an automated tool i.e., Advik MBOX Converter Tool to easily migrate emails from Opera Mail to Gmail account. It allows users to complete this email migration process in just a few simple steps.