How to Transfer Emails from The Bat to Outlook 2019?
Do you want to export The Bat to Outlook 2019/2016/2013? If Yes, then stick to this article till the end and you will find the easiest way to transfer emails from The Bat to Outlook. The tutorial is also a great help for those users who want to export The Bat to PST file.
The Bat! is windows based email client which provides a better secure platform for users. It is a highly secure email client which mainly focuses on security and user interface and email filtering capabilities.
On the other hand, Outlook is also an email client having more than 400 million active users worldwide. Outlook offers several business services like email management, an address book, a notebook, a web browser and a calendar where you can manage future meetings or plans. Also, it is included in the MS Office suite of programs along with MS Word, MS Excel, and PowerPoint.
Users Scenario Related to The Bat to Outlook Transfer
" How can I transfer emails from The Bat to Outlook 2019?"

"How to export The Bat to PST file for Outlook?"

"What is the best way to migrate from The Bat to Outlook with complete mailbox data?"

– Queries on Microsoft Forum
How to Import The Bat to Outlook with Ease
So in order to resolve the above queries we had finished setting up the solution for these types of users. If you are one of them then you have landed in the right place. Continue reading to know how you can export email from The Bat to Outlook 2019, 2016, 2013, 2010, 2007, and other previous versions.
For this task, you need to Download and install Advik MBOX to PST Converter. This software has the easiest user interface which allows users to convert the mailbox file of "The Bat!" into PST format. With this easy-to-use application, users can also export The Bat to other email clients as well as such as that you can import mail from The Bat to Thunderbird, Windows Live Mail, Zimbra Server, Exchange Server, etc. You can download this software by clicking on the button below.

Steps to Import The Bat! to Outlook 2019 are;
Step 1. Launch The Bat email client and Select emails to export.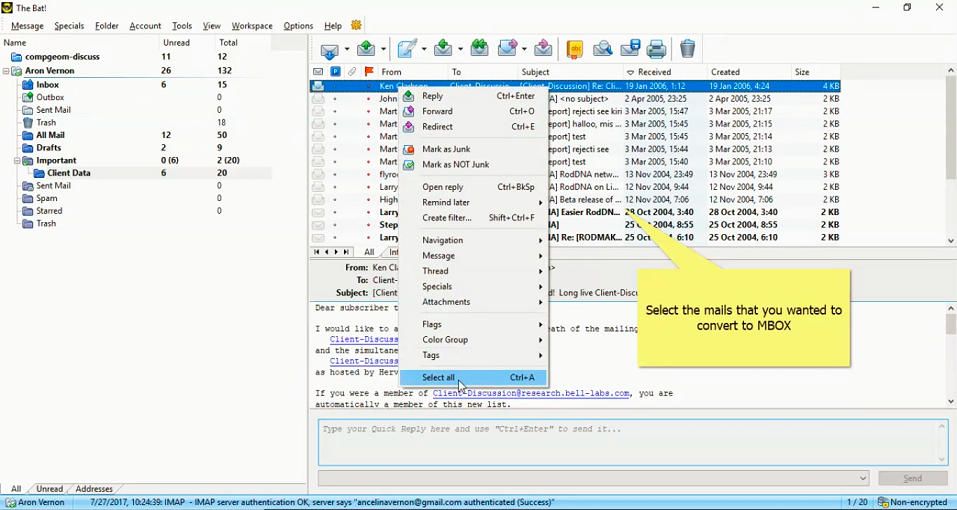 Step 2. Go to top menu and click Tools>> Export message to >> Unix mailbox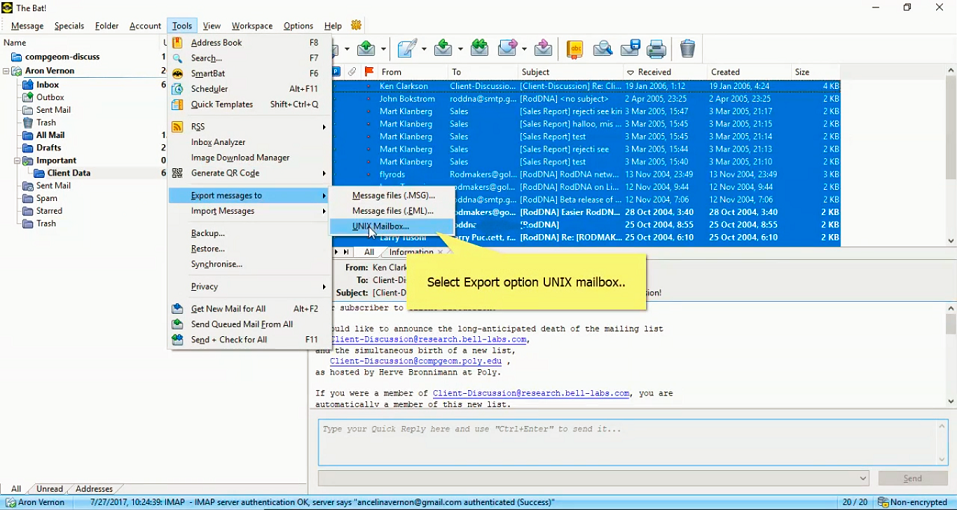 Step 3. Save it with any desired name. (This will export The bat mailbox to .mbox file format)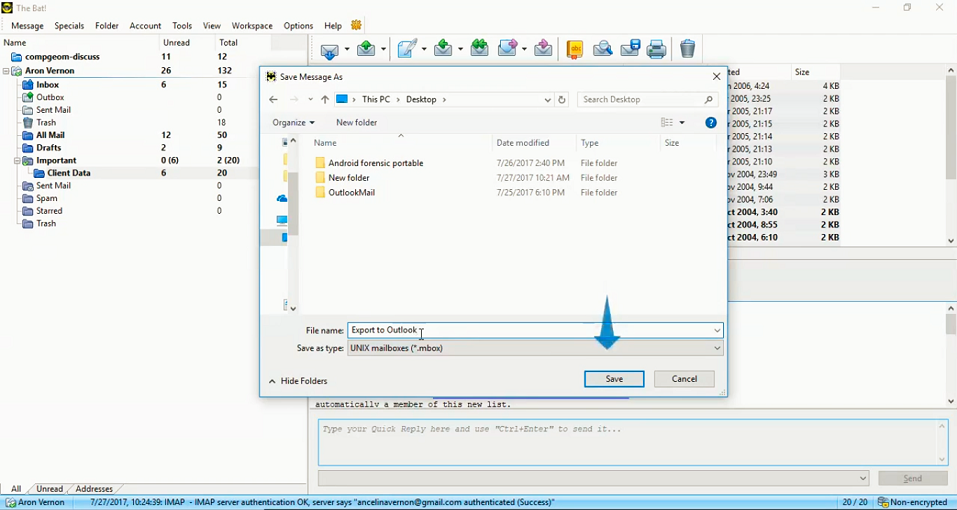 Step 4. Launch the MBOX Converter Tool and add the .mbox file which you had just exported from The Bat mailing client.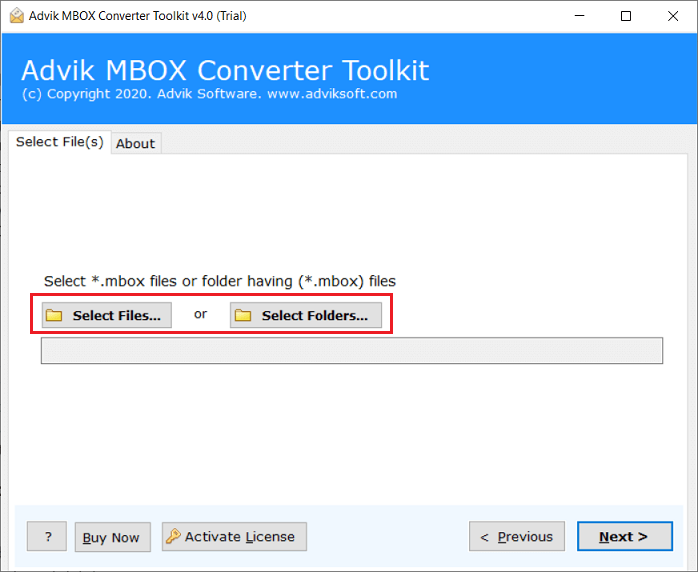 Step 5. Choose the required email folders from The Bat! emails that you need to export into MS Outlook.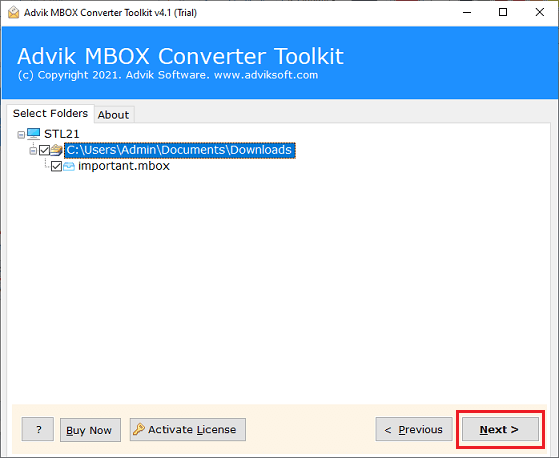 Step 6. After that, select PST as a saving option from the list of various options.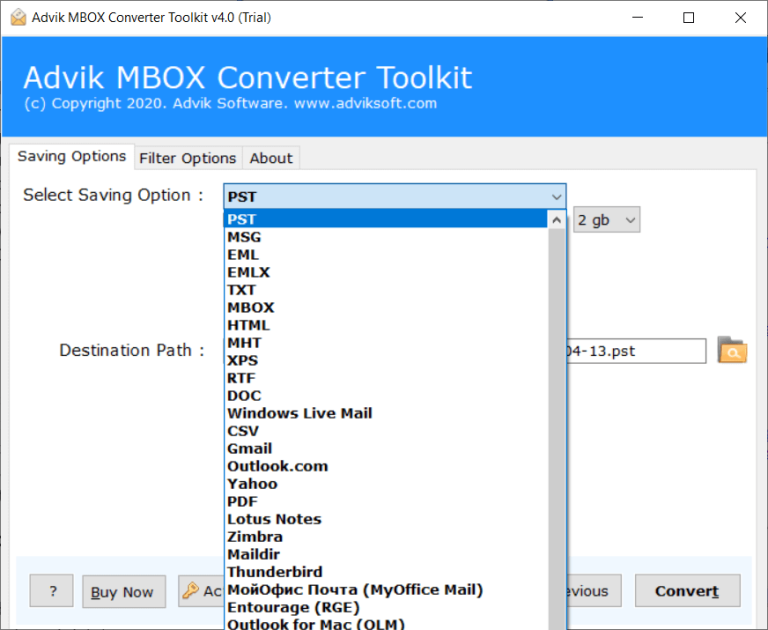 Step 7. Tap on Browse to choose the location where you want to save the resultant data file and click on "Convert" and analyze the conversion process.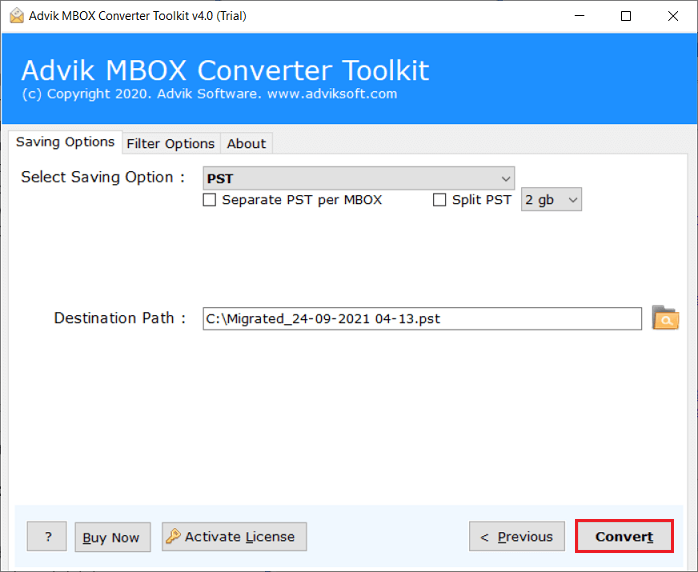 After the successful conversion, you can now import .pst file in MS Outlook using Import/Export Feature.
For that open MS Outlook >> File >> Open & Export >> Import Export >> Import from another program or file >> Outlook data file (.pst) and select the .pst file.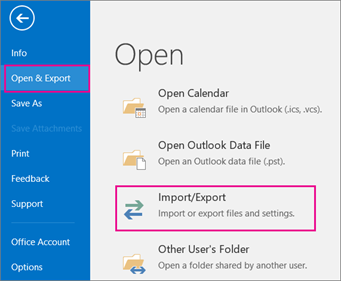 Finished! This is one of the most successful methods to import The Bat emails to Outlook with attachments and other mailing data.
Major Benefits and Advantages of an Automated Tool
The Advik MBOX Converter software offers a range of outstanding features for converting The Bat MBOX files to Outlook PST and various other file formats. This tool ensures a seamless conversion process for both professionals and non-professionals alike.
Intuitive interface: Regardless of your technical expertise, you can easily accomplish the conversion process using this tool. As, this tool provides an easy-to-use and simple GUI that can be easily used by any person with no technical requirements.
Effortless MBOX to PST Conversion: Experience fast results as the software efficiently converts The Bat MBOX to Outlook PST in seconds. You just need to follow 4 simple steps and get your done work easily.
Flexible saving options: You have the freedom to choose the desired location for saving the converted files. You can choose the options to export The Bat emails into various file formats also which include PST, EML, PDF, MSG, DOC, HTML, CSV, ICS, DOC, etc.
Export The Bat to Webmail Services: With this tool, users can also export The Bat emails to 30+ cloud-based email services as you can easily transfer emails from The Bat to Gmail, Yahoo Mail, Outlook.com, Office 365, Exchange Online, Yandex Mail, Zimbra Webmail, AWS Workmail, AOL Mail, etc.
Dual file selection: The software supports both Single Conversion Mode and Batch Conversion Mode, allowing users to select the appropriate mode based on their requirements when converting The Bat emails to Outlook PST.
Compatibility with Windows OS: The software is compatible with various versions of the Windows Operating System, including Windows 10, Windows 8.1, Windows 8, Windows 7, Windows XP, Windows Vista, Windows Server 2019, Windows Server 2016, Windows Server 2012, Windows Server 2008, and earlier versions.
Final Words
This article will be a helpful guide for users who are searching for an easy way to transfer emails from The Bat to Outlook 2019, 2021, 2017, 2013, etc. As we have seen that The Bat only offers MBOX files as an export option that isn't supported by Outlook. So, using a dependable utility i.e., Advik MBOX to PST Converter Tool is possible. Hopefully, this blog has cleared up the queries you were having related to The Bat to Outlook migration.