How to Transfer Thunderbird to New Computer? – 2023 Updated
Various Folks sought a way to transfer Thunderbird to New Computer so they could use the same Thunderbird Profile on multiple machines. If you're in a similar predicament, you'll be relieved to know that you're not alone. In this article, we'll go over the best two ways to transfer Thunderbird to new computer.
Way to Move Thunderbird to New Computer
Method 1. Using Advik MBOX Converter

Method 2. Manual Way (Free Solution)
Queries Related to Transfer Thunderbird to New Computer
I have 5GB of Thunderbird email folders that I need to export to my new PC so that I can access them easily later. Can anyone recommend a reliable solution to get my job done? Thank you in advance.
I only have a few Thunderbird emails with some crucial attachments that we need to export to another PC. I can't bear losing single attachment, so can anyone endorse a safe and secure way? Is it secure to use manual methods?
Hello, I'm currently employed by a company, and we're in the process of upgrading our workspace computer. I have ten gigabytes of Thunderbird mailbox data that I'd like to transfer to our new machine? Is that something that can be done? Which third-party tool will be most useful in my scenario?
Are you facing the same trouble in transferring data from Thunderbird to New Computer? Don't worry! Stick to this article and learn few simple ways for this task.
Method 1. How to Move Thunderbird Local Folders to New Computer
Install Advik MBOX Converter Tool into your windows machine to transfer your Thunderbird Emails files into your New PC. The software employs more than 25+ formats to achieve Thunderbird email files. The greatest feature is that the software works with any .mbox file, including those generated by Mozilla Thunderbird, Apple Mail, Eudora Mail, Google Takeout, and a variety of other applications.
Note* Export your Thunderbird data to .mbox file using Import/Export plugin. Now install Advik MBOX Converter to your new PC.
Steps to transfer Thunderbird to New Computer are as follows;
Step 1. Run Advik MBOX Converter and click Add Files.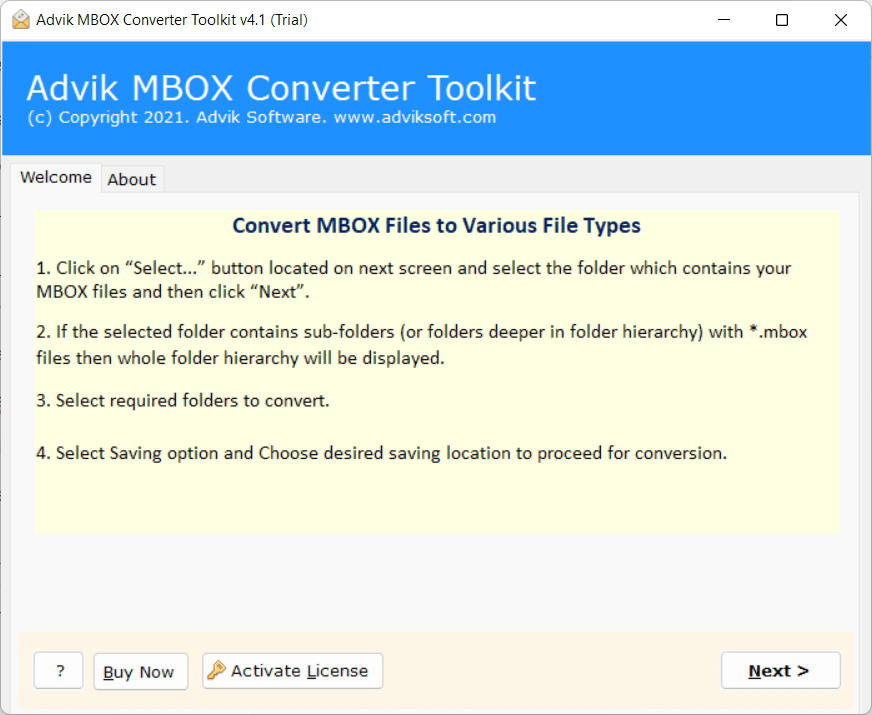 Step 2. Browse and add Thunderbird MBOX file into the software.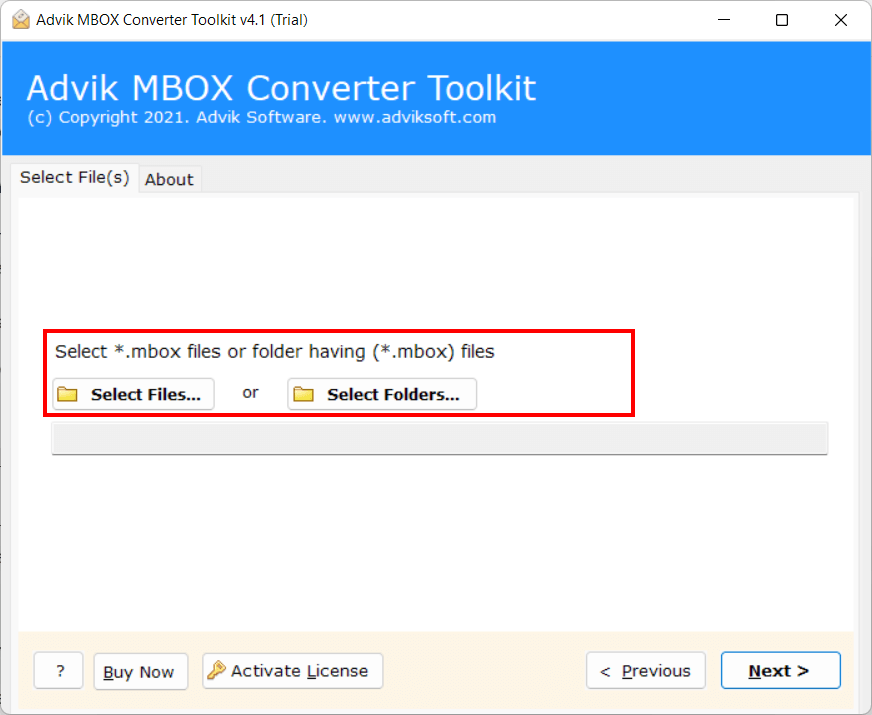 Step 3. Select Thunderbird as a saving option from the list.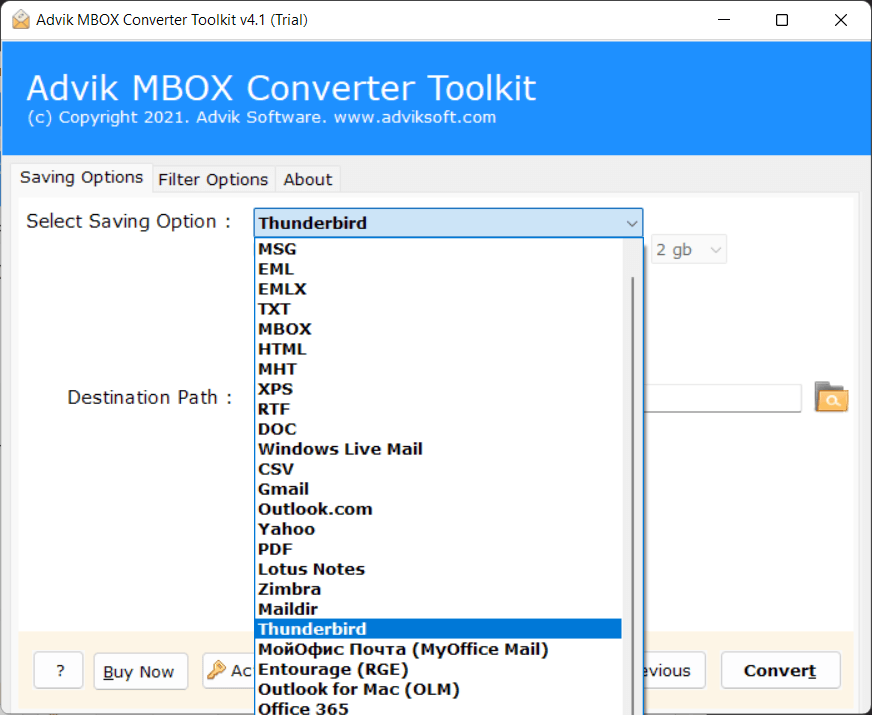 Step 4. Click the Next button and click the Convert button.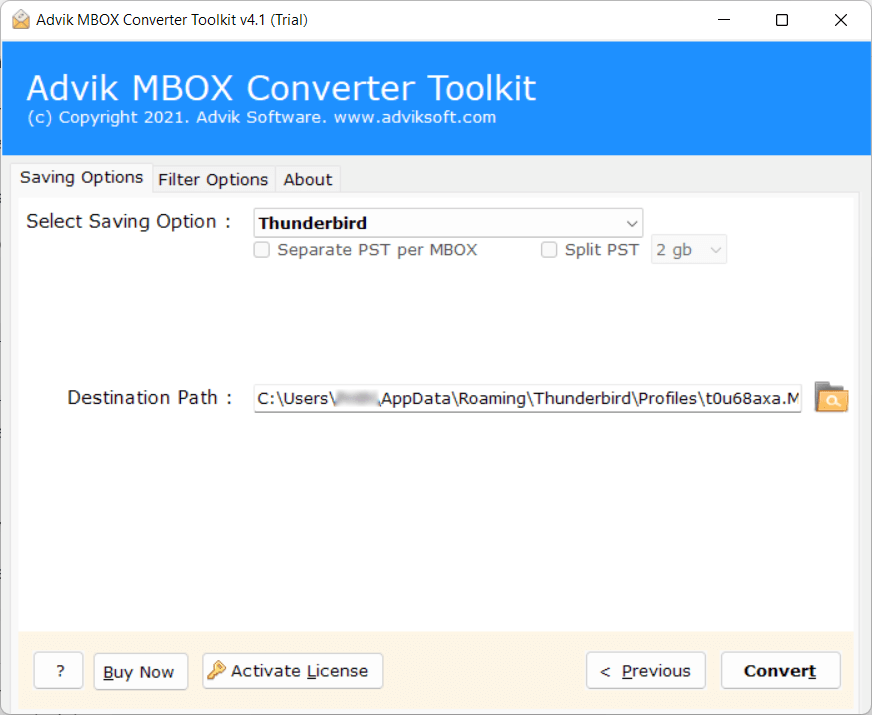 The software will export Thunderbird MBOX data to your new computer with attachments.
Special Benefits:
Retain the Original Folder Hierarchy 

Keeps Attachments along with Email
Uphold all key elements and metadata 
Method 2. Move Thunderbird Emails to New Computer Manually
The manual approach is completely free and easy to implement for the folk who have technical knowledge. Follow the given stepwise procedure to export Thunderbird mailboxes data into Another computer manually:
Step 1: First and foremost, open Thunderbird on your desktop.
Step 2: Go to the right corner of your screen, click the 'Menu' tab.
Step 3: Next, go to Troubleshooting Information under Help.
Step 4: Select Open Folder and you'll be redirected to Windows Explorer. Thunderbird Profile Folder is located here.
Step 5: Go 3 levels up, find the Roaming folder, and copy all of your folders and files into your External Device, and wait for the copy to successfully complete.
Step 6: Move the profile files from the external drive to the new computer and paste them in the same directory as before (under your new user profile, of course).
Step 7: Configure Thunderbird on the new machine in order for the previous profile to be recognized.
That's how you can manually copy all of your Thunderbird mailbox data to another PC or computer.
Drawbacks:
Complex and lengthy Procedure
Time-Consuming approach
Can Not Support Batch conversion
Need technical knowledge to perform the conversion
There is no guarantee of data loss.
Transfer Thunderbird Profile to New Computer Safely
Here, we have disclosed the trusted and easy approaches to transfer Thunderbird email files into New Computer safely. One was using the advanced Third party toolkit and the other was manual. The savvy software supports batch migration. Also offer the simple UI so that the users can make their job done without any issue. 
Without wasting any other time get your hands on the most advanced toolkit and start migration today with 100% No data loss guarantee. 
Why Advik MBOX Converter Tool?
The MBOX Converter Application comes with a number of useful features, some of which are listed below:
Export Countless MBOX Files in a Single Attempt
Archive MBOX files into 20+ formats
Preserve all original Key elements 
Keep the Folder and Subfolder Hierarchy
Preserve email attachments
Combine multiple .mbox files into a single file
Offers Fully Featured Trial 
Compatible with all windows versions
The excellent solution was created utilizing slashing technology, and millions of users worldwide rely on it. So don't squander your valuable time. Download it now for free and test out all of the functionalities of this terrific toolkit! This is how you can transfer Thunderbird to new computer without losing any data.